As the largest mall in the Jacksonville area, the St. John's Town Center offers a huge selection of shops of all kinds as well as restaurants.  For today's article we offer up our guide to the restaurant scene at the St. John's Town Center.  Here's a little bit about all your food options available at the St. John's Town Center.    -listings updated 01/19-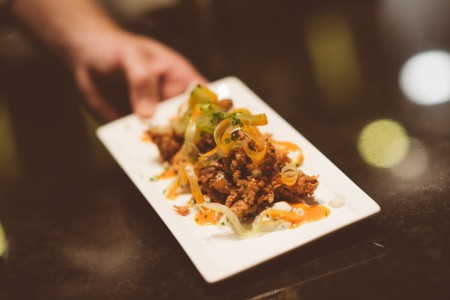 CASUAL EATS
Bazille – An upscale modern dining experience in an unexpected location…the second floor of the Nordstrom department store.  The bistro-style cuisine is not only tasty, but is also beautifully presented.  If you're looking for a great lunch spot or a place for an early date night (they close at 9pm when the store closes), this is the place for you.
Grub Burger Bar – This trendy burger spot has a burger for everyone, sides like roasted brussel sprouts and sweet potato waffle fries, plus some killer shakes. Don't worry, they have fries, onion rings, and plenty of beer, along with a full bar.
Bonchon – This trendy restaurant offers Korean fried chicken, pork buns, korean tacos, and more, along with more traditional Korean fare. The menu is larger than you'd expect walking in to the place. If you haven't had Korean fried chicken, we highly recommend you give it a try. It's crispier than our southern version, but not altogether that different.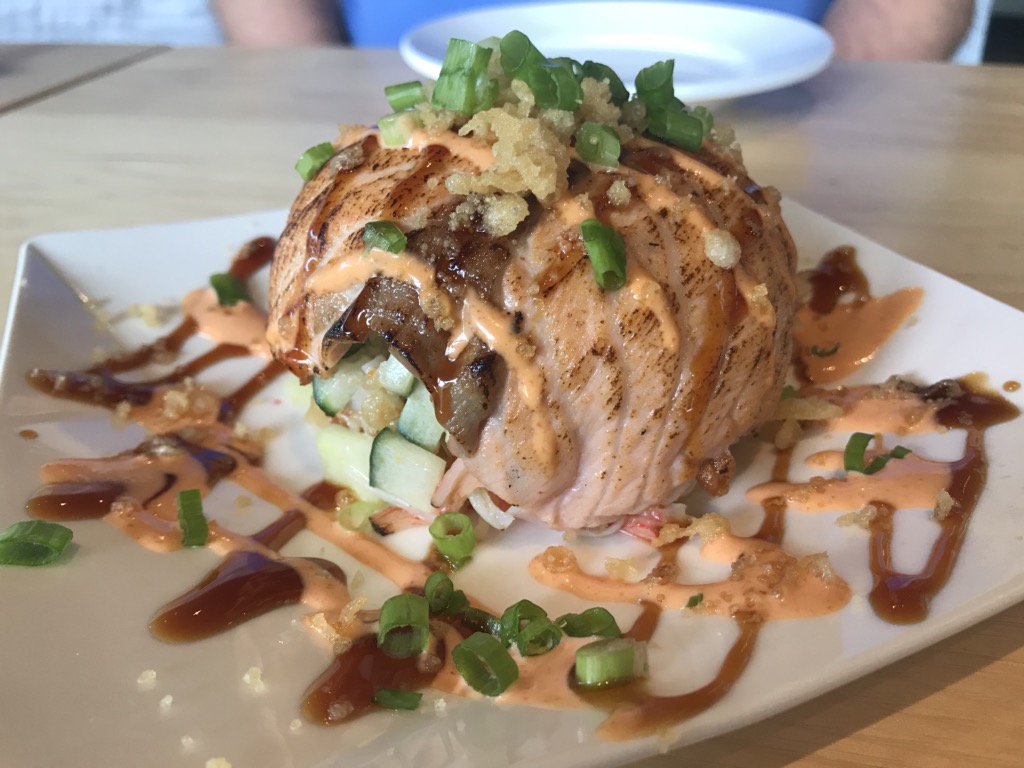 Wasabi – Quite possibly the cleanest and nicest Japanese steakhouse in Jax, Wasabi offers exactly what you'd expect from a Japanese steakhouse.
California Pizza Kitchen – Offers California spin on global flavors.  They offer hearth baked pizza such as Original BBQ Chicken, Thai Chicken, and Jamaican Jerk Chicken.
Bahama Breeze Island Grille – Part of Darden Restaurants, the nation's largest restaurant chain.  With Caribbean-inspired food and tropical drinks, Bahama Breeze offers up a taste of the islands.  Their drinks are especially tasty and the outside dining space is great place to sit and relax when the weather is nice.
Cantina Laredo – Tasty Mexican fare served in an upscale atmosphere.  The menu includes grilled fish, chicken, and steaks with signature sauces like chipotle-wine with portobello mushrooms or sautéed artichoke hearts and roasted red peppers.  Cantina Laredo is known for their fresh guacamole prepared tableside and their award-winning signature margarita, Casa Rita.
DOMU – This is the second location for the Orlando original ramen spot. DOMU serves up delectable apps, ramen, cocktails, and don't miss their soft serve flavor of the week. DOMU is a small but popular place where there is often a wait. Jump into any seat at the bar if you can get one.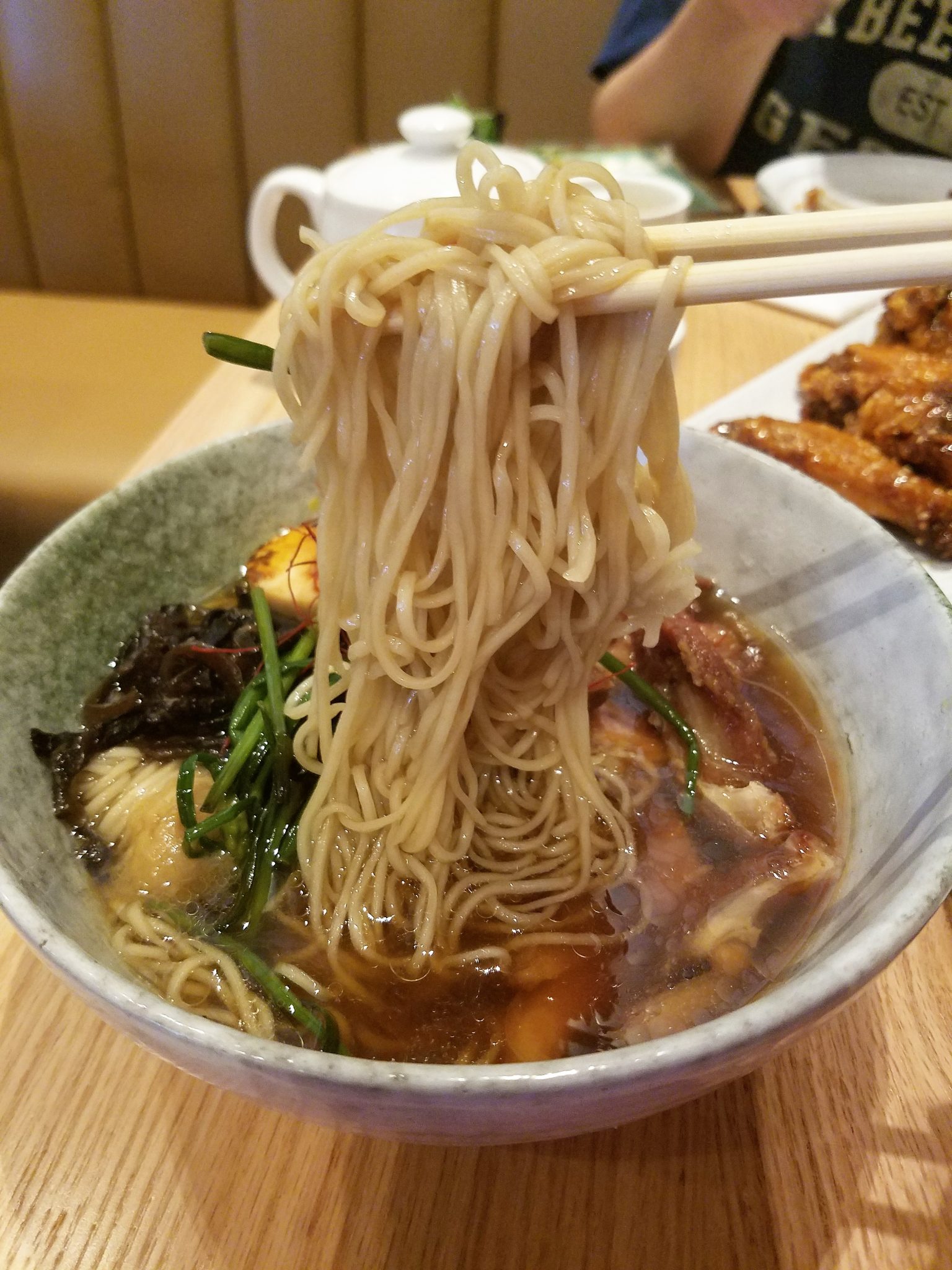 Sushi House – A simple little sushi spot where you can stop in and grab a bite in a nice quiet environment.  Make sure to visit on Monday for $3 sushi rolls.  It's a crazy good deal!
Maggiano's Little Italy – Somehow Maggiano's finds a way to be a chain, yet feel like a local Italian spot.  Their Italian fare is above average as far as chain restaurants go.  Add to that a cozy, intimate atmosphere and valet parking and you've got a great dinner spot right in the middle of the Town Center.
PF Chang's – Affordable, upscale Chinese food.  PF Chang's adds modern twists to classic Asian dishes.  The food here is typically served family style, and I'm always amazed at the quality they can provide for the price.  If you like Asian food, you'll love PF Chang's.
The Cheesecake Factory – Cheesecakes (obviously) plus a giant menu with something for everyone.  Aside from the fact that there's usually a ridiculous wait, The Cheesecake Factory is a good choice for groups since their menu is roughly the size of three restaurant menus put together.  Somehow they still pull off delicious food that we would recommend.
Ted's Montana Grill – Two words – Bison Burger.  Ted's is an upscale burger spot known for their bison burgers, among other meat-centric options.  These guys were a step ahead of the current gourmet burger trend.
M Shack – The brainchild of local chefs Matthew and David Medure, M Shack is a gourmet burger place that combines the old-fashioned burger joint with a new school culinary flair.  They offer a wide variety of gourmet burgers and milk shakes.  Can't decide between throwing back a cold one or having a decadent milk shake after a long day of shopping?  Now you don't have to – M Shack also serves adult milk shakes for your enjoyment.
Keke's Breakfast Cafe – This breakfast and lunch spot is a newcomer to the Town Center. 11 kinds of waffles, 8 kinds of pancakes, 6 kinds of stuffed french toast, all the omelets your heart could desire, plus an entire lunch menu will leave you with big decisions at Keke's. Good luck. They are open seven days a week from 7am-2:30pm.
Kamiya 86 – The newest sushi spot in town has taken over the building that was originally the pancake house, then was renovated to become the upscale wine bar Ovinte. Kamiya 86 fits right in to the elevated surroundings with their gorgeously presented sushi and the fun neon lighting giving the space a whole new vibe. This isn't your corner sushi spot.
Cooper's Hawk Winery – Cooper's Hawk is a restaurant centered around a wine club.  The wine is good and if you're a huge wine fan you'll love their tasting where you try 8 different 1oz pours of wine for $12.  Additionally your server can bring you just about any wine in the place to try on the house.  The drawback at Cooper's Hawk is that you get the hard sell the whole time.  They will all but beg you to join their wine club over and over and over.
Firebirds Wood Fired Grill – As the name suggests, Firebirds offer American cuisine cooked over a wood fired grill. Steaks, seafood, and more, plus craft beer, wine, and cocktails.
Mission BBQ – This all American BBQ spot offers up your favorites in a clean, down home atmosphere. Mission BBQ has three locations around Jax.
Cheddar's Scratch Kitchen – Cheddar's is an American casual restaurant with table service, offering "made from scratch" food.
The Loop – This Jacksonville favorite offers up pizza, sandwiches, burgers, salads, and more. We especially love their shakes, and their tomato bisque is universally loved in Jacksonville.
Chuy's – It's not Mexican, it's Tex Mex. This lively chain has finally reached Jacksonville. Enjoy queso, margaritas, and things like Chicka-Chicka-Boom-Boom enchiladas.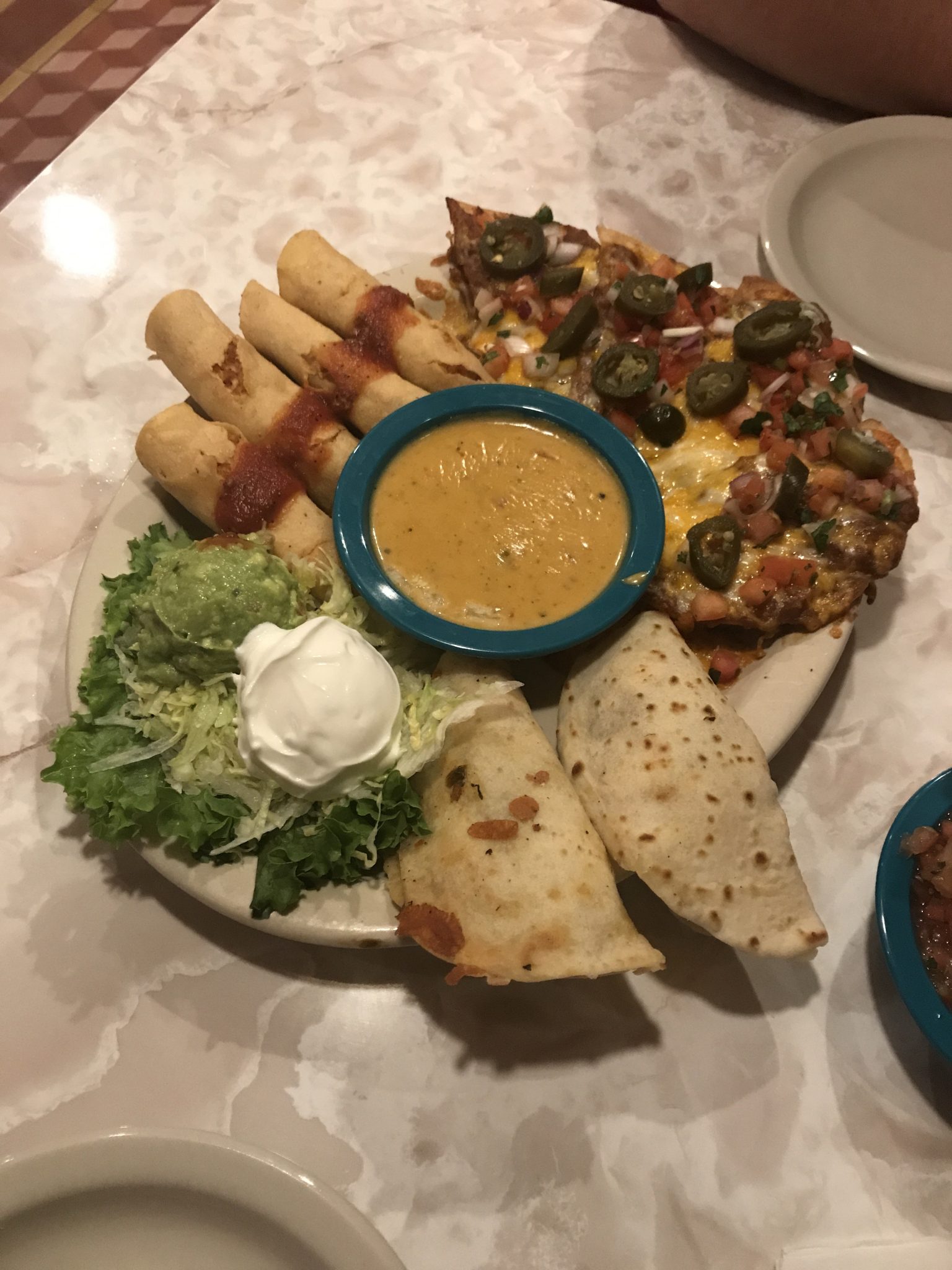 Red Robin – Nationally beloved burger spot, this is Red Robin's first foray into Northeast Florida. Enjoy burgers, onion rings, steak fries, chicken, beer, and ice cream and shakes.
Buffalo Wild Wings – BW3's as it's often called is the perfect spot to watch the game at the Town Center. Get your wings how you like 'em, a cold beer or two, and cheer on your team to victory.
Topgolf – While most people go to Topgolf for entertainment, they have the added bonus of offering a full menu of American cuisine, plus a full bar. Playing Topgolf is fun, and having yummy food to dive into or share with friends while you're at it makes it all the better.
Texas Roadhouse – This Texas steakhouse offers up steaks, ribs, and all things meat, with hearty sides and warm yeast rolls with cinnamon butter and peanuts to nosh on. Kids get a kick out of throwing their peanut shells on the floor, making this a good option for the family.
Bono's BBQ – A Jacksonville institution, Bono's has been serving real pit barbecue since 1949.  Bono's fancies itself to be real southern barbecue.  Service is warm, inviting, and very kid-friendly.
Applebee's – We all know Applebee's.  This chain has reinvented itself over the last few years with each restaurant taking on a sports theme familiar to the area.  Since The St. John's Town Center is right across the street from The University of North Florida, this Applebee's makes UNF athletics a big part of the theme.
Mimi's Café – A quaint and inviting restaurant serving French-inspired dishes and wonderful baked goods.  They offer lots of options for breakfast, lunch, and dinner.  Their quiche is a customer favorite, as are their yummy muffins.
BJ's Brewhouse – With locations all over the country, BJ's boasts a huge menu with options from deep dish pizza, to fresh and healthy items that actually taste good to creative pasta dishes at reasonable prices.  Don't miss their signature dessert the Pizookie, an ooey gooey deep dish cookie covered in ice cream.
Bold City Grill – A restaurant and bar located on the bottom level of the Sheraton, just around the corner from the St. John's Town Center.  They specialize in New American cuisine, but with a new Peruvian chef at the helm, much of their menu now has a bit of a South American twist.
Food Trucks – You can find a rotating parade of some of our city's best food trucks every Thursday-Sunday for lunch, 11am-3pm next to Victoria's Secret. There are typically two trucks with different concepts and menus. Some frequently in attendance are The Happy Grilled Cheese, Guanabana, Delish Kebab, Fusion, and Chubby Burrito.
DATE NIGHT SPOTS
The Capital Grille – Many people consider The Capital Grille to be the gold standard for a great steak in Jax.  Want a great high-end steak?  This is the spot.  But be prepared – it won't be cheap.
Moxie – Moxie Kitchen and Cocktails is a frontrunner in the Jax fine dining scene.  Much like the décor, the food is modern, yet comfortable and accessible.  They serve food that you're probably pretty familiar with (deviled eggs, for example) and put a unique twist on it.  Moxie manages to make upscale dining fun and interesting and it's right at the top of our list when it comes to dining in Jax.
Seasons 52 – Upscale, healthy dining in a warm and cozy atmosphere.  Headed out for a nice dinner and don't want to be overstuffed afterward?  This is the place. The food is delightfully fresh and delicious.  All items on the menu are said to be under 475 calories, which is great if you're looking for tasty food that's a bit healthier.
True Food Kitchen – Another healthy option, True Food Kitchen offers fresh and nutrient dense seasonal foods in dishes such as salads, grain bowls, pizzas, and entrees. They also serve up fresh teas and sparkling beverages in unique cocktails- both with and without alcohol. True Food Kitchen comes with a little sticker shock for Jax, but you're getting high quality food. Order accordingly.
Fogo de Chao – This international Brazilian Steakhouse is the real deal, direct from Brazil. At Fogo de Chao it's all about the tradition of rodizio meals, where chefs expertly cook meats on a spit over a fire. The market table (salad bar) is full of fresh and delicious vegetables, various salads, fruits, and cured meats and cheeses. The service is consistently fantastic. Fogo is ideal for celebrating a special occasion, where you will be well fed and well taken care of.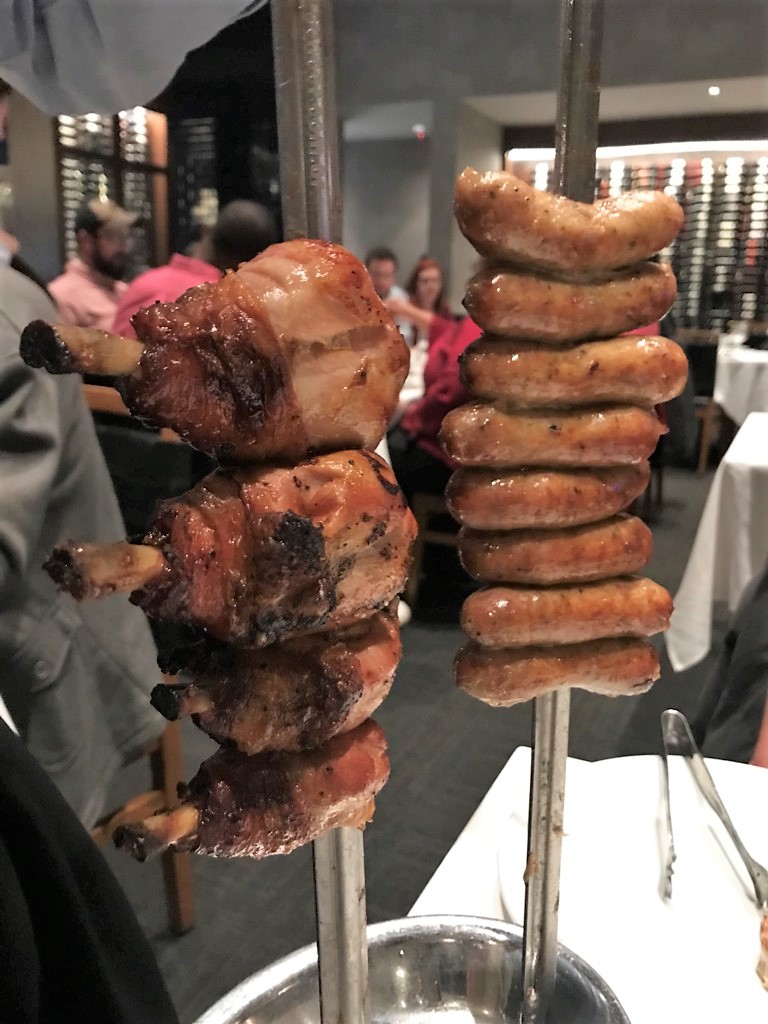 Texas de Brazil – This Brazilian Steakhouse is known for not only rodizio service, but tons of options on the hot and cold bar such as lobster bisque and sushi, and fantastic wine and cocktail options. Texas de Brazil also has great desserts. Good luck leaving room for it!
J Alexander's – Delicious upscale American fare.  They serve up steaks and seafood that are tasty, but not necessarily good for your waistline.  A little pricier than some other Town Center eateries, so may be best reserved for date night.
Brio Tuscan Grille – Brio offers up a menu inspired by the flavors of Tuscany.  The menu includes options like bruschetta, pastas, risotto, and lamb chops.  The ambiance is open, bright, and inviting, and we have always had great service here.  It's a good choice for a reasonably priced night out.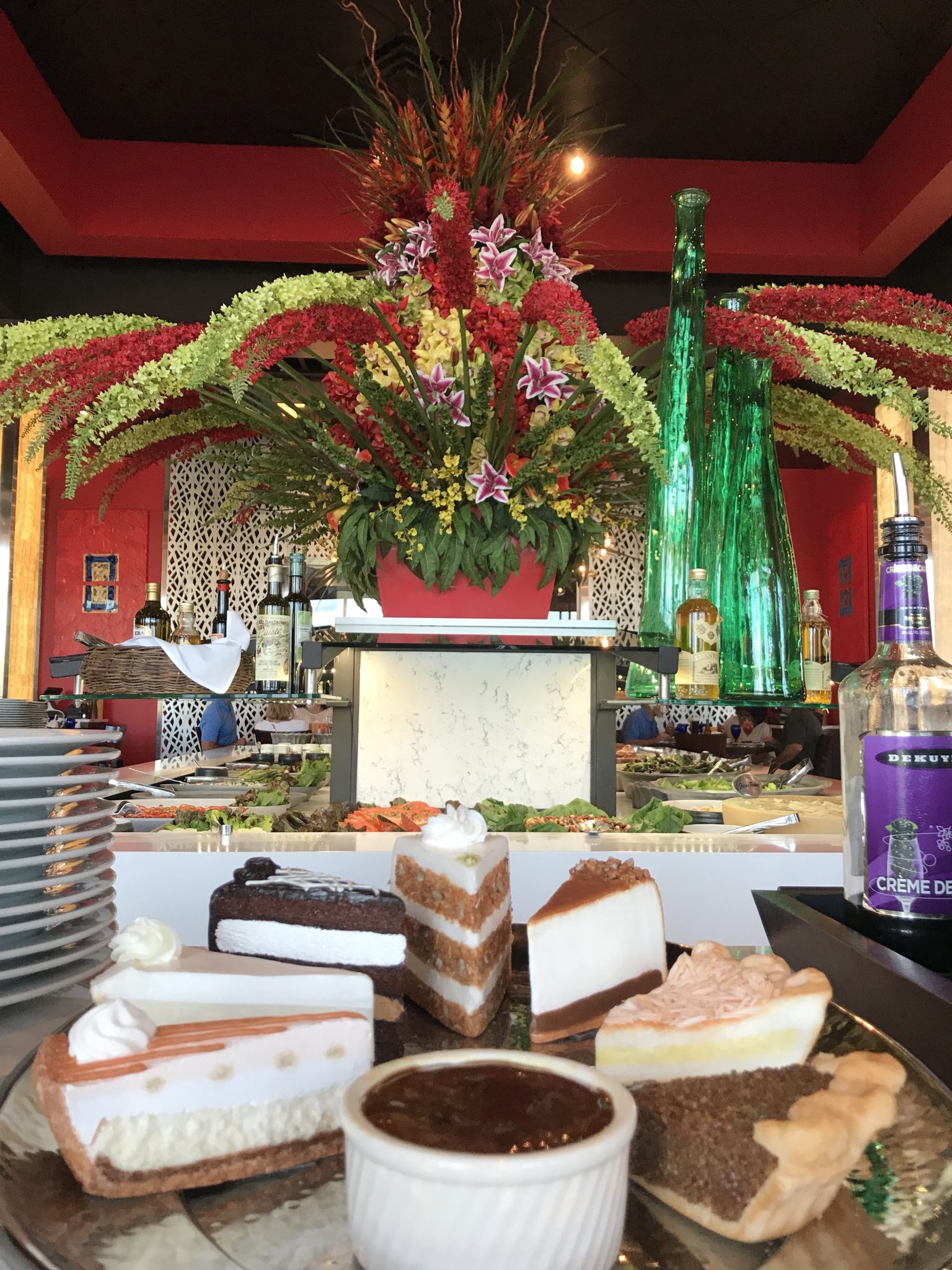 QUICK EATS
Five Guys – A national chain known for their burgers and handcut fries. Burgers are made to order and can be customized to your liking.  Their fries are especially good and the best part is that they give you a TON of them.
Bento – Fast casual sushi that we think you'll enjoy.  It's not the best sushi in town, but they deliver a consistently tasty product nearly every time.  They also get the food to you quickly, which is a big plus.
Noodles & Co. – This national chain offers noodles in a variety of preparations- Mediterranean, Asian, American, and Macs. They also have salads if noodles aren't your thing. Every noodle bowl comes with your choice of meat, chicken, pork, seafood, or tofu.
PDQ – People Dedicated to Quality might not have been what you chose to name your restaurant, but it worked for the folks behind PDQ. These chicken tendies are hard to beat, plus the plethora of sauces made in house make the dipping all the more enjoyable. PDQ is a favorite of families across the southeast.
Seasons of Japan – A chain with locations across the country, Seasons of Japan serves sushi and Hibachi style cuisine that is cooked to order.  Don't expect grill tables like a Japanese Steakhouse though – Seasons of Japan is closer to fast casual than sit down.
Moe's – This is the same Moe's you know and love from every other area of town, but with a drive thru! Get your burrito fix without having to haul those children out of their car seats. You deserve it.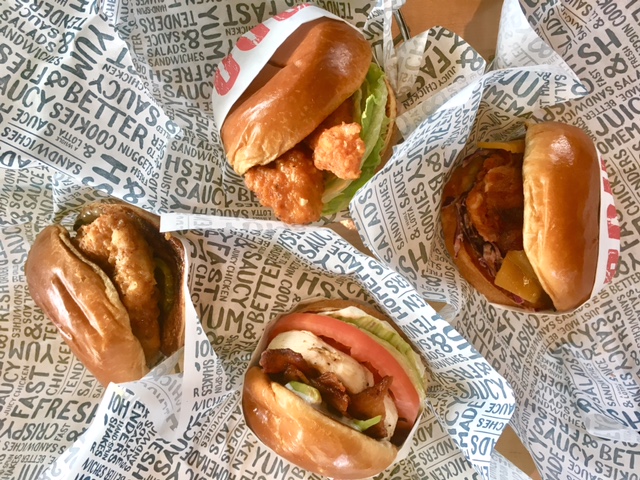 Blaze Fast Fire'd Pizza – One of the newer to Jax down-the-line pizza shops, Blaze offers signature pies and build your own options, along with salads, soft drinks, beer and wine, and dessert.
Newk's Eatery – This Mississippi original has made its way throughout the Southeast US, and currently has three locations in Jacksonville alone. Newk's offers fast casual counter service and serves huge salads, sandwiches, pizzas, and more.
Chicken Salad Chick – Another Southern original, this Alabama fast casual restaurant serves any and every kind of chicken salad you could want. The best part is getting samples if you aren't sure which chicken salad you want.
Freddy's Frozen Custard and Steakburgers – Freddy's serves up burgers, hot dogs, chicken sandwiches, shoestring fries, and a variety of custard cones and sundaes. It's inexpensive and All-American yumminess.
Panera – Breakfast, pastries, and healthy lunches.  We bet you've been to Panera a time or two and probably know what to expect.
Pieology Pizzeria – Pieology is in the ever more crowded down-the-line pizza establishment category. Pieology offers premium upgrades like cauliflower crust. Choose from chef inspired pies, build your own, or salads.
Toss Green – Locally owned and quickly becoming a local favorite, at Toss Green you walk down a huge line of fresh salad ingredients you pick from while your personal salad builder puts the pieces together for you.  You can also choose grain bowls, burritos, or wraps. If you're looking for a healthy St. John's Town Center Restaurant this is the spot for you.
Chipotle – This one is pretty self-explanatory.  Fast casual, fairly healthy, fresh Mexican fare.  Their guacamole is especially tasty.
Pei Wei – Owned by the same company that owns PF Changs, Pei Wei is essentially the fast casual version of PF Changs.  Fairly tasty Americanized Chinese food is what you can expect.
Panda Express – Fast food Chinese that's actually fast and decently good.  They also now serve up tasty Asian-inspired drinks, including fruit teas, coffees, and boba milk tea! Plus there's a drive thru.
Firehouse Subs – Jacksonville's own national sub chain.  Two Jacksonville brothers launched Firehouse locally and never looked back.  Firehouse has grown into one of America's favorite sub shops, and it's one of our favorites too.
Chick-fil-A – Home of the original chicken sandwich.  You've heard of Chick-fil-A, right?  If you haven't you are missing out.
Zaxby's – The south's favorite chicken finger place is at the town center. They'll celebrate 20 years of chicken fingers in 2020. Besides the chicken, people love the crinkle fries and the zax sauce.
Zoe's Kitchen – Fast casual, fresh Greek cuisine.  Their salads, pita sandwiches, and kabobs are especially good.  And they offer several different types of hummus for all you hummus lovers out there.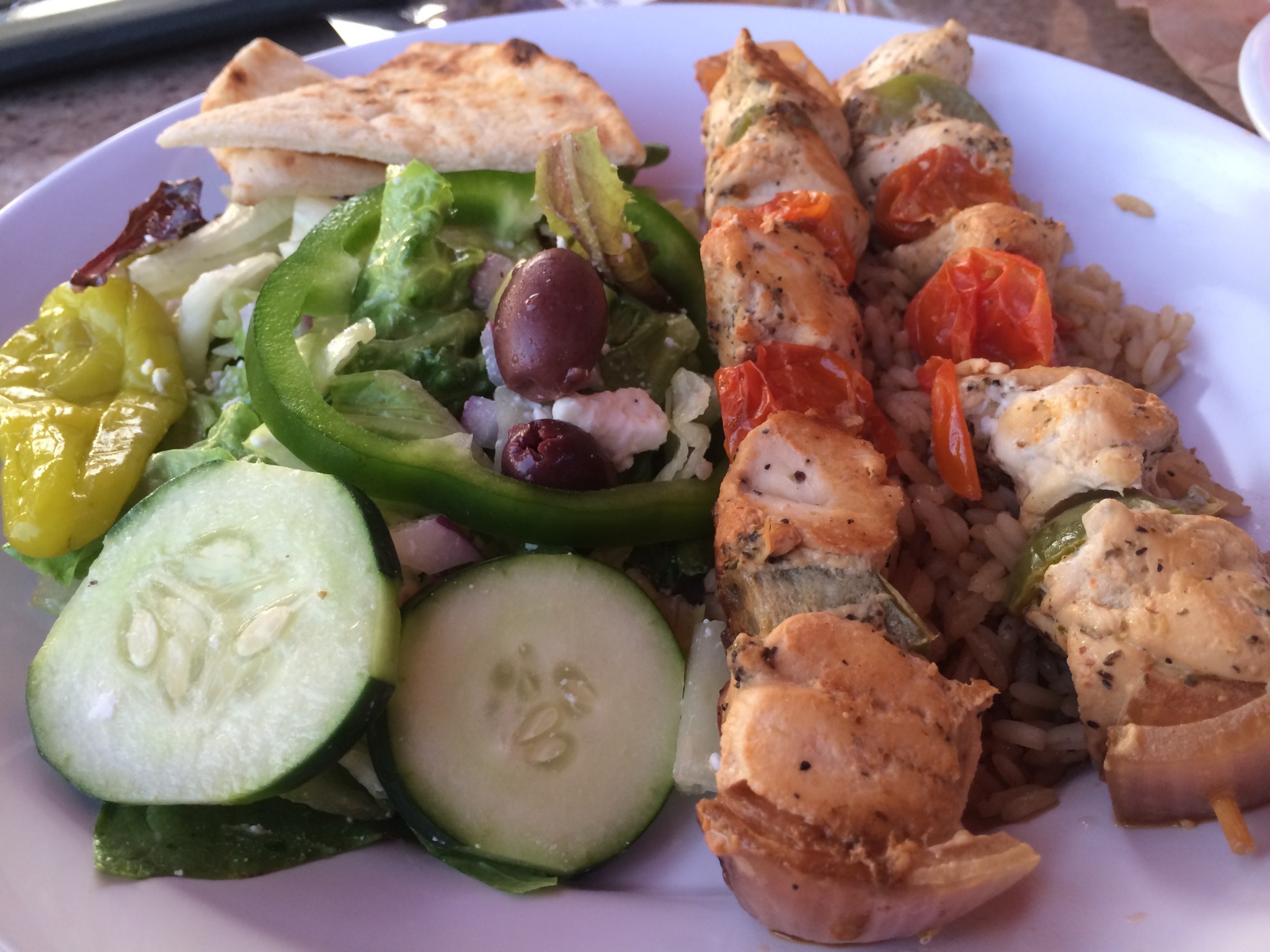 Burger Fi – Burger Fi aspires to offer a gourmet burger.  Their burgers and hot dogs are both hormone and antibiotic free.  They serve custard instead of ice cream and offer real cane sugar soft drinks.
Pollo Tropical – Fast casual spot serving up Caribbean and Latin food.  They are best known for their citrus-marinated grilled chicken, but also offer sandwiches, salads, and sides all with a Latin flair.
Wendy's – Get your square burgers, chicken nuggets, baked potatoes, and frosties. You can spend $40 on dinner elsewhere, or you can get 200 chicken nuggets for that same price at Wendy's. Your call.
Arby's – As they say, they have the meats. And curly fries. And jamocha shakes.
Taco Bell – For all the hate that Taco Bell gets, it has an almost cult following, plus it's open late and is super cheap. It's an easy fast food restaurant for vegans and vegetarians to eat at, and it actually is one of the healthier fast food options when looking at calorie and fat counts.
McDonald's – McDonald's is, well an option. If you're lucky the ice cream machine will be in working order.
SWEETS
Sweet by Holly – Two-time winner of Cupcake Wars Hollis Wilder bakes some of the best cupcakes you will ever eat.  These are quite possibly our favorite cupcakes in Jax.  Make sure to stop in on Mini Monday for $1 mini cupcakes.
Peterbrooke – One of a chain of locally owned chocolatiers.  Wonderful chocolates and ice cream are on offer when you need to satisfy your sweet tooth.
The Hyppo – This local popsicle shop has a kiosk between Dick's and J Crew. Enjoy fresh pops like strawberry hibiscus, watermelon basil, datil plum, pineapple ginger, and peanut butter banana. Those are just a few of the many options at the Hyppo. Flavors change with the seasons. 
Kilwinn's – A candy shop offering chocolates, ice cream, candy apples, and more.  Kilwinn's is a pretty typical chocolate shop.  Who doesn't like chocolate?
Good Dough – This San Marco original opened a second store in the town center recently. They are known for their creative doughnut flavors.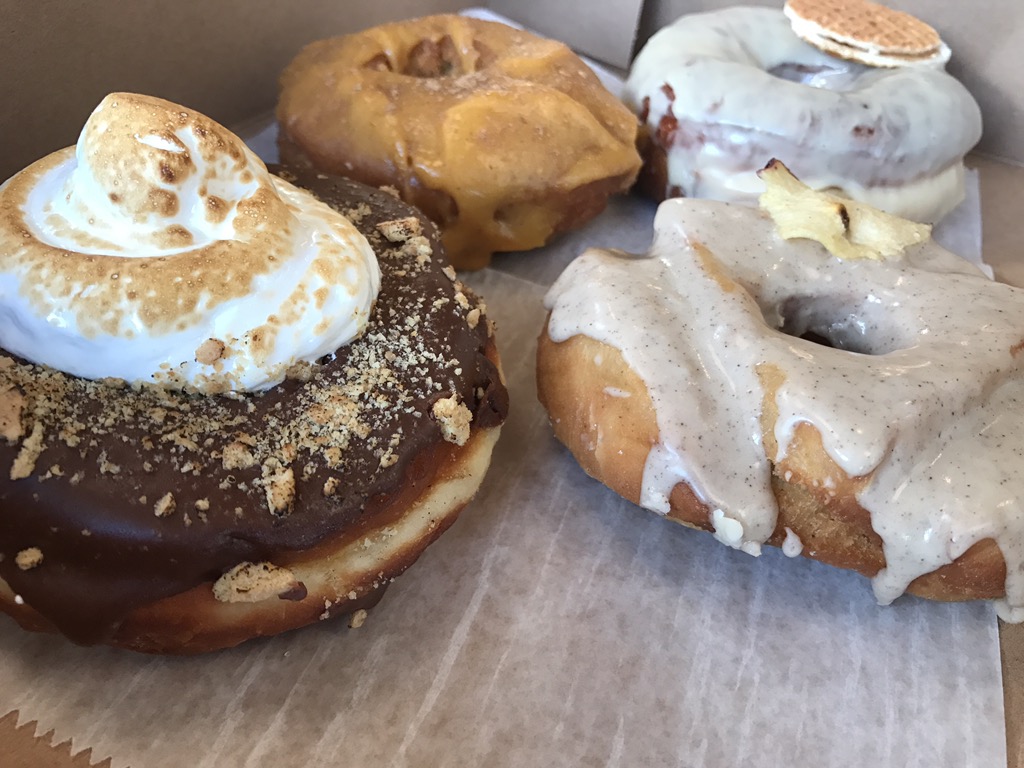 Yogurt Mountain – This might be the biggest of the FOUR froyo shops in the town center. They have about as many flavors as Mochi, and more toppings than anyone else. It's usually pretty quiet inside yogurt mountain, and easy to get to. This is a good spot for the kiddos because it's not crowded and they won't be disturbing anyone if they act like kids. 
Mochi – Quite possibly the most successful locally owned frozen yogurt chain, Mochi offers lots of options for self serve yogurt toppings and mochi.  Mochi is our favorite of the frozen yogurt options as well.
Yobe – This small yogurt shop is in the Gate station on the east end of the town center, near UNF. It's convenient in that you don't have to go all the way into the town center to get to it, but it's a small with only a handful of flavors and toppings. 
Sweet FROG – Another frozen yogurt chain.  Unfortunately this is one of our least favorite frozen yogurt chains based on taste.
DRINKS
Starbucks – If we need to tell you about Starbucks you've been living under a rock for the past 10 years. There are locations inside Target, a store in the roundabout area, and a freestanding store with a drive thru on the main drag.
Ebar – Located off of the courtyard just outside the entrance to Nordstrom, this trendy little coffee shop is a great place to get your caffeine fix while strolling the Town Center.  They offer plenty of coffee and tea options, light snacks, and free Wi-Fi.  It's sort of like Nordstrom's version of Starbucks.
Smoothie King – Smoothies and light lunch options.  Smoothie King has tons of smoothie blends and flavor, all customized to your liking.