In the midst of this pandemic, it seems like companies are still willing to take risks and not only reinvent themselves but expand and grow. With new restaurants steadily popping up, let's visit one that blends three different countries seamlessly, giving Jacksonville something it has never quite seen or tasted before. Paris Bahn Mi & Tea Cafe had their soft opening in late 2020, and now are in full swing with a beautiful rhythm and dishes that should impress anyone walking through their doors.
At first inclination one might not think French, Vietnamese, and American influences belong together. This holy food trinity not only makes sense, but it will also introduce you to new flavor profiles and expand your culinary appreciation. Paris Bahn Mi was started in Orlando, Florida by Bruce Tran who has now franchised the restaurant, the Jacksonville location being lucky number two.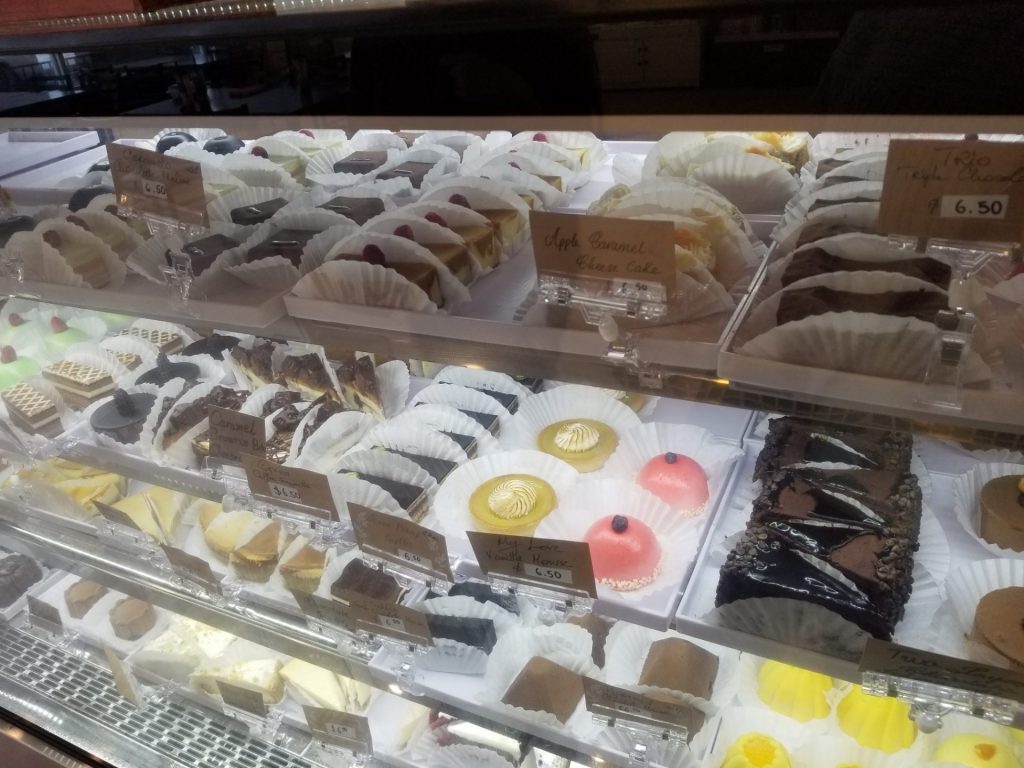 Located on St. Johns Bluff Road where the old Krystal's used to be (rest in peace), this is a welcome replacement. You can either take a load off with both indoor and outdoor seating or pick up a meal through the convenient drive through and they even have an online ordering option! Walking through the doors I was not sure what to expect but was met with sheer delight as the walls were lined with delectable pastries in beautifully lit cases. The adjacent wall was stocked with snack packs of items I couldn't attempt to pronounce (Rong Bién Tơi Mơ or Bánh Tráng Saté Tôm) but was excited to taste!
My sister and I were met by warm and smiling employees from behind the counter. The restaurant is built for fast casual, so there are simple tables and chairs throughout, a mural on the walls and across from the bathrooms, and a display of Bruce Tran's achievements. Paris Bahn Mi was clean with smartly displayed goodies and charming personnel. Nini Tran, niece of Bruce himself, welcomed us and gave us a quick rundown of everything. She was polite, sweet, and patient with our bombardment of questions. She brought us a variety of different menu items so we could experience the whole spectrum Paris Bahn Mi has to offer.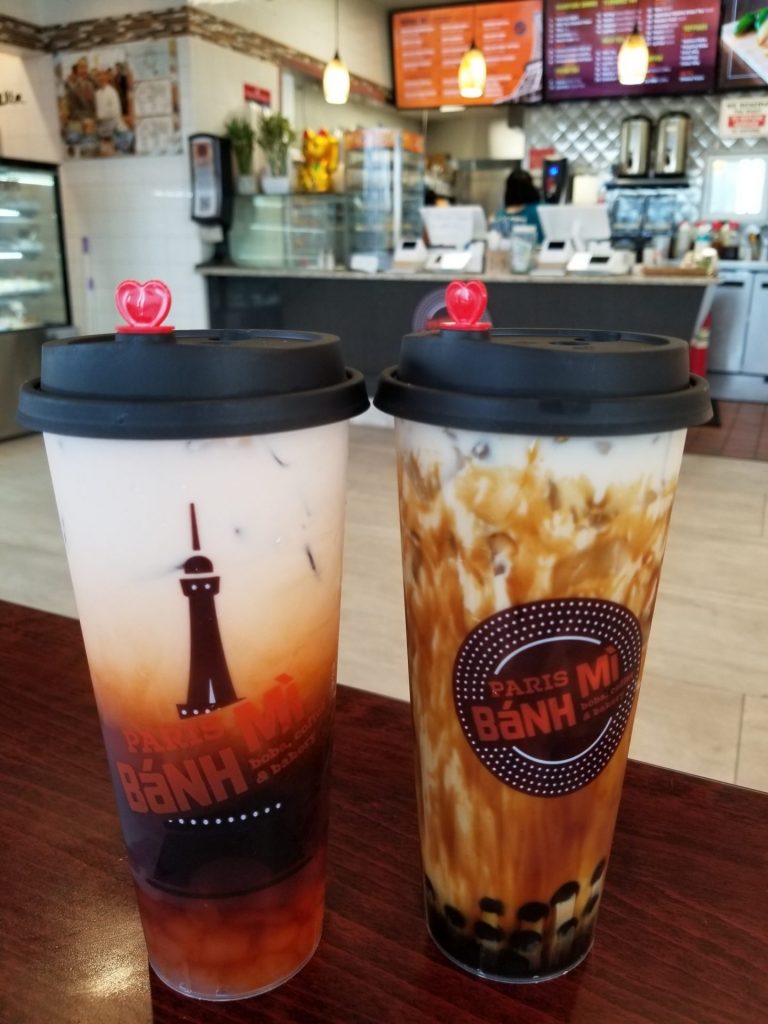 We started with three different signature drinks, all $5.50. The Paris by Night was by far my favorite. The Paris by Night is a milk tea base with coffee and brown sugar that satisfied the coffee addict in me. It is a touch on the sweet side, but I actually didn't mind it. I loved it so much I may have ordered a second one on my way out… My sister on the other hand couldn't get enough of the Thai Tea. With crystal boba and hints of cardamon, clove, and star anise, it was smooth, sweet, and full of flavor. Lastly, we tried the Artichoke Tea. Y'all. I don't even know where to begin. This drink is not for everyone. I'm going to do my best to describe this drink, but if you are adventurous and daring, this drink is for you. If you've ever had gazpacho, this may belong in that category. The Artichoke Tea is more on the savory side with earthy notes. The tea consists of grass jellies, chia seeds, and crystal boba to add to the mysterious complexity of the beverage. I was so intrigued by this drink, I kept going back for more sips trying to decipher if I enjoyed it or not. I came to the conclusion I would not order it again, but I am glad I tried it and appreciate the intricacies of something most Americans would never have tried. Nini admitted this is not for the faint of palate, but it was her favorite drink.
Next, we dove into three different pastries. The first was a grilled pork bun, a Vietnamese treat. The center was a flavorful ball of pork surrounded by flaky pastry. For me, the dough to meat ratio was off. There was overwhelmingly more flaky crust than there was meat. Almost like a box of cereal with a small toy at the bottom of the box. Lots of boring cereal until you get what you want. This pastry was my least favorite thing I tried all day. Although once you got to the pork, it was delicious, the effort to get there was not worth it. After the pork bun we tried the cranberry twist. Visually stunning, it was pastry twisted with pops of red cranberries sneaking through. Buttery with the right balance of sweet and tart. I would definitely order it again. The last pastry we tried was my favorite. It was a caramel brownie cheesecake ($6.50) that was superbly rich, decadent, creamy, and chocolatey dreamy. Complete perfection in my book. My ideal day would consist of sipping on a Paris by Night and noshing on the caramel brownie cheesecake.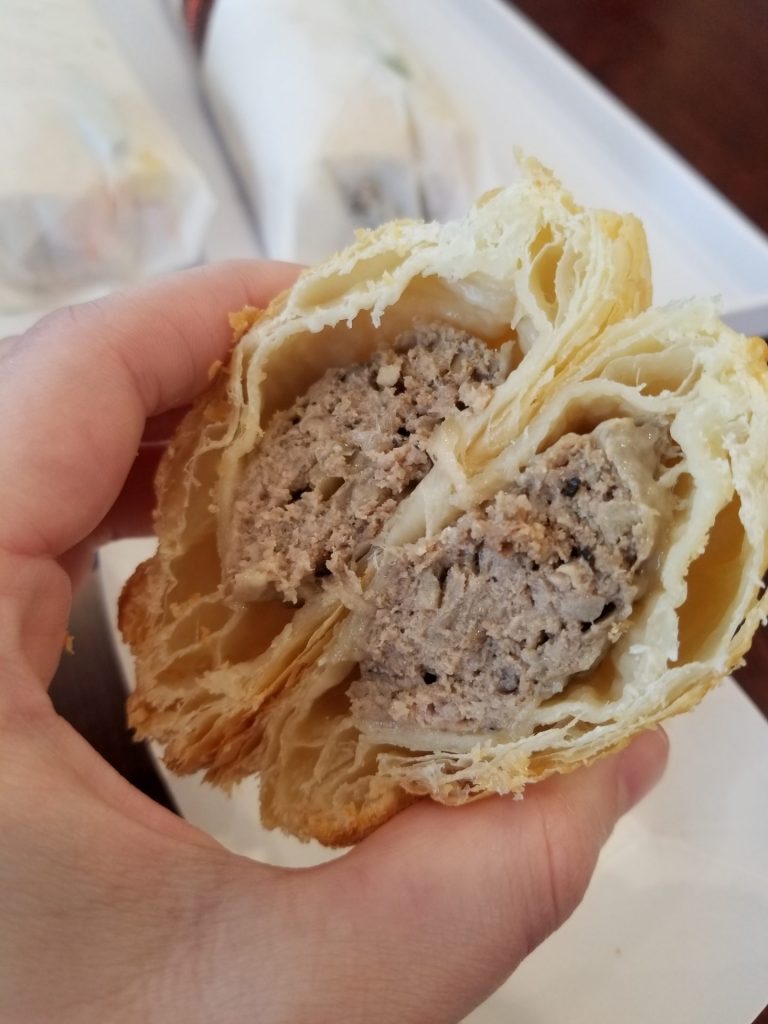 Lastly, we finished the trek through our culinary journey with two bahn mi sandwiches. We received the B1. Special Combination ($6.50) and B2. Grilled Pork ($6.25). Both sandwiches were stuffed with cucumbers, pickled carrots, pickled white radish, jalapenos, cilantro, and a special sauce all hugged by a flawless baguette. This is where the Vietnamese and French love affair was melded together. During WWII, the French brought their signature baguettes to Vietnam, where it was a harmonious blend of the two cultures. The baguette provided a crunchy strong outside but soft and chewy inside, perfect for the bahn mi filling.
While I was fully expecting the two sandwiches to taste almost identical considering the bread, sauce, and veggies were the same, I was blown away with the vast difference of flavor. The Special Combination is packed full of three different meats including pate. It was essentially a Vietnamese cold cut sandwich. It's light, fresh, and crisp. The pickled veggies and cucumber balance the kick from the jalapeno and sauce. The bread is chewy yet soft in the best possible way. I greedily almost inhaled the whole thing before letting my sister have a share of this sacred sandwich. The grilled pork sandwich on the other hand was much heartier. This was a warm sandwich packed with tender, savory grilled pork. The meat was moist, well-seasoned, and gave a whole different dynamic to its identical B1 fillings. I loved this sandwich almost equally as the first. On this particular day I gravitated more towards the Special Combination over the Grilled Pork, but only by a slim margin. It really depends on what your mood is.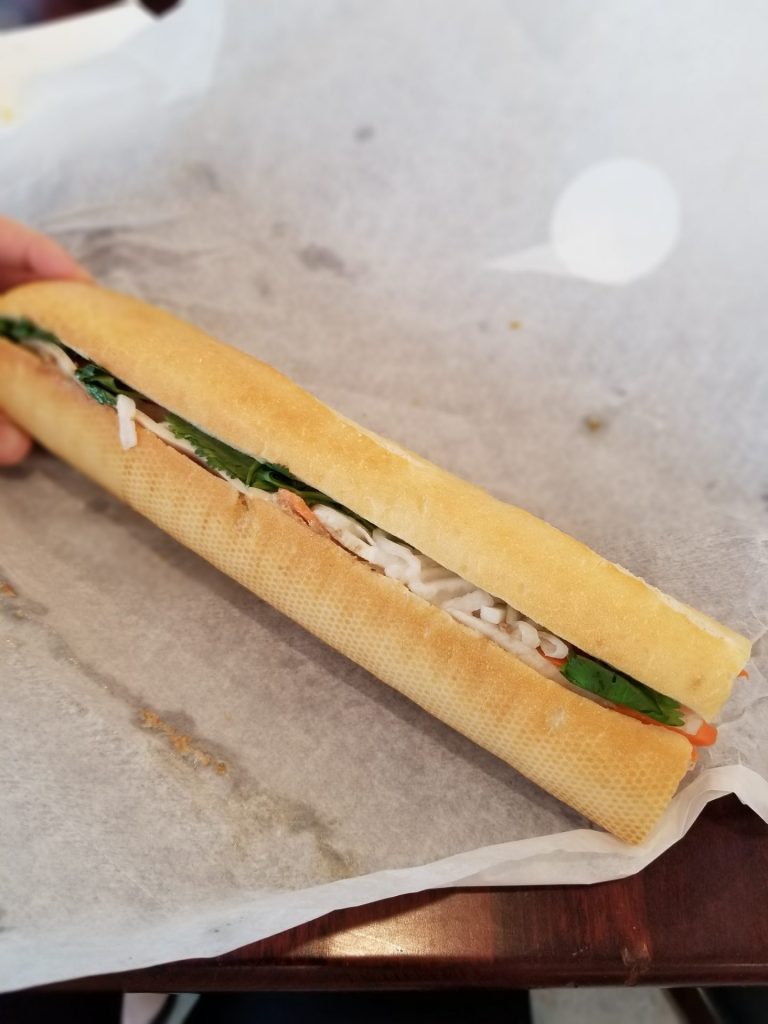 Paris Bahn Mi & Tea Café has so much to offer beyond French pastries, bahn mi sandwiches, and boba teas. They also specialize in slushies, burgers, croissant sandwiches, and appetizers such as chicken popcorn ($5.50) and egg rolls ($5.50). All their pastries are freshly made in Orlando and shipped to Jacksonville, where they are rotated twice a day, if not more, to ensure freshness. They also offer an impressive array of gluten free desserts as well. If the lure of fresh French pastries, perfectly executed Vietnamese bahn mi sandwiches, or twists on American classics isn't enough reason to get off your couch, hopefully the intrigue of an Artichoke Tea might be. Hurry and try one of the best new places in Jacksonville!
Paris Bahn Mi
3515 St Johns Bluff Rd S
Jacksonville, FL 32224