Chuy's Tex Mex has become as well known for their unique decor and their love of Elvis as their food. Their website credits "their "decorator" Jose Cuervo" for the wacky look of their spaces. As soon as you walk into their new St. Johns Town Center location you notice the multi-colored fish hanging in the entryway and bar area. As you make your way into the restaurant you may find yourself seated under a ceiling of hubcaps, metal palm trees, or even an Elvis shrine. There's an "Elvis shrine" in every location and several references to him on the menu as well. Legend has it that during the opening of the first Chuy's location, the very small decorating budget led to the purchase of a large Elvis portrait and the rest is history.
Like many Mexican restaurants, Chuy's serves chips and salsa when you sit down. The salsa is a bit more spicy than most Jacksonville Mexican restaurants serve, which might lead to a bit of a surprise when you dig it! We started our meal off with the appetizer plate (chile con queso, nachos, deluxe quesadillas, chicken flautas, guacamole & sour cream). Be sure to dig in right away as this dish includes a few elements that will get a bit soggy and tastes best warm. The quesadillas included were absolutely delicious and made the choice well worth it.
The most unique item on the Chuy's menu is their Elvis green chile fried chicken ("a tender chicken breast breaded with Lay's potato chips, deep fried and smothered in Green Chile sauce and cheddar cheese"). The potato chip breading gives the chicken a great crunch and actually tastes like potato chips. The green chile sauce has a pretty strong kick so if you're not a big spicy food fan you may want to ask for it on the side (Chuy's makes it clear that their menu is highly customizable so if you want something on the side or want to try a dish without one element, just ask). The dish is served with green chile rice and refried beans. The green chile rice is a real standout, it's also on the spicy side but is full of flavor.
Another Elvis themed menu item is the Elvis Presley Memorial Combo. This meal is a rather large assortment of items including a beef Tex-Mex enchilada, cheese Ranchero enchilada, chicken Tomatillo enchilada, a seasoned ground sirloin crispy taco & homemade tostada chips dipped in chile con queso. The sauce on the cheese ranchero enchilada was covered in a fantastic sauce that would go well with most items. The sauce was rich with strong flavor without overwhelming the enchilada. The chicken tomatillo enchilada was the most unique element of this dish and might particularly appeal to people who enjoy a sour cream-esque flavor. One bite of the taco makes it obvious that each element is freshly made (down to the cheese being grated each day).
Chuy's extensive menu covers all the tex-mex classics and tosses in a few fun and unexpected twists as well. The restaurant itself is interesting with a lot to take in. The ability for customers to customize and adjust the menu to their personal tastes makes it a great place to bring a group, even those who may be on the picky side of things.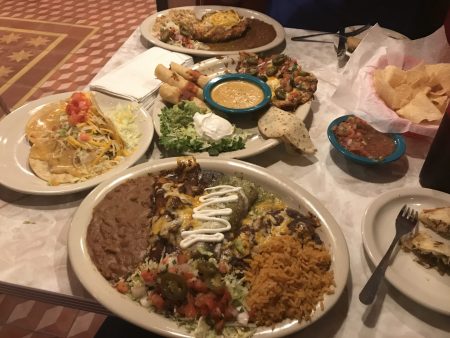 Note: From time to time we're invited out to try a restaurant or to taste new menu items.  This meal is usually comped, as this one was.  We're under no obligation to write a positive review or any review at all when we're invited out to try a place.  Every review you see on our site will be an honest review of the place whether or not the restaurant provided us with the meal at their cost.