BBQ spots are a dime a dozen, especially in the South. You can throw a rock anywhere south of the Mason-Dixon line and probably hit a BBQ restaurant or food truck. So when a new BBQ food truck, The Smoked Meat Militia, invited us out to try their own take on smoked meat, I was curious to see what this place had to offer and how it differentiates itself.
I visited The Smoked Meat Militia on a beautiful September day at The Cultural Corridor space in Mayport. Side note: If you haven't been there yet, The Cultural Corridor is a rotating collection of musicians, artists, vendors, and food trucks that meet every Saturday at an impressive set of murals from 11a – 3p at 1800 Mayport Rd.
The Smoked Meat Militia is owned and operated by Evan Geske. He attended the Culinary Institute of America, cut his teeth at two Michelin star restaurant Charlie Trotter's in Chicago as a stagiaire. He worked at some other high-end restaurants, like Bayona Restaurant under Top Chef finalist Susan Spicer and Cafe Degas in New Orleans, before landing in Jacksonville. He was recently a mixologist at the Ponte Vedra Inn and Club before taking the leap into the food truck world in June of 2021. Evan's resume is impressive, but how does white-tablecloth-fine-dining translate to blue-collar-working-class BBQ?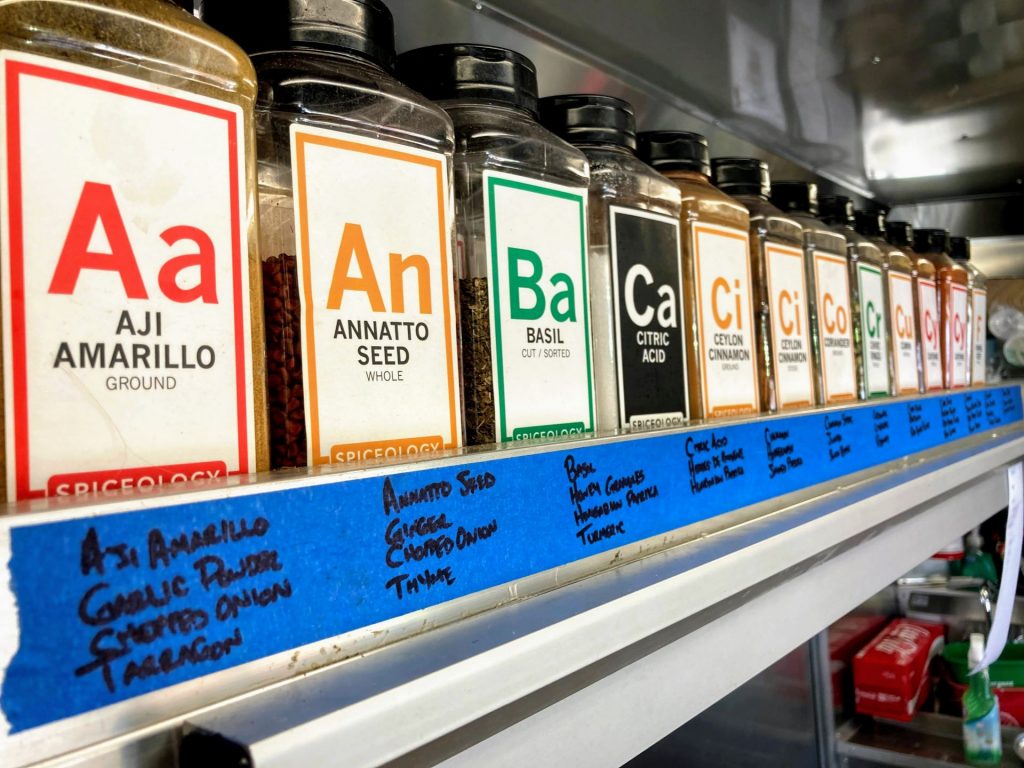 I asked Evan how he sets himself apart from the plethora of other BBQ spots. He described his process as "Deconstructed/Reconstructed." Having seen my fair share of culinary reality shows, I've learned that "deconstructed" in foodie speak means "broken down into the parts that make it." When chefs deconstruct a dish, they present all of the key components of that dish at the same time, but not necessarily mixed together.
Evan explained that by "deconstructed" he means that each ingredient that makes up his BBQ, from the rubs and sauces, to the meat and the heat, to the sides and desserts, must stand alone and distinct, flavorful without the need of other things. But when "reconstructed," or combined, it becomes greater than the sum of its parts. Like when five mini lion bots come together to form one super-bot.
Thinking back to my experiences with sub-par BBQ joints, that makes sense. I've been to places where the meat was nothing without the sauce and vice versa. Nothing's worse than a dry, flavorless pulled pork sandwich whose only saving grace is the bottle of sauce sitting on the table. And if you run out of that sauce…inedible.
With Evan's "deconstructed/reconstructed" approach to BBQ, he strives to eliminate that problem. Take his sauces for example. His most popular, award-winning, and my personal favorite, is the "Perfect Score" sauce. He combines ketchup, cherry cola, his own BBQ spice rub, brown sugar, and molasses. On its own, that combination sounds delicious. But Evan takes it one step further. After mixing the sauce ingredients, he smokes it over cherry wood. The end result is a smoky-sweet sauce that is delicious on its own, but when combined with his pulled pork and chicken, becomes something different, better.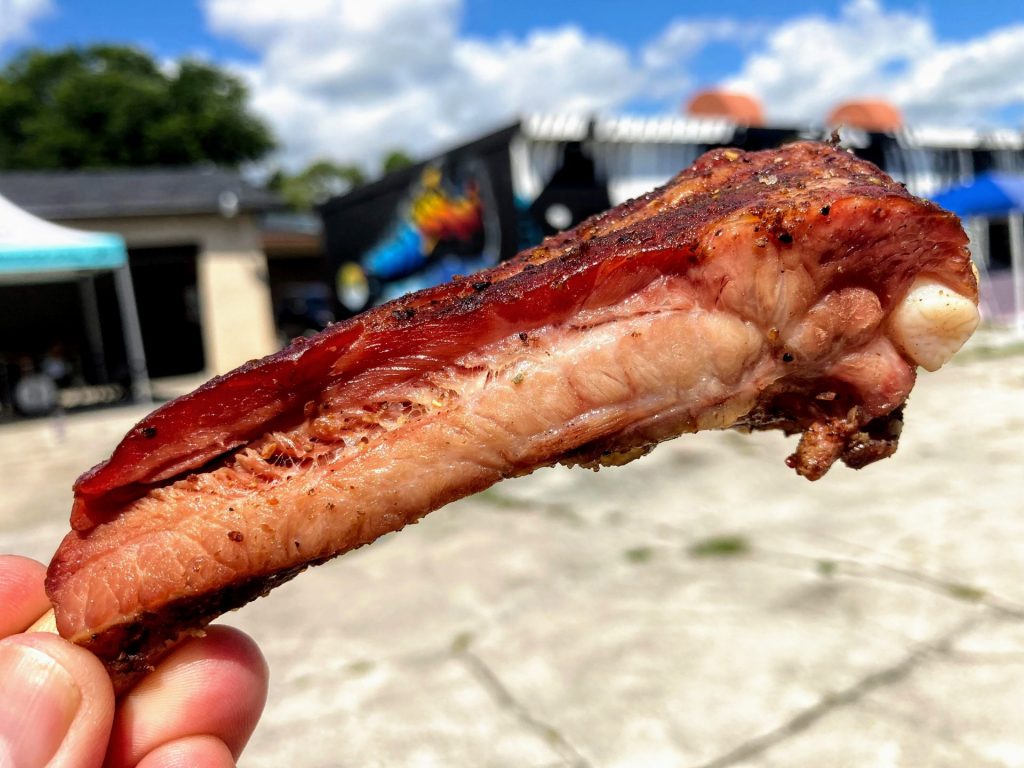 His other sauces include the "Car'lina Hawt," a Carolina-style vinegar-based sauce, "The Yellow," a mustard-based sauce combining three different mustards, Florida honey, apple cider vinegar, and four different chilies. Finally, there's the "Bama White" made with Duke's mayo, white vinegar, Morena sugar, horseradish, and black pepper.
Beyond the sauces, Evan also makes his own rubs. The spice rack in the truck is a long and distinguished line of various spices. Highlighting the rack is a coffee-based rub he calls the "You Got Beef Bro" rub that he uses for his brisket. The base of this rub is coffee from local coffee roaster Pura Bean Coffee Co. Combining this rub with his USDA Prime brisket is a beautiful marriage of meat and spice. A bit of heat, just enough to keep your palate engaged.
Speaking of meats, all of Evan's meats are high quality and smoked over cherry wood, adding a light, sweet flavor to the meat. The pulled pork with no sauce is fantastic by itself. The pork fat glistens in every bite, coating your tongue and leaving a lovely reminder of the goodness you just experienced. The rub leaves a nice lingering heat.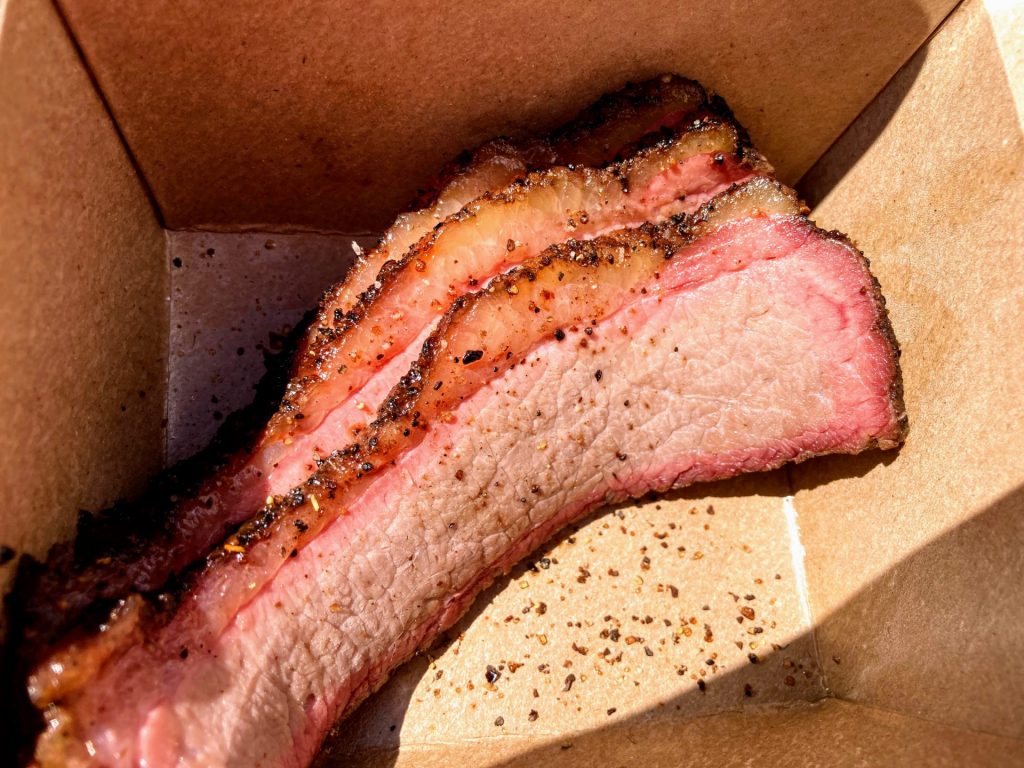 The St. Louis Style ribs were picture perfect. Using a Memphis-style dry rub, he smokes his ribs at the higher end of smoking temp, about 260 degrees. The result is a toothsome bark with tender meat.
The "Yardbird" is pasture-raised chicken thigh meat seasoned with the same rub as the pulled pork. Thighs are my favorite part of the chicken. Tender, juicy, and full of flavor. And just like the pulled pork, the pulled chicken is tasty by itself. But with the sauces, it takes the flavor up a few notches.
Eating only delicious smoked meats can wear you out. So complementary sides are a must. It gives your palate a break from all the richness of the meat. Evan takes some of the traditional BBQ sides and gives them his "chef-y" twist that comes with many years of classically-trained, fine-dining experience.
My favorite side was "Pop-pop's Chuckwagon Beans." It's his father's recipe that combines baked beans, grass-fed ground beef, Vidalia onions, celery, and molasses. These beans were rich, sweet, and far and away some of the best baked beans I've ever tasted.
"Cold Mac + Cheese" is his take on mac and cheese. Essentially it's a pasta salad made with ​​orecchiette pasta, JD's pimento cheese, and poblanos. It has the flavor of a mac and cheese, but in the form of a cold pasta salad. Again, this shows Evan's creativity and upending your expectations.
That same creativity shows up in the "Very Southern Potato Salad." Instead of a traditional potato salad seen on many BBQ menus, he uses Peruvian purple potatoes, Ají Amarillo chile puree, hard-boiled eggs, Vidalia onion, celery, mustard, and Duke's mayonnaise. Another creative take on a traditional side and also capitalizes on the purple food craze that seems to be taking over Instagram. Rounding out the sides are his "Spicy Cukes," and Greens, made with a combination of kale and collards, bacon, apple cider vinegar, and Ají Panca chile.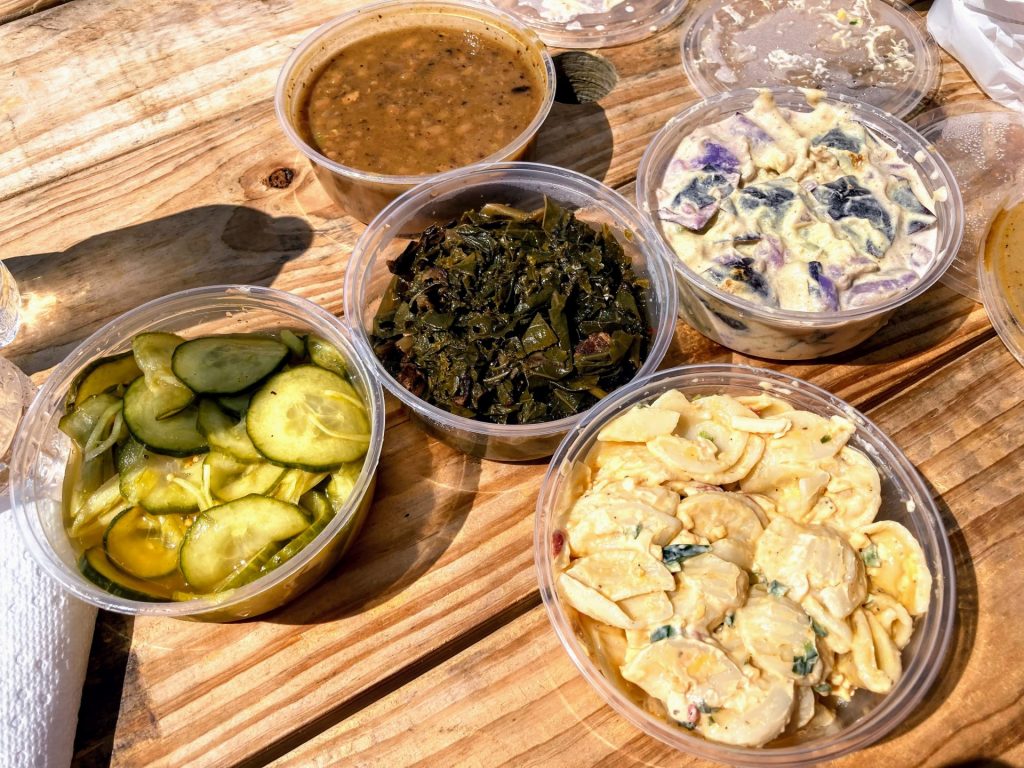 Finally, it's time for dessert. He only has one dessert on the menu, but it's a great one. Simply called, "Banana!," it's another "chef-y" take on a traditional banana pudding. Instead of mixing bananas with pudding and calling it a day, he makes a sous-vide banana custard and whips in a dulce de leche cream cheese cheese. It's garnished with a sugar cookie and bruleed banana slices. The end result is a light and airy custard overflowing with natural banana flavor. Save room for it, because this is a must-get dessert when you visit the truck.
The Smoked Meat Militia is off to a great start and does a lot of things to separate itself from the BBQ pack. His creative takes on traditional BBQ is a welcome addition.
I asked Evan how he came up with the name of his truck. He said, "A militia is a group of people defending the things they believe in. I'm here to defend you from bad BBQ."
Well, you can sign me up as the newest citizen-soldier of The Smoked Meat Militia.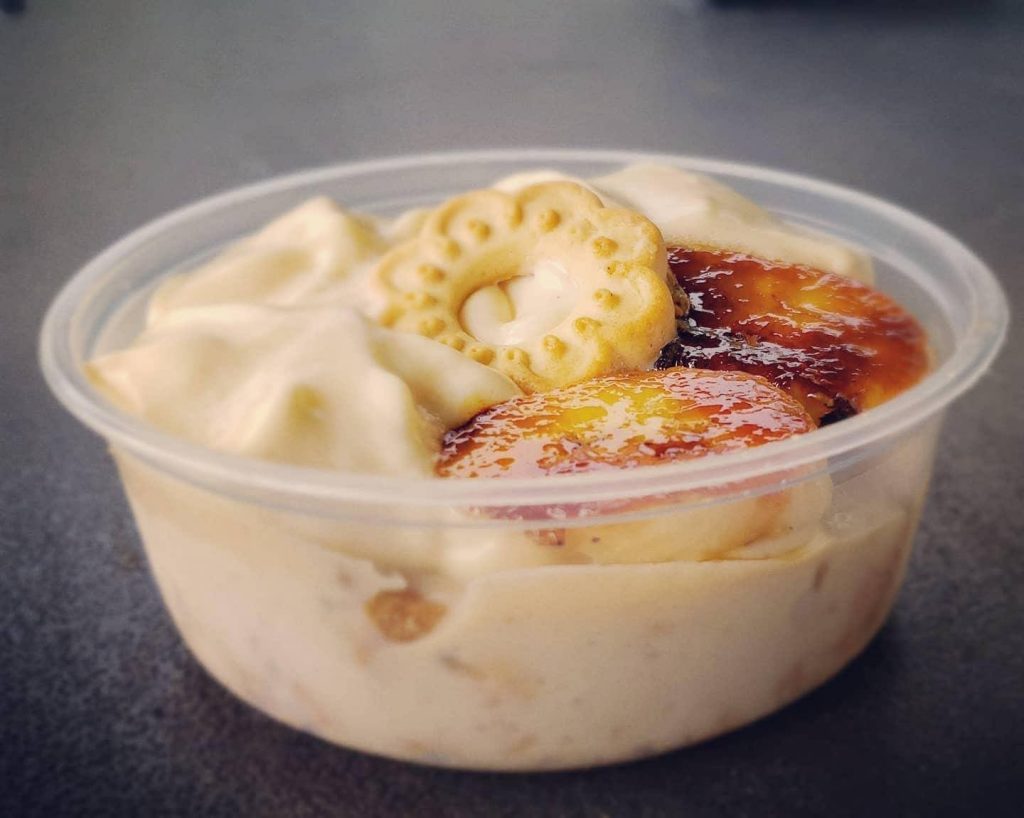 Note: From time to time we're invited out to try a restaurant or to taste new menu items. This meal is usually comped, as this one was. We're under no obligation to write a positive review or any review at all when we're invited out to try a place. Every review you see on our site will be an honest review of the place whether or not the restaurant provided us with the meal at their cost.