When we think fast casual salad I think most of us think Panera. When we think fast casual burrito or rice bowl we think Chipotle. The good news is for both of those options there's a locally owned alternative. Toss Green is a local fast casual restaurant specializing in custom salads, wraps, burritos and rice bowls. It's a great place to grab a healthy lunch.
Toss Green is on Southside Blvd in the Tinseltown area at 4735 Southside Blvd. Suite 12. 904-619-4316. www.tossgreen.com
Toss Green is located in a small strip of stores and restaurants near many other standalone restaurants and not far from Tinseltown theater. There is usually not a shortage of people in the area, especially at peak times.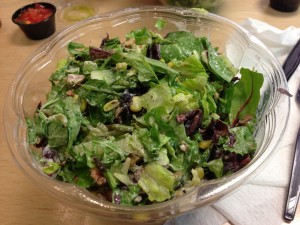 Walking into the restaurant, you notice a very clean and streamlined appearance. It actually felt a bit like a chain restaurant in that it was so polished. Nothing was out of place; everything was thought out and efficient. We actually looked online to double check that it wasn't a chain while we ate lunch there.
We went to Toss Green specifically for a healthy meal. They basically offer salads, wraps, burritos, and burrito bowls (the contents of a burrito without the tortilla) made to order. There were so many choices that it was initially overwhelming. There are 18 salads or wraps (could be either one, just have it in a bowl or in a wrap) and 7 burritos or burrito bowls on the menu. In addition to the menu options, you can choose to make a custom salad by choosing from each of four categories as follows: bases (lettuces or tortillas), toppings (fruits, vegetables, nuts, some cheeses), premium toppings (mostly meats, some premium cheeses, and vegetarian protein options), and finally dressings, salsas, and sauces. Are you overwhelmed yet?? Well, reading this it's hard to get a sense of just how many options they have available but in the store it almost felt like too much.  In this case that's not necessarily a bad thing. They also offer fresh juices which you can again choose from the menu or mix and match several juices.  There is even a soup of the day and frozen yogurt with fruit and crunchy toppings.
One of the things we appreciated most about Toss Green was the variety of flavors. If you were in the mood for Mexican, Asian, Greek, Seafood, fall/harvest flavors, or a completely vegan meal, you could go to Toss Green.
When you order (or custom order) a salad at Toss Green they will first put all the ingredients in a bowl, then dump the ingredients onto cutting boards and chop it all up, then put it back in the bowl for you to eat. Watching the process we were pleased with how generous they were with each ingredient, no skimping here. Ideally this process will give you fairly distributed flavors throughout your meal. However, we had a clump of blue cheese the size of Texas. We kept having to break pieces off of it. That was annoying. We'll assume it was just an anomaly.
We custom built our salads the day we went to Toss Green.  In one salad we had romaine and arugula topped with cucumber, bell pepper, grilled prime sirloin steak, crumbled blue cheese, kalamata olives, and balsamic vinaigrette. It was a good salad, with the exception of the aforementioned ball of blue cheese. The meat was fresh and easily cut with plastic silverware, not hard or tough or dry. The lettuce and veggies were fresh and crisp, no sign of wilting. In the other salad we had romaine topped with corn, black beans, pico de gallo, sour cream, avocado, ancho-chili chicken, lime cilantro vinaigrette and avocado vinaigrette. I'm in the habit of just using salsa or pico de gallo instead of dressing on a southwest flavored salad, but there were so many tempting dressings and sauces that I picked two. They were wonderful, tangy, and stood up on their own, but I also liked them together in my salad. The ancho-chili chicken gave a great spiciness to this salad. It wasn't overwhelming, but it definitely wasn't boring. Again all of the lettuce and veggies were fresh and crisp, nothing even close to wilted or brown.
We found the employees of Toss Green to be extremely helpful in choosing our meals and also very positive and nice people. If you're in the mood for a fresh salad with lots of options Toss Green is a great choice.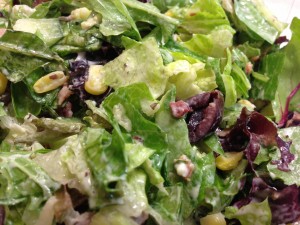 Positives:
Clean

Variety of flavors 

Good service

Great choice for healthy eaters 
Negatives:
Menu choices can be overwhelming

We ended up with a giant ball of blue cheese 

If you are a "meat and potatoes" kind of person you might not appreciate what Toss Green offers