Orange Park, the food trucks are coming! The Red, White, and Food Truck Takeover will be going down this Saturday, May 27th, from 11-4pm at the Orange Park Town Hall (2042 Park Avenue)! Hosted by the Jax Food Truck Food Court, this Takeover is bringing 20+ premiere food trucks, local vendors, live entertainment, and a kids play zone for a day full of family friendly fun! A portion of all the proceeds of the amazing food you'll be eating will be donated to Combat2College, a local charity that aides in transitioning our veterans from service into college and careers. What better way to celebrate Memorial Day weekend?! You can check out the full event details on the event page, and below is a full lineup of what you'll get to eat on Saturday! We'll see you there!
All your savory dreams are met with:
The Happy Grilled Cheese: People's choice for best food truck in all four major Jacksonville publications, The Happy Grilled Cheese is one of Jacksonville's heavy hitters! Take it cheesy with their Daddy of the Mac and loaded cheese fries. Plus, Pro Tip: you can add mac and cheese to any sandwich if you're feeling decadent! Our favorite is to add it to the California melt! You're also not going to want to miss their sweet, decadent, chocolate laden S'mores melt!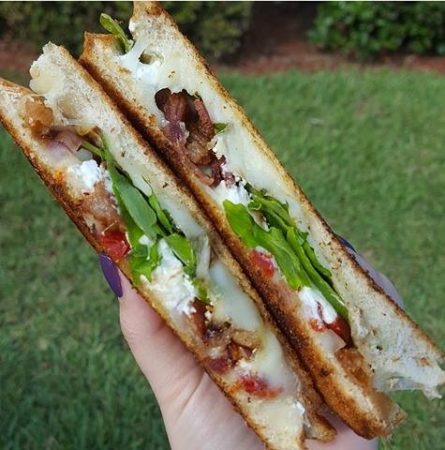 Fusion Food Truck: Chef Ashley Amin (winner of top Indian chef in San Diego) brings us the best Indian cuisine in Jacksonville from her truck, proven by being recently named one of the top 50 food trucks in the United States! We highly recommend their award winning banana curry and tikka masala paired with a decadent Thai tea. If samosas are on the dessert menu, you'll definitely want to have one or ten! Really, we love everything on Fusion's menu, so order liberally.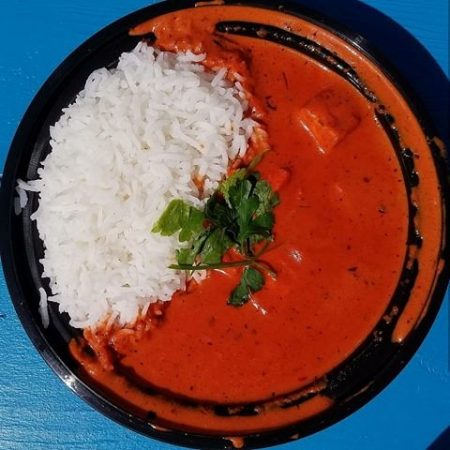 Seaweeds Maine Lobster Rolls: Who doesn't love a good lobster roll? Born and raised in Maine, owners Rusty and Judy know how to create them with perfect authenticity. Served on buttery buns, the chunks of lobster meat are plentiful and filling. Whether you want a snack size or a huge meal, Seaweeds will give you your fresh lobster fix!
Mr Potato Spread: Not a single person on this planet can turn down a massive loaded potato. Mr Potato Spread is fulfilling this great need in Jax with over the top potatoes and loaded fries that will carb load you right into heaven. Want it topped with broccoli and cheese? Go for it. Want it loaded down with meat? They've got you covered. Want it covered in CRAB BOIL?! Your dreams have come true.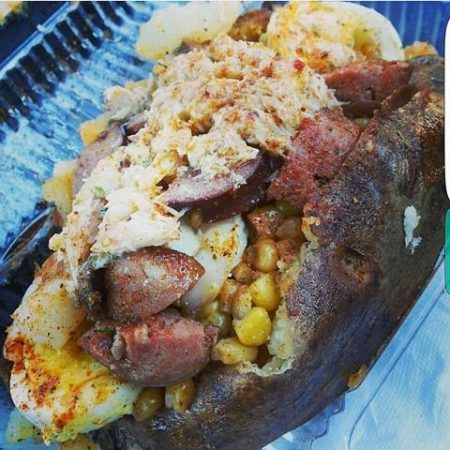 Sweeto Burrito: It's easy to see why Sweeto is one of the most sought after trucks in Jax– their burritos are some of the best in town! Be prepared to share, these are HUGE! The White Chick, Buff Chick, and Rise and Shiner are our personal recommendations! Plus, tater tots in a burrito, need we say more? This is definitely flavor worth fighting for.
Wauga Wauga: This food truck is bringing an exciting twist to gourmet cuisine with fresh ingredients and creative flavor combinations. Fifteen years of experience are put into the recipes on this truck and that dedication shows. Particularly well known with beach locals, Wauga Wauga has developed quite a following with their vibrant meals that are as delicious as they are pretty. You're going to want to order the Fiesta Nachos loaded with queso, bourbon chicken, bacon, pico, and pineapple salsa!
Delish Kebabs: You'll smell these amazing grilled kebabs before you get to the truck! Serving up authentic and award winning Brazilian charcoal grilled kebabs, Delish Kebabs is taking simple food and making it extraordinary. Their bacon wrapped chicken was the winner of the 2014 Food Truck Wars! Don't miss their yuca fries either. Also, the garlic sauce. OMG the garlic sauce!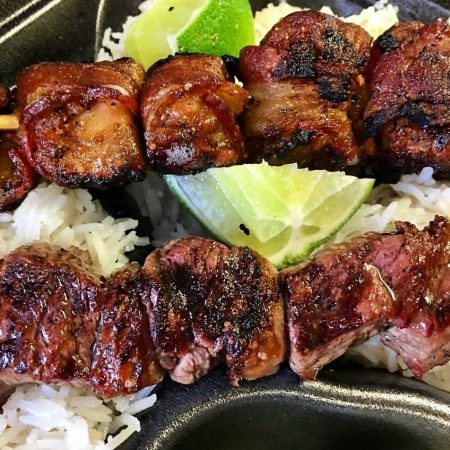 4 Trees Smokehouse: New to the road but not new to BBQ, 4 Trees Smokehouse is the mobile version of the long time favorite Big Oak BBQ in Middleburg. They have all your BBQ cravings including slow smoked pulled pork, beef brisket, tender ribs, and homemade sides. We always prefer a combo platter because variety is the spice of life, but also because 4 Trees delivers big flavor across the board and you won't want to miss anything!
Cajun Cravins 2 Go: Another newcomer to Jacksonville, Cajun Cravins 2 Go is actually a seasoned food truck veteran that moved here to serve! They've got all your authentic cajun favorites including stellar red beans and rice and gumbo, but they're also making and smoking all their own sausages in house! The flavors are bold at Cajun Cravins, we know our cajun fans will be thrilled to have a taste of home!
Rite on Que: Heaven meats earth in Jacksonville's newest addition to the BBQ scene! Rite on Que brought us competition style Alabama BBQ at it's finest from day one. Slow cooked melt in your mouth meats and homemade sides await you. Their brisket and candied ribs are fan favorites among the JRR staff along with their crisp slaw and mac & cheese!
Son of a Butcher: Jacksonville's best authentic philly, and we really can't disagree. Son of a Butcher prepares fresh sandwiches, poboys, tacos, and more absolutely loaded with meats and cheeses. Looking for a hearty meal? This is your choice! We cannot get enough of their garlic parm fries. Go ahead and get two orders, you'll thank us. They're also known for their secret menu takeover items, so keep an eye out for that!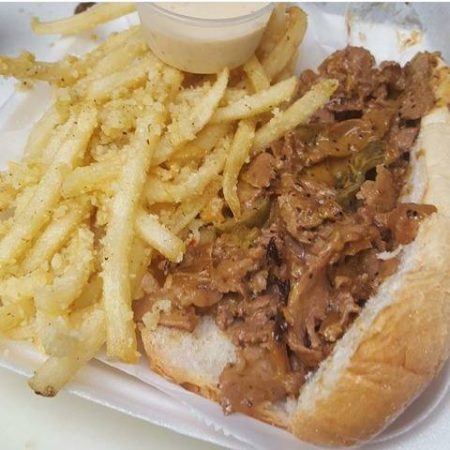 Cackylacky's: Gourmet burgers and hot dogs await you at this new truck that has bold unique flavors all over the menu! Craving a gyro? How about a Greek Knight burger with gyro meat and tzatziki? Like it spicy? Poblano mayo will kick it up a notch on any burger! They're hand pattying and hand cutting all their burgers and fries for freshness and authenticity you can't find many other places. Cackylacky's goes the extra mile for you, so definitely swing by this new truck and show them some love!
Chubby Burrito: One of the most popular Mexican trucks in Jacksonville, Chubby Burrito specializes in authentic Mexican style street food. All food is freshly prepared daily and focuses on simple, authentic flavors. The carne asada street tacos and chicken tinga burritos are can't miss orders. Oh, and did we mention there are churros?!
Manny's Cuban Food Truck: Is there any food more comforting than authentic Cuban cuisine and melty Cuban sandwiches? Manny's brings bold flavors and gourmet flair to traditional favorites. They may be a newer truck to the road in Jax but we know they will wow you with their excellent customer service and delicious food! Their Cuban coffee and picadillo are can't miss items!
Bubba Burger: The classic and quintessential American brand is now mobile and you can only find them in Jacksonville! Bubba Burger is serving up your favorite flavors including traditional burgers, turkey burgers, and veggie burgers alongside signature items like their delicious and decadently over the top mashed potato burger. They all come served with their signature Bubba chips for flavors that will take you back to childhood!
Joining the Takeover for Sweet Treats:
Le Petite Cheri Cupcakery: Who doesn't love cupcakes? Le Petite Cheri raises the bar with seasonal flavor combinations and fresh toppings. Their desserts are rich and decadent, just how we like them! Also don't miss their fresh made raspberry lemonade which is the perfect food truck rally treat! They've been experimenting with some new treats lately, so make sure to check their specials boards for brownies, whoopie pies, and more!
Kona Ice: Every flavor of shaved ice under the sun plus fresh ice cream equals a crowd pleaser for sure. Kona has become particularly popular with the kids in Jacksonville, so expect for them to recognize this brightly colored truck and run to pick out their favorite flavor! Stop by and cool off with the perfect shaved ice!
The Cupcake Truck: This truck has a refreshing twist on the traditional sweet treat! They're truly a CUPcake–allowing you to choose two layers of cake and two layers of icing for your own personalization, or opt for one of owner Tiffany's amazing recipes! If the Churro CUPcake is on the menu, you better get 12, but anything chocolatey is always a great bet with this truck as well!
Island Dream: Florida weather = Italian Ice everyday! Island Dream features creamy and unique Italian ice flavors and lemonades. The flavors change often, but they're always refreshing and flavorful across the board. We've recently fallen head over heels with their Arnold Palmer flavor. Pro tip: their Oreo Funnel Fries are the perfect choice for anyone with a sweet tooth, they are delightful!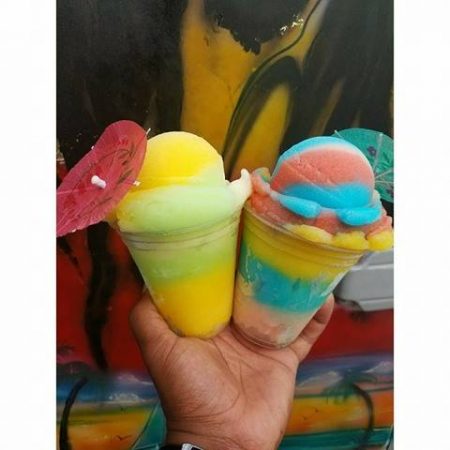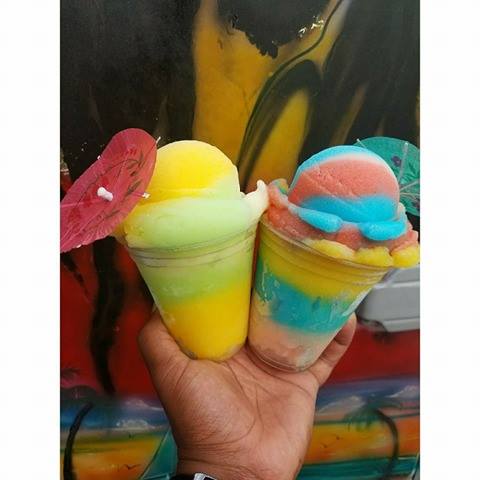 Julie's Sweet Stuff: Cupcakes, brownies, bundt cakes, cookies, and more! Julie's Sweet Stuff covers the spectrum on treats no matter what dessert you're craving. The freshest ingredients wait for you too and are proudly "grandkid approved" from the owner's own taste-testers. I've eaten more than my fair share and I always feel like I have a new favorite flavor each time!
Cold Calf Ice Cream: Cold Calf has been named best ice cream in St Augustine for 5 years running. Evidenced by their huge flavor variety and massive portions, we understand why! Plus, it's Florida, the weather is always conducive to a creamy, decadent sweet treat! An owner and crowd favorite flavor is Cookie Monster : vanilla ice cream with cookie dough and cookies and cream! Also don't miss their Fruit Chillers which blend sweet sorbet with your soda of choice!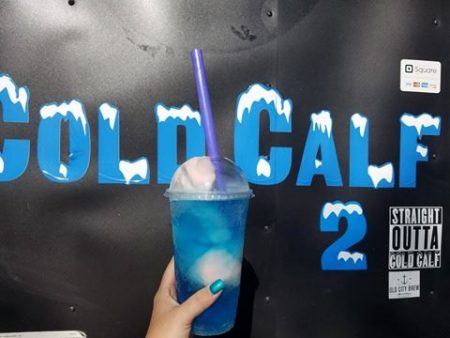 Want to stay apprised on all the food truck happenings around town, new food truck openings, and daily locations? Follow our sister brand @findjaxfoodtrucks on the Insta!