We've all been there. It's 1:30 am and we've just stumbled out of one of the beach bars with our posse. Typically the person sober enough to make a decision is trying to wrangle the herd of intoxicated toddler-esque party-goers to safety, and the group is presented with the most important decision of the night: where to eat. The cuisine needs to be sufficiently craveable, with affordability (considering all the money you just spent on drinks) being the secondary priority. Fast food has a time and a place: the time is never and the place is nowhere. Waffle House is risky, and Denny's is like Waffle House's weird cousin which makes it about as safe as investing in Bitcoin.
Enter Shack Maui. Shack Maui is just off Beach Boulevard in a strip mall, and when I first went there I was extremely skeptical. Mostly because strip malls reek of disappointment and regret. But more directly, I had heard some horror stories about the food and an overall mediocrity as far as culinary prowess is concerned. Also, I heard all the college students love it, and as an older UNF student I shudder at some of the things those little monsters appreciate.
That being said, I was nearly flabbergasted when my experience surpassed any expectations I had, and even more surprised at the depth of vision and conceptual aptitude that flows through the walls of this place. After chatting with one of the owners for a little while I understood where some of the less-than-adequate first impressions came from.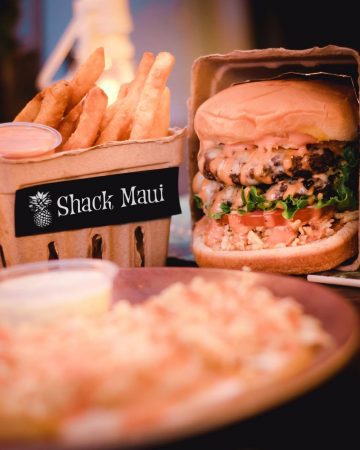 One of the most impressive things about the restaurant is its very establishment. It was created by a couple UNF seniors (Bio majors no less), with little to no food service experience whatsoever. I can't claim to know how the food came out when it opened, but I can tell you it has probably come a long way because what I consumed was the late night equivalent of "food cocaine".
And what the young entrepreneurs may have lacked in kitchen experience I would argue they make up for in creativity and passion. The restaurant itself revolves around the idea of creating an oasis for a late night meal, and a cabana-esque getaway to hang out. They know their audience and they play to their strengths in a New England Patriots-like fashion.
It starts with the layout. When you enter your mood instantly changes. The lights are dimmed, the walls are lined with tasteful photography, and there are a few TV's dispersed around the room. One of my favorite parts is the music, which is pretty atypical for someone to notice in an establishment. In fact, many would comment that even noticing music is counter-productive to the restaurant meta. I love house and techno music and they play it loud enough to jam to, but I was also able to have uninterrupted conversation with my partner. However, if you prefer a quieter environment this probably isn't your cup of tea.
The dining experience can be a little intimidating because of some of the less familiar items on the menu, but more likely because your blood-alcohol level is inhibiting you from thinking clearly. In my experience, there are staples that you NEED to try, and then there are items that are more subjective. Here is a crash course on my most recent order at the Shack:
Maui Quesadilla ($5.99) – the last time I dined, I got a chorizo dilla. I enjoyed it thoroughly but my FOAT (favorite of all time) is the steak dilla. Unless for some reason you have a moral obligation to not eat meat, you have no business eating the cheese quesadilla. Steak, chorizo, chicken, or nothing. The reason the dilla is such a staple here is because of how it's prepared.
Everyone has had a quesadilla, and there typically isn't a wild smorgasbord of options or flavors. What Shack Maui does that is so fantastically diverse is that they drizzle their infamous Shack Sauce on top and pile on crushed potato chips. The Shack Sauce has an element of sweetness to it that cuts the otherwise dominating savory taste of the quesadilla and provides an element of flavor diversity that you probably wouldn't expect from a "Mexican grilled cheese" (as I refer to them). The chips seem a little weird and drug-inspired, but the crunch they add without detracting from the flavor of the dish, is valuable.
The biggest and baddest game-changer is the cilantro lime ranch. That stuff could make drywall taste good. The best part is that lime, cilantro, and ranch can all be individually paired with a quesadilla, making a sauce a crazy efficient avenue to harness to superpowers of all of those flavors.
You will never catch me ordering a quesadilla, save the Bangin' Dilla from the Lu and this bad boy. They are typically too "simple" for what I'm in the mood for, but the Maui Quesadilla is in a league of its own. My FOAT is simple enough to eat late at night, but complex enough to crave. Try it for yourself, but I'm telling you that you can't go wrong.
Double Maui Burger ($7.99) – if you know me, you know I don't eat burgers. I own a food truck that primarily serves burgers, so I steer clear of them on the streets. I never crave them and I accidentally turned myself into the Hulk of burger snobs. So, when I say that the Maui Burger is worth ordering, I am not pulling your leg. While I would prioritize the quesadilla, I would say that if your stomach is rumbling like Jax Beach during Hurricane Matthew, why not both?
What makes this item worth ordering is the addition of the Shack Sauce and crushed chips. Once again, they turn a pretty standard burger (although they recently started hand-crafting the patties, adding a lot of flavor to the meat) into something that you will want to experience more than once. The toppings taste fresh as well, which is an element of a burger experience that most take for granted.
We got a double Maui Burger, which is very filling for the price. I would personally recommend the single if you plan on getting a side or a quesadilla as well, but meat-lovers will get a kick out of it.
Loaded Tostones ($5.99) – Being that my upbringing is that of a small town in central Minnesota, plantains are as foreign to me as the concept of using turn signals is to Jacksonville drivers. I still can't say that I enjoy plantains, as I am probably still culturally handicapped. I have tried the tostones at the Shack, and just wasn't a fan. It's a textural thing, and I can't even say the flavor is intoxicating enough for me to bear with everything else going on. Case and point, I do not like tostones, plantains, or people that cut you off in traffic without any sort of warning.
However, the Loaded Tostones once again broke the walls of my heart down. My latest visit was the first time I had ever tried them, and I will first say that they were excellently prepared. The texture of plantains, at least in my opinion, demands that they be fried in such a way that gives them a very crisp outer layer to contrast with the insides. Ours were prepared as such. A satisfying crunch can make or break a dish. Secondly, the toppings on the loaded tostones accentuated the flavors of the plantain. Plantains remind me of a very different sweet potato so the combination of Shack sauce, melted cheese, and chicken are enough to skyrocket the flavor profile of an otherwise bland appetizer to the life of then party. My one critique is that I would have liked the cheese on ours slightly more melted.
This dish is special, at least to me, because it is culturally adventurous. I would absolutely recommend this to anyone who is looking for more of a foodie adventure.
Salchipapas ($4.59) – So what I will say is that I'm not crazy about this one. There are parts of it that I love, but it isn't something I would regularly order. If I ordered the dish in the future, it would be the result of a very specific nacho cheese-lust and a sudden reformation of my opinion of hot dogs. As you may be able to tell, I have a strong anti-wiener prejudice.
But what I will praise about the dish is the quality of the fries. As a guy who spends a lot of his time preparing french fries, I know the varying qualities of product. These things are the Bentleys of fries. They have a crispy outer coating and I'm talking HELLA crispy. Like leaves in the fall crispy. I order fries every single time I go just because I know I will be in the seventh level of fry heaven.
I also really like the nacho cheese and ketchup, though I am not always in the mood for it. I'd have to be a few Yuenglings deep to have a strong desire for nacho cheese and ketchup. I do know that I am probably in the minority because nacho cheese has a unique and prominent place in the American culture. I also know that hot dogs go well with fries, ketchup, and nacho cheese, so I am probably some sort of traitor because of my taste buds.
If you like any or all of those components, give the salchipapas a try and judge for yourself. If you don't order the salchipapas, get fries and thank me later.
Pina Colada ($4) – As a guy who tries to pass for macho, I also don't spend a lot of time around frozen drinks. I was taught to believe that they were a gringo way of enjoying alcohol. Therefore, this was my first ever actual pina colada. I had to rely on the experience of my partner as far as what it was supposed to taste like, but I have a few thoughts.
It is definitely worth the price. Its biggest praiseworthy attribute is how refreshing it is, which isn't at all what I'd expect from a frozen drink. I usually think of a Willy Wonka level of sugar. Maui's pina colada, I would say, is something you could order and enjoy very much with the meal, without being overwhelmed with flavor stimulation.
I will also say that, as a die-hard soda fanatic, I would order a Coke or a Fanta over this one every time. However, if you're the kindof person who likes to get fancy drinks, or if you want alcohol (that isn't beer, they have $2 beer specials, Yuengling and Miller Lite), this could be right up your alley.
If you decide to make the trek, I would plan on waiting approximately 10-15 minutes for your food depending on how busy the store is. It is a quick service restaurant, but because of its popularity, namely in the wee hours of the night, the kitchen gets slammed in a hurry. Also, it is like Chic Fil A, where soda refills are complimentary, and when time allows the staff will wander the dining area and wait on tables, but you may have to bring your glass to the counter and request a refill if it's busy.
What you can expect every time is friendly service. Regardless of who takes your order, I have always felt welcome, and all of my questions have been answered. The owners are some of the nicest people you will meet, and often my meals have been prolonged simply because of our conversations.
Shack Maui is a pioneer of its kind. Check them out for a chill bite to eat, or a relaxing evening hangout. God knows there aren't many late night options out there, but bless the Shack for setting the bar high.