Are you ready for an Eating Egg-stravaganza? It's time for another Food Truck Takeover! The Jax Food Truck Food Court is returning to Academy Sports on Atlantic Blvd this Saturday, April 15th with their BIGGEST TAKEOVER TO DATE! There will be 27 premiere food trucks, a cash bar with liquor, wine, and beer, a huge kids play zone, a judged food competition, vendors, live entertainment, and more! It's all going down from 11-4pm, so head on over to the Jax Food Truck Food Court Facebook page and RSVP and invite your friends and family! Below is the incredible food truck lineup for the Food Truck Takeover Easter Egg-Stravaganza!
Joining the Takeover on the savory side:
The Happy Grilled Cheese: People's choice for best food truck in all four major Jacksonville publications, The Happy Grilled Cheese is one of Jacksonville's heavy hitters! Take it cheesy with their Daddy of the Mac and loaded cheese fries. Plus, Pro Tip: you can add mac and cheese to any sandwich if you're feeling decadent! Our favorite is to add it to the California melt! You're also not going to want to miss their sweet, decadent, chocolate laden S'mores melt!
Fusion Food Truck: Chef Ashley Amin (winner of top Indian chef in San Diego) brings us the best Indian cuisine in Jacksonville from her truck, proven by being recently named one of the top 50 food trucks in the United States! We highly recommend their award winning banana curry and tikka masala paired with a decadent Thai tea. If sambosas are on the dessert menu, you'll definitely want to have one or ten! Really, we love everything on Fusion's menu, so order liberally.
Berndt Ends: This Florida BBQ style food truck came out swinging with bold flavors, low and slow smoked meats, and homemade sauces. They are defining Florida BBQ with their award winning brisket and ribs, in fact they were recently named the best brisket in Jax! Truly, you can't go wrong with anything off Berndt Ends menu. Even their sides shine all by themselves, don't miss the dat'l beans and the crak mac (slow smoked mac and cheese)!
Chew Chew: Lobster corndogs anyone? Chew Chew has fused fine dining with food trucking seamlessly. With one of the best food truck menus around, Chew Chew has something for everyone! Try a carnitas burrito, a caprese grilled cheese, General Tso's tacos, or BBQ sliders with fried jalapenos! This truck is a longtime favorite of Jacksonville foodies. Plus, they were recently named one of the top 50 food trucks in the United States, so you have to celebrate with them!
Hapa Li: This food truck took Jax by storm last year and hasn't slowed down since. Tender pulled pork, chicken, and their signature spamiyaki burger give us on the mainland a taste of paradise! Specialty items spam musubi and dessert haupia are unique and flavorful and simply can't be found anywhere else. Your day isn't complete without living the #hapalife!
Danilo's Famous Lumpia: It's called famous for a reason. These Filipino treats are cooked fresh to order every time and are stuffed with beef, vegetables, and spices. Their pancit is phenomenal, and also try their dessert turron too – sweet banana lumpia with your choice of toppings. They've even recently started offering their lumpia frozen, so check out their ordering options!
Pie95: If you haven't heard about this truck yet we aren't sure where you've been. The rustic, smoky flavors of true Neapolitan pizza are the allure to this truck, along with the highly decorated and talented hands behind the pies–Chef Evan Eriksen. Hailing from Michelin starred background, this chef put a true Italian wood fired oven into his trailer and is producing authentic thin crust pizzas with his signature Margheritas, Biancas, Carnivores, Herbivores, and more.
What's the Catch: Some of the best, most flavorful, and delicious seafood tacos are coming off What's the Catch food truck. You can find their vintage Airstream at festivals around Jacksonville and beyond, but we are happy to be seeing them more often! We can't do without their ahi tuna. The best part about What's the Catch is it's bringing truly local flavors to the locals – most tacos are inspired by what's freshly available in Jacksonville.
Seaweeds Maine Lobster Rolls: Who doesn't love a good lobster roll? Born and raised in Maine, owners Rusty and Judy know how to create them with perfect authenticity. Served on buttery buns, the chunks of lobster meat are plentiful and filling. Whether you want a snack size or a huge meal, Seaweeds will give you your fresh lobster fix!
Latin Soul Grille: This truck's fusion of Latin, Caribbean, Spanish, and BBQ makes for an irresistible menu. Their tender, flavorful chicken thigh tacos and delicious wings are addictions of ours. Their speciality empanadas are made with just as much care! Plus, we think their customer service is some of the best in town. It's hard not to fall in love with Latin Soul.
Blazin Azn: Bacon fried rice is all we really need to say, but there is SO much more to love at Blazin Azn. Spring rolls, egg rolls, and incredibly tender teriyaki shrimp and chicken are all worth ordering. Plus, they are now featuring sushiritos and a sushi menu on the truck! Chef Charlie loves to surprise us with over the top rally specials too! There's a fusion of flavors at Blazin Azn so we have faith there is something that everyone will enjoy!
Mama's Food: Quesadillas, hot sandwiches, rice bowls, and homemade empanadas just like mama used to make. The empanadas are a staple item that you really can't go wrong with, but we are also never going to turn down their chicken quesadillas. This truck is a veteran of the road and you'll see why after eating there, you'll be apart of Mama's family forever!
Mr Potato Spread: Not a single person on this planet can turn down a massive loaded potato. Mr Potato Spread is fulfilling this great need in Jax with over the top potatoes and loaded fries that will carb load you right into heaven. Want it topped with broccoli and cheese? Go for it. Want it loaded down with meat? They've got you covered. Want it covered in CRAB BOIL?! Your dreams have come true.
Cuban Fire Grill: Authentic, slow cooked, homemade cuban cuisine featuring Cuban sandwiches, lechon asado, ropa vieja, and flan for dessert. Their steak sandwich is ridiculously good for all the meat lovers out there! We're also very appreciative that they serve their Cuban sandwiches with potato sticks, it's such a nice touch!
El Mariachi Loko: Newcomer to the Jacksonville food truck scene, El Mariachi Loko is upping the street food game with gourmet Mexican tacos, tostadas, quesadillas, pupusas, and more! You can taste that each element is homemade and prepared with exceptional care. Their specials are mind blowing—think grouper tacos with aioli and black bean salsa, spicy shrimp tacos, or mahi! Tacos = life, and El Mariachi Loko is setting the standard!
El Agave Azul: You simply can't fake how fresh the tacos are from El Agave Azul! They're serving up authentic Mexican street tacos with carne asada and al pastor, burritos, American tacos, gorditas, and more! From hand made tortillas to crisp veggies and perfectly cooked meats, this is the soul warming mouth watering Mexican cuisine you've been craving!
Team Love Seafood: They are making their Takeover debut next Saturday and we can't wait for you to try them! Specializing in all things comfort food, Team Love Seafood serves up fresh fried or grilled fish, shrimp, fried pickles, hush puppies, gumbo, etouffee and more! They've got the flavors of the South on lock, so come out and try the most flavorful fried seafood this side of the Mississippi!
Sweeto Burrito: It's easy to see why Sweeto is one of the most sought after trucks in Jax– their burritos are some of the best in town! Be prepared to share, these are HUGE! The White Chick, Buff Chick, and Rise and Shiner are our personal recommendations! Plus, tater tots in a burrito, need we say more? This is definitely flavor worth fighting for.
Skyline Chicken and Waffles: Hello hot wings, we love you! New to the road but not new to cooking the best wings in Jax, this truck is the mobile version of the Avenues Mall favorite. Enjoy perfectly cooked wings in a variety of flavors, fried shrimp, waffles, fried fish, and more! These bold hot flavors will have you addicted and ready to enjoy this truck weekly!
Best Burgers Jax: Is there better comfort food than a big, juicy, cheesy, freshly made burger? Fan favorites at this truck include the Shroom and Swiss Burger, the Cajun BBQ burger, and accompanying crispy fries. Best Burgers Jax prepares everything to order so the customization is endless!
Butt Hutt Smokehouse: This is Jacksonville's gourmet BBQ truck with housemade sauces and melt in your mouth meats. Butt Hutt takes bbq to an elevated level for all the foodies out there! Their brisket with coconut curry mustard is our favorite order, but if you're feeling decadent the Florida Fries are heavily layered with pork, peppers, onions, and smothered in their signature sauces. Plus, their brisket was recently named one of the top 5 in Jax, so go try it out!
Full of Crepe Food Truck: Feeling a little Euro-chic? Full of Crepe food truck is serving up these delicious handheld AND handmade treats in a variety of flavors! Full of Crepe is known for shaking up the traditional crepe and adding in specials like the BLT, McCrepe, and the New Orleans (muffaletta style) but also excels in the classic sweet treats including nutella and banana, smores, eclair, and more!
Joining the Takeover for Sweet Treats:
Le Petite Cheri Cupcakery: Who doesn't love cupcakes? Le Petite Cheri raises the bar with seasonal flavor combinations and fresh toppings. Their desserts are rich and decadent, just how we like them! Also don't miss their fresh made raspberry lemonade which is the perfect food truck rally treat! They've been experimenting with some new treats lately, so if churro sandwiches are on the menu ORDER 100 OF THEM!
Front Porch Kettle Corn: Start your food truck rally adventure here for an appetizer! Fresh made sweet and savory popcorn, mouth watering spicy pork rinds, and southern sweet tea. Take home a few containers to snack on later – you will thank us!
Guanabana: This Jax favorite recently expanded from their iconic tricycle to a full truck and the menu grew right along with it! They still integrate their beloved popsicles, but also now offer macaron ice cream sandwiches, fruit bowls, smoothies, and more! If you're looking for a healthy, delicious, yet indulgent treat this should be on your list!
Van D's Dutch Delights: In a sea of cakes, be a waffle. That's the old saying right? This truck brings Dutch stroopwafels to the streets which is basically a waffle cookie hybrid. They're crisp and lightly sweet alone, or try them with a drizzle of caramel, Nutella stuffing, or ice cream to amp it up! They make milkshakes, ice cream, and serve delicious coffee for all your traditional dessert needs. If you want to try something you've truly never tried before, Van D's needs to be your first stop!
Nitrogen Creamery: Do you think ice cream is the best dessert in the world? You'll love it even more made with nitrogen! All flavors are homemade daily using -320 degree nitrogen! The use of the nitrogen brings out the true flavors of each ice cream and make it quite a decadent treat. We're big fans of the nutella (who isnt?) and we'd give up all other ice creams for an unlimited supply of their honey cinnamon.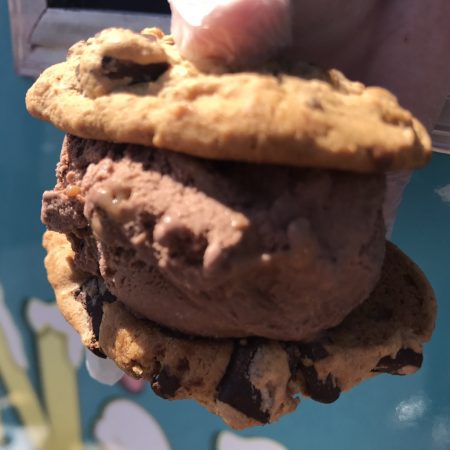 Want to stay apprised on your favorite food trucks daily locations, new truck openings, menu specials, events, and more? Follow our sister brand on Instagram at @findjaxfoodtrucks!