The Food Truck Takeover is BACK this Saturday from 11-4pm at the Beall's  located at 860 Commerce Center Drive. Join the Jax Food Truck Court on Saturday 11/19 for this family friendly event featuring 22 of Jacksonville's premiere food trucks, a kids play zone with bounce houses, a cash bar, vendors, and more! Come hungry, bring all your friends, and enjoy some of Jacksonville's best cuisine! Now it's time to plan your food coma, so here are the attending trucks!
The Happy Grilled Cheese: People's choice for best food truck in all four major Jacksonville publications. Take it cheesy with their Daddy of the Mac and loaded cheese fries. Pro tip: you can add mac and cheese to any sandwich, our favorite is to add it to the California melt! You're also not going to want to miss their sweet, decadent, chocolate laden S'mores melt!
Muzzi's Madhouse: Come hungry to order Muzzi's, these tremendous portions of Chicago style comfort food will leave you ready for a nap. Their homemade gorgonzola chips with balsamic vinegar, chicken parm subs, and meatball subs are our favorites! You also won't want to leave without an order of their toasted ravioli to snack on!
Chew Chew: Lobster corndogs anyone? Chew Chew has fused fine dining with food trucking seamlessly. With one of the best food truck menus around, Chew Chew has something for everyone! Try a carnitas burrito, a caprese grilled cheese, General Tso's tacos, or BBQ sliders with fried jalapenos! This truck is a longtime favorite of Jacksonville foodies.
The Salty Dog: Here is your taste of Americana, everyone! The Salty Dog focuses on giant beef hot dogs and burgers. There is also a bacon wrapped deep fried hot dog, so take a breath and prepare yourself for that. Menu items are served with their delicious and popular waffle fries which are available topped with hearty, cheesy chili.
Danilo's Famous Lumpia: It's called famous for a reason. These Filipino treats are cooked fresh to order every time and are stuffed with beef, vegetables, and spices. Their pancit is phenomenal, and also try their dessert turron too – sweet banana lumpia with your choice of toppings. They've even recently started offering their lumpia frozen, so check out their ordering options!
Front Porch Kettle Corn: Start your food truck rally adventure here for an appetizer! Fresh made sweet and savory popcorn, mouth watering spicy pork rinds, and southern sweet tea. Take home a few containers to snack on later – you will thank us!
Funkadelic: One of our most veteran trucks, Funkadelic is serving made from scratch gourmet seafood, burgers, sliders, and sandwiches. Funkadelic brings a spicy, unique flair to everything they prepare. We can't get enough of their shrimp sliders and beet fries. Their recently added Super Funk Sandwich is full of everything they're amazing at – pork belly, fried shrimp, sriracha slaw, and more!
Blazin Azn: Bacon fried rice is all we really need to say, but there is SO much more to love at Blazin Azn. Spring rolls, egg rolls, incredibly tender teriyaki shrimp and chicken, and pork belly steamed buns all are worth ordering. Plus, they are now featuring sushiritos and a sushi menu on the truck! There's a fusion of flavors at Blazin Azn so we have faith there is something that everyone will enjoy!
Hapa Li: This food truck took Jax by storm this year and hasn't slowed down since. Tender pulled pork, chicken, and their signature spamiyaki burger give us on the mainland a taste of paradise! Specialty items spam musubi and dessert haupia are unique and flavorful and simply can't be found anywhere else.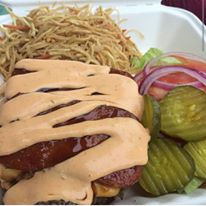 Hapa Li – Spamiyaki

Fusion Food Truck: Chef Ashley Amin (winner of top Indian chef in San Diego) brings the best Indian cuisine in Jacksonville. We highly recommend their award winning banana curry and tikka masala paired with a decadent Thai tea. If sambosas are on the dessert menu, you'll definitely want to have one or ten! Really, we love everything on Fusion's menu, so order liberally.

Delish Kebabs: You'll smell these amazing grilled kebabs before you get to the truck! Serving up authentic and award winning Brazilian charcoal grilled kebabs, Delish Kebabs is taking simple food and making it extraordinary. Their bacon wrapped chicken was the winner of the 2014 Food Truck Wars! Don't miss their yuca fries either.
El Agave Azul: You simply can't fake how fresh the tacos are from El Agave Azul! They're serving up authentic Mexican street tacos with carne asada and al pastor, burritos, American tacos, gorditas, and more! From hand made tortillas to crisp veggies and perfectly cooked meats, this is the soul warming mouth watering Mexican cuisine you've been craving!
Julie's Sweet Stuff: Cupcakes, brownies, bundt cakes, cookies, and more! Julie's Sweet Stuff covers the spectrum on treats no matter what dessert you're craving. The freshest ingredients wait for you too and are proudly "grandkid approved" from the owner's own taste-testers. I've eaten more than my fair share and I always feel like I have a new favorite flavor each time!
Sweeto Burrito: It's easy to see why Sweeto has so many dedicated followers – their burritos are some of the best in town! Be prepared to share, these are HUGE! The White Chick, Buff Chick, and Rise and Shiner are our personal recommendations! Plus, tater tots in a burrito, need we say more?
Full of Crepe Food Truck: Feeling a little Euro-chic? Full of Crepe food truck is serving up these delicious handheld AND handmade treats in a variety of flavors! Full of Crepe is known for shaking up the traditional crepe and adding in specials like the BLT, McCrepe, and the New Orleans (muffaletta style) but also excels in the classic sweet treats including nutella and banana, smores, eclair, and more! This is also their debut of their newly redesigned truck, so make sure to visit them!
Rocco's Pizza: New York Style pizzeria on wheels! Aside from mouth watering, cheesy, soul fulfilling pizza they're also now featuring buffalo style wings. One owner was a GM in a major chicken restaurant chain before and she brings her talents and experience to making her own unique flavors. Go ahead and get pizza AND wings, you know they're a match made in heaven.
The Blu Claw: This truck brings Maryland style crab cakes with all-meat-no-fillers preparation to the streets! These tender crab cakes are everything a shellfish lover could ever want , but wait, there's more! Pair your crab cakes with The Blu Claw's incredible homemade sides like mac and cheese, cabbage, and potato salad. They're also serving up Jamaican stew chicken and curry shrimp! This truck is a seafood lover's paradise!
Berndt Ends: This newcomer to the food truck scene came out swinging with bold flavors, low and slow smoked meats, and homemade sauces. They are defining Florida BBQ with their award winning brisket and ribs. Pitmaster Shane Berndt's 12 years of experience shines through in every dish. Truly, you can't go wrong with anything off Berndt Ends menu. Even their sides shine all by themselves, don't miss the dat'l beans and the crak mac (slow smoked mac and cheese)!
Wauga Wauga: This food truck is bringing gourmet fusion cuisine with fresh ingredients and creative flavor combinations. It took 15 years to perfect these recipes and that dedication shows. Particularly well known with beach locals, Wauga Wauga has quite a following of their unique fusion dishes. Definitely try their sweet shrimp and pineapple bowl and their steak tacos.

Bold City Pops: Locally sourced seasonal popsicles showcasing unique combinations of Florida's finest ingredients. Owners Suzannah and Rhonda harvest their own ingredients for these delicious and unique pops. Adults and children will both love this sweet little trailer full of treats like blackberry ginger, cookies and cream, basil lemonade, detox, and even pickle pops! Whatever flavor you choose, it will have you Living Boldly!
Le Petite Cheri Cupcakery: Who doesn't love cupcakes? Le Petite Cheri raises the bar with seasonal flavor combinations and fresh toppings. Their desserts are rich and decadent, just how we like them! Also don't miss their fresh made raspberry lemonade which is the perfect food truck rally treat!
Cold Calf Creamery: Cold Calf has been named best ice cream in St Augustine for 5 years running. Evidenced by their huge flavor variety and massive portions, we understand why! Plus it's 1000 degrees outside so who wouldn't want to have a creamy, decadent sweet treat as a dessert? An owner and crowd favorite flavor is Cookie Monster : vanilla ice cream with cookie dough and cookies and cream!
Want to stay apprised on your favorite food trucks, new food trucks, and daily locations? Follow our sister brand on Instagram @findjaxfoodtrucks!