Owners Annette Biak and Jae Kim of 4th Street Deli have set off on a new restaurant venture —Area 51 BBQ and Grill.
The name itself intrigued us as we made a trip to this "top-secret" location aka Fernandina Beach to check it out. Who knew what surprises would await us there. No doubt, it would contain highly classified information…(*cue suspenseful music*).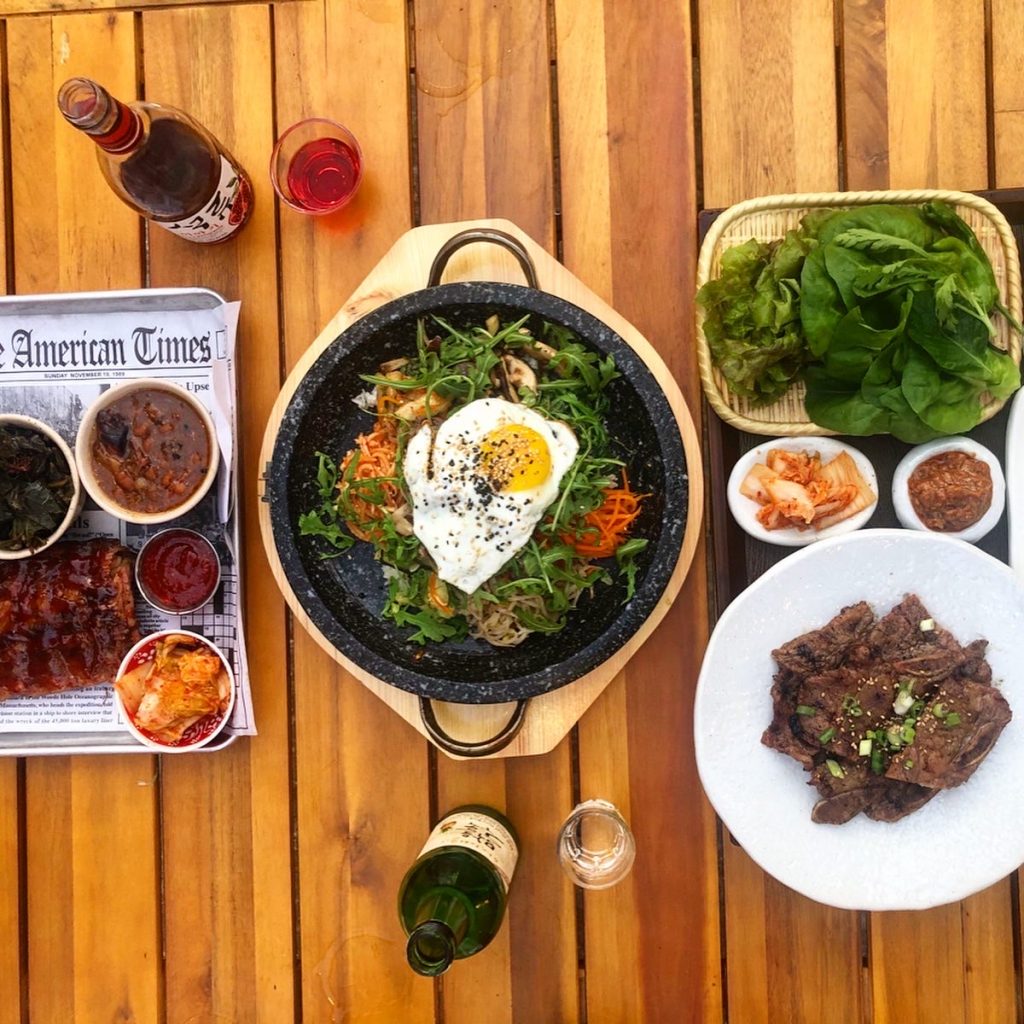 I took a trip out and got to try a few things and then Grace took a trip and tried a few more, so we've got lots of inside scoop on this new hot spot!
The restaurant space, previously Gilbert's Underground Kitchen, is located off 8th St. As we entered, I noticed there was a large diagram of the different cuts of pork and a slew of colorful license plates hanging as decor.
It looks like your typical BBQ joint, but we soon learned it definitely is not. A few boards list their menu and the entrees included both American Southern BBQ and Korean BBQ, in addition to traditional Korean dishes. It was a combination unlike any I've seen before; we were definitely in for a treat!
When we visited, due to the restrictions in place, the entrance was set up as a station for pick-up orders. Currently it has been modified into a dining space. There is additional indoor seating in the back of the restaurant, as well as a bar area and a beautiful outdoor patio space. It was the ideal night to dine outside so we chose patio seating. The space was very inviting with string lights hanging which set quite a romantic ambiance.
This location would be perfect for a date night. Now if you can't find a sitter for your kids, Area 51 does have a children's menu. They provide a few different options that's sure to satisfy any picky eater: Sliders (Pulled Pork or Brisket), Mac & Cheese, and PB&J Sandwich. If your child is open to trying new things, a great choice would be to order the Family Combo Platter (5 meats and 5 sides; pick any Korean BBQ or Southern BBQ meats) to share as a family.
The Appetizers
Our waitress walked us through the menu, which was nicely sectioned out by the Korean entrees and the Southern BBQ ones. It was her first day and she was still in training, so although she didn't have the answers to all of our questions, we didn't hold it against her and appreciated her taking the time to find out. On the menu, the first page displayed their appetizers and specialty drinks. The appetizer options were: Cheesy BBQ Fries, Korean 'Jeon' Pancakes (choice of Veggie, Seafood, or Kimchi), and Pan-Fried 'Mandu' Dumplings. Unfortunately they were out of fries that day so we ordered the Seafood & Kimchi Pancake ($12) and the Pan-Fried Dumplings ($8) instead.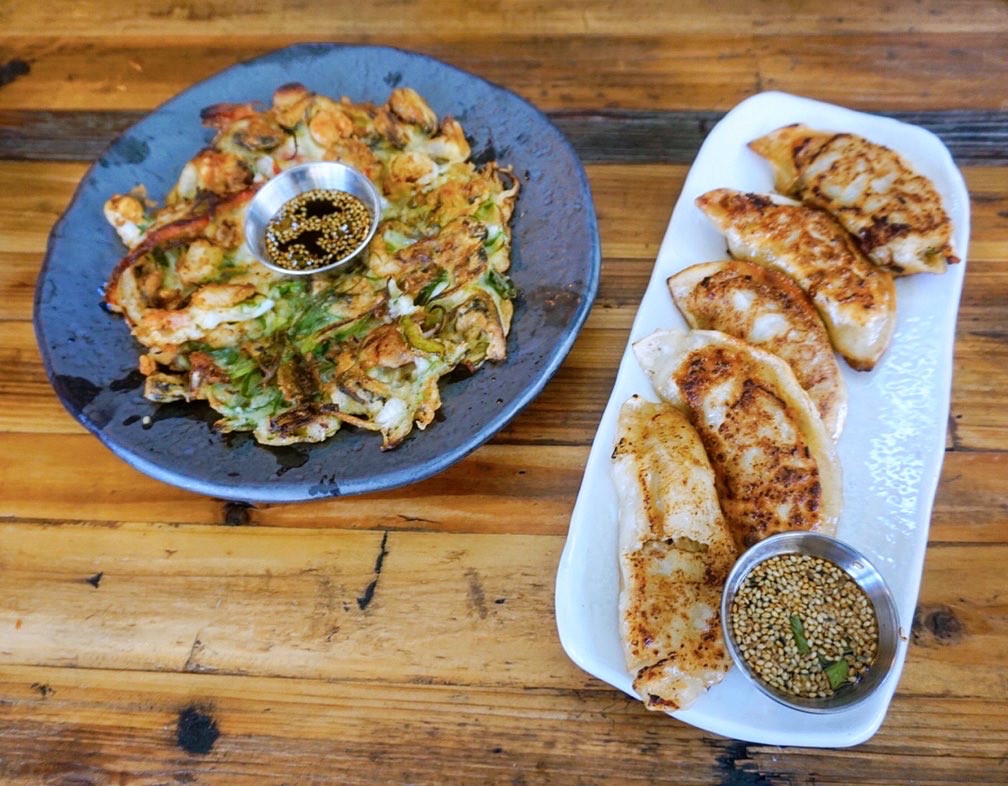 After seeing their lineup of specialty drinks, we decided to try Soju. For those unfamiliar, it's a clear, distilled liquor made from rice. Soju is a very popular alcoholic drink in Korea and is meant to be consumed with food. We ordered the Apple Soju ($15) and it was very light and refreshing. It tasted super fruity and smooth, almost like juice but don't let that fool you…it has an alcoholic content of 14%. If that isn't your thing, they have a couple other specialty drinks such as Makgeolli (Korea's oldest alcoholic drink) and Sake — or beer and wine!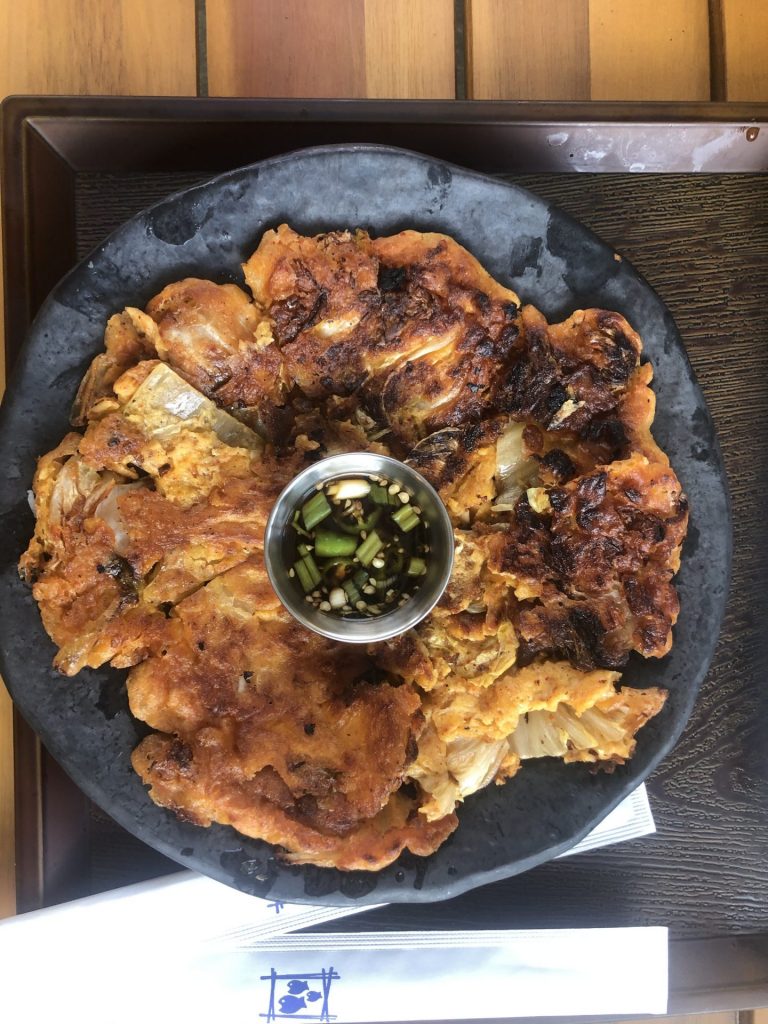 As the appetizers were brought out and the heavenly aromas surrounded us, we dug right in.
First up was the savory Korean pancakes, which were pretty big in size and were filled with a variety of seafood which included squid, clams, mussels, and shrimp. I was pleasantly surprised that each bite was generously packed with seafood. The scallions in the mixture further enhanced the overall flavor of the pancakes. This starter came with a soy sauce and vinegar dipping sauce which paired perfectly and elevated the experience. The pancake was the right size to share with a friend, or if you're like me, perfect to finish all by yourself. No judgement here! This was definitely one of my favorite things of the night. Next appetizer was the dumplings. These were nicely fried and plump, stuffed with delicious beef and pork filling. The same dipping sauce paired with it, which again added more flavor and altogether it was a very tasty dumpling.
The Entrees
For our entrees, we ordered the Ssambap Platter with galbi ($20) and the BBQ Split Combo ($18) which came with garlic toast and your choice of two sides. We went with Collard Greens and Kimchi. Never would I have thought that I'd be eating my brisket and pulled pork with kimchi! Grace (visited later) and tried the Dolsot Bibimbap ($17) with beef and Baby Back Ribs ($12) with baked beans.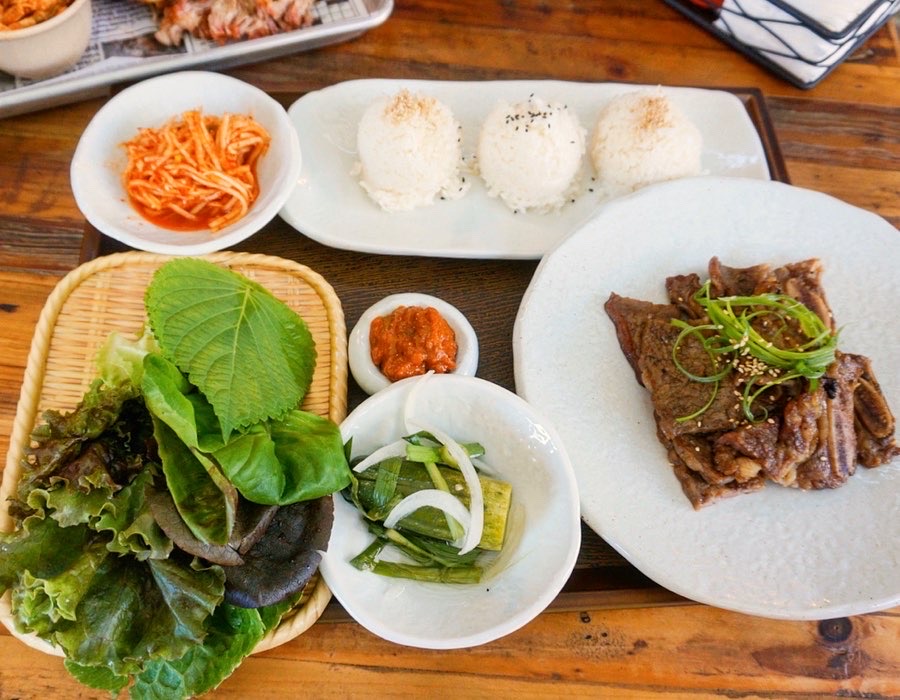 The Ssambap Platter is the ideal party platter of grilled meat, seasoned and pickled vegetables, rice, and lettuce. It could easily feed 3 people with a couple appetizers in and drinks. It's all about the experience and what really makes it enjoyable, is making your own wraps. Think of it as an interactive dinner experience that's also very delicious. If that's not your thing, then you can definitely still enjoy it with a fork! So, you start with the lettuce, then add the meat, vegetables, sauces and build it to your preference. It was crunchy from the lettuce, savory from the meat, and tart from the pickled vegetables. The rice brought it all together and the fermented bean paste added an amazing umami. I consumed the whole wrap in my mouth in one bite, which I later learned is the proper way to eat this dish. The meat I chose was galbi (Korean beef short-ribs). The galbi was truly the showstopper — so juicy and rich in flavor! The marinade gives the meat a salty, yet sweet flavor with just the perfect caramelization on the outside. I honestly could have eaten another plate of galbi by itself — it was delicious!
The Dolsot Bibimbap, a classic Korean entree, is served on a sizzling hot stone pot. It was the coolest thing on the menu and could easily feed 2 people! The portion was huge. It's served with rice on the bottom then topped with egg, seasoned and pickled veggies and your meat choice. We opted for beef. The presentation of this dish was impressive and beautiful! The stone is really so hot that it crisps up the rice on the bottom. The traditional way to eat this dish is to mix it all up when it hits the table and go to town. The egg is served over medium-ish so you get the yolk in there and it's a hodgepodge looking situation but the flavors — you'll thoroughly enjoy this dish.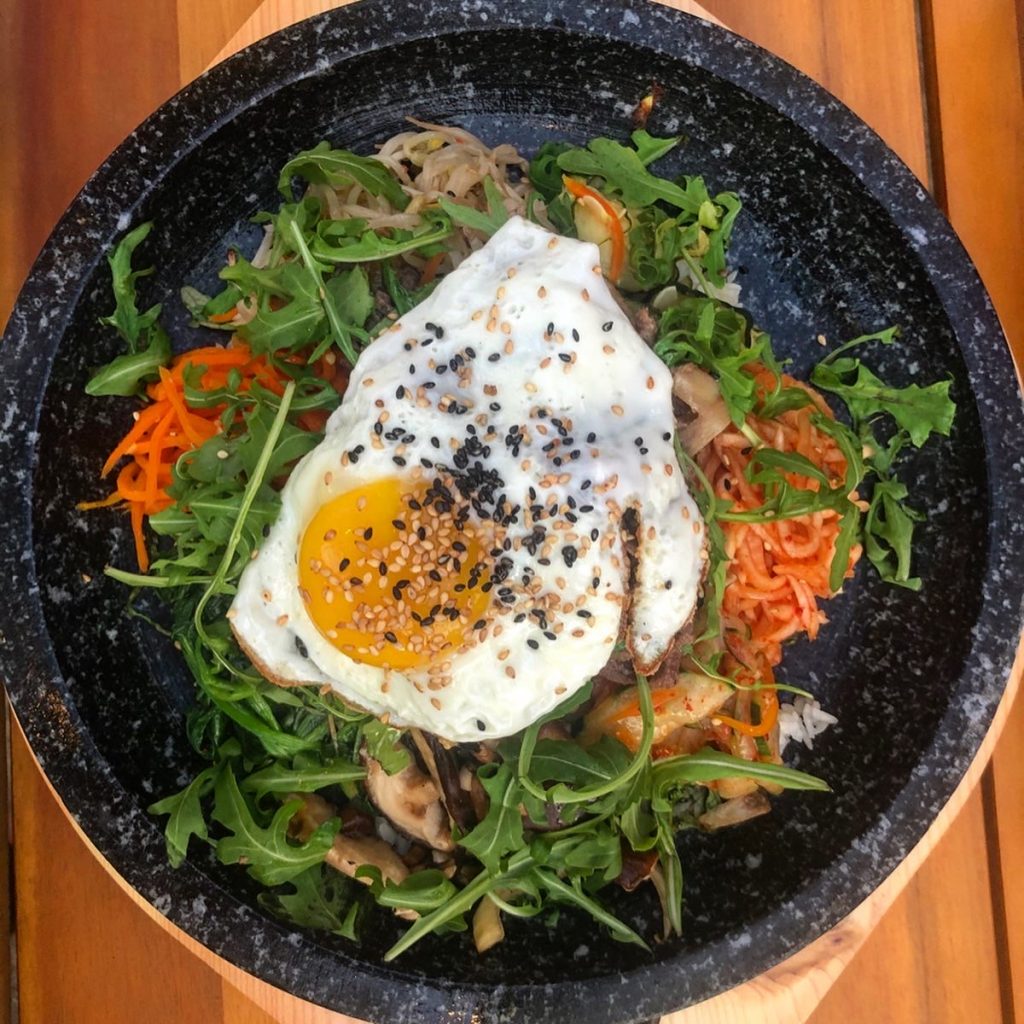 Switching it up to the Southern BBQ side, the combo platter came with brisket and pulled pork. Something neat is that Area 51 took the time to hire an actual Pitmaster. James Holley handles the BBQ portion of the menu, as he is well-known for his BBQ and skilled on the smoker. I have to say that the brisket was tender with lots of flavor and the pulled pork had a great smoky taste. Grace tried their Baby Back Ribs which she said were pretty dang good. They fell off the bone, were flavorful, and she'd get them again! To accompany the meat, there were three available BBQ sauces: Sweet, Mustard, and KBBQ (Korean BBQ). I would have liked to see more sauce options — an original BBQ sauce and a spicy one would make great additions. The KBBQ sauce, made with Gochujang (a Korean chili paste), was tangy and sweet, with a subtle heat. It's the most unique sauce they make but all were very enjoyable. Grace really enjoyed the KBBQ! I'm not usually a Sweet sauce person, but their version was my favorite.
As for the sides, the collard greens for me were lacking in flavor and a little bland. I think it could use a bit more seasoning and vinegar to give it that classic taste. I would probably try a different side next time. On the other hand, the kimchi was amazing. The flavor profile was spot-on — tangy, sour, slightly hot, and 100% addicting. The baked beans were enjoyable. No major wow's or complaints there.
They also had a couple dessert options, but at this point, we were too stuffed to think about adding anything else to my plate. For those with a sweet tooth, the Ice Cream Sandwich Donut seemed like an indulgent treat! Try it for us please!
The trip to Area 51 BBQ & Grill was well worth the drive. It's such a unique concept and both types of cuisine were delightful and done properly. I was impressed by the flavors of each dish and would definitely come back to try other menu items. The staff was pleasant and the owners came out to talk to everyone, which was a nice personal touch. I can confirm that at Area 51 the flavors were out-of-this-world — no aliens or UFO's, but really incredible food that you won't find elsewhere!
Be sure to let them know that Jax Restaurant Reviews sent you.
510 S 8th Street
Fernandina Beach, FL 32034