Like any self-respecting resident of Duval, we're willing to drown ourselves in queso and dive into delicious Mexican fare at the drop of a hat. When we heard that the restaurant dubbed "Savannah's best Mexican restaurant" by Connect Savannah and "best new restaurant" by Savannah Magazine was coming to Jax, we were fairly excited to get a chance to try it.
Tequila's Town is located at the intersection of Atlantic Blvd and San Pablo Rd in the Stein Mart shopping center. The menu is pretty extensive offering all of the standard Mexican fare like tacos, burritos, fajitas, plus other favorites like pozole and molcajete, which you don't see everyday on Jax Mexican restaurant menus.
Like everyone else in town, we usually start a meal at a Mexican restaurant with salsa and/or queso. Today we decided to kick things off with both. The salsa set the tone for the entire meal —BLAND. The queso was enjoyable and one of the few bright spots of the meal. The menu offers a wide variety of tacos and having recently driven the entire city trying tacos for our Best Tacos in Jax list, we've got quite a bit of recent taco experience. So we decided to order 3 street style tacos. For an extra $2, you can mix and match so we opted to do so. Tequila's Town offers the basics like chicken and steak tacos, but also offers a variety of other options like barbacoa, tuna, carnitas, and raja (roasted poblano pepper). On this visit we went with the Al Pastor, Chorizo, and Barbacoa. Good Mexican cuisine bursts with flavor and takes a diner's taste buds on a journey. Sadly these tacos didn't take us on a journey to "flavor town" as Guy Fieri might say, but rather took us straight to dissapointed-ville. They simply tasted like flavorless meat. Al Pastor tacos usually offer a smoky, tangy meat matched beautifully by the sweet citrus taste of pineapple. This Al Pastor lacked any taste of smoke, wasn't tangy and generally might put you to sleep. Barbacoa tacos should be tender slow roasted lamb with a memorable flavor accented with onion and cilantro. Sadly, this lamb fell flat and was again flavorless. Another failure, the tuna taco was not memorable and made us wish we ordered something else.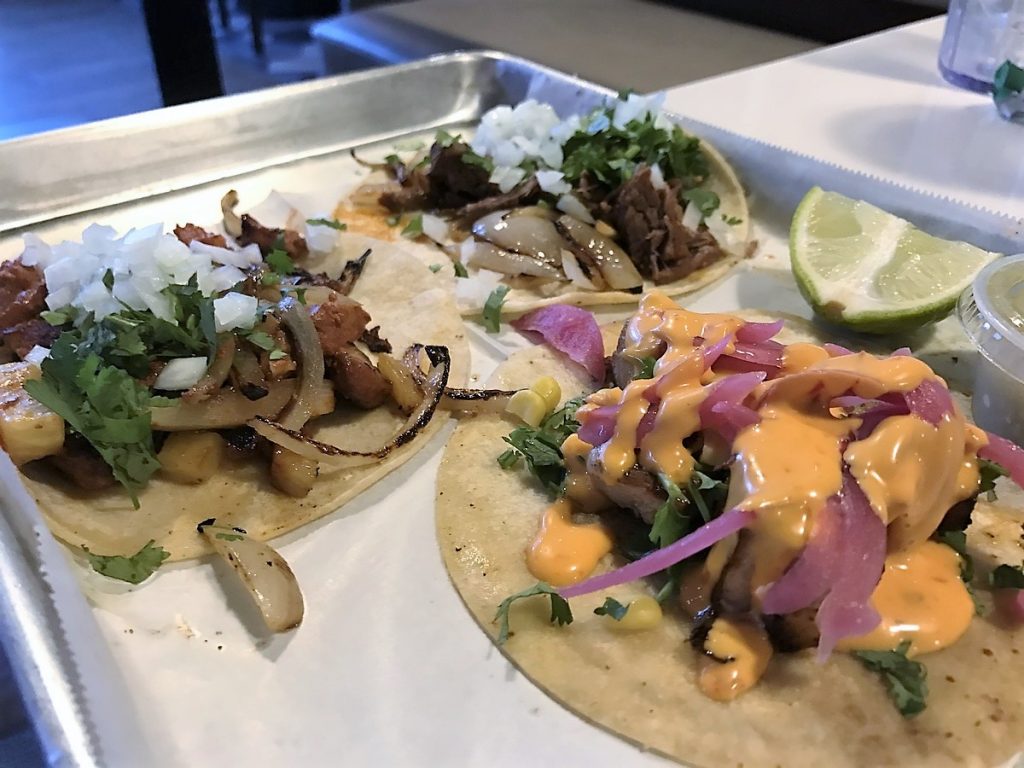 The true standout of the meal was the molcajete, which was something we had never seen before. It's a mortar and pestle style lava rock bowl filled with asada, shrimp, and chicken, simmering in a ranchero sauce, topped with Oaxaca cheese and served with warm tortillas. You can choose your spice level — mild, medium, or hot. The menu warns that the dish is hot to the touch, and they are not joking. Heed the warning! The molcajete comes out boiling in a large lava rock bowl, and it will continue to boil for close to ten minutes. There is plenty of meat in there, and in the ranchero sauce the consistency is more of a stew. Having never had molcajete (often called molcajete mixto, as the word molcajete actually refers to the bowl), we had nothing to compare it to. It was much more flavorful than the tacos and salsa, but lacked the depth and layers of flavor you get from some of the best Mexican food. The presentation added to the experience. If it had been brought out in a regular bowl, not boiling, it would have been more underwhelming. Being that it's basically protein in a bowl, this is a good option for folks on high protein diets, which can get mundane. One thing is for sure, our interest and curiosity in molcajete has been piqued. We're going to need to have more iterations of this dish.
The service was solid with servers checking in regularly and making sure we were reasonably well looked after. Given the generally underwhelming meal, we decided to skip dessert. We're not likely to be back any time soon but if we were to head back to Tequilas Town we'd avoid the tacos and dive into more of the traditional Mexican fare. If you're headed there, that's our suggestion for our readers as well.
Tequila's Town
13475 Atlantic Blvd Suite 1
Jacksonville, FL 32225