When you ask Jaxsons what their favorite food is, tacos will come up time and time again. There's something special about sandwiching delicious meat and veggies between a handmade corn tortilla that adds a little sparkle to a diner's eyes. For this list we set out to find which tacos we believe Jax diners will enjoy the most. We think we've succeeded with a wide mix of the traditional, the gourmet, and every hybrid in between. We hope you love the list and find a new favorite taco spot in Jax!
The Process
When we set out to rank the "best of" a category of food in Jacksonville, the first thing we do is build a list of the places that have stood out to us. Then, we call other foodies, food writers, and chefs we trust for recommendations. Lastly, we go to our social media pages and ask for recommendations from the public in hopes that they'll help surface a place or two that may have flown under our radar.
Based on all that research, we compile a list of the most relevant places to try and throw in a couple really obscure spots for good measure. We block out 2 to 3 days to drive the entire city with members of our writing team to taste every relevant restaurant in the category.
Things to note:
1. The restaurant/food truck MUST be in Duval county to qualify.
2. We will only consider chains if they are locally owned and based in Jacksonville. For this taco trek we compiled a list of 22 different places that stretched to every corner of the city.
3. The ranking is based primarily on the tacos served to us on the day we visited the restaurant to judge for the list. Sometimes that results in places that we expected to rank ending up missing the list based on inconsistency on the day of judging. We want to make sure that when someone uses our list to pick a taco place they'll consistently get a taco we can stand behind — consistency matters.
We think you'll be surprised at fan-favorites that didn't make the list but hopefully you'll be thrilled with a couple places you may have never heard of and be inspired to check them out.
Honorable Mentions:
What we recommend: Keep it simple and fresh with the Yucatan chicken or steak taco
Neighborhood: Wherever their wheels take them! Check their social media for locations each week.
Balu's has a knack for serving up light and fresh tacos with great ingredients that won't weigh you down. True to their name, Balu's Tacos are the kinds of food we think of eating when we're chilling at the beach or having a nice day out in the sun.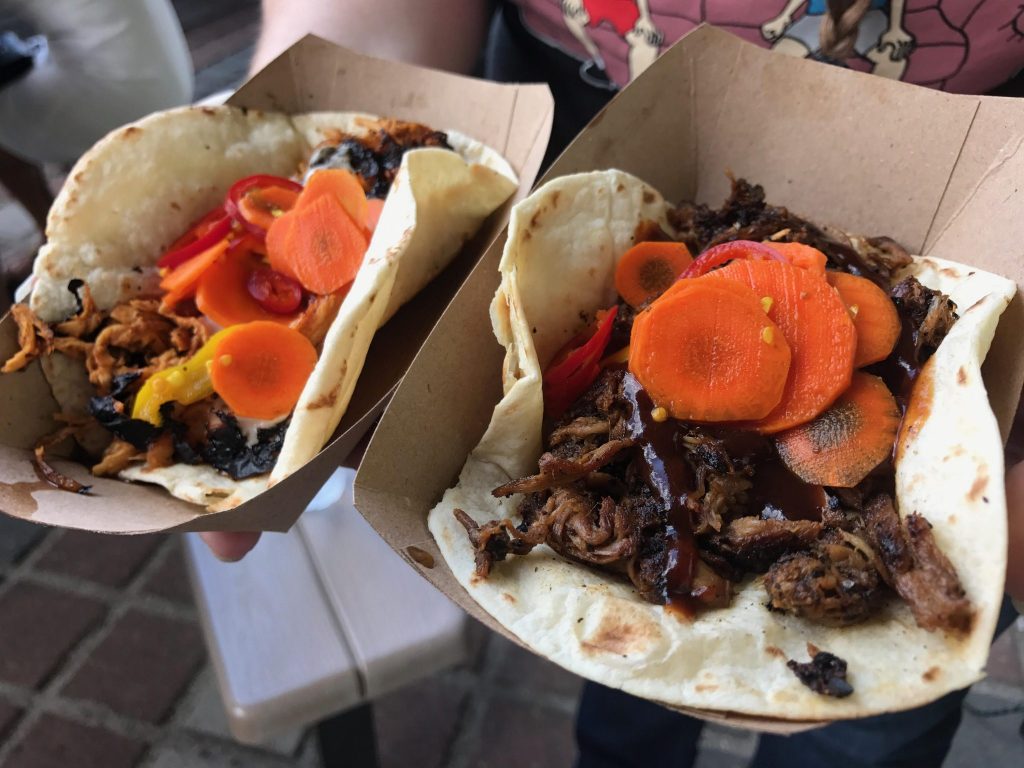 What we recommend: The barbacoa taco jumps out at us! It's full of flavor and not available at many of our city's taco spots.
Neighborhood: Southside/Lakewood
Part large mexican grocery and part authentic Mexican restaurant, Pepe's has long been thought of by our city's food media as the most authentic Mexican restaurant in town. At Pepe's you'll find mainstream favorites like carnitas, carne asada and some hard-to-find tacos like lengua (tongue), cabeza (head), and boliche (stomach). Make sure to stop in at Pepe's on Sunday afternoon where you can often find jolly drunk folks singing along with the mariachi band — a good time!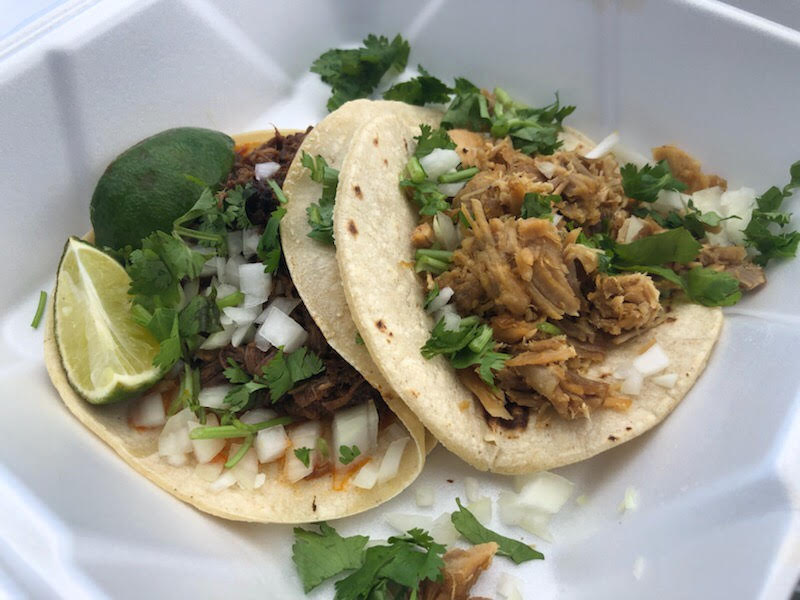 The Top Seven:
What we recommend: You can't go wrong with any taco El Agave Azul serves. They also have a great housemade mild sauce that we recommend adding to every taco on the menu.
Neighborhood: Wherever their wheels take them! Check their social media for locations each week.
El Agave Azul is just so darn good. There's no magic formula — just great tacos with flavorful meat, onions, fresh cilantro and some of the best sauces in the city. One Yelp reviewer said it best, "I'm on the lookout for blackmail material to get them to give me the recipe." We feel the same way. Their hot sauce is the perfect level of burn with tremendous flavor and their mild sauce will delight any palate. The cherry on top is the tortilla — it's an awesome tortilla with the right char and it doesn't fall apart on you.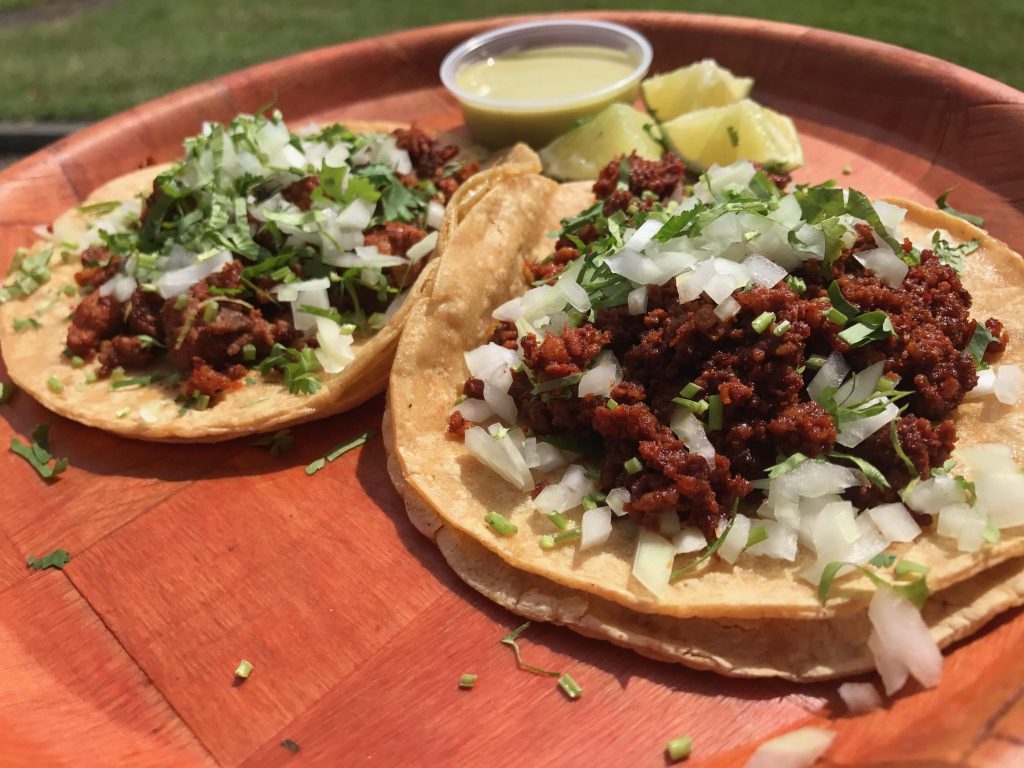 #6 Taylor Tacos
What we recommend: The Veggie Foles & the Weekender are our favorites
Neighborhood: Wherever their wheels take them! Check their social media for locations each week.
Taylor Tacos is among the most creative when it comes to gourmet tacos. Their Weekender taco with pork loin and mango blueberry salsa is refreshing and unique. The blueberry and mango flavors take it from ordinary to extraordinary. Even better is the Veggies Foles. Taylor Tacos named one of their tacos after new Jags QB Nick Foles and it's pretty darn good. They do a veggie version of the same taco called the Veggies Foles and it is easily one of the best veggie tacos we've ever eaten. It's just pure vegetable magic that even a meat eater will love. Now the question is, is there a Minshew taco in our future?
#5 Taco Boss (formerly Tortilleria Azcatl)
What we recommend: There's not a bad taco in the bunch! Their tacos are traditional and you dress them yourself at their toppings bar, which has everything you'll need.
Neighborhood: In the parking lot behind Tortilleria Azcatl on Beach Blvd.
Taco Boss truck sits right behind Tortilleria Azcatl, which is where their corn tortillas are handmade in the tiny Spanish grocery store. In each bite of their tacos and other authentic dishes, you'll taste the passion for family recipes and love for cooking. They're open Thursday to Saturday, 5:30pm until 11pm or later if there's still a line. There's a tented seating area with tables so you can dive into amazing tacos, rain or shine. Don't miss it!
What we recommend: The Pibil, ribeye tacos are packed with deliciousness and if you're up for an adventure, try the huitlacoche taco, made with corn fungus (it's so good).
Neighborhood: Five Point/Riverside
Taqueria Cinco is the new spot on the Five Points block. Chefs Eddy Escriba (formerly of Burrito Gallery) and Matt Kemper (formerly of Mezza) have teamed up to create a taco joint bursting with flavor. Open only for a few months, Taqueria Cinco is already among the best spots for a taco in Jax. The menu features a number of tacos you won't find anywhere else in town. The two most unique among the bunch are the cactus taco and the huitlacoche. The huitlacoche taco features a fungus that grows on corn, which is considered a delicacy in Mexico along with a variety of mushrooms. We expect these guys to be a strong contender for #1 next year!
What we recommend: Carnitas, pastor, and cabeza tacos.
Neighborhood: Westside
Taqueria Hernandez is a stationery Mexican food truck which features traditional Mexican favorites. The tortillas used are stellar and likely handmade. Each bite of meat is a treat for your tastebuds. The truck has plenty of seating under a tent. If you're looking for a more formal dining experience head just down the street to Hernandez Mexican restaurant where the same family serves up Mexican favorites with what we believe are the same recipes.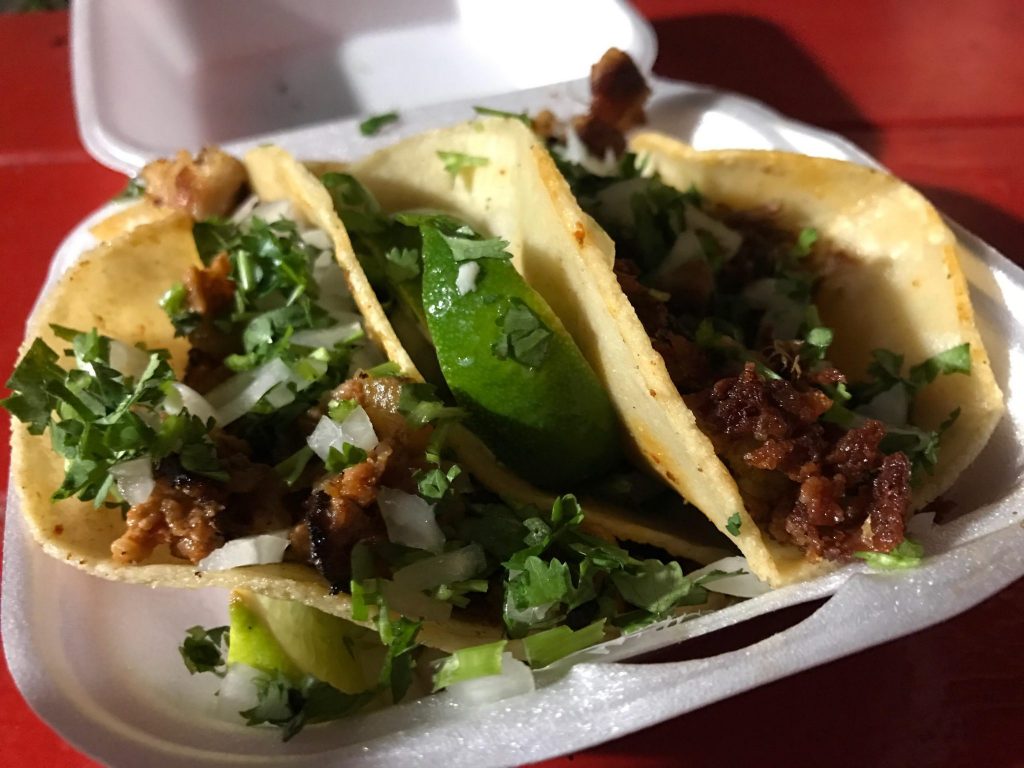 What we recommend: Whatever is on the menu — get that!
Neighborhood: 3157 Spring Park Rd
When you write about food, this is the kind of little hidden spot you dream of finding. We happened to see this tienda driving by and couldn't pass it up. You enter the restaurant through a small grocery store then walk through the seating area to order at the counter. When we reached the counter, we could see tortillas being made by hand right in front of us and folks cranking out tacos at lightning speed like the professionals they are. The tortillas were what dreams are made of and the meat was so incredibly flavorful. The whole experience is what purists hope for. There is ZERO English spoken in La Guadalupana, so on our visit we did all of our ordering in limited Spanish. Make sure to bring a spanish speaking friend or bust out the little bit of Spanish you learned in high school. There is no menu and don't expect to be able to ask a lot of questions to figure out what to order. Our suggestion is to ask for a couple of typical favorites like carnitas, pastor, or chorizo. You walk through a small grocery store and through a seating area to the back to order at a counter/bar and then come back up front to the register to pay. Make sure to BRING CASH because while we're not 100% on this we don't think they take credit cards. La Guadalupana is also only open on Saturdays and Sundays from 10am to 5pm.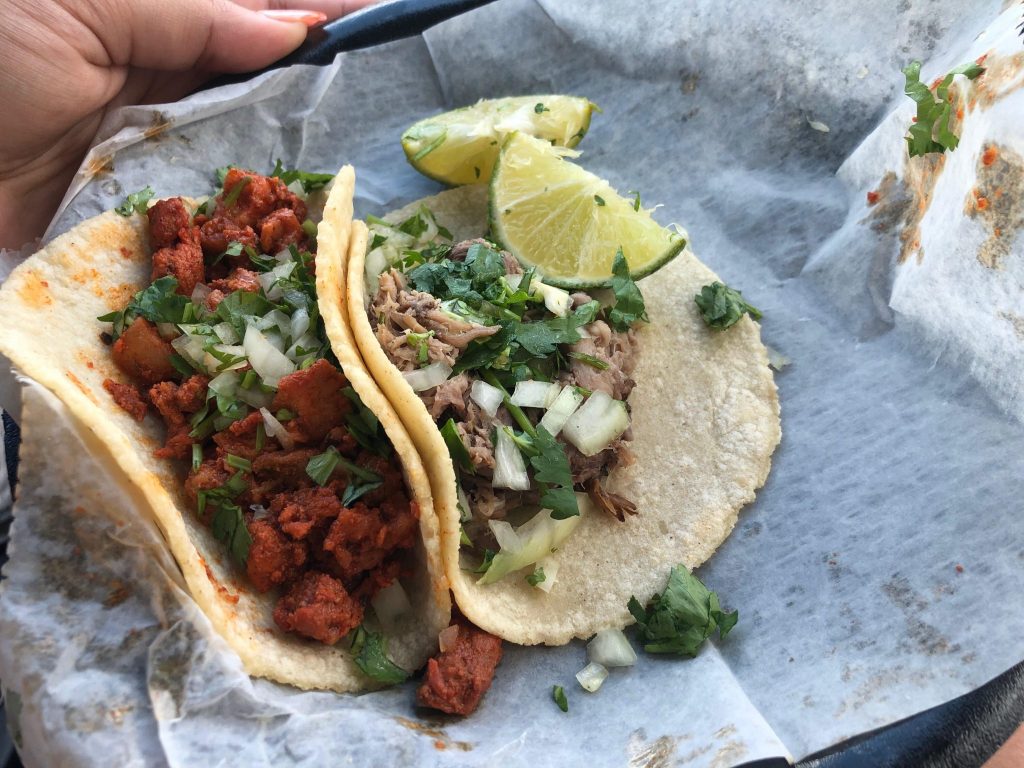 #1 El Jefe
What we recommend: San Antonio Style Puffy tacos!
Neighborhood: Murray Hill
We had been to El Jefe a couple of times previous to this and enjoyed the tacos, but man were we missing out. We'd never had the puffy tacos and maybe you haven't either. Everyone had told us that they were amazing and different than any other tacos in town. So, on our visit to rank restaurants for this "best of" list, we made a point to rank the restaurant on the puffy tacos. The puffy shell is made by frying uncooked masa in hot oil until the moisture has evaporated. The result — a crispy-on-the-outside, soft-and-airy on the inside, puffy taco shell. The puffy tacos are listed on the menu filled with adobo braised chicken but El Jefe will allow you to substitute the taco fillings with whatever meat suits your taste buds in the puffy tacos. An order comes with 3 puffy tacos, so we went with 3 different fillings: adobo braised chicken, pastor, and brisket. Holy cow these things are addictive! The puffy taco shell adds loads of flavor and somehow seems to marry the other ingredients together to make for a novel taste in each bite. A great taco starts with a great shell and tortilla, it's anchored by moist and flavorful meats, and it finishes with seasonings that complete the taste. El Jefe checks all 3 boxes. We're confident that if you head to El Jefe and dive into the puffy tacos you'll find them a true delight.