It always pains me to see the incredibly long wait at the Outback off of San Jose and not just because I steer clear of chain restaurants whenever possible. There are great local options right there that serve tasty ethnic cuisine including my favorite Indian restaurant in town, Masala, and Kim's Korean BBQ, which we decided to try on a recent Friday night.
We were welcomed when we walked in by who I came to assume was the owner (everyone was referring to her as Mama). She sat us in a busy dining room and gave us some time to look over the menu. After what must have felt like forever (she asked us a few times if we were ready), we finally made some decisions. Thankfully there are numbers/letters next to each item since my Korean is non-existent. We started with A-2 Mandu ($6.99) and A-6 Kimchi Jeon ($12.99). We decided against grilling our own meat, although it is an option, and ordered 5 Dak Bulgogi ($15.99), 11 Dol Sot Bibimbap ($16.99), and one of the Ramyun dishes (between $13.99 and $16.99).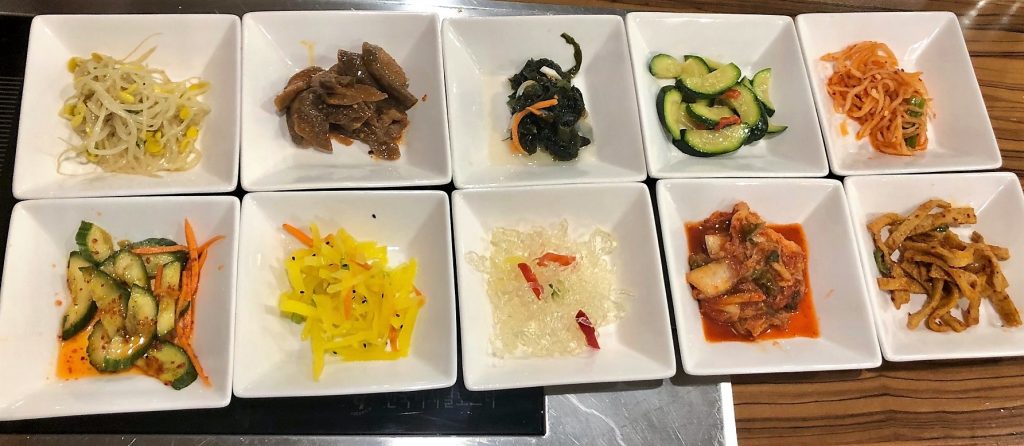 One of my favorite things about a Korean meal is the banchan, or small sides that are served before your meal. They put 10 different types in front of us, ranging from pickled cucumbers to a clear seaweed of some sort. These are mostly pickled vegetables, ranging in spice level. Although I couldn't tell you exactly what I was eating, all of them were great- light and refreshing. The dumplings arrived next. They are available pan seared or fried; we decided to try fried. The outside was very crispy and the inside was loaded with tender beef. Kimchi Jeon is a pancake made with kimchi, onions, and scallions. It came out looking like a pizza pie. It had the texture of kimchi, but none of the punch. I can't say that I have tried anything like it before, but enjoyed it as a starter.
The main course arrived shortly after we finished appetizers. I was immediately jealous of my husband's order, the Dol Sot Bibimbap. Our server must work out because that hot stone pot was heavy. The thin strips of beef were still sizzling and there was rice at the bottom soaking up all of the juices. It was an enormous amount of food, but too delicious to stop eating. My friend ordered Dak Bulgogi, which is chicken stir-fried with rice and vegetables. The chicken was cut in thin strips and had a good balance of sweet and salty. My bowl of ramyun arrived and I was quickly warned not to add any extra hot sauce by Mama. It reminded me of ramen in appearance. The richness of the broth coated my mouth and had great balance of flavors. My only complaint was the meat. I had decided on chicken and didn't realize it was going to be fried. Putting crispy chicken in soup creates soggy chicken, which was not my favorite. I picked around it, focusing on the copious amount of noodles.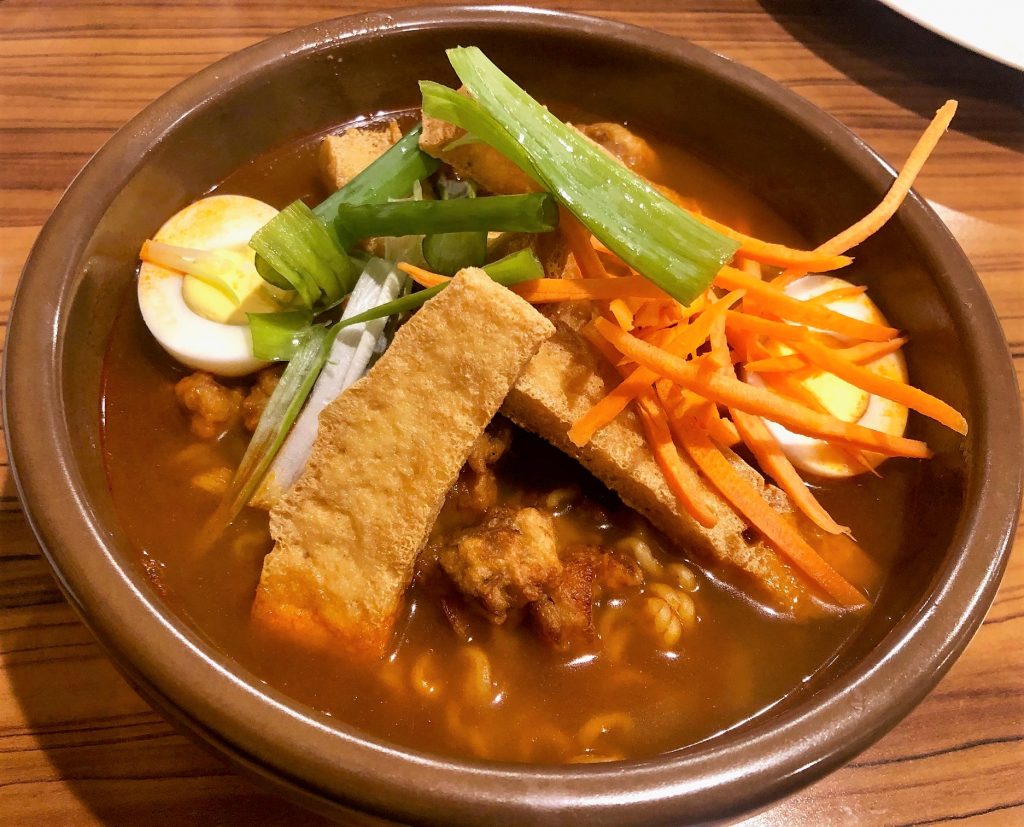 Overall, we enjoyed our experience at Kim's Korean BBQ. The atmosphere was lively with K Pop videos playing on the TVs. Every staff member we spoke to was very friendly. We enjoyed our meal and would visit again. Next time, take a chance, skip the chain restaurant, and try something different!
Kim's Korean BBQ Restaurant
9825 San Jose Blvd
Jacksonville, FL 32257