One of my favorite things about living in Florida is that it's practically Summer all year round. And you know what that means? ICE CREAM ALL YEAR LONG. More specifically, FROZEN CUSTARD. Lucky for us Jaxsons we were blessed by the Cow Gods and chosen as one of the few states to call Whit's Frozen Custard part of our family.
Whit's Frozen Custard origins begin in an unexpected place-Granville, Ohio. Chuck Whitman opened his first shop in 2003 with his wife Lisa. After years of working in the hospitality industry, researching, studying, and planning they perfected their recipe for frozen custard. They poured all their knowledge into one perfect store-Whit's Frozen Custard.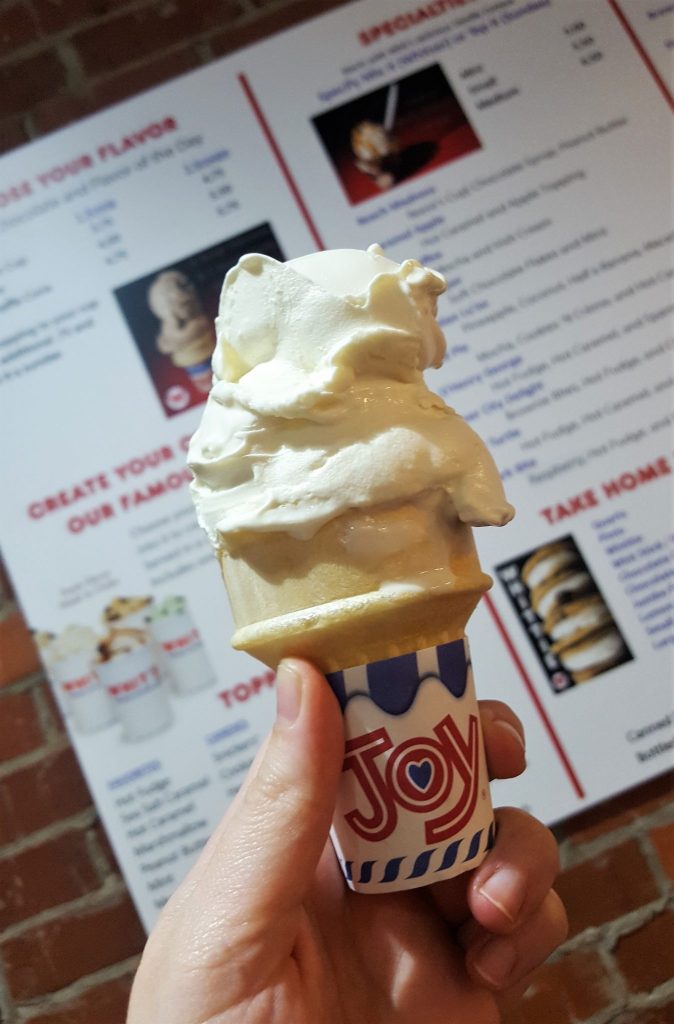 So how does Whit's make it all the way to Florida you may ask? Fast forward to 2010 and enter my personal custard heroes, Michael and Jessica McKinley. This husband and wife pair moved from Indiana and surprisingly have a background in Corporate Insurance and retail furniture. But they knew what Jacksonville was missing and what it desperately needed and that was frozen custard. Hailing from the Midwest where custard is a staple, they knew frozen custard would flourish in this beautiful sunny climate. The Mckinleys are personal friends with the Whitmans and got the green light to open their first storefront in Atlantic Beach in 2014. In five short years Michael and Jessica have opened and still manage all five Jacksonville locations, the others include Jacksonville Beach, Mandarin, Avondale and South Jax.
I'll be honest, I wasn't sure what the difference between good ole ice cream and frozen custard was but have one taste and you'll understand. The science behind it is one-part fun and one-part fascinating. The recipe for frozen custard involves a higher butterfat content, which in turn makes it denser, smoother and creamier. And in my opinion, boy that's where the biggest difference lies. The mouth feel of custard is almost indescribable. It's velvety, smooth, rich, something you must experience yourself if you've never tried it before. The second difference about custard is the machine itself. The machine churns less air into the custard base, making it more labor intensive and a slower process. It is, however, worth the wait. The last difference between ice cream and custard is the temperature in which it is served at. Your average ice cream is served at 16 degrees while custard is a bit warmer at 26 degrees. This enables you to ACTUALLY taste the custard. Your taste buds aren't frozen, and the flavor is intensified, for an overall more enjoyable experience. Just think of it as ice cream, leveled up!
Walking into a local Whit's Frozen Custard you feel right at home. This establishment, although fairly new, makes you feel like you grew up with it, like it's part of childhood. I don't know if it's the youthful nostalgia and excitement of getting ready to devour a sweet treat, or that the Mckinleys have somehow captured that homey warm feeling at all their stores, but you keep coming back for more. Every Whit's is set up fairly similar. There is a menu displayed on the walls, well lit reach-in display cases and a counter where you're greeted by a smiling face.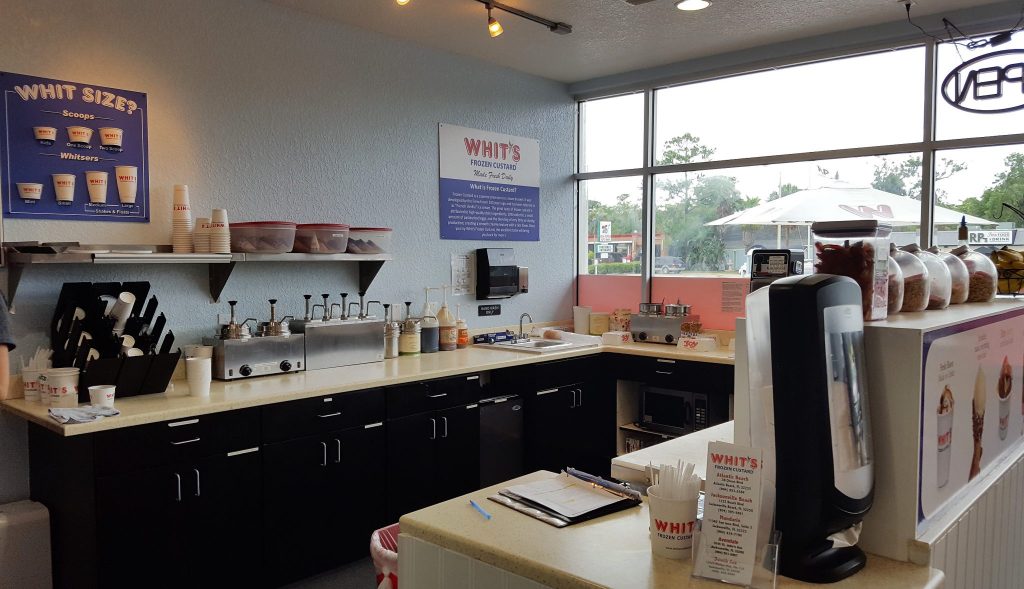 Now that we know what makes custard different than ice cream, we can ask what makes Whit's different than other custard joints? There is obviously the custard itself. Chuck Whitman perfected the recipe over years and the proof is in the pudding [custard]. The best part is- it is made every day. No false advertisement here, it's literally in their name "Whit's Frozen Custard Made Fresh Daily." They keep it simple too! They offer only three flavors. You've always got your staples, vanilla and chocolate and then the exciting flavor of the day! The fun part is, they can still make just about anything you want out of those bases. There's over 30 different toppings ranging from favorites like hot fudge, mint, or butterscotch to candies like M&M's and Cookies N' Crème to real fruit, nuts and bites such as cheesecake and chocolate chip cookie dough! Mix and match, devour and repeat!
Whit's also has specialties items. They start with that lovely vanilla base and mix in set ingredients, but you can also free style your own add-ins. Vanilla with flavors and toppings mixed in is called a Whitser, or you can choose to top your custard with those same ingredients as a sundae. For example, perfect for the Summer heat is the Hawaiian Lu'au. It's pineapple, coconut, half a banana and macadamias! Or you can order the Beach Madness! That'll be Reese's Cup, Chocolate Syrup and Peanut Butter. YUMM. Lastly, you can't forget your childhood favorites. They also offer Banana Splits, Brownie Blitz, Strawberry Shortcake, Shakes and Root Beer Floats or Black Cow (it's chocolate syrup swirled in). All priced at $6.50 each. A local favorite is the Whittie- a custard cookie sandwich made with chocolate chip cookies baked fresh in each store.
Many locals wait with bated breath for certain days…because Whit's releases the whole month of specialty flavors per day. I know my family is looking forward to July 18th! Come on Carrot Cake day!!! This must be the best part of the job. Whit's chooses the flavor of the day based on a few criteria. Obviously, seasonality comes into play. For Summer they're showcasing favorites like lemon, sugar cookie and s'mores, but look out…pumpkin is right around the corner. What I appreciate is Whit's listens to the people's demands. Social media is huge and if you ask-they listen. Make a request! Comment on their Instagram @whitsfordessert. They love hearing from fans and the community. Who knows, maybe your dream of chocolate mint marshmallow one day might come true.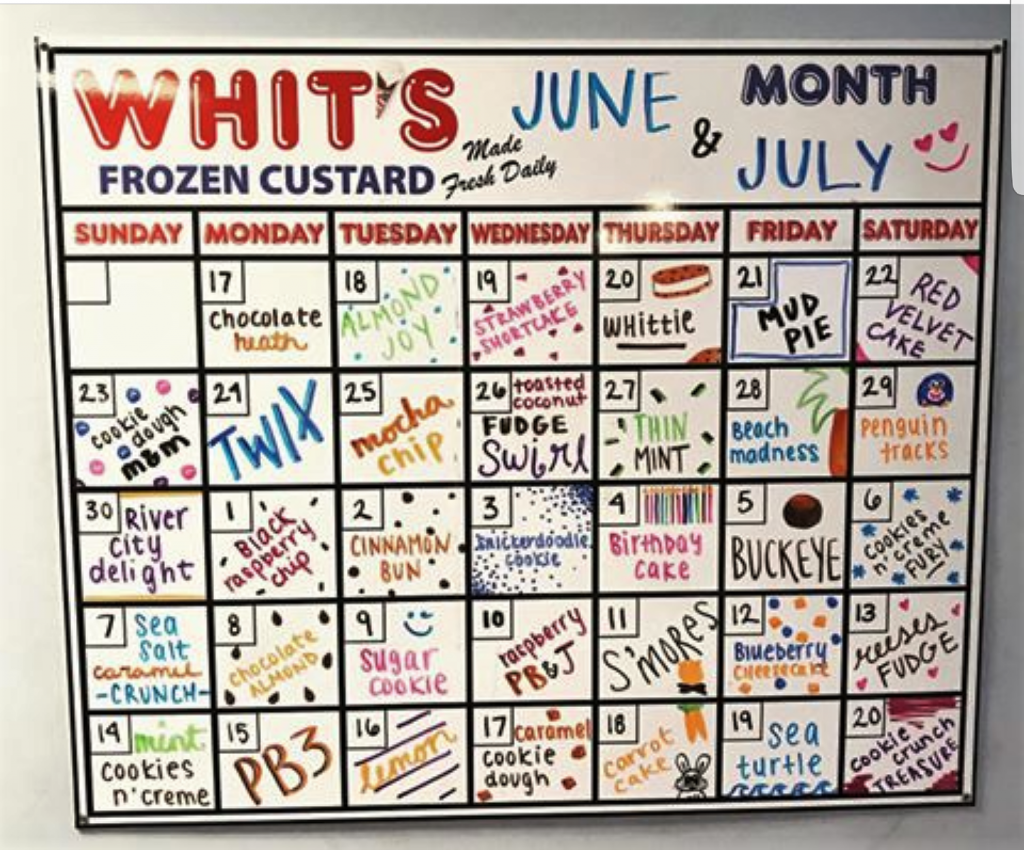 Lastly, and most importantly is Whit's Frozen Custard is a family affair. Their hospitality is unmatched, and love shows in the stores and the product. Not only is it run and operated by husband and wife Michael and Jessica McKinley but they employ their family and 70 locals who have become family. Whit's was a family dream that came into a full-time business with hopes of expansion (and maybe a drive through!) in a year or so. If you haven't been to a Whit's, swing by. If it's just for a vanilla custard in waffle cone, the irresistible flavor of the day, or to grab a pint or two from the display cases for your family BBQ, it is absolutely a can't miss.     
Whit's Frozen Custard Jax Locations:
Atlantic Beach
38 Ocean Blvd
Atlantic Beach, FL 32233
Avondale
3545 St. Johns Ave
Jacksonville, FL 32205
Jax Beach
1232 Beach Blvd
Jacksonville Beach, FL 32250
Mandarin
11362 San Jose Blvd #3
Jacksonville, FL 32223
South Jax
12525 Philips Hwy #113
Jacksonville, FL 32256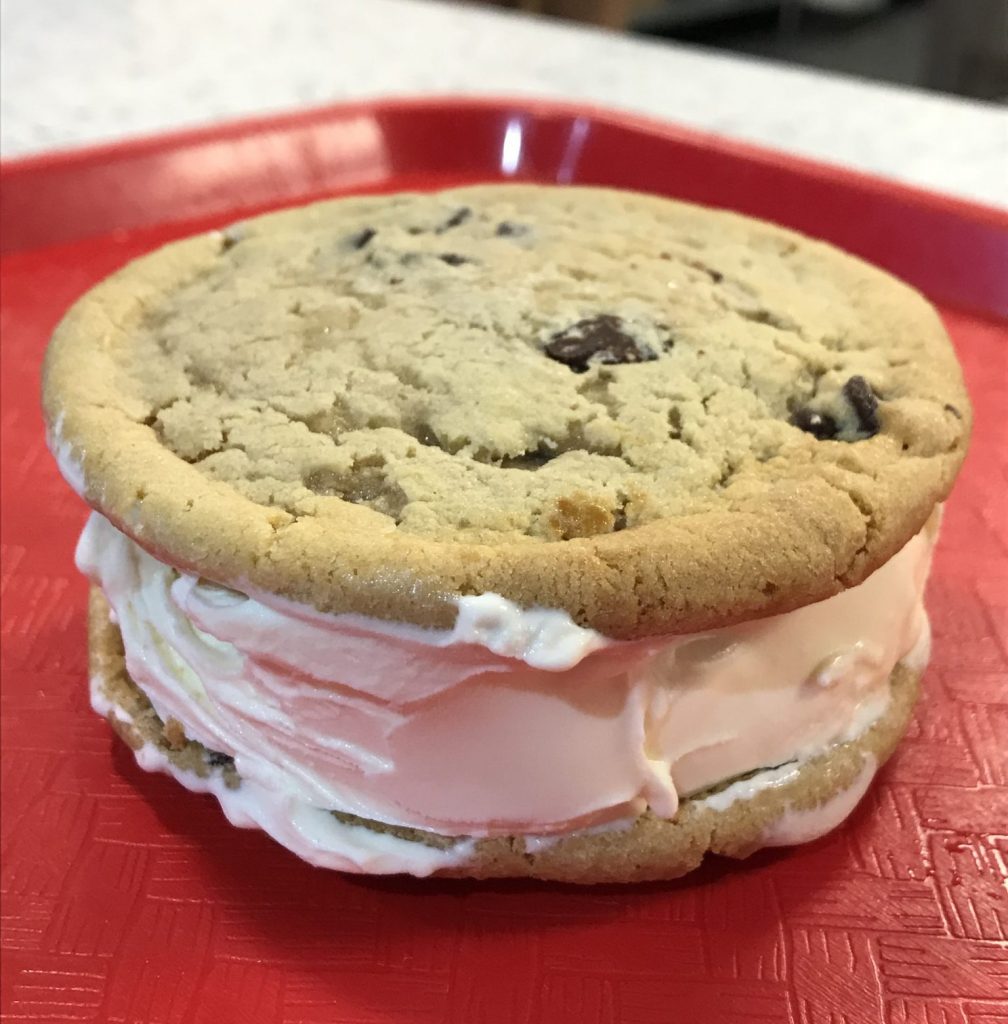 Often we ask local eateries we already LOVE to be a sponsor of Jax Restaurant Reviews. Whit's is one of our favorite places for a treat. They graciously took us up on sponsorship and have allowed us to keep sharing stories of local gems you don't want to miss. Please dive into an amazing custard at Whit's! We know you'll find something you love and you'll feel right at home in any of their stores.