Following the history of Jacksonville's oldest independent coffee roaster is to follow the history of food, both in America and specifically in Jacksonville.
Martin's Coffee Company was founded in 1957 by Fred Martin, and is still run by the family today. Most of their business was and still is to local restaurants and businesses, though they do have loyal customers who come to the factory and office to buy individual bags of freshly roasted Martin's Coffee.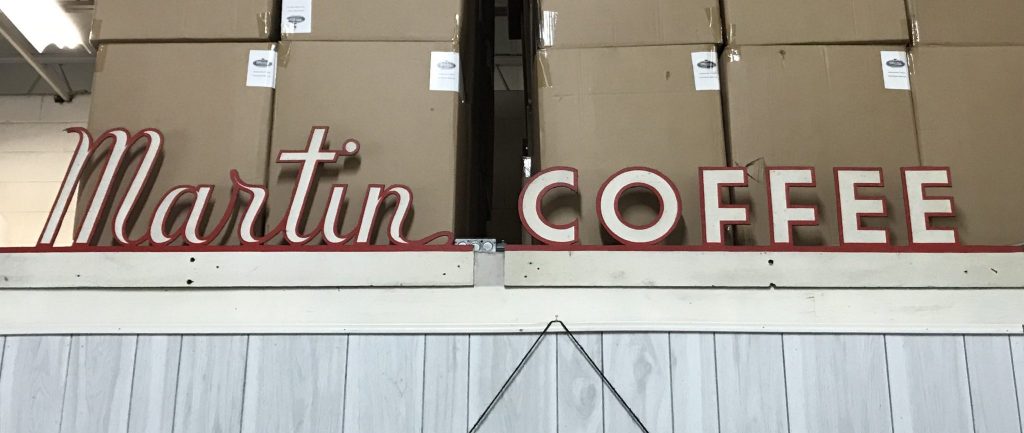 In the 1950s and 60s offices didn't typically house their own coffee machines. Instead, Martin's Coffee would brew hundreds of metal kegs/carafes of coffee every morning and deliver them to offices, mostly in the downtown area. Martin's would then pick up the kegs in the afternoon, take them back to the warehouse and clean them, only to do it all again the next day. Martin's was conveniently originally located on Bay Street directly across from the old courthouse until they moved to a larger facility near the stadium in 1988.
Up until 1998 Martin's made two kinds of coffee: regular and decaf. As national brands of specialty coffee expanded, Martin's was positioned to bring more variety and a fresher cup of coffee to the First Coast. They now import beans from coffee farms in 12 countries and offer 16 different blends, although they can meet nearly any special request from clients. One way they do that is creating custom blends. Office and restaurant clients can take any coffee blend to Martin's, and they can re-create it in any amount. In this way, there are restaurants and offices all over Jacksonville with coffee blends completely unique to them.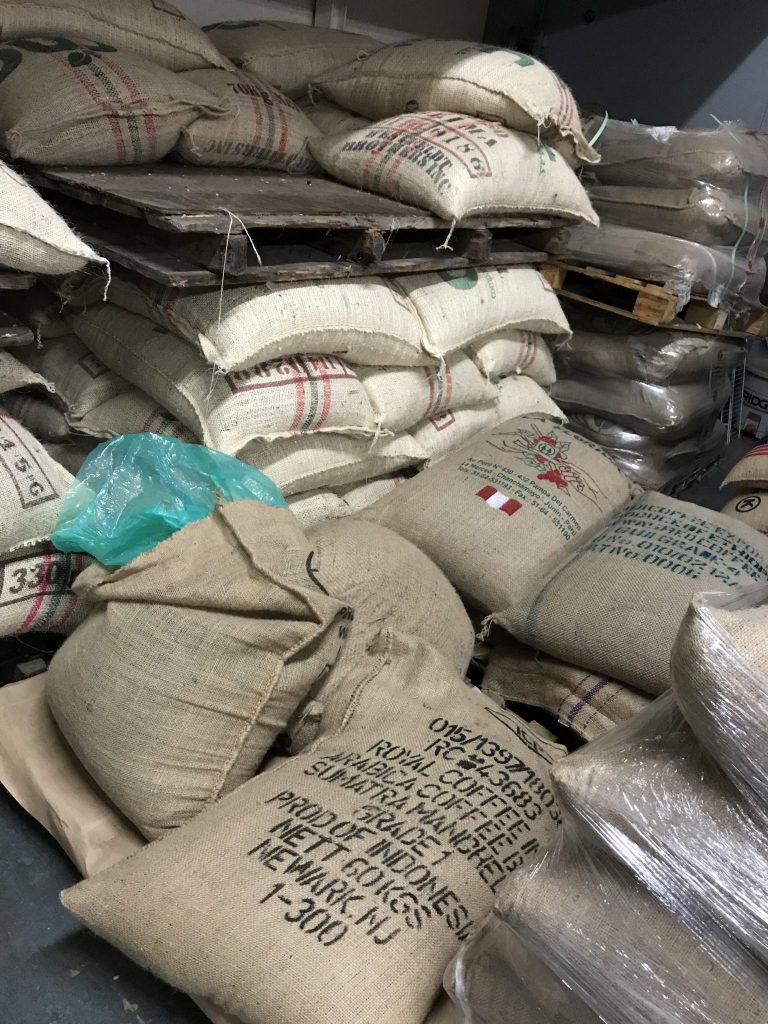 To watch the beans go from green to brown and roasted is a special kind of magic, most notably because of the equipment that is still in use. There are cast iron behemoth machines dating back to the 1930s that are still responsible for every single bag of freshly roasted coffee. These machines are manned by a member of the Martin's team who watches the transformation, monitors the time and temperature of the machine, and visually inspects the beans to be sure they are the perfect doneness. Martin's Coffee is very much a labor of love and respect for the coffee beans.
If you live and dine in and around Jacksonville, chances are you've had Martin's Coffee and not realized it. They provide coffee and tea for a few hundred restaurants and businesses up and down north east and north central Florida. For many years restaurants did not share where they got their coffee and tea, but now it has become more common for restaurants to include what companies they are using for various products. You will regularly see a specific local brand of coffee on a restaurant menu.
Martin's is not widely available for retail, but they do sell freshly roasted and packed coffee beans by the pound in their downtown office. Folks who have known and been drinking Martin's for years regularly stop in to buy a bag or two. They'll even grind the beans if you want to take them home ground. And of course they sell their coffee online at martincoffee.com for those who prefer to not make the trip.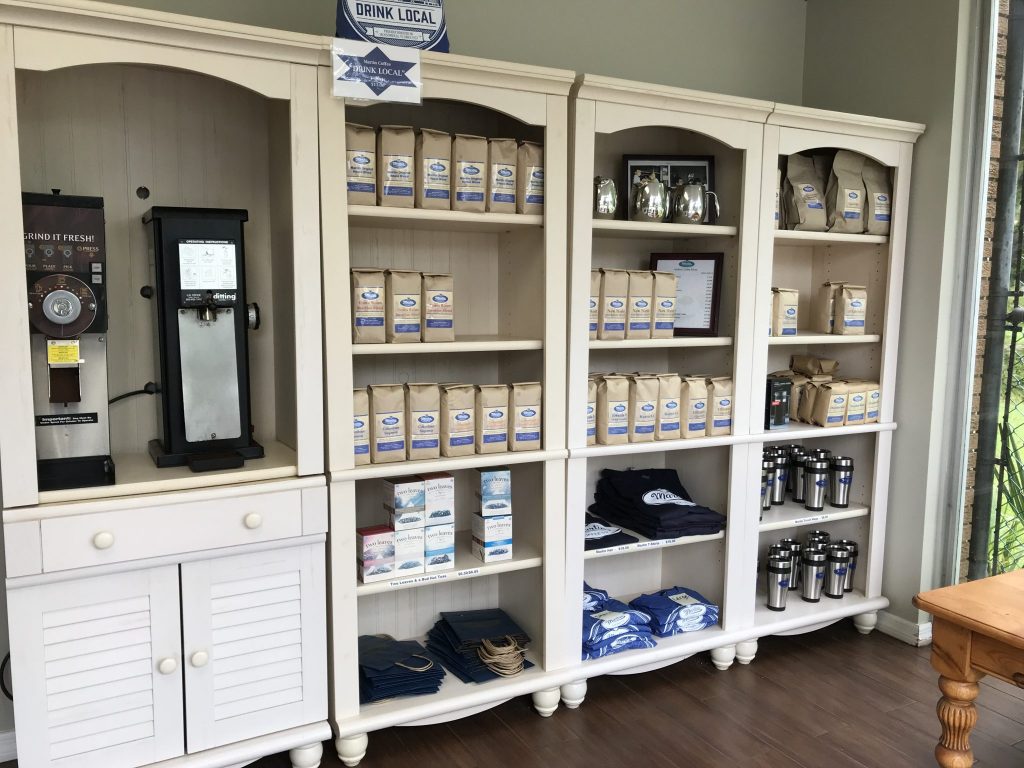 The sights and smells from walking through the production area of Martin's Coffee were exhilarating, and that's not just the caffeine I consumed in the test kitchen talking. President and 3rd Generation Roaster, Ben Johnson, gave us a brief coffee education that left me wanting to learn more. I know it was just the tip of the iceberg. Ben exudes a certain passion for coffee that can't be faked. All the coffee in the world is produced between the Tropic of Cancer and the Tropic of Capricorn. Coffee plants grow berries (also called cherries) that turn red when ripe. The beans are actually seeds that are squeezed out of the berries and dried. They are green and turn their characteristic brown after roasting. In the mid-90s a Coffee Taster Flavor Wheel was created to help coffee purveyors, roasters, and drinkers accurately describe the flavors of a given cup of coffee, and it was updated in the early 2010s. Much like wine and oysters, coffee has different flavor qualities depending on where it was grown and the conditions it was grown in. An expert will be able to sample 4 different cups of coffee from the same roast batch and tell you which cup had a couple beans picked from under ripe berries.
The coffee industry is a world unto itself. The knowledge and care it takes to source, import, and roast beans that will consistently result in an excellent cup of coffee cannot be understated. Martin's Coffee Company has grown with the changing needs and desires of the public and the culinary industry over the last 60+ years, but they are still family owned and they operate on the same values they started with- great coffee, reliably delivered. Jacksonville is lucky to have this coffee legacy right here in our city. The next time you go to a local restaurant, see what kind of coffee they offer. If it's Martin's, drink up.
Martin Coffee Co
1633 Marshall St
Jacksonville, FL 32206