The Jax Food Truck Food Court has brought together 18 of Jacksonville's premiere food trucks to host The Tired of Turkey Takeover on Saturday, 11/26 from 11-4pm at Academy Sports at 11901 Atlantic Blvd. In addition to some of Jacksonville's best food, there will also be a cash bar, a HUGE kids play zone with bounce houses and rock walls, and vendors! This is family and pet friendly! Ditch the leftovers and let the food trucks cook and clean for you on Saturday! Here is your premiere food truck lineup!
The Happy Grilled Cheese: People's choice for best food truck in all four major Jacksonville publications. Take it cheesy with their Daddy of the Mac and loaded cheese fries. Pro tip: you can add mac and cheese to any sandwich, our favorite is to add it to the California melt! You're also not going to want to miss their sweet, decadent, chocolate laden S'mores melt!
Front Porch Kettle Corn: Start your food truck rally adventure here for an appetizer! Fresh made sweet and savory popcorn, mouth watering spicy pork rinds, and southern sweet tea. Take home a few containers to snack on later – you will thank us!
Delish Kebabs: You'll smell these amazing grilled kebabs before you get to the truck! Serving up authentic and award winning Brazilian charcoal grilled kebabs, Delish Kebabs is taking simple food and making it extraordinary. Their bacon wrapped chicken was the winner of the 2014 Food Truck Wars! Don't miss their yuca fries either.
Rocco's Pizza: New York Style pizzeria on wheels! Aside from mouth watering, cheesy, soul fulfilling pizza they're also now featuring buffalo style wings. One owner was a GM in a major chicken restaurant chain before and she brings her talents and experience to making her own unique flavors. Go ahead and get pizza AND wings, you know they're a match made in heaven.
Berndt Ends: This Florida BBQ style food truck came out swinging with bold flavors, low and slow smoked meats, and homemade sauces. They are defining Florida BBQ with their award winning brisket and ribs. Pitmaster Shane Berndt's 12 years of experience shines through in every dish. Truly, you can't go wrong with anything off Berndt Ends menu. Even their sides shine all by themselves, don't miss the dat'l beans and the crak mac (slow smoked mac and cheese)!
Bold City Pops: Locally sourced seasonal popsicles showcasing unique combinations of Florida's finest ingredients. Owners Suzannah and Rhonda harvest their own ingredients for these delicious and unique pops. Adults and children will both love this sweet little trailer full of treats like blackberry ginger, cookies and cream, basil lemonade, detox, and even pickle pops! Whatever flavor you choose, it will have you Living Boldly!
Le Petite Cheri Cupcakery: Who doesn't love cupcakes? Le Petite Cheri raises the bar with seasonal flavor combinations and fresh toppings. Their desserts are rich and decadent, just how we like them! Also don't miss their fresh made raspberry lemonade which is the perfect food truck rally treat!

Cold Calf Creamery: Cold Calf has been named best ice cream in St Augustine for 5 years running. Evidenced by their huge flavor variety and massive portions, we understand why! Plus, it's Florida, the weather is always conducive to a creamy, decadent sweet treat! An owner and crowd favorite flavor is Cookie Monster : vanilla ice cream with cookie dough and cookies and cream! Also don't miss their Fruit Chillers which blend sweet sorbet with your soda of choice!
Elizabeth's Fusion Kitchen: A newcomer to the Jacksonville food truck scene, Elizabeth's Fusion Kitchen brings gourmet family recipes for fusion Asian cuisine. We highly recommend the shrimp eggrolls stuffed with a massive fresh shrimp and vegetables, her incredible chicken wings, and the pork skewers! Whether you're looking for traditional Asian comfort food or specials with a flair, Elizabeth's has you covered!
Sausage Paradise: No stranger to the restaurant business, Sausage Paradise has had a restaurant for a number of years on Baymeadows Road. You've probably enjoyed their sausages at many events over the years at RAM, Oktoberfest, and One Spark. The owners are from Europe and create hand crafted, artisanal sausages in traditional European Style. We recently fell in love with their andouille sausage, but you really can't go wrong with anything on the menu, like these little pierogies below!
Manny's Cuban Food Truck: Is there any food more comforting than authentic Cuban cuisine and melty Cuban sandwiches? Manny's brings bold flavors and gourmet flair to traditional favorites. They may be a newer truck to the road in Jax but we know they will wow you with their excellent customer service and delicious food! Their Cuban coffee and picadillo are can't miss items!
What's the Catch: Some of the best, most flavorful, and delicious seafood tacos are coming off What's the Catch food truck. You can find their vintage Airstream at festivals around Jacksonville and beyond, but we are happy to be seeing them more often! We can't do without their ahi tuna. The best part about What's the Catch is it's bringing truly local flavors to the locals – most tacos are inspired by what's freshly available in Jacksonville.
Chubby Burrito: One of the most popular Mexican trucks in Jacksonville, Chubby Burrito specializes in authentic Mexican style street food. All food is freshly prepared daily and focuses on simple, authentic flavors. The carne asada street tacos and chicken tinga burritos are can't miss orders. Oh, and did we mention there are churros?!
Seaweeds Maine Lobster Rolls: Who doesn't love a good lobster roll? Born and raised in Maine, owners Rusty and Judy know how to create them with perfect authenticity. Served on buttery buns, the chunks of lobster meat are plentiful and filling. Whether you want a snack size or a huge meal, Seaweeds will give you your fresh lobster fix!
Son of a Butcher: Jacksonville's best authentic philly, and we really can't disagree. Son of a Butcher prepares fresh sandwiches, poboys, tacos, and more absolutely loaded with meats and cheeses. Looking for a hearty meal? This is your choice! We cannot get enough of their garlic parm fries. Go ahead and get two orders, you'll thank us.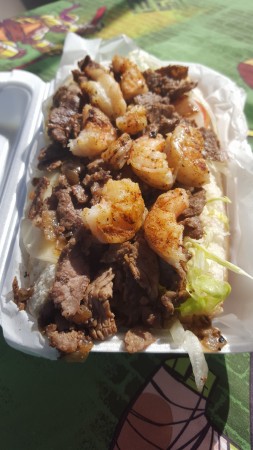 Son of a Butcher – Mayport SOB
Tikiz: If you're looking for a refreshing treat, Tikiz shaved ices are where it's at! Creatively served inside the fruit (pineapple is served in a pineapple, lemon is served inside a lemon!), these sorbets are the lightest and creamiest around. The best part is you can dispense your own, so get as little or as much as you'd like!
A Flying Sausage: This truck has taken off since it opened nearly a year ago (ha, ha)! They're known for serving breakfast around Jacksonville and recently went to a Breakfast All Day Menu hurray, but for lunch and dinner, their lamb gyro with lamb sausage, lettuce, tomatoes, and tzatziki is a winning choice for sure! These handmade, perfectly seasoned, gourmet sausages will have you soaring with happiness!
Want to stay apprised on all your favorite food trucks, new truck openings, and daily locations? Follow our sister brand on instagram @findjaxfoodtrucks!