It's time for the Super Bowl of Food Truck Takeovers! The Jax Food Truck Food Court is hosting the 2nd Annual Battle of the Allstars! It's going down on Saturday, February 3rd from 11-4pm at Academy Sports on Atlantic Blvd! Your favorite trucks are competing for 2018 bragging rights in a judged food competition and for a People's Choice Award! There will also be a cash bar, local vendors, a huge kids play zone, and more family friendly fun! This is the Takeover you won't want to miss, so check out the event page HERE and RSVP for truck spotlights and updates! See you Saturday!
The Happy Grilled Cheese: Multiple time People's Choice Winner for best food truck in all four major Jacksonville publications, The Happy Grilled Cheese is one of Jacksonville's OG heavy hitters! Take it cheesy with their signature Daddy of the Mac and loaded cheese fries. Plus, Pro Tip: you can add mac and cheese to any sandwich if you're feeling decadent! Our favorite is to add it to the California melt! You're also not going to want to miss their sweet, decadent, chocolate laden S'more melt!
Cuban Fire Grill: Authentic, slow cooked, homemade cuban cuisine featuring Cuban sandwiches, lechon asado, ropa vieja, and flan for dessert. Their steak sandwich is ridiculously good for all the meat lovers out there! We're also very appreciative that they serve their Cuban sandwiches with potato sticks, it's such a nice touch! They were recently named best Cuban Food in Jacksonville by Jax Restaurant Reviews readers, so you'll want to eat here for sure!
Wauga Wauga: This food truck is bringing an exciting twist to gourmet cuisine with fresh ingredients and creative flavor combinations. Fifteen years of experience are put into the recipes on this truck and that dedication shows. Wauga Wauga has developed quite a following with their vibrant meals that are as delicious as they are pretty. You're going to want to order the Fiesta Nachos loaded with queso, bourbon chicken, bacon, pico, and pineapple salsa, or their teriyaki steak tacos! They recently won Best Overall at the Taco Takeover, so taco fanatics rejoice in this truck!
What's the Catch: Some of the best, most flavorful, and delicious seafood tacos are coming off What's the Catch food truck. You can find their vintage Airstream at festivals around Jacksonville and beyond, but we are happy to be seeing them more often! We can't do without their ahi tuna. The best part about What's the Catch is it's bringing truly local flavors to the locals – most tacos are inspired by what's freshly available in Jacksonville. Multi-time award winners for Best Taco in events throughout the city, they're a dream come true for coastal flavors!
Butt Hutt Smokehouse: This is Jacksonville's gourmet BBQ truck with housemade sauces and melt in your mouth meats. Butt Hutt takes bbq to an elevated level for all the foodies out there! Their brisket with coconut curry mustard is our favorite order, but if you're feeling decadent the Florida Fries are heavily layered with pork, peppers, onions, and smothered in their signature sauces. Winner of the Jax Truckie's 2015 Best BBQ and named the top 5 brisket in Jax by Jax Restaurant Reviews, Butt Hutt is making a name for itself country wide as well by attending music festivals all over the east coast. Who is ready for some BBQ?
Team Love Seafood: Get your souls ready for this amazing Southern style truck! Specializing in all things comfort food, Team Love Seafood serves up fresh fried or grilled fish, shrimp, fried pickles, hush puppies, gumbo, etouffee and more! They've got the flavors of the South on lock, so come out and try the most flavorful fried seafood this side of the Mississippi! Newer to the road but quickly making a name for themselves, Team Love is already a favorite amongst the food truckers for soul food!
Joyshtick Food Truck: Recent winner of Best Dessert for his innovative take on a dessert taco, Joyshtick has integrated the worlds of video games and food for the ultimate gamer munchies. Over the top burgers & sliders, delicious wraps (Pro tip: add pickles and buffalo sauce to the Finish Him wrap…YUM), Senpai loaded fries, and more! The best part is while you wait for your food you get to play video games on their outdoor screens! Joyshtick doesn't shy away from big flavors — check out their Face Invader for a pepper jelly kick!
Chubby Burrito: One of the most popular Mexican trucks in Jacksonville, Chubby Burrito specializes in authentic Mexican style street food. All food is freshly prepared daily and focuses on simple, authentic flavors. The carne asada street tacos and chicken tinga burritos are can't miss orders. Oh, and did we mention there are churros?! Multiple time winner of Best Global Tacos, Chubby Burrito satisfies your need for all your Mexican comfort food favorites.
Delish Kebabs: You'll smell these amazing grilled kebabs before you get to the truck! Serving up authentic and award winning Brazilian charcoal grilled kebabs, Delish Kebabs is taking simple food and making it extraordinary. Their bacon wrapped chicken was the winner of the 2014 Food Truck Wars! Don't miss their yuca fries either. Also, the garlic sauce. OMG the garlic sauce! They're an official food vendor for the Orlando City Soccer Club, and have competed and won in statewide food truck competitions time and time again!
Full of Crepe: Feeling a little Euro-chic? Full of Crepe food truck is serving up these delicious handheld AND handmade treats in a variety of flavors! Full of Crepe is known for shaking up the traditional crepe and adding in specials like the BLT, McCrepe, and the New Orleans (muffaletta style) but also excels in the classic sweet treats including nutella and banana, smores, eclair, and more! Any day now we're going to be getting to step into her new Riverside brick and mortar, The Stuffed Beaver, to get to enjoy her amazing crepes and new poutine whenever we want!
Hapa Li: Winner of Food Truck Wars "People's Choice" and "Leader of the Pack 2016" from New Trucks on the Block and lauded by Jax Restaurant Reviews as one of the food trucks you must try, this truck is everything you need and more! Hawaiian comfort food is brought to the mainland by talented owners Sean and Stephanie. We can't even begin to give you a "must try" list because everything is delicious and worth indulging in! Luau plates, lumpia, spam musubi, Spamiyaki burgers, and haupia will warm your soul! Line up, buy one of everything, and enjoy a taste of paradise!
Son of a Butcher: A Jax legend, and Jacksonville's best authentic philly, Son of a Butcher prepares fresh sandwiches, poboys, tacos, and more absolutely loaded with meats and cheeses. Looking for a hearty meal? This is your choice! We cannot get enough of their garlic parm fries. Go ahead and get two orders, you'll thank us. They're also known for their secret menu takeover items, so keep an eye out for a delicious taco! Don't pass up on their healthy option either — their chicken caesar wrap is our favorite in town!
Mr Potato Spread – Not a single person on this planet can turn down a massive loaded potato. Mr Potato Spread is fulfilling this great need in Jax with over the top potatoes and loaded fries that will carb load you right into heaven. Want it topped with broccoli and cheese? Go for it. Want it loaded down with meat? They've got you covered. Want it covered in CRAB BOIL?! Your dreams have come true. Named Best Food Truck by First Coast News, and multi time winner of Jax Truckies Food Truck Championship, Mr Potato Spread is not to be missed!
Fusion Food Truck – Chef Ashley Amin (winner of top Indian chef in San Diego and best chef in Jacksonville) brings us the best Indian cuisine in the city from her truck, proven by being recently named one of the top 50 food trucks in the United States! They were also named Best Food Truck by First Coast news, multi time Jax Truckie's Food Truck Champion, and People's Choice Award winning! We highly recommend their award winning banana curry and tikka masala paired with a decadent Thai tea. If samosas are on the dessert menu, you'll definitely want to have one or ten! Really, we love everything on Fusion's menu, so order liberally.
Blazin Azn: Bacon fried rice is all we really need to say, but there is SO much more to love at Blazin Azn. Spring rolls, egg rolls, and incredibly tender teriyaki shrimp and chicken are all worth ordering. Want a real treat? Enjoy the only sushi or sushirito coming off a food truck in Jax with plenty of signature rolls! Chef Gus loves to surprise us with over the top rally specials too, including his multi award winning Tuna Tataco! There's a fusion of flavors at Blazin Azn so we have faith there is something that everyone will enjoy!
Blue Pacific Tacos: Multiple time award winning tacos including the unique ribeye bulgogi tacos, sriracha beef, and Malaysian satay. Blue Pacific's bold flavors can't be found elsewhere! The owner Izzy has travelled the world to hone his culinary skills and brings globe trippin' flavors to Jacksonville. We think tacos are the perfect food truck rally food, don't you? One of the food truckers to recently go brick and mortar in Mandarin, we love that now we can find Blue Pacific whenever we have a need for bold flavors!
Treemendous BBQ: Voted Best BBQ in Florida at Food Truck Wars, several time People's Choice Winner, regularly featured on River City Live and News 4 Jax , and nine year brick and mortar veteran with TWO food trucks, Treemendous does not mess around with big flavors! Using everyone's favorite low and slow technique, this truck offers up mouthwatering turkey, pork, ribs, chicken, and more! Who doesn't love huge portions of smoked to perfection meats with homemade sides?!
Sweeto Burrito: It's easy to see why Sweeto is one of the most sought after trucks in Jax– their burritos are some of the best in town! Be prepared to share, these are HUGE! The White Chick, Buff Chick, and Rise and Shiner are our personal recommendations! Plus, tater tots in a burrito, need we say more? This is definitely flavor worth fighting for.
Manny's Cuban Food Truck: Is there any food more comforting than authentic Cuban cuisine and melty Cuban sandwiches? Manny's brings bold flavors and gourmet flair to traditional favorites. They may be a newer truck to the road in Jax but we know they will wow you with their excellent customer service and delicious food! Their Cuban coffee and picadillo are can't miss items!
Joining the Takeover for Sweet Treats:
Front Porch Kettle Corn: Start your food truck rally adventure here for an appetizer! Fresh made sweet and savory popcorn, mouth watering spicy pork rinds, and the best southern sweet tea south of the Mason-Dixon line. Made with a secret recipe and very special water, this tea is unparalleled! Take home a few popcorn and pork rind containers to snack on later – you will thank us! There was a reason this popcorn was the featured snack of Jacksonville baseball for several years running–it's amazing!
Le Petite Cheri Cupcakery: Who doesn't love cupcakes? Le Petite Cheri raises the bar with seasonal flavor combinations and fresh toppings. Their desserts are rich and decadent, just how we like them! Also don't miss their fresh made raspberry lemonade which is the perfect food truck rally treat! They've been experimenting with some new treats lately, so check out theri specials boards and don't miss the newest items! They've won countless awards for their amazing cupcakes, so take home one or twelve!
Funnel Cake Queen: These aren't your average funnel cakes people, so buckle up and get ready for the best one of your life! Get your daily serving of fruit with these sweet as pie caramel apple funnel cakes, or try one loaded with chocolate for a richer treat. If you're a traditionalist, there are sugar coated originals that stand alone as the best in Jax even without toppings!
Guanabana:  This Jax favorite expanded from their iconic tricycle that you've grown to love at RAM every week to a full truck and the menu grew right along with it! They still integrate their beloved popsicles, but also now offer macaron ice cream sandwiches, fruit bowls, smoothies, and more! If you're looking for a healthy, delicious, yet indulgent treat this should be on your list! Their multiple award winning dessert is their Meregnon — think of a dessert that's impossibly light and decadent all at the same time.
Nitrogen Creamery:  Do you think ice cream is the best dessert in the world? You'll love it even more made with nitrogen! This is Jacksonville's first and ONLY liquid nitrogen ice cream truck, and they've set a standard that's hard to beat! Winner of Food Truck Wars Most Delectable Dessert in 2016, this truck is sure to blow you away. All flavors are homemade daily using -320 degree nitrogen and made from only four ingredients! They also have fruit smoothies, hot donut holes, and the best milkshakes in town. The use of the nitrogen brings out the true flavors of each ice cream and make it quite a decadent treat. We're big fans of the nutella (who isnt?) and we'd give up all other ice creams for an unlimited supply of their honey cinnamon.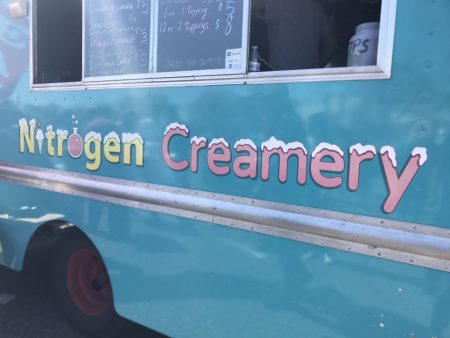 For food truck updates, new food trucks, events, and more, follow our sister brand on Instagram at @findjaxfoodtrucks!