Do you love wrestling a raw turkey in your kitchen sink at 6am on the fourth Thursday of November every year? Me either! Luckily for us a number of local restaurants are offering prepared Thanksgiving meals, a la carte Thanksgiving dishes, and some are even serving Thanksgiving dinner. Read on to find your Thanksgiving meal.
Thanksgiving Dinner for pick up:
Khloe's Kitchen
Khloe's Kitchen is a food truck and caterer serving modern, southern inspired food. Chef Wesley Nogueira has put together an enticing Thanksgiving menu which serves 8-10 people and includes the following dishes along with heating instructions:
Herb & Garlic Fried Free-Range Turkey / Rosemary-Shallot Gravy / Pimento Cheese Deviled Eggs / Market Greens with Crispy Cornbread Croutons, Grape Tomatoes, Blueberries, Pickled Red Onions, and Sorghum-Balsamic Vinaigrette / Garlicky Green Beans with Pearl Onions / Roasted Winter Vegetables with Bacon Vinaigrette / Creamy 6 Cheese Mac & Cheese / Herbed-Parmesan Potato Gratin / House-made Peach Cobbler

Deadline to order is Sunday, November 18th.
Deliveries will be made Wednesday, November 21st. Meals are $295 includes sales tax, packaging and delivery fee.
Contact Khloe's Kitchen at khloes.kitchen@gmail.com.
Magnificat Cafe
A favorite downtown lunch spot, Magnificat Cafe melds French cuisine with casual, American lunch. Their soups are top notch, from scratch, and their sandwiches, salads, and daily quiches are delicious. Magnificat is offering an entire Thanksgiving meal that will feed 10-12 people, or an a la carte menu. All orders should be placed by 4pm Friday, November 16, and can be picked up on Wednesday, November 21. To order call (904) 353-3588. View the Thanksgiving menu at: https://www.themagnificatcafe.net/thanksgiving-menu
Magnificat Cafe Thanksgiving Menu:
Thanksgiving meal to feed 10-12 people: $189, includes a 10-12lb turkey, homemade cranberry sauce, homemade giblets gravy, pecan & marshmallow crusted sweet potatoes, homemade mashed potatoes, green beans almandine, cornbread and green apple sausage stuffing, a pumpkin pie, a pecan pie, and 2 fresh baguettes. Magnificat is also offering each item a la carte by the pound or quart.
Cinotti's Bakery
Cinotti's, yes, Cinotti's is offering complete Thanksgiving meals. Famous for their pumpkin donuts and a local favorite for breakfast and lunch, Cinotti's is offering small dinners or large dinners including a turkey or ham, three sides of your choice, plus a pie and dinner rolls. Check out all of the meal, pie, cake, and cookie options from Cinotti's here. 
Simply Sara's
Ortega's best kept secret, Simply Sara's is a homecooking southern restaurant where everything is made from scratch. Simply Sara's roasts a turkey every day just for their turkey sandwiches. So it makes sense that Simply Sara's offers a full array of Thanksgiving dishes and tons of desserts to make your Thanksgiving easier and more delicious. Orders must be placed by noon on Saturday, November 17 and can be picked up between 2-4pm on Wednesday, November 21nd. Everything is a la carte and even offered in several sizes depending on your needs. To order call (904) 387-1000. To see the full menu go to http://simplysaras.net/holiday-menu/
Matthew's
Matthew's has been a fine dining staple in Jax for years, and has been the fine dining kitchen that dozens and dozens of local chefs have come up in. Matthew's is offering Thanksgiving dishes a la carte, each dish serving 8-10 people. Orders must be placed by Friday the 16th at noon and can be picked up at Matthew's commissary kitchen Wednesday, Nov 21 between 10am-noon.
See the menu at: http://medurebrothers.com/thanksgiving#header.0
J William Culinary
J William Culinary is a popular meal delivery service, commonly used by people who choose to eat paleo or need to avoid eating certain grains or dairy. Chef Jay has trained in fine dining kitchens in Jax. When he decided he wanted to make healthy food that tastes good, J William Culinary was born. JW Culinary is offering a full range of Thanksgiving dishes, not just his typical paleo dishes. You can choose things like three cheese bacon mac and cheese, creamed collard green, and buttermilk pie brulee. No word on order deadlines, but historically it has been the Monday prior to Thanksgiving with pick ups on Wednesday and Thanksgiving morning. Order at https://www.jwilliamculinary.com/thanksgiving-holiday-menu/
J William Culinary Thanksgiving Menu:
Whole Natural Turkey/Maple Glazed Ham
Mashed Sweet Potatoes/Buttermilk Mashed Potatoes/Three Cheese Bacon Mac and Cheese/Cornbread Stuffing (dairy free)/Cream of Collard Greens/Roasted Green Beans/Wild Rice Pilaf/Savory Bread Pudding
Pumpkin Pie/Buttermilk Pie Brulee
Chef's Garden Catering & Events
Chef's Garden Catering is one of the best known caterers in Jax. They are offering a complete Thanksgiving dinner with a la carte choices to make your meal exactly the way you want it. See the menu below and call (904)-399-4449 or email inquiries(at)cateringjacksonville(dot)com to order. No word on when orders have to be submitted, but it's historically been 48 hours before Thanksgiving.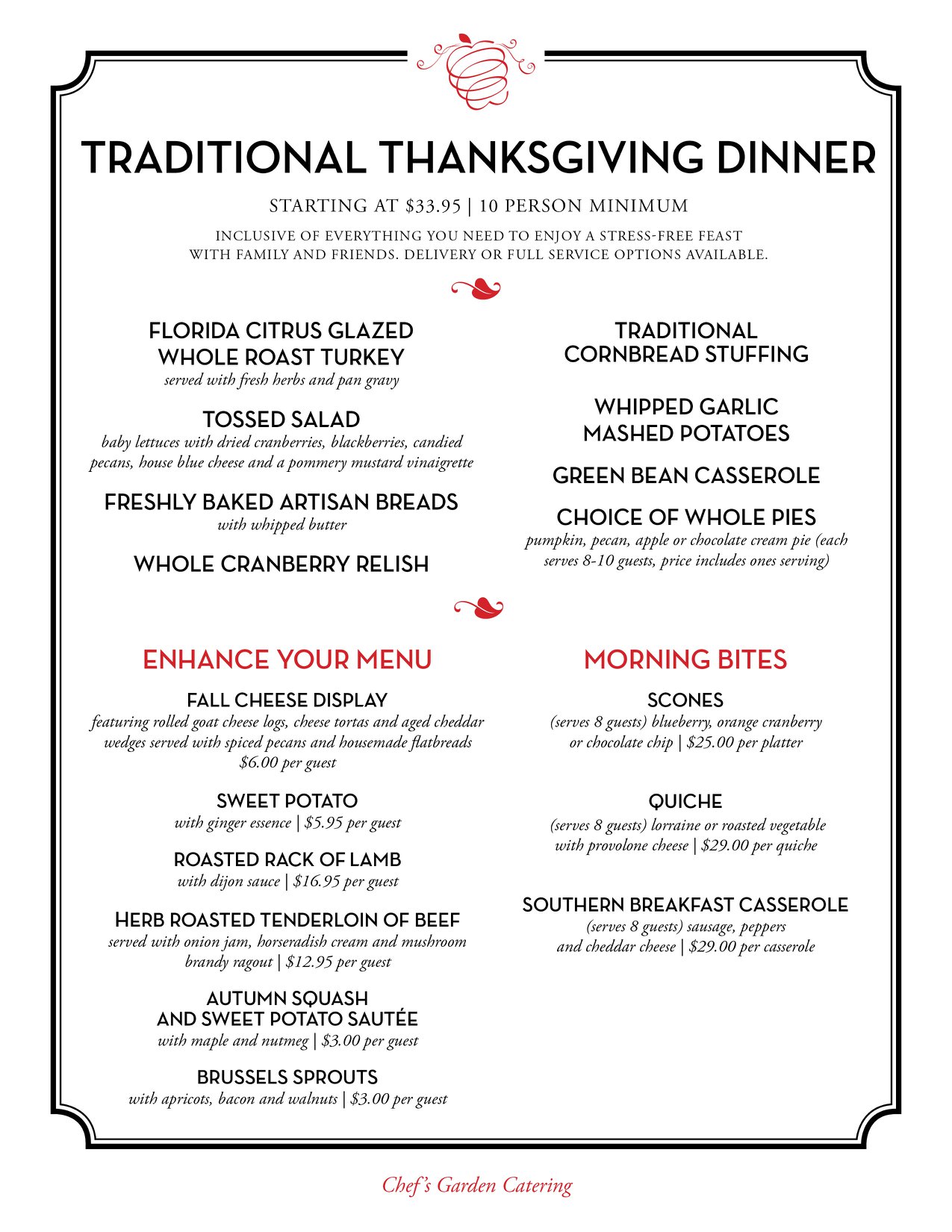 Taste Catering and SubStation 66
Chef Shane Cheshire has prepared the perfect menu and wants you to enjoy this Thanksgiving without all the work! Order your complete Dinner, the fixins' or just the hickory smoked stuffed turkey today! All Orders must be submitted by November 16th at 3pm. Pickup is Wednesday, November 21 between 10am-4pm. Order at https://station66.weebly.com/store/c19/Thanksgiving_Holiday_Dinner.html#/
The Bread & Board
The Bread & Board roasts their own turkey for their sandwiches and boards daily, so it only makes sense that they are offering their Sweet Tea Brined Turkeys for Thanksgiving. All turkeys are 18-20 pounds, so you can feed anyone that shows up on Thanksgiving. There are only a limited amount of turkeys available, so call The Bread & Board to place your order. 
South Kitchen & Spirits
South Kitchen serves southern fare in an upscale atmosphere in Avondale. It is anything but pretentious with staples like fried catfish and grits, cooked skillfully and served without the buckets of grease you often find in homecooking restaurants. South Kitchen is offering Thanksgiving side dishes only this year. To order call (904) 475-2362 or email south@southkitchenandspirits.com
Thanksgiving Dinner Served in Restaurants
Reservations are highly recommended for any restaurant you want to dine at on Thanksgiving. Some of these restaurants have told us their reservations are nearly full for Thanksgiving, so make your plans swiftly!
Buddha Thai Bistro
Buddha Thai Bistro has a Thanksgiving tradition of serving a Vegan Thanksgiving Buffet. It's very popular among the plant-based community. The Vegan Thanksgiving Buffet is served from 11am-2pm. Make a reservation at Buddha Thai Bistro by calling (904) 372-9149.
North Beach Bistro
North Beach Bistro is offering their traditional Thanksgiving Buffet from 11am-7pm. Inprevious years the NBB Thaksgiving buffet has included yummies such as prime rib, Mayport peel and eat shrimp, carved turkey, glazed ham, chestnut stuffing, plenty of sides and desserts. Call for reservations: (904) 372-4105.
Moxie Kitchen and Cocktails
Moxie serves up delectable Modern American cuisine as one of the few locally owned restaurants in the St. John's Town Center. For Thanksgiving they are serving a family style dinner from 11am-8pm for $35 for adults, $14 for children. Check out the menu here. Call (904) 998-9744 to make a reservation.
Maggiano's
While you may not think Italian for Thanksgiving, Maggiano's has a special four course Thanksgiving Dinner they are offering on Thanksgiving day. Price is $39.95/person. Call for reservations.
Terra Gaucha Brazilian Steakhouse
A Brazilian Steakhouse for Thanksgiving? Really? Absolutely. The service at Terra Gaucha is bar none. You won't find a better dining experience in Jacksonville. In the past Terra Gaucha has offered their regular rodizio service, plus some Thanksgiving favorites such as Herb Roasted Turkey, Bacon Wrapped Turkey, Sweet Potato Casserole, House Made Stuffing, and Cranberry Relish. Terra Gaucha is serving Thanksgiving Dinner with Rodizio service from 11:30am-9:00pm for $44.95 per guest. Call (904)-551-5920.
III Forks
III Forks is known for their excellent steaks and wines. They are offering their full menu on Thanksgiving, plus a three course Thanksgiving Dinner, served from 2-8pm. Call (904) 928-9277 to make a reservation.
The Tree Steak House
The Tree Steak House is offering a special Thanksgiving buffet from 10am-5pm on Thanksgiving day. Enjoy turkey, ham, and prime rib carving stations, along with all the fixins. Call (904)-262-0006 to make a reservation and check out all the detials here:
http://www.treesteakhouse.com/thanksgiving.aspx
Chart House
Chart House is open for Thanksgiving, but no details are available at this time. Call (904) 398-3353 to make your reservation.
Ruth's Chris Steakhouse
Ruth's Chris Steakhouse is offering a three course dinner on Thanksgiving day from 12pm-8pm.  Reservations are nearly full, but you can get on a cancellation list at (904) 396-6200.
Juliette's Bistro at the Omni
Located inside the Omni, Juliette's is a bit of a local favorite for fine dining. Juliette's is serving Thanksgiving brunch from 10am-4pm. Call (904) 791-4995 for reservations.