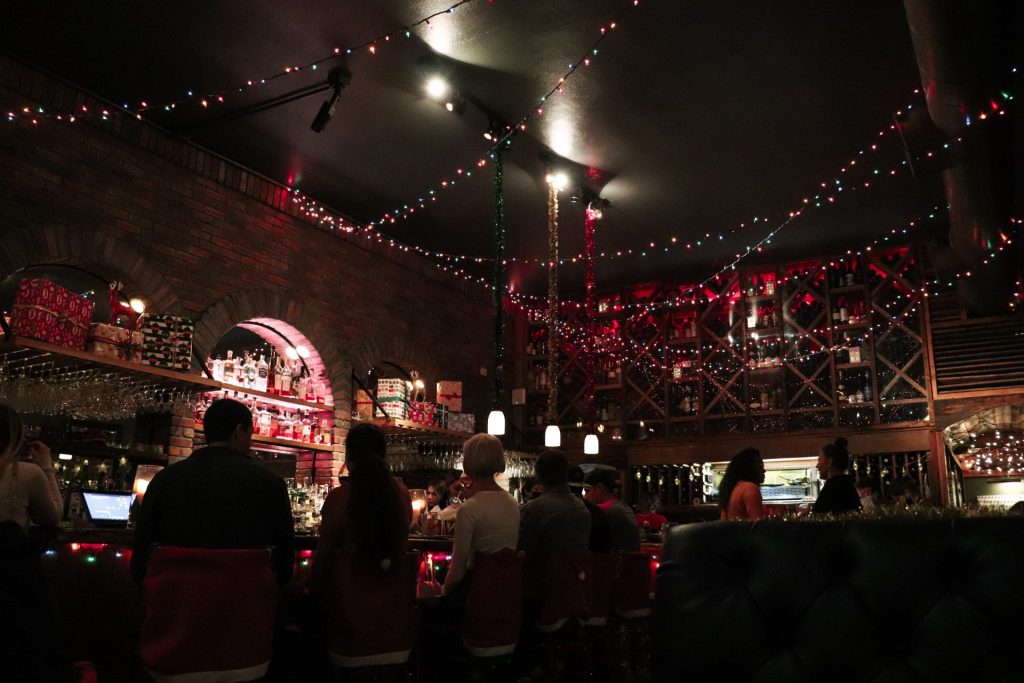 'Tis the season to drink and be merry right? Well we know just the spots FULLY decorated in everything red and green, lit up and guaranteed to bring you some seasons joy.
The Miracle Pop-Up is back in town at Forgotten Tonic (St. Augustine) and Grape & Grain Exchange (San Marco). We got to stop in both spots to tell you all about it!
Miracle Pop-up originated in New York City at Mace Cocktail Bar and they decided to share their recipes with select bars around the world. Miracle proudly offers seasonal cocktails in extra festive settings – and how cool that they invited two of our local spots to be a part of the fun this year.
Both locations are dressed to the nines and might give whoville a run for its money in multicolored lights and tinsel all over, chairs and paintings tied in bows, and loads of holiday decor everywhere you look. Of course their drink presentations are even holiday themed, which you'll read all about below.
We had the pleasure of trying a few drinks off the menu so let's jingle on right to the good stuff and we're not talking milk and cookies — GROWN-UPS ONLY!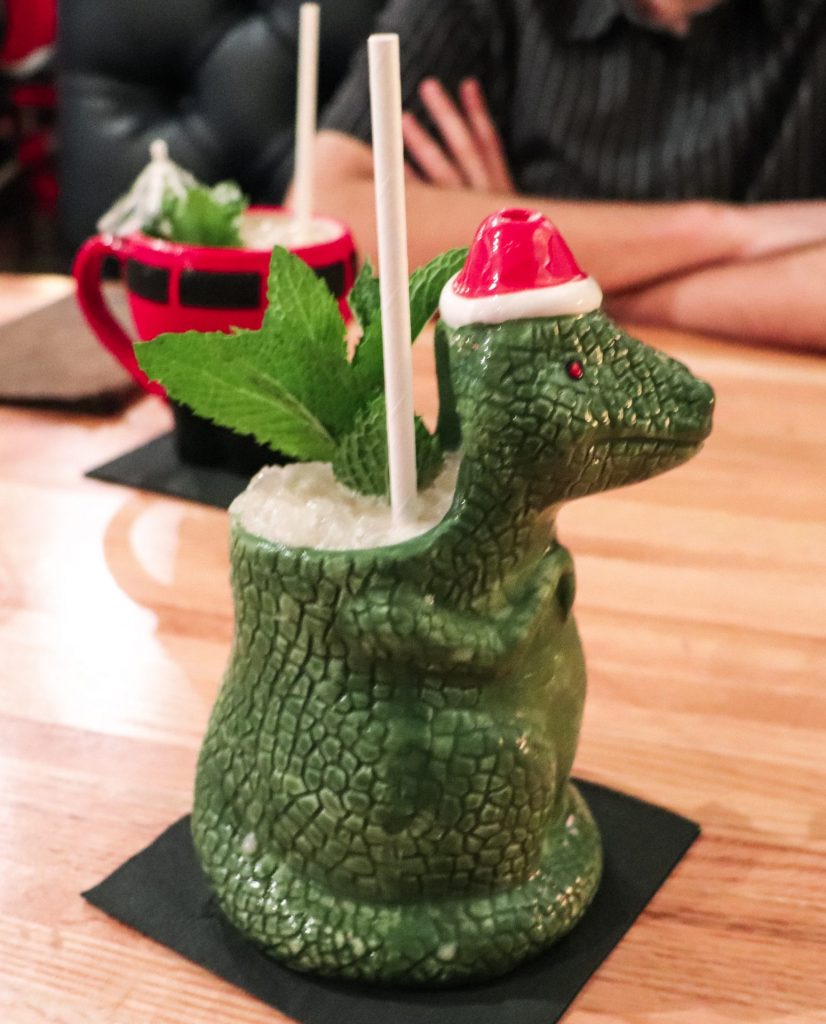 First, we tried the SanTaRex which had the cutest presentation (A T-Rex mug with a Santa hat; I mean, come on). This one was a tequila-based drink with a chocolate flavor you couldn't miss. I would describe this drink as an iced "hot chocolate" with a hint of mint. SanTaRex was very well-mixed, as the taste of the liquor was barely present.
Even though the ingredients of coconut and pineapple were listed in the drink description, they weren't too noticeable as the cacao flavors took over. If a light chocolatey drink is up your alley, you're definitely in luck with this one. Give it a try nonetheless!
Next up, the, and I quote, "Yippie Ki Yay MotherF****r!" It was as if Santa took a beach vacation and became a bartender for fun (of course Santa is in a speedo, you were thinking it!) This drink fits the Sunshine state perfectly.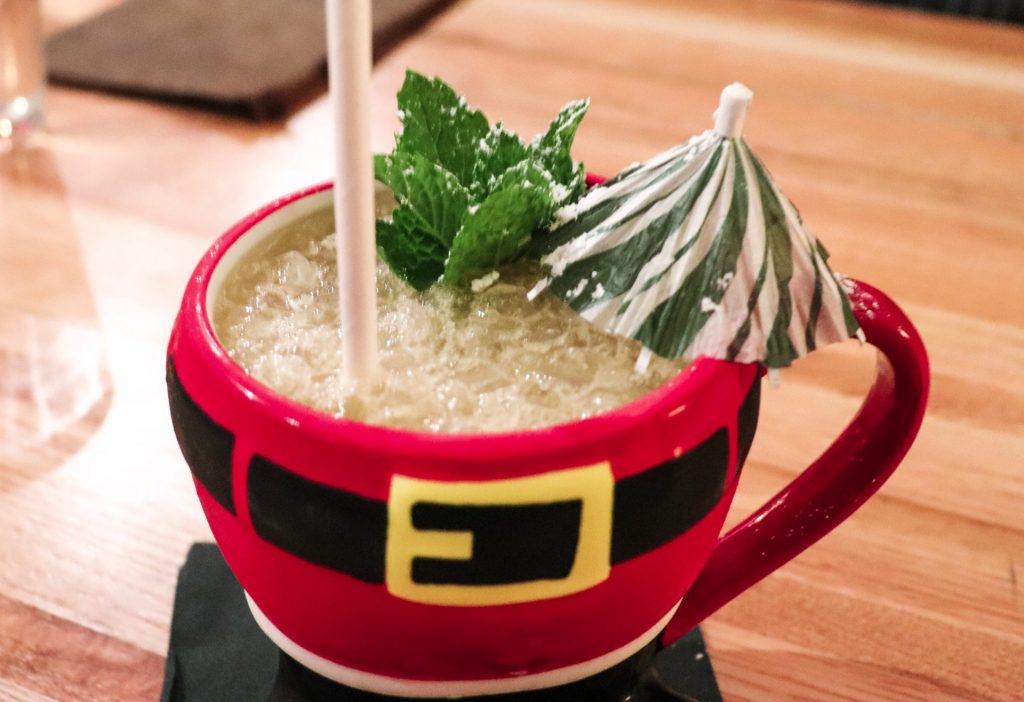 If the "blend of four rums" didn't catch your attention, the cute beach umbrella with the Santa suit will. This drink was the perfect mixture of tart, citrusy, and sweet. I could taste the bitters and almond flavors which paired nicely with the rums, but I couldn't quite make out the pumpkin in the pumpkin-almond orgeat. This is a refreshing drink that will definitely take you back to those summery beach days that we all dream about this time of year.
Number three, my personal favorite, the Christmapolitan. It's no surprise to me that this is the best selling drink off of the holiday cocktail menu, as it is especially unique. A festive twist on a Cosmopolitan, the cranberry is spiced, and elderflower was added to a crisp vodka. The rosemary garnish and lime topped this drink off with pleasant subtleties. If you're unsure of what to order at a Miracle Pop-up, this will be the top recommended drink.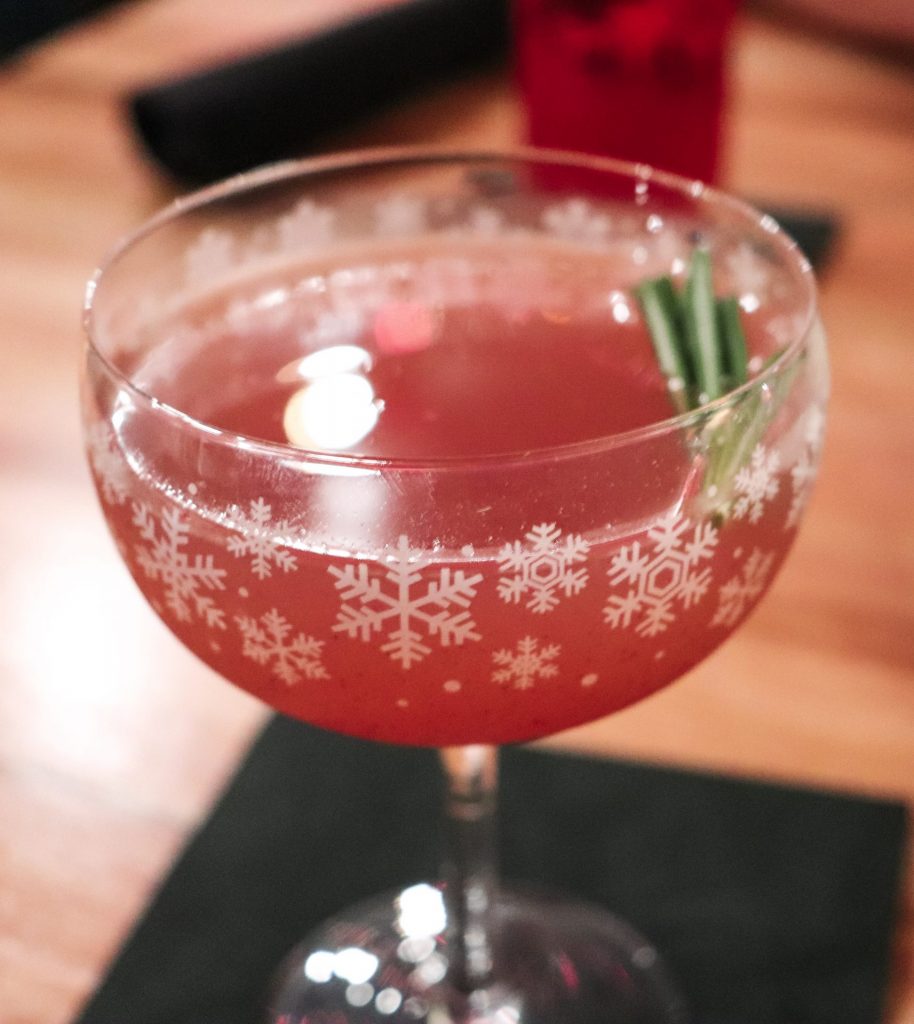 Finally, the On Dasher. Bourbon was the base for this one, and it was delightfully present. I personally appreciated the reindeer on the glass matching the name of this cocktail. The taste of the bourbon complimented the slight spice and citrus flavors of this drink. Out of the four, this one was the most earthy. Floral and herbal notes were dominant in this drink, which makes it a hit if you like woody flavors.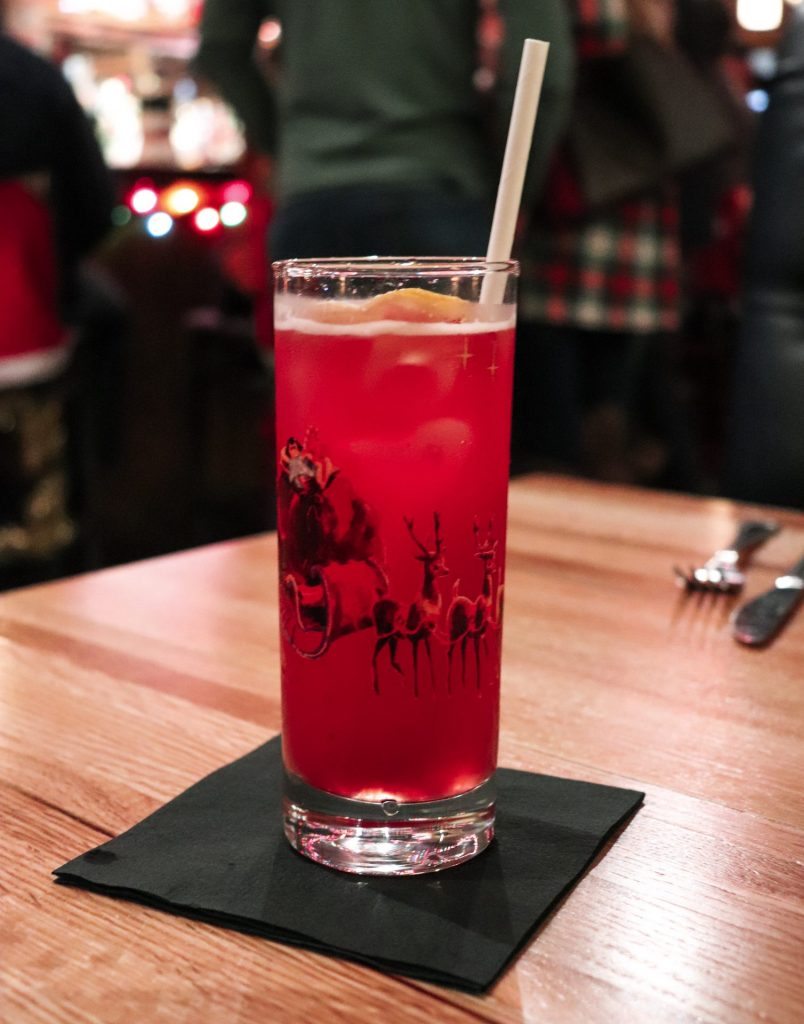 We got to try a few more on our visit to Grape & Grain Exchange because the Grinch made us!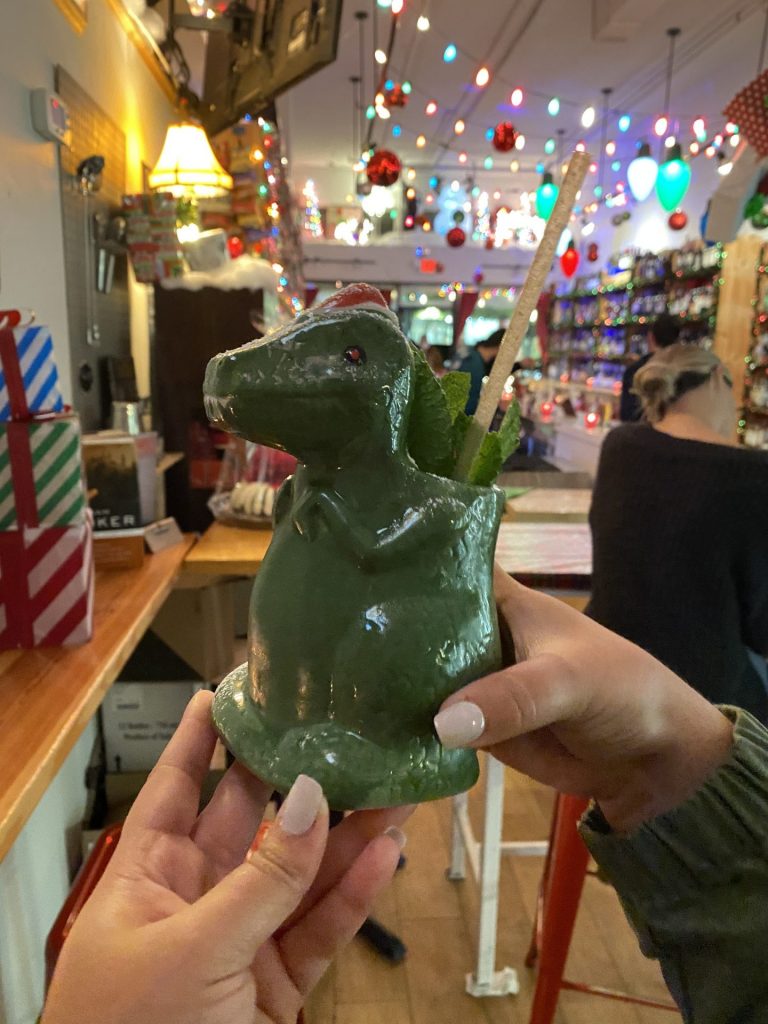 The Jolly Koala, probably the most strong out of the bunch, is a gin-based cocktail with notes of sage and cardamom and pine. The way it sounds is exactly how it tasted— crisp gin with hints of fall flavors. This one isn't for the faint of heart and packs a punch but was very smooth to sip on. Gin-lovers will be a fan!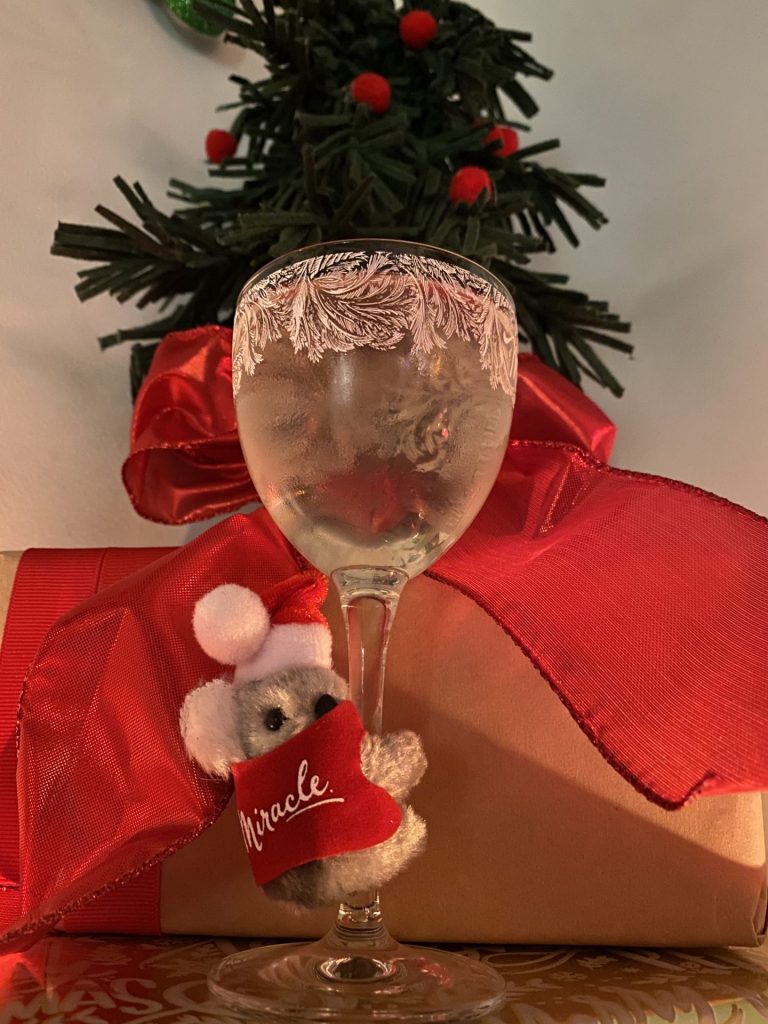 Another favorite was the Christmas Carol Barrel which is slightly similar to the SanTaRex. It's a tequila-based cocktail with coffee liqueur and spiced hot chocolate. The chocolate comes through more pronounced in this one and the flavor combo came together perfectly. I think Santa would approve of this one for sure!
We couldn't leave you hanging on the shots! Yes, SHOTS! The Miracle Pop Up has 3 shots on the menu — the Nice Shot, the Naughty Shot and the Mistletoe Shot. Depending on how you come out on Santa's list this year, pick accordingly but you can't go wrong with any of them.
Overall we thoroughly enjoyed visiting Miracle Pop-up, and may have left with red noses like Rudolph but it was worth it and it definitely brought joy and cheer to our year.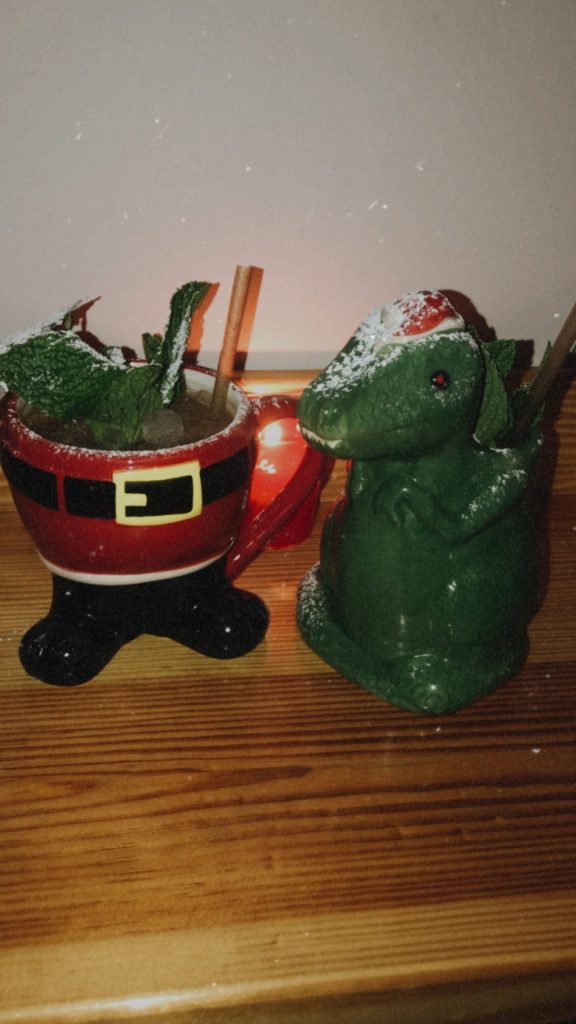 Whatever your plans are for the holidays, the Miracle Pop-Ups are a must see. Be sure to let them know Jax Restaurant Reviews sent you and let us know which drinks are your favorite! You can check out their full holiday cocktail menu here.