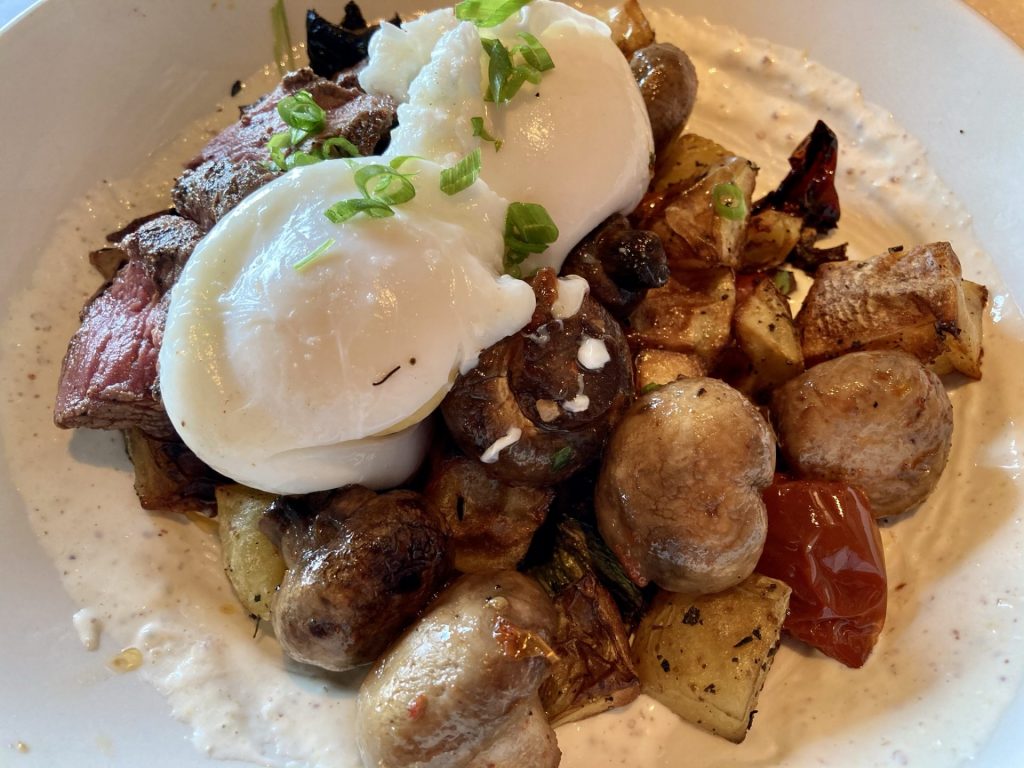 If there's one thing we do well here in Jacksonville, it's brunch. My favorite thing to do on the weekends is sleep in a little, wake up without the sound of a blaring alarm, and head to a late morning spot for brunch.
Firebirds at the St John's Town Center recognizes this most important meal to Jacksonvillians and has recently dipped their toe in the Brunch pool with only their Jacksonville location experimenting with the well-loved weekly tradition.
Firebirds recently invited me out to try their brunch menu and see what differentiates them from the many, many options the fine folks in Jacksonville have for this mid-morning meal. Firebirds offers seven different brunch entrees and we tried every single one of them, plus two appetizers and a dessert, just to round things out.
For the apps: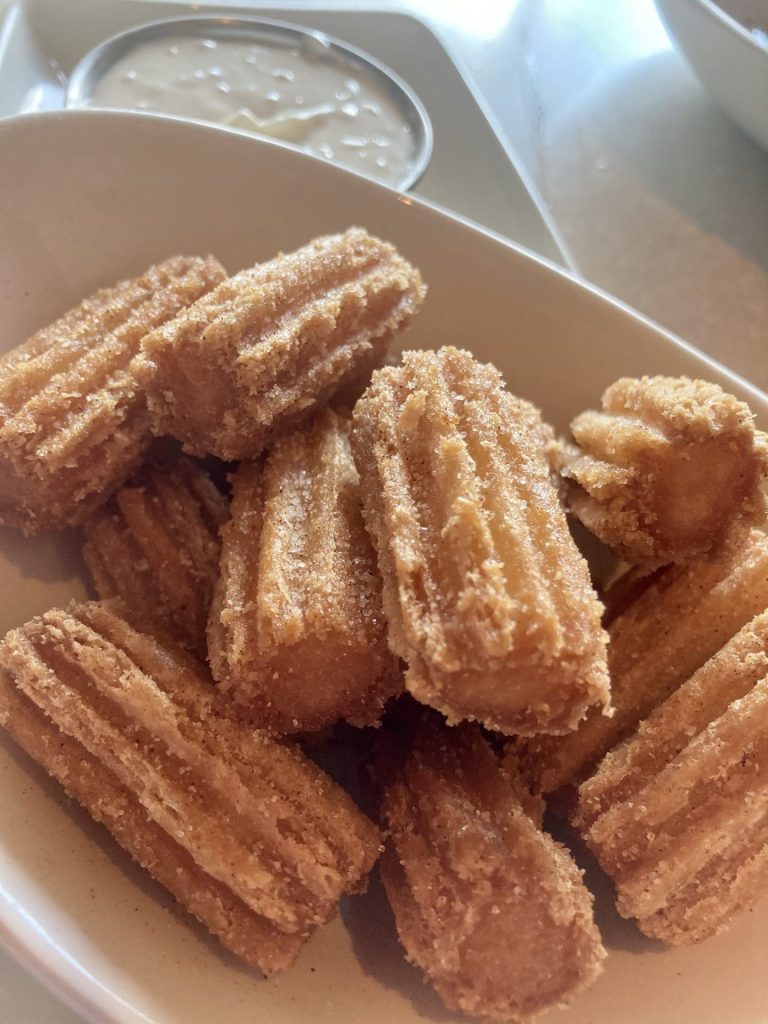 Churro Bites – These Churro Bites are bite-size versions of the deep-fried favorite tossed with cinnamon and sugar and served with a vanilla yogurt dipping sauce. These sweet morsels were covered from end to end in cinnamon and sugar and wonderfully sweet. The yogurt dipping sauce added a nice tartness that made these bites even more addicting.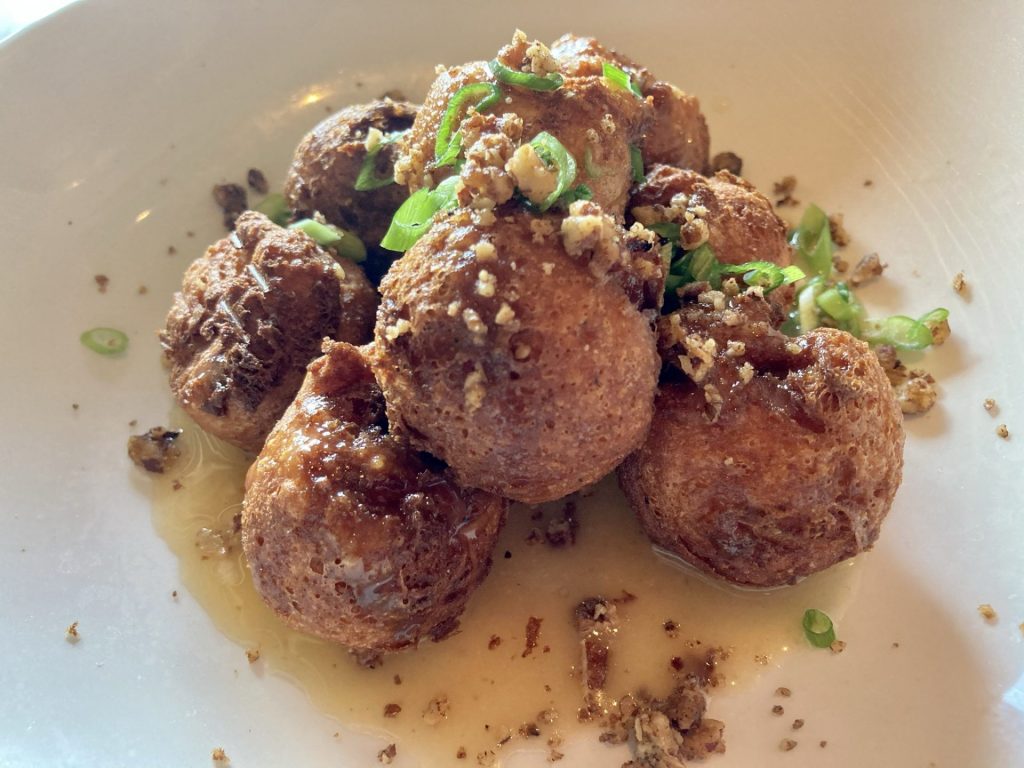 Goat Cheese Fritters – served with a honey chili glaze and crushed pecans. Most restaurant fritters tend to go heavy on the breading so you only end up with just a hint of whatever the fritter is supposed to be. Not these. The goat cheese is front and center with its tangy creamy goodness. The honey chili glaze is a nice counterpoint. If you're a fan of goat cheese, like me, you'll love these fritters.
The folks at Firebirds were nice enough to let us try every item on the brunch menu to give me a well-rounded understanding of their offerings:
Steak & Egg Bowl – A wood-grilled tenderloin and poached eggs served with roasted potatoes, mushrooms, and tomatoes with a creamy horseradish sauce. The horseradish sauce was expertly painted on the bottom of the bowl. The steak was cooked to a perfect mid-rare; tender, juicy, moist, with gorgeous red center. The poached eggs with its runny yolk gave the dish a silkiness and luxuriousness. The potatoes were soft and fluffy on the inside. The mushrooms and tomatoes were an umami bomb. Swiping each bite through the horseradish sauce gave a nice bite to counteract the richness of the other ingredients. A hearty dish that will stick with you and power you through the rest of the day.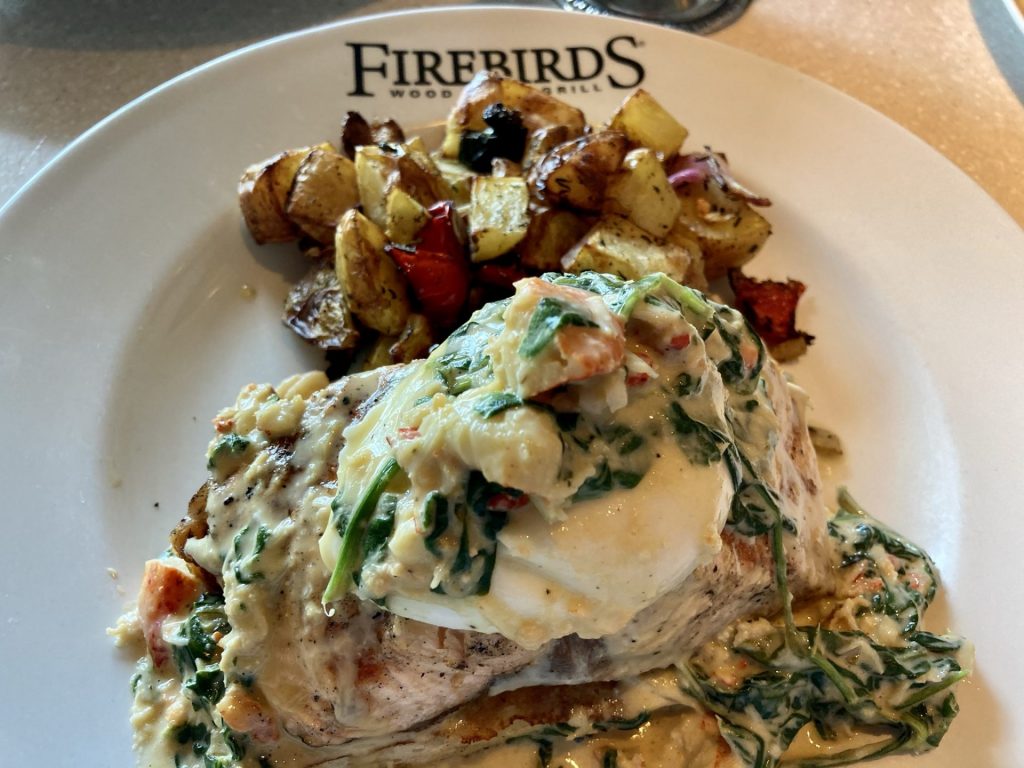 Grilled Salmon Benedict – This dish felt fancy. A thick slice of focaccia topped with sautéed spinach, a massive piece of wood-grilled salmon, a perfectly poached egg, and just slathered with an obscene amount of lobster fondue sauce and served with a side of roasted potatoes. This was my favorite of the brunch bunch. Plus, stacked food makes me happy. I love salmon and this was perfectly cooked; tender and flaky. The rich lobster fondue sauce was studded with large, recognizable pieces of lobster. Mix the poached egg with it and it was glorious. This is a must order if you love seafood.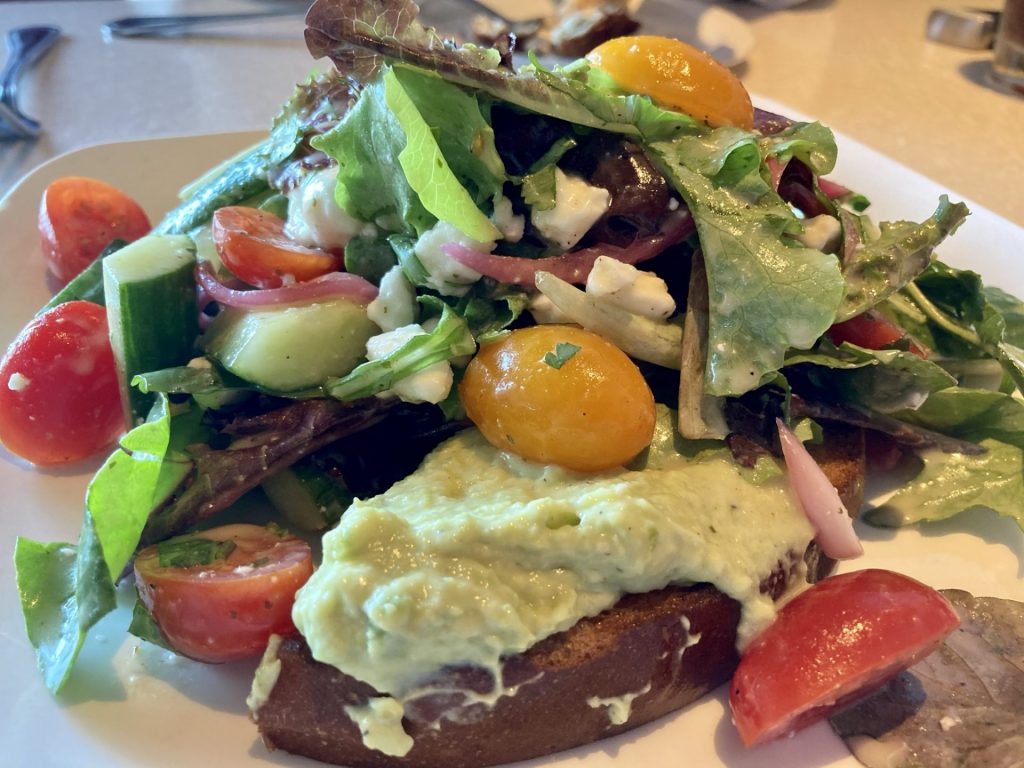 Avocado Toast Salad – On the lighter side of the menu there's the Avocado Toast Salad. It's a Millennial's dream come true. Toasted brioche with smashed avocados topped with a salad of spring greens, ripe cherry tomatoes, pickled red onions, cucumber, feta cheese, and drizzled with a cilantro lime vinaigrette. This was a delicious salad. It's bright and acidic which cuts perfectly with the rich fatty avocado. The cilantro lime vinaigrette was refreshing. If the rest of the brunch options seem a little too heavy for you, this salad is a great alternative.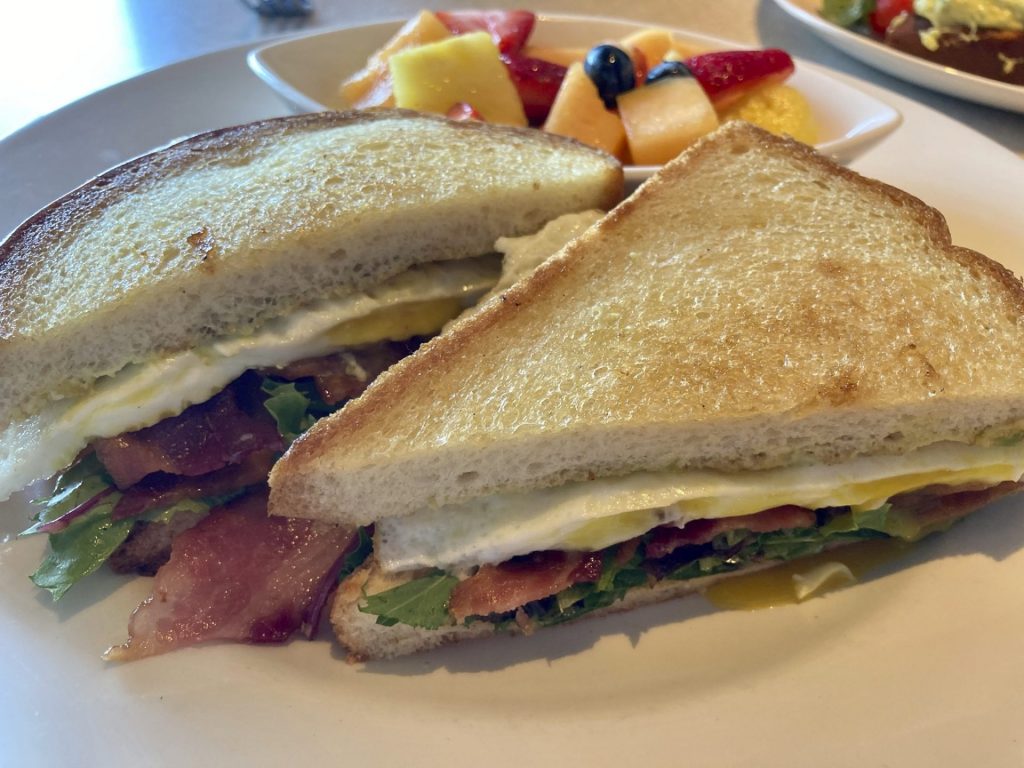 Bacon & Egg Brioche – Another lighter choice for brunch, this dressed up version of a BEC is made with toasted brioche and red pepper mayo, spring mix, tomato, avocado, applewood smoked bacon and fried eggs and choice of side. This one came with roasted potatoes. I love brioche bread. It's a little sweet, a lot buttery, and perfect for this sandwich. For egg sandwiches, I like my eggs cooked just a smidge past over easy. Still runny enough to give a sandwich some moisture, but not so runny that it's a complete mess. This egg was cooked exactly like that, and I didn't even have to ask for it.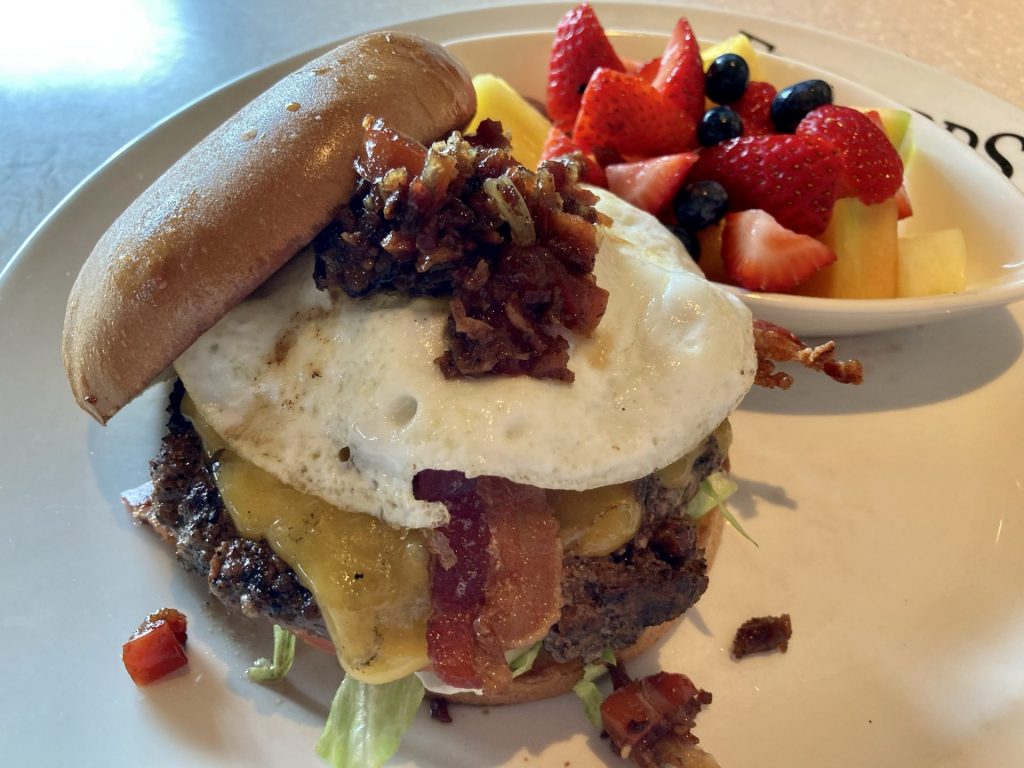 Brunch Burger – And now back to the hearty. The brunch burger is a wood-grilled burger, cooked to your preferred temp, and topped with sharp cheddar, applewood smoked bacon, lettuce, tomato, fried egg, and bacon jam. I requested my burger medium and it was perfect with a nice pink center. And it was thick. It wasn't indicated on the menu, but it had to be at least a quarter pound, maybe even a third. The bacon jam had a bit of kick to it, but a pleasant kick, not a kick to the throat.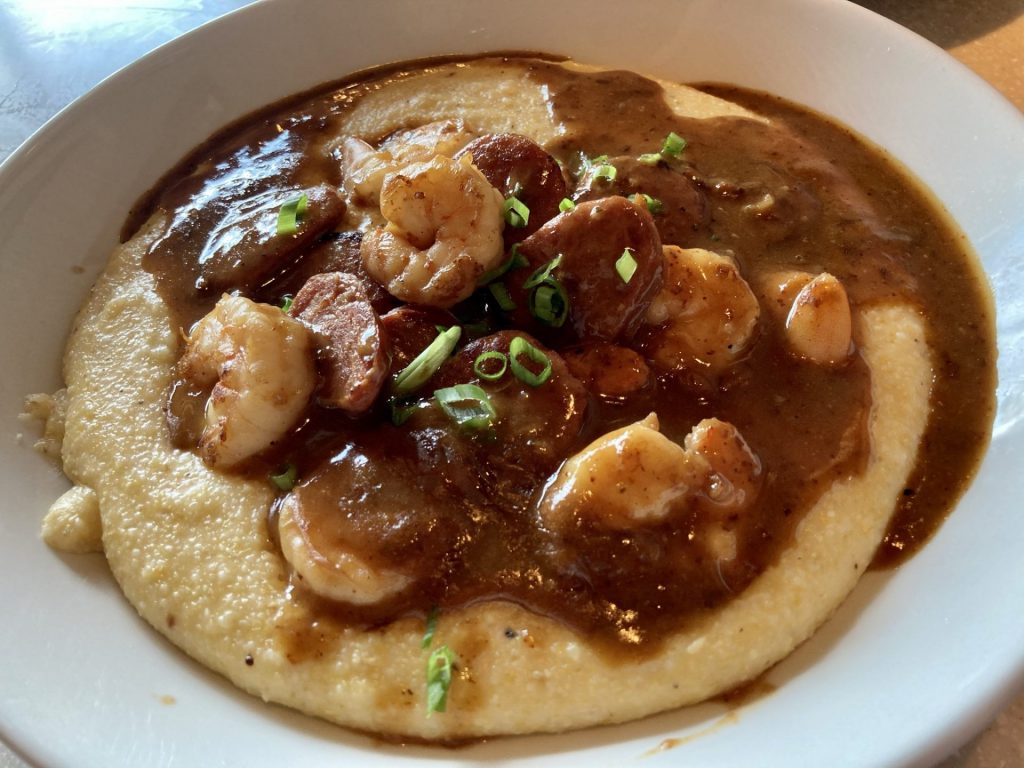 Shrimp & Grits – Shrimp & grits is something I'll usually order if I see it on any brunch menu, so I've had my fair share. Firebird's version is delicious. Stone-ground grits topped with a plentiful amount of tender sweet shrimp and andouille sausage and covered in a Cajun gravy. The Cajun gravy had an overall warmth, not spicy necessarily, but a warmth that could be felt from the back of your throat and moving through your entire head.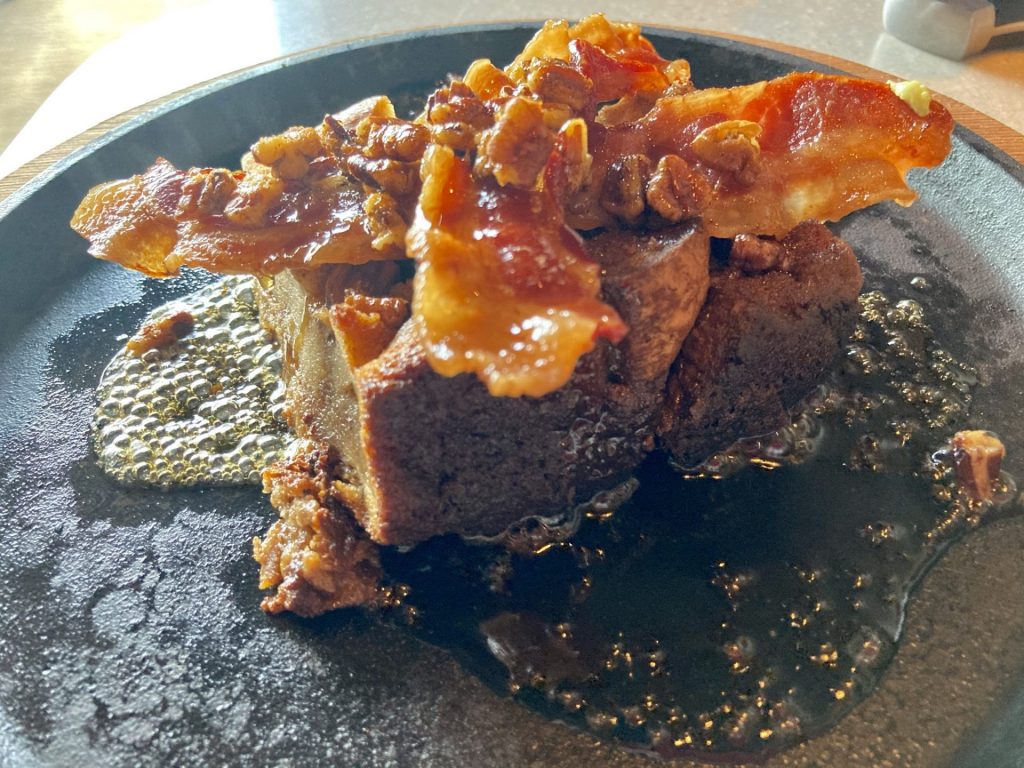 Breakfast Bread Pudding – If you like brunch a little on the sweeter side. Firebirds has you covered with the Breakfast Bread Pudding. The bread pudding is served on a ripping hot cast iron plate and topped with applewood smoked bacon, pecans, cinnamon, and brown sugar. It's served with bacon-infused maple syrup and poured tableside. The maple syrup hits the hot cast iron skillet with a satisfying sizzle that makes others at the surrounding tables turn their heads and look. Pancakes and waffles are old and busted. Breakfast Bread Pudding is the new hotness.
For dessert: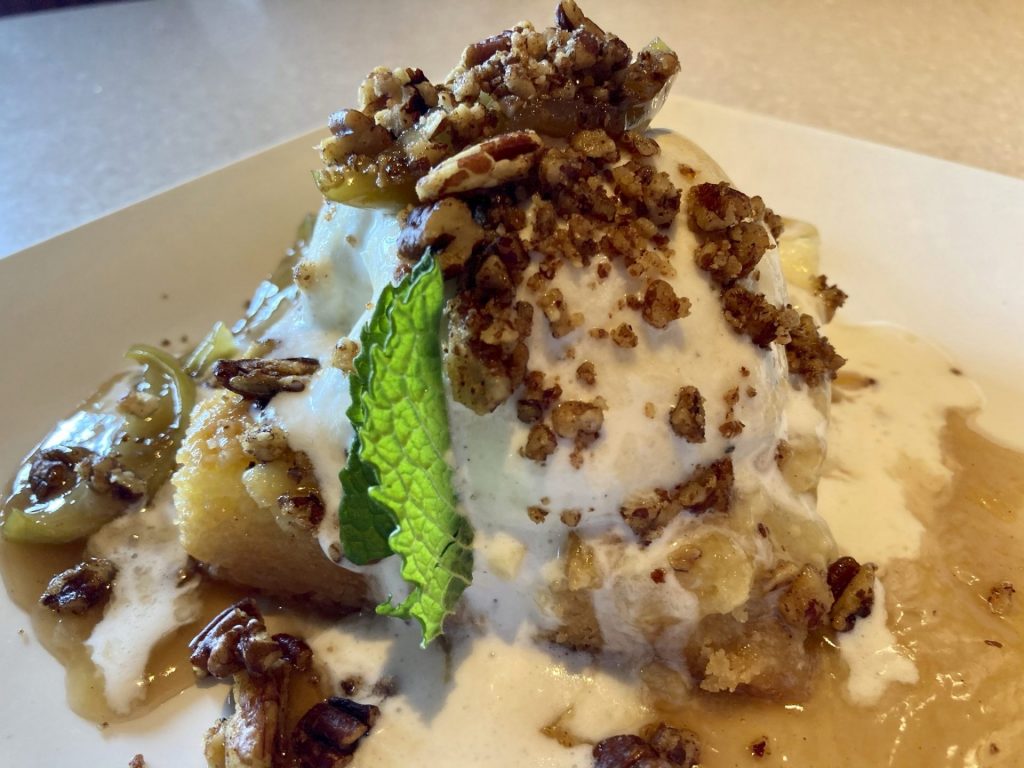 Ooey Gooey Apple Cake – This isn't officially on the brunch menu, but it is on their "Featured" menu. Firebirds offer a different seasonal "Ooey Gooey Cake" throughout the year. For the fall season, it's the Ooey Gooey Apple Cake. It's served a la mode with vanilla ice cream, roasted apples, and crushed pecans. The cake is dense, delicious, and sticky.
Firebirds is off to a great start with their brunch menu and is a welcome addition to the Jacksonville brunch crowd. If you'd like to try them out, brunch is served on Saturdays and Sundays starting at 10a. Don't forget to let them know that Jax Restaurant Reviews sent you.
Firebirds
4826 Town Center Pkwy
904-831-3950
Check out more Town Center restaurants here.