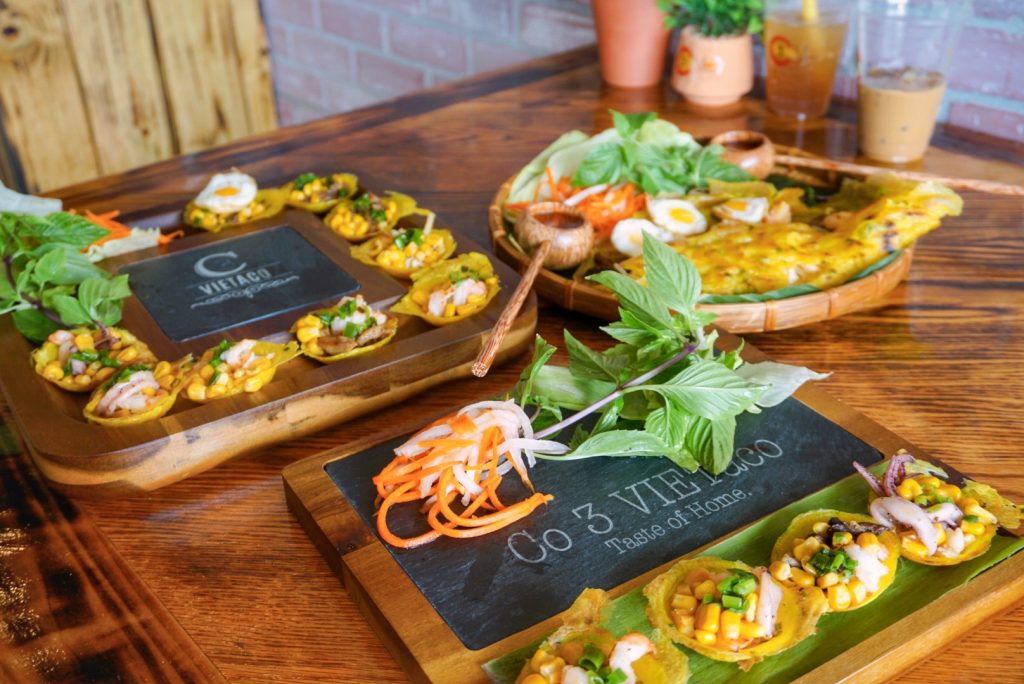 What comes to mind when you think of Vietnamese cuisine? Yes, there's the ever-popular phở and bánh mì, but Vietnamese cuisine is so much more than that!
Vietnam has a rich culinary history that encompasses a wide variety of regional flavors. I'm here to tell you about a new local restaurant, Co3 VIETaco, that showcases a couple other popular dishes from Vietnam along with a unique Vietnamese-Mexican fusion dish.
Nestled in the shopping plaza off of San Pablo and Beach Boulevard, you'll find Co3 VIETaco. Co 3 pronounced Cô Ba in Vietnam means "Auntie Three", named after their mother who has been making authentic Vietnamese dishes alongside their grandmother. They use traditional recipes that have been passed down in their family, hoping to bring you a "taste of home" each and every visit!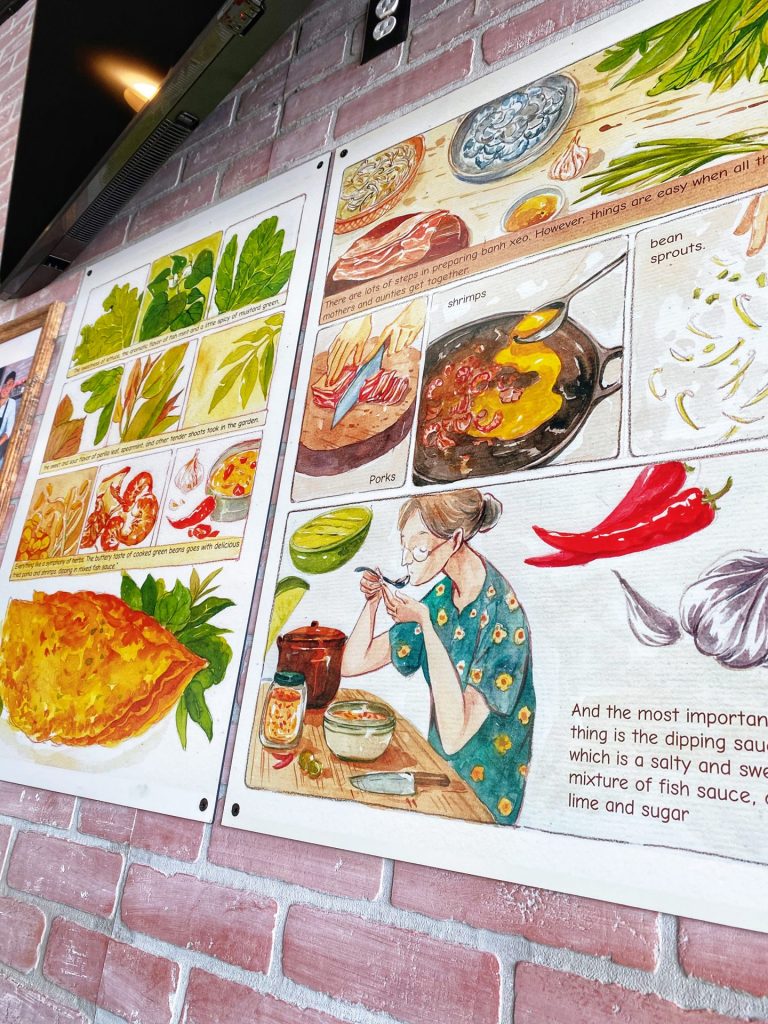 From the brick walls, beautiful wooden counter to the charming "steps to make bánh xèo" artwork, these small details were a nice touch, enhanced further by all the natural lighting. The indoor area is spacious with limited seating, but there's plenty of additional seating on the outdoor patio. The team really transformed the area nicely with plants hanging from the covered patio and string lights dangling from above.
**Please note: due to COVID, they are currently take-out or patio seating only.
The staff was extremely friendly and gladly walked us through the menu, explaining each dish. They're passionate about the food and thrilled to share their culture. We got to try a bit of everything!
Let's start off with the drinks.
With a large variety of drinks offered, there's sure to be something for everyone!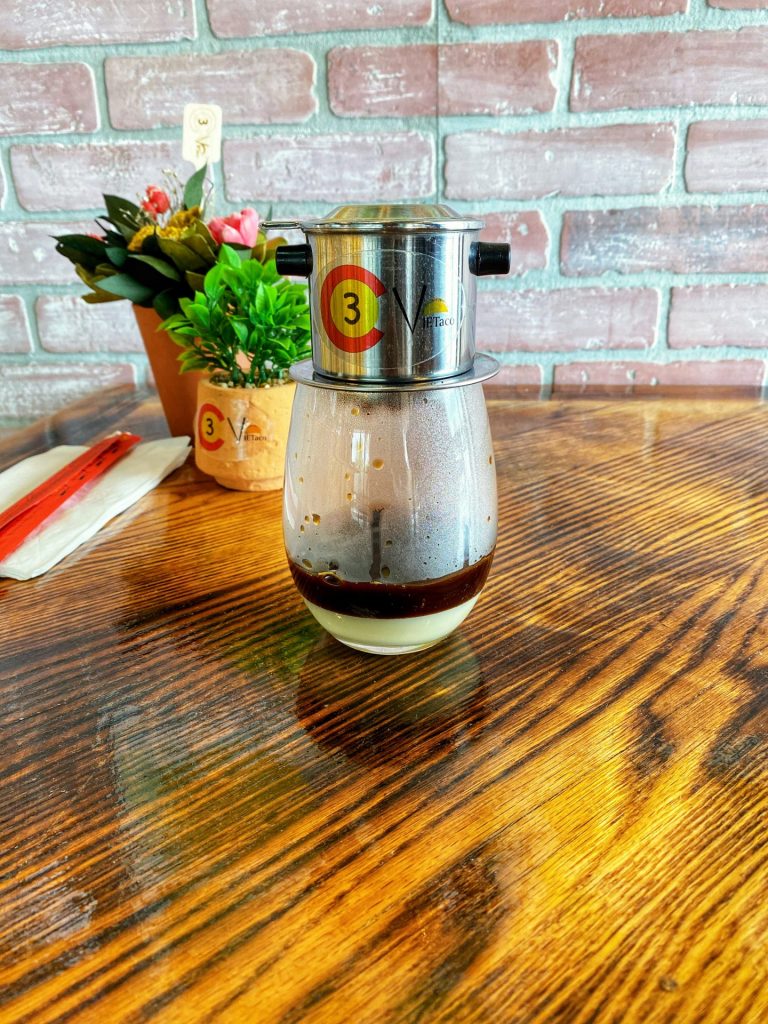 The first drink we tried was the Vietnamese Coffee ($4.50). This is one of my favorite types of coffee. The thing that makes Vietnamese coffee stand out is the strong flavor. After the coffee grounds are put through a filter and prepared slowly drop by drop, it is then combined with sweetened condensed milk. You can choose to have it served hot or iced. The condensed milk creates a rich, creamy taste. It's the perfect counterbalance to the strong, dark-roasted Vietnamese coffee. I highly recommend it for all the coffee-lovers out there.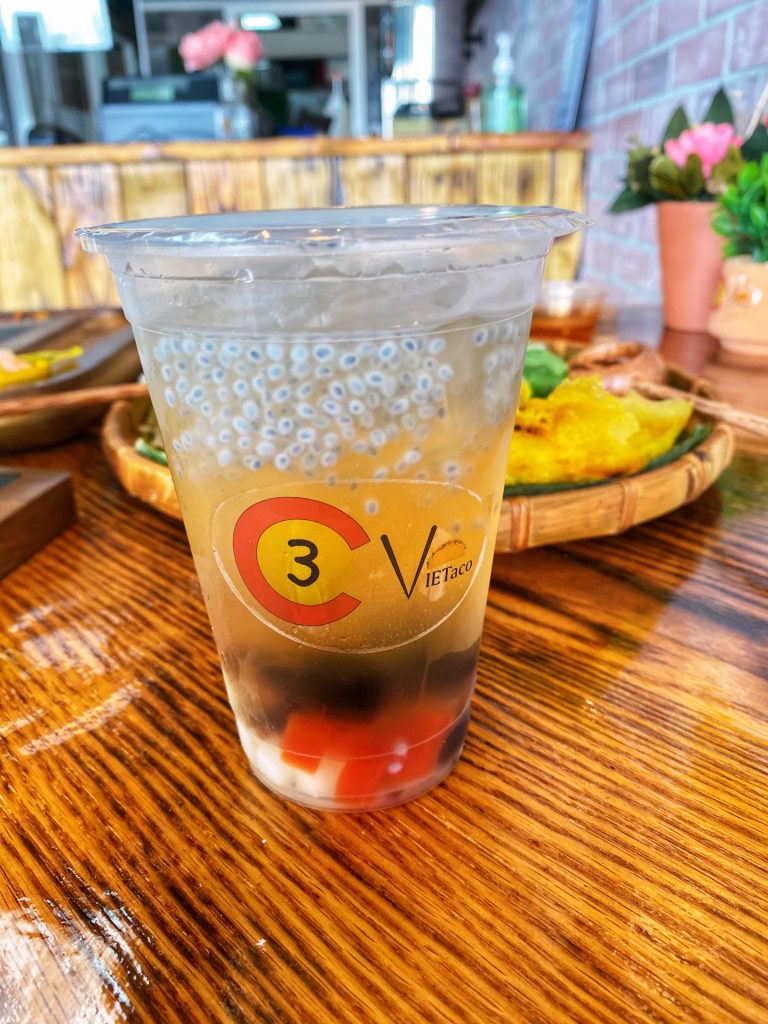 Next up was the Tamarind Drink ($4.50). I loved the sweet-tangy flavor of this drink and they added peanuts to it, which was an interesting addition. Tamarind also has many health benefits — which is just an extra plus! The Thai Tea ($4.50) was tasty as well. Sweet, creamy, and mildly-spiced. Last, but certainly not least, the Co3 Specialty Drink ($4.50).
Visually, it's a pretty drink with lots of different colors and components within it that you drink up with an extra wide straw. It contained alkaline water, grass jelly, chia seed, dried longan, and jelly topping. It was super unique and worth a try!
Now let's get to the food!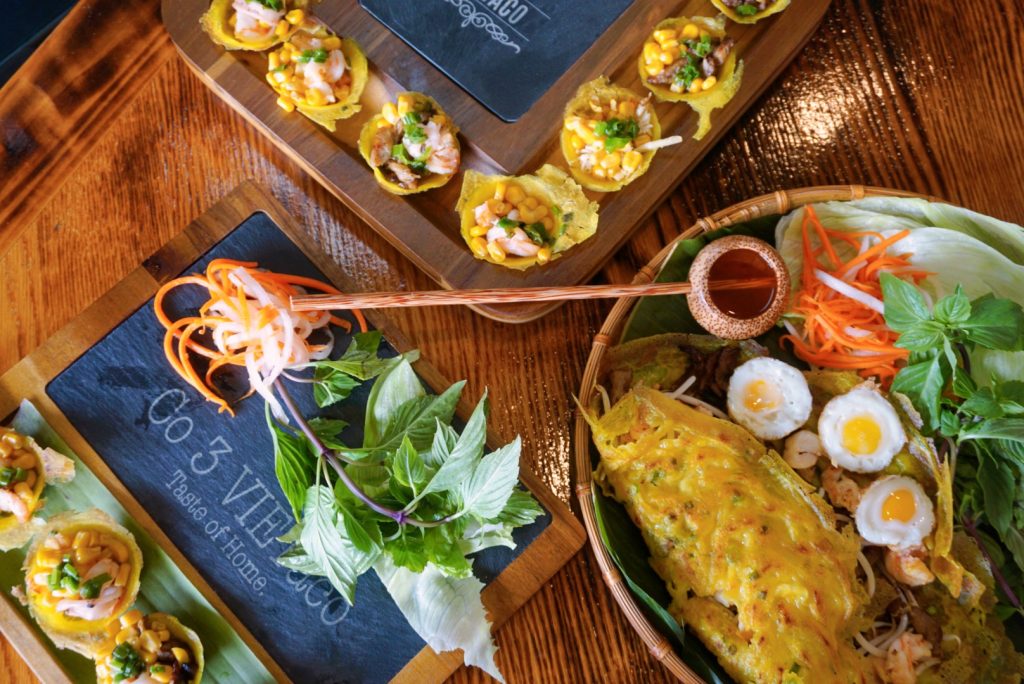 The menu is fairly condensed as they're only focusing on three main items: the Bánh Xèo ($9) pronounced "ban say-oh", the Bánh Khot ($9 for 7 pieces), and the Vietnamese Taco ($4). Specializing in only three dishes gives them the opportunity to focus on providing customers with the highest quality and execution of these items.
Each dish comes with your choice of filling and there's plenty of options to choose from.
The bánh xèo is a sizzling crepe made from rice starch, wheat flour, and turmeric. The golden hue is from the turmeric and gives it an earthy flavor in each bite. It comes accompanied with a dipping sauce, pickled vegetables, and Thai basil. For the bánh xèo, we tried the Traditional filling (shrimp and pork). Don't forget to add Quail Eggs (+$1.50 for 3)! It was a nice addition.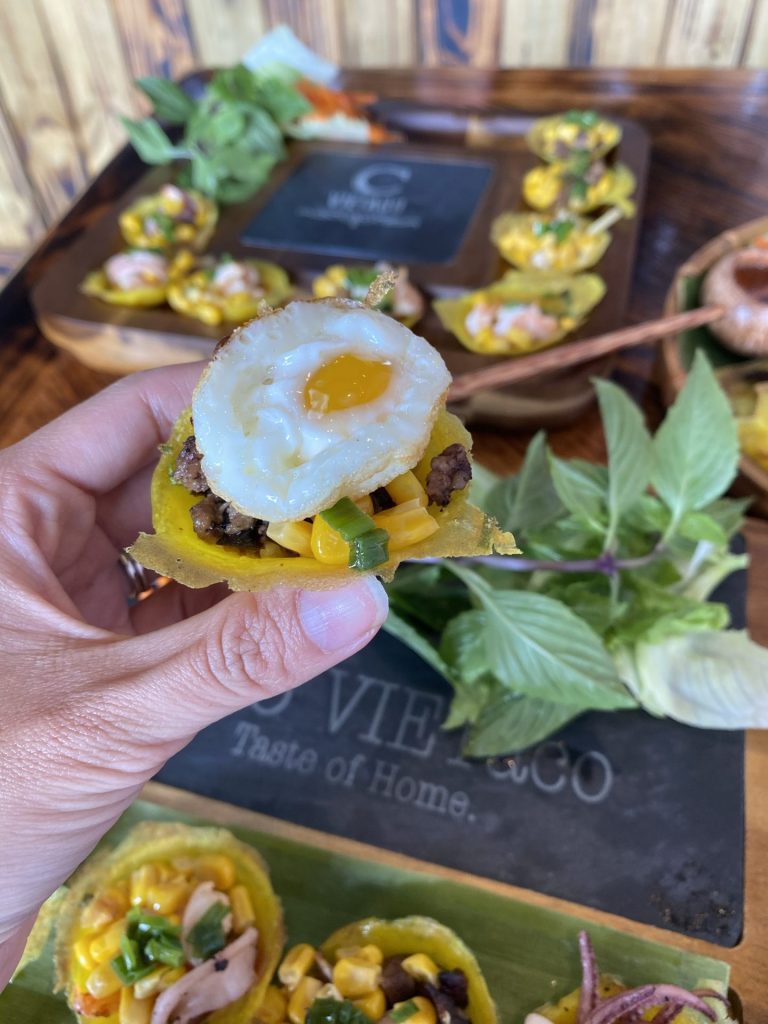 Now how do you eat bánh xèo? Well, here are four simple steps:
Separate your Thai basil and place on top of the lettuce.
Add pickled vegetables.
Tear off a piece of the bánh xèo to put on top.
Add some sauce to your liking — and enjoy!
This can get a little messy but trust me, it's completely worth it! The best way to eat this is with your hands. The flavor of the pork and shrimp were not overpowering so it allowed the freshness of the vegetables and herbs to come through. I especially enjoyed the addition of the green onions which added extra depth to this dish. I love the combination of different tastes and textures: the crunchiness of the lettuce, crepe, and bean sprouts and the fragrance from the basil along with the pungent, saltiness from the dipping sauce made for the perfect bites.
The only other times I've had bánh xèo were homemade from my friend's mother and this was definitely comparable!
We also tried the smaller version of these, the bánh khot (Vietnamese quiche). These bite-sized cups were substantially stuffed. They definitely don't skimp on the filling! We tried each of the different fillings and my favorites were the Pork and Calamari. These come in a set of 7, which is the perfect amount to share with someone (you know, only if you want).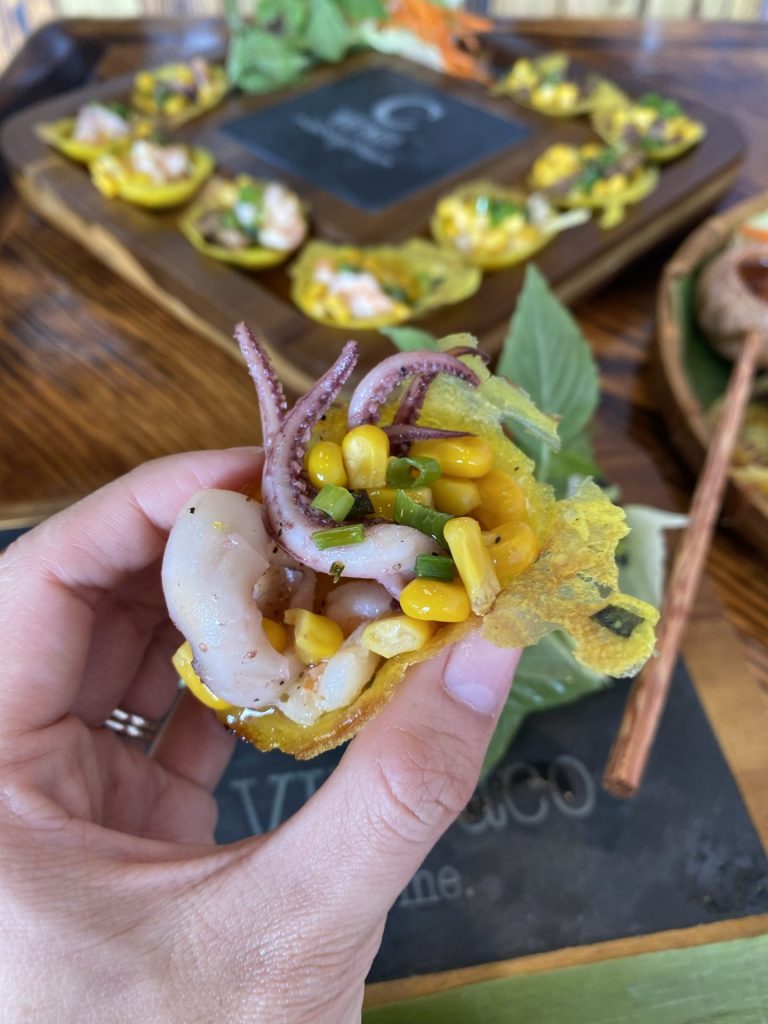 Lastly, the Vietnamese Taco, which is their Vietnamese-Mexican fusion item. I've never had a taco like this! Using the same batter as the bánh xèo, these taco "shells" were nicely fried and crunchy. They were large in size and again contained a lot of filling! The 3 types we tried were Pork, Chicken, and Vegetarian. These also came with a hot chili sauce, in addition to the fish sauce. What's not to like?!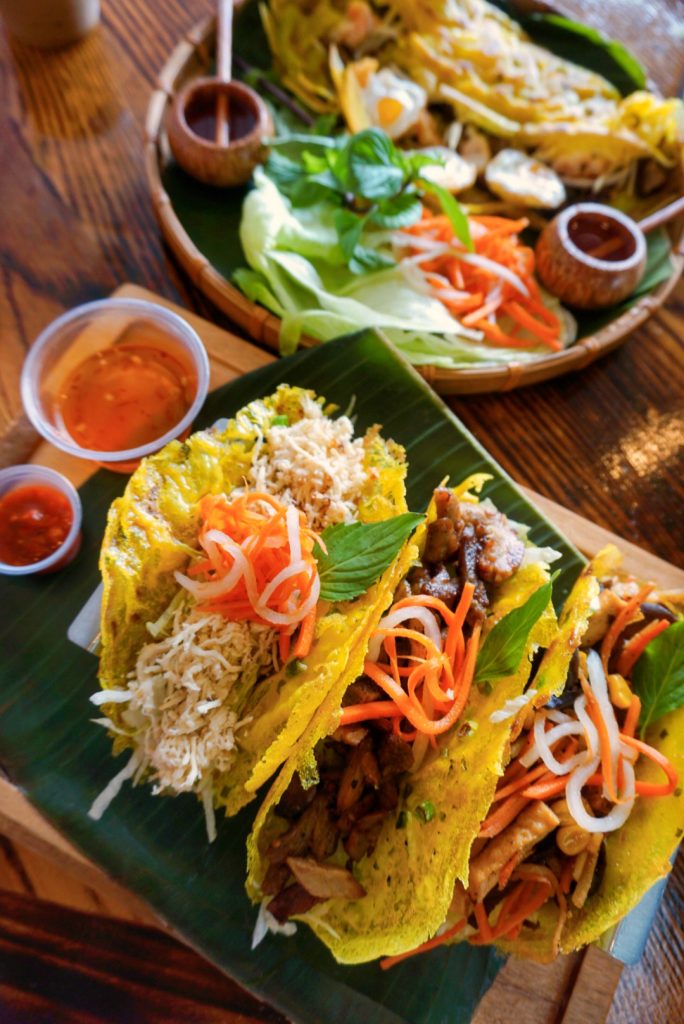 These items all came with a side of dipping sauce made from fish sauce. If you've never had fish sauce before, it's made from fermented fish. It has a strong fish taste with a savory sweetness and is used for its umami flavor. It may be an acquired taste for some, but it really ties the dish together! Their signature dipping fish sauce is made with vinegar, fish sauce, sugar, and chili paste. It has a hint of heat but it's not overwhelming.
For vegetarians, you can order any three of the dishes with their Vegetarian filling which consists of tofu, mushroom, bean sprouts, cassava, vegetarian soy sauce, vegetarian oyster sauce, and carrots. A very tasty option!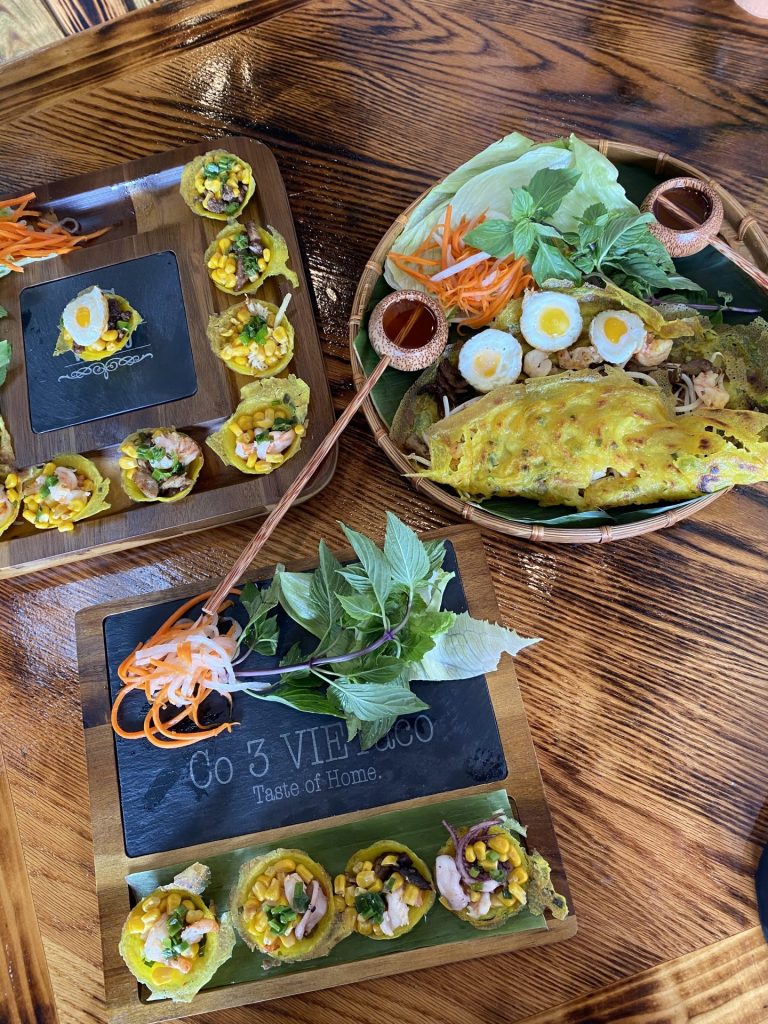 It's exciting that as Jacksonville's food scene continues to grow, the community gets introduced to authentic dishes from different cultures. We thoroughly enjoyed these mouthwatering dishes and can't wait to come back to try more! It's evident they put their heart into their cooking and I sure felt right at home!
Due to COVID, they are taking extra precautions. No entry without masks and the restaurant is deep-cleaned daily. Complete guidelines are on their website.
Their grand opening is this Sunday, October 4th. For every $25 purchase, you will receive a free drink with your order. They will also be giving away different prizes: shirts, hats, and gift cards. Come out and enjoy! Be sure to let them know that Jax Restaurant Reviews sent you!
Co3 VIETaco
14333 Beach Blvd.
Jacksonville, FL 32250