There are many things in the world that bring us joy — tacos and beer are definitely up there on the list! San Marco residents rejoice because the perfect pair of tacos and beer are coming to your hood. Hey, that rhymed.
The hospitality industry may have been the hardest-hit community in the wake of the Covid pandemic. There is a significant amount of uncertainty to the effects it will have around Jacksonville, and what the restaurant scene will look like a year or two from now. It is almost unfathomable to dream of opening a new brewery right now, but that's exactly what Luis Melgarejo, head brewer of the new Tepeyolot Cerveceria did.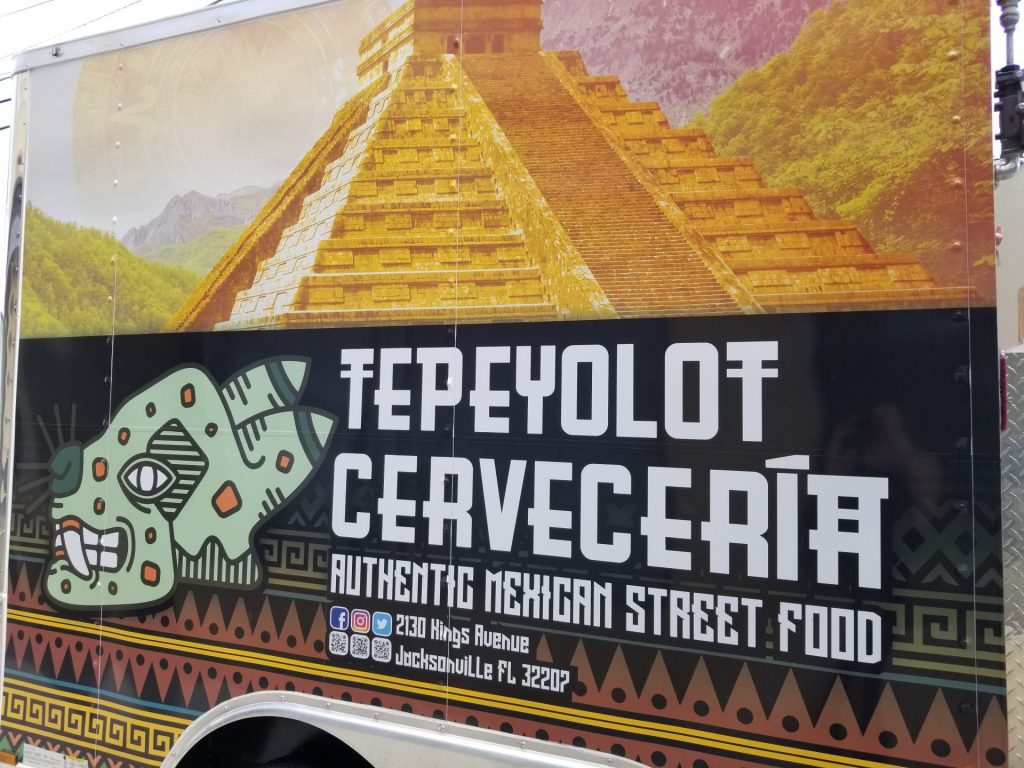 Tepeyolot (pronounced TEH-PEH-YO-LOT) Cerveceria is located on 2130 Kings Avenue, nestled next to Bertha Street in San Marco. This nondescript building sits in front of bustling new apartment complexes, set to open next spring. The one and most important defining factor is the beautiful new shiny food truck parked outside. Adorned with an eye-catching Aztec inspired Jaguar face, this brand spanking new food truck has only been open a few weeks. Both the food truck and brewery are Luis' dream brought to fruition. With a breadth of experience ranging from working in breweries in Gainesville (Hoggetowne, Ale Works, Stubbies and Stein's, and Tall Paul's) to the brewery capital of the East in Asheville, NC (Land in the Sky Mobile Canning and Wicked Weed) Luis immersed himself in the beer culture in order to execute his vision. He brings not only his knowledge of craft beer, but his passion and pride of his Mexican heritage to this exciting new venture. 
I was lucky enough to score a tour of the unopened brewery with the man himself, and what an experience it was! Due to open in early November 2020, Tepeyolot Cerveceria is moving along swimmingly, almost right on track, considering Covid. The hardest part is complete. The bones of the brewery are installed, and drywall is probably up by now. It was difficult for me, personally, to see anything beyond the framework of the building, but speaking with Luis, I grew more elated the further we walked and talked.
Luis knew the blueprint as intimately as the beers he's creating. The far right of the building will house 3-4 beer tanks to start but has room for 15+. There will also be a kitchen located in the heart of the building inside, but it will act more like a commissary for the food truck. It will have the possibility to expand into a full dining experience, depending on the demands of the diners. Lastly, to the far left of the brewery will be the main entrance way, where you'll be greeted by 15-20 taps of that beer flowing goodness! He's hoping to have artists come and paint the walls to have a less industrial feel, and more of a welcoming neighborhood bar vibe. Somewhere to unwind, grab a beer and a bite, and just let the day melt away.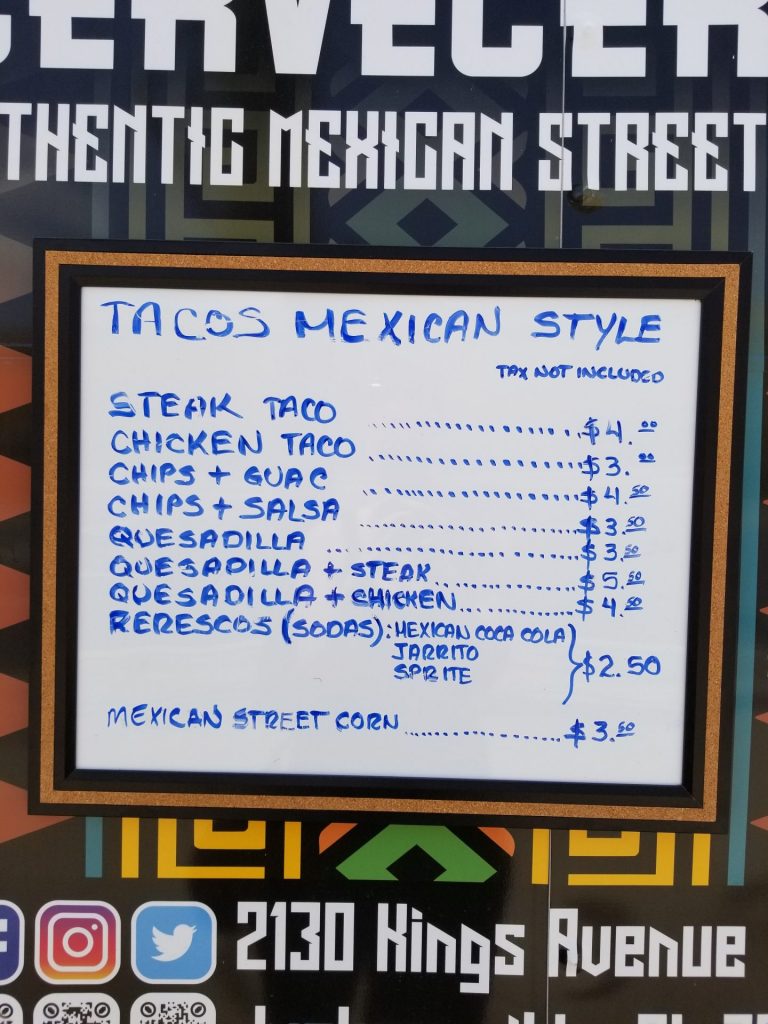 There's no better pairing in the world than tacos and beer! Tepeyolot Cerveceria is capitalizing on that fact and executing it beautifully so far. I couldn't pass on sampling the food truck after my tour and it was the perfect finish to my day. You're not going to find sour cream or queso at this truck, and trust me, that's a good thing! Luis focuses on clean, flavorful, and authentic Mexican street food. The menu is small and straightforward, with the possibility of expansion later. You have the choice of steak or chicken, tacos or quesadilla, and a few different sauces, and my new obsession; Mexican street corn. All the sauces and marinades are made in house and you can taste the passion behind every bite. I opted for a little bit of everything, getting a steak quesadilla ($5.50), chicken tacos ($3.00), Mexican street corn ($3.50), and chips and salsa ($3.50). My fat ass would have ordered the chips and guacamole too ($4.50) but unfortunately that day Luis was not satisfied with the ripeness of the avocados and didn't want to offer something subpar. I'm not going to lie, I was disappointed, but can respect that choice because you never want to sacrifice taste for demand. Plus, I'm sure my waistline would appreciate it in the long run.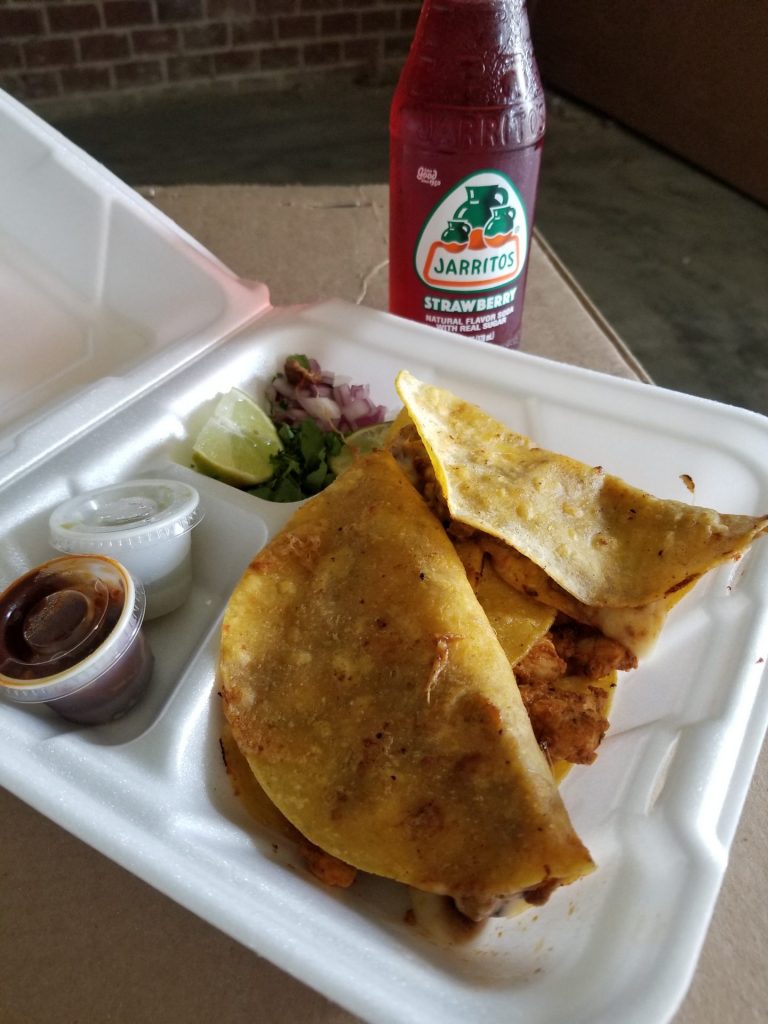 So…I ate everything except some of the chips. Both the tacos and quesadillas come with a bit of cilantro, lime, and red onions on the side, and choice of sauces. I tried the salsa verde and arbol salsa. It was my first introduction to arbol and holy crap it packed a punch of flavor. It was thick and red and spicy and delicious and scary, but in a good way. Not for the faint of heart, try it first before you douse your tacos. As for the salsa verde it was much milder. It was definitely out shined by the arbol, but those with a delicate palate, it would be right in your wheelhouse. As for the chips and salsa, they were good, but nothing to write home about. The chips were crispy and perfectly salted, and the salsa was thinner, not chucky. It wasn't packed with bold flavors like the arbol, but I think it would be the perfect accompaniment to a cold lager in the brewery.  
Ok. Let me start with my favorite part of lunch. I'm still dreaming about that steak quesadilla. You'll get golden yellow corn tortillas stuffed with oozy mozzarella cheese and juicy marinated steak. Sign me up for the next food challenge because I couldn't eat it fast enough. As for the chicken tacos, don't get me wrong, they were great. But just like children, I wanted to love the chicken and steak equally, but deep down, we always have a favorite, and that was the steak for me.
The chicken was marinated flawlessly, giving it an orange hue. Still moist and wrapped in that corn tortilla blanket of goodness, I think I'm just a cheeseaholic, and will always find the quesadilla superior. The Mexican corn was also the stuff of my dreams. You'll get a whole corn on the cob stabbed with a wooden skewer for easy handling. Covered in house made spices and queso fresco crumbles, I inhaled it. I firmly believe I will get the steak quesadilla and Mexican street corn every time I go. Also! Pro tip don't forget to buy a Mexican coke or Jarrito ($2.50) to wash everything down with.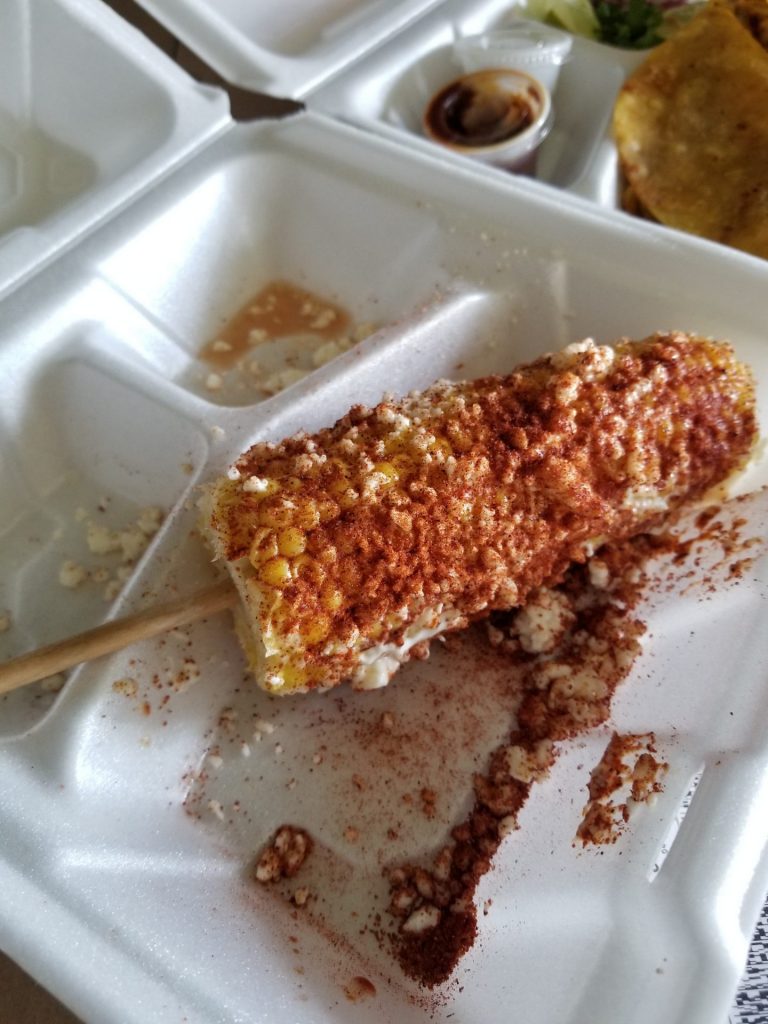 It is exciting to think there are whispers of a fresh beginning in Jacksonville, as seen by Luis Melgarejo, head brewer and founder of the new Tepeyolot Cerveceria. He will be focusing on Mexican lagers which are more time consuming and meticulous to brew but will reach a wider audience rather than say a heavy stout or IPA. On tap will still be a variety of different types of beers to make everyone happy. The hope though is to transition to all in-house brewed beers. Luis seems flexible, however, and willing to accommodate the wants and needs of his guests. As for the food, just like his beer, it is Mexican through and through. He is also hoping to hire a food runner of sorts, to bring food from the truck to inside the brewery for patrons. He's still working out the details, as expected. Coupled with his love of beer and strong Mexican heritage this new food truck and brewery has a promising future and I cannot wait for it to open!
Thanks for having us out to check out Tepeyolot Cerveceria, Luis. Just because the brewery isn't open yet, doesn't mean you can't stop by and try the truck TODAY! Don't forget to let them know Jax Restaurant Reviews sent you! 
Check out our recent article putting a local spice company to the test in the kitchen!