Having driven past Blue Sky Golf Club and Bar and Grill behind the Craig airport approximately 52,000 times in the past year and seeing their banners announcing their weekly specials, I finally gave in on a recent Tuesday to check out 50 cent wing night. In addition to their weekly wing special, Blue Sky Bar and Grill offers $5.00 burgers on Fridays. Both specials run on their specified day from 4-9pm.

Blue Sky Bar and Grill is a golf course clubhouse, and it feels like it in that nondescript way. The space is clean and bright with large windows overlooking the golf course in one direction and the driving range in the other direction. Blue Sky is in the St. Johns Bluff area of Jacksonville, named for the bluff along the river, which gives the land some actual hills and topography. It makes for a nice hilly view from the restaurant. There are a few tables and corn hole on the deck, which is a lovely option in good weather.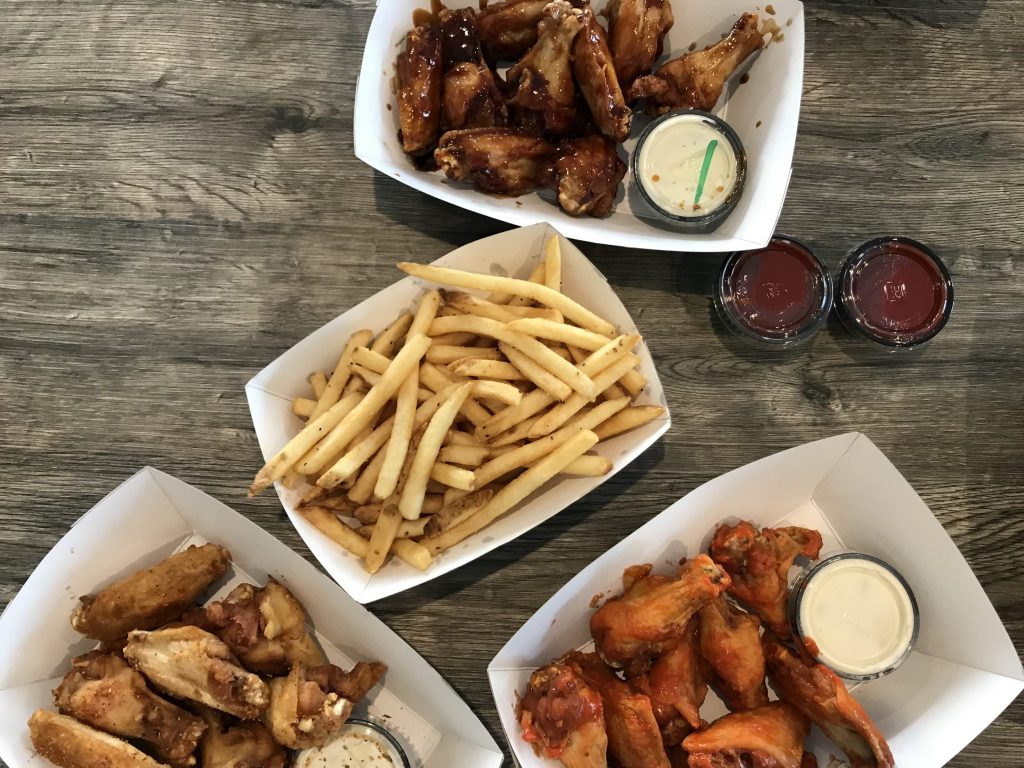 We arrived at Blue Sky Bar and Grill at 5:40pm. This is important for later. The restaurant was about half full. We were greeted, seated, and gave our drink orders. The menu offered for 50 cent wing night includes a slightly limited version of their regular menu and about ten flavors of wings to choose from. Wings can be ordered in increments of ten. There is a $1 charge for a few of the flavors, which makes an order of ten wings $6 instead of $5. It's still a deal. We went with teriyaki, medium buffalo, and at the recommendation of our server, Blue Sky dry rub.
The restaurant started to fill up as we waited for our food. It took about 25 minutes to get our wings, which is a pretty long ticket time. Wings take at least 15 minutes to cook in a fryer, unless they've been par cooked prior, but if I'm a restaurant offering a wing special I'm more than likely going to make some decisions and preparations so that I'm not cooking every single order completely fresh as it comes.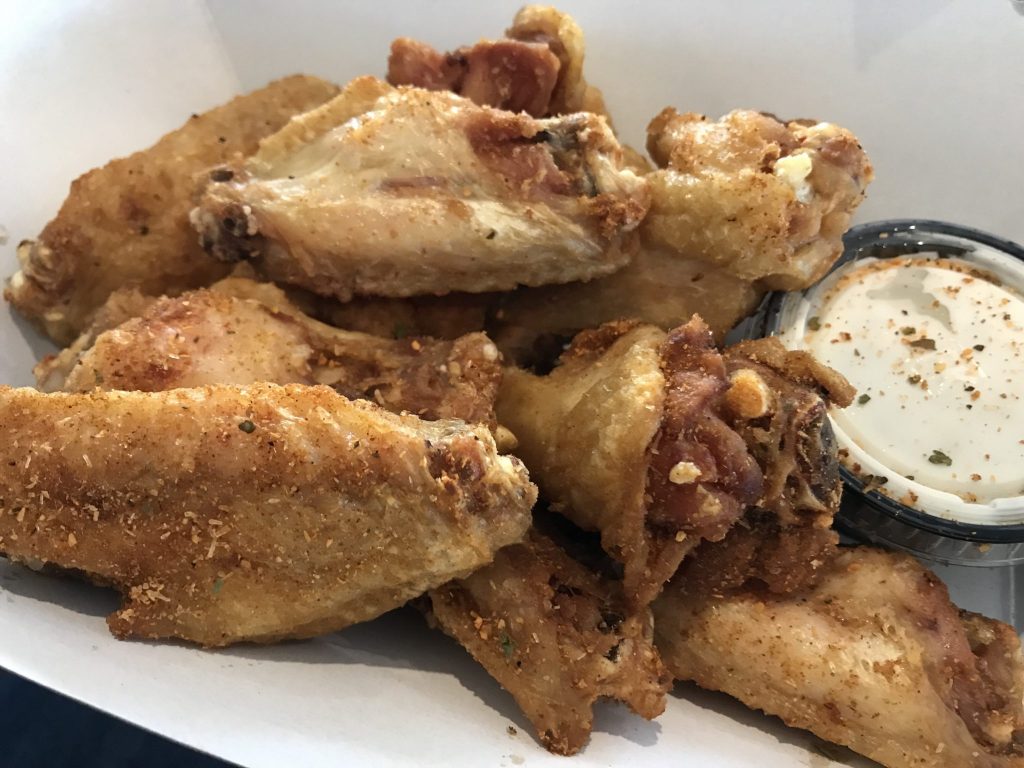 Our wings arrived in cardboard boats, with extra boats for bones, plus extra napkins and wet wipes. The teriyaki were sticky-sweet like you'd expect. The medium were a very tolerable medium spice. If you like spicy, go higher than medium. The Blue Sky dry rub were fantastic. Salty and savory, but not overly salty. The dry rub was an enjoyable spice mix that would be good sprinkled on a lot of things- fries, burgers, etc. In fact, we rubbed our fries in the dry rub in the bottom of the boat. Yummy! The fries themselves were fine. The ranch and bleu cheese dressings that came with the wings were obviously bottled, which is par for the course. Pun absolutely intended.

We left exactly one hour after we arrived, at 6:40pm. There was a line all the way to the door waiting to be seated. There were two parties of eight or more at large tables in the restaurant. With our ticket time being 25 minutes, I have no idea how long the folks waiting to get a table would be standing there.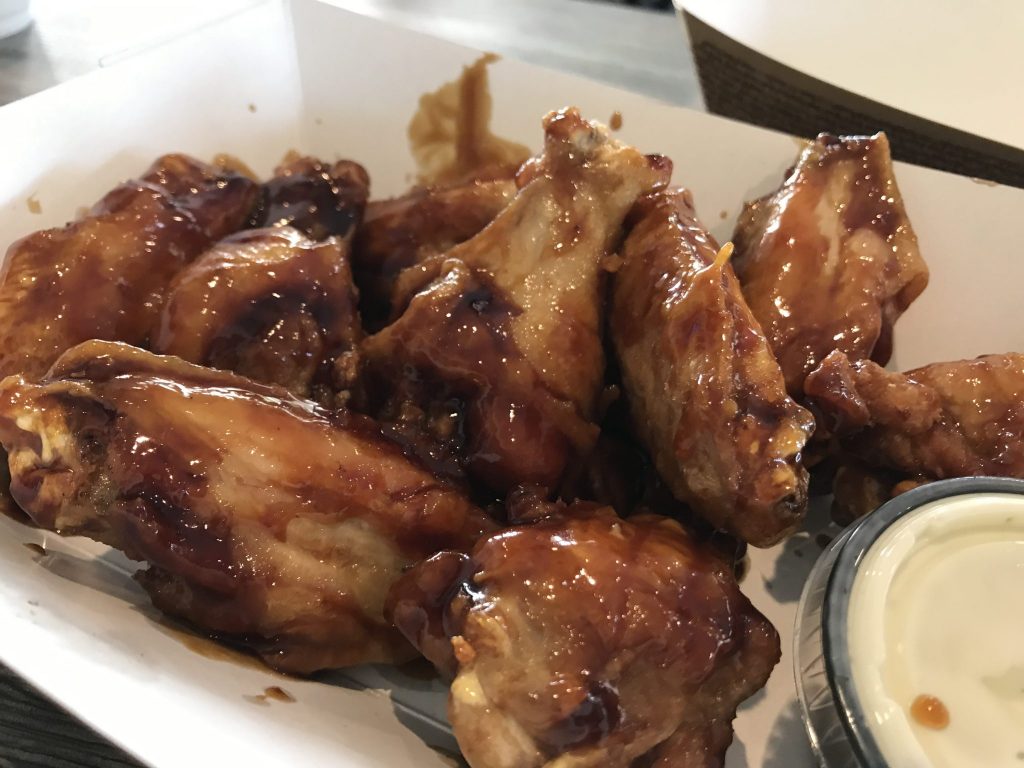 Overall wing night at Blue Sky Bar and Grill was a positive experience. The service was friendly, there was a decent amount of wing choices, the space was clean, and the view was pleasant. Were they the best wings of my life? No, but they were solid. Would I have liked better dressings? You betcha. But 50 cent wing night is a heck of a deal. We ended up spending about $20 for two people, which is practically unheard of for table service, plus we took almost half of our wings home. If you love wings, or have hungry tweens and teens to feed, or just appreciate a deal, Blue Sky Bar and Grill's 50 cent wing night is worth checking out. I'd get there before or around 6pm to avoid too much of a wait.

Blue Sky Bar and Grill
1700 Monument Rd
Jacksonville, FL 32225