Golf is a great napping sport. Sometimes, I'll turn it on and let the soothing dulcet tones of Jim Nantz's description of courses lull me into a sweet Sunday afternoon nap. Mark Twain said this of golf: "Golf is a good walk spoiled." I'm not a fan of walking around the oppressive Jacksonville heat up and down an 18-hole golf course looking for a ball I'd probably shank into the woods.
But give me an open driving range bay, cooled with fans, playing golf games requiring only a modicum of actual golf skill, frequently refilled soft drinks, great music, surrounded by great food and friends? Now that's a good time.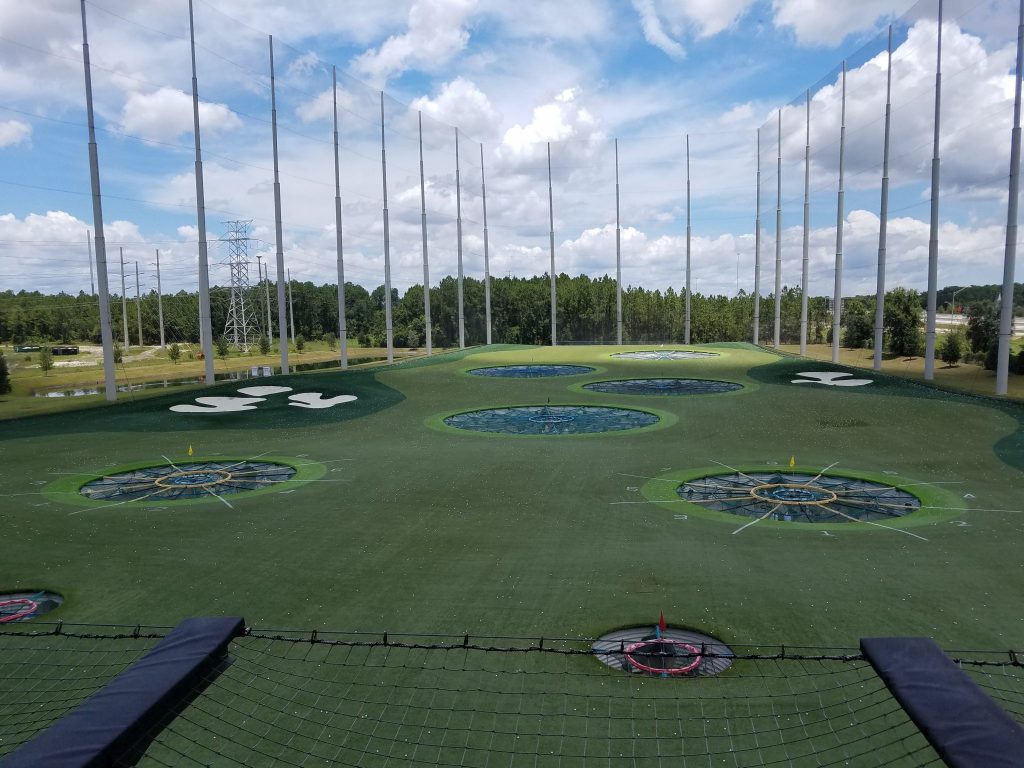 I've never been to a Topgolf location before, so when they invited us out to try out their new brunch menu and play a round of Topgolf's games, I jumped at the chance to live out my Happy Gilmore fantasies. They let us bring up to 6 people for this outing, so fellow JRR writers, Melissa Nolan and Cassie Marie brought their +1's and joined me and my partner for some food and fun.
The Topgolf facility is impressive. There are three floors of driving range bays. There's also a full restaurant seating area with pool tables and shuffleboard, merchandise area, and plenty of meeting spaces for your next office or birthday party.
We were led to bay #321, located up on the third floor and offering the most impressive view of the whole range. The range is filled with targets. The closer you land your golf ball to the center of those targets, the more points you get.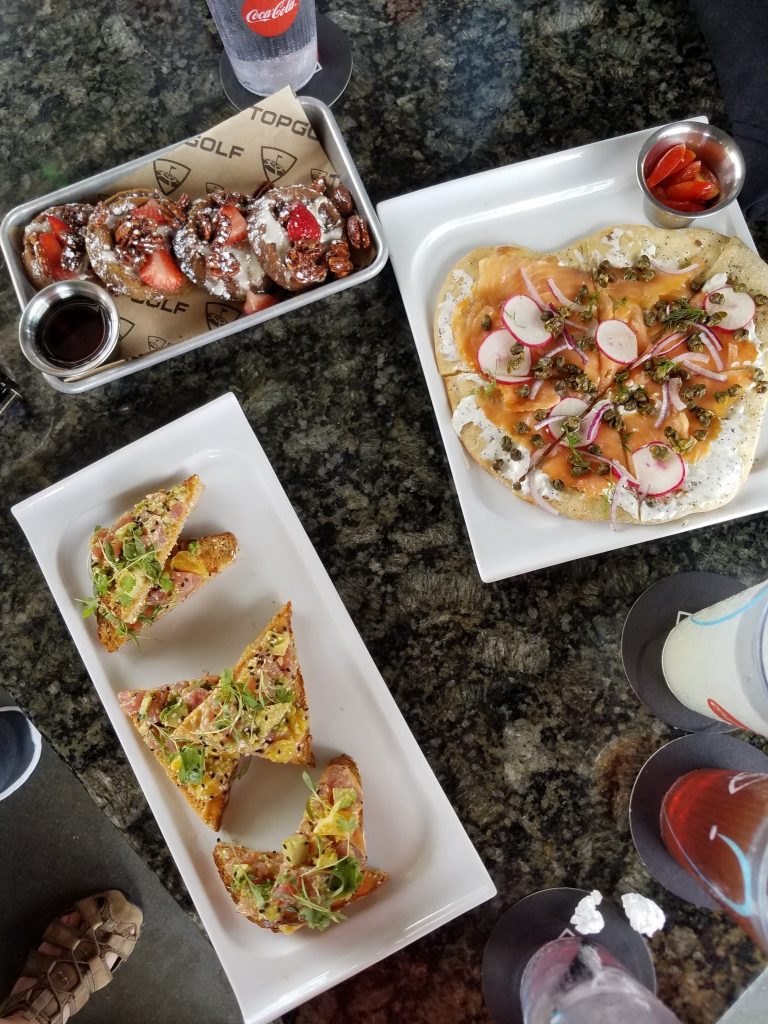 Before we got our swing on, we all looked at the menu first. We are food writers after all. We decided to try many of the items featured on the new weekend brunch menu: the Everything Bagel Flatbread, Acai Superfood Bowl, Carrot Cake Waffles, Carnitas Benedict, and Ahi Tuna Avocado Toast. After we ordered, we started hitting some golf balls while we waited. After a few minutes of laughing at each other's pitiful swings (except for Cody's. His swing was on point and the ball sounded like it was launched out of a cannon), the food arrived. 
It was great looking spread. One thing I like about these new brunch items is their shareability, a great trait to have if you're golfing with a group. The Everything Bagel Flatbread was essentially a classic bagel and lox if the bagel was flattened. It had all the classic lox toppings; salmon, herbed cream cheese, capers, dill, radish, and tomatoes. It was delicious. The bagel flatbread had a nice chew to it, like a bagel as opposed to a crispy flatbread. The salmon and cream cheese paired well together and the capers and radishes gave it all a nice salty/spicy bite.
I've never had an Acai bowl before. I've heard of their health benefits, but I've always been more of an "eggs & bacon" type of brunch guy. This acai bowl was delicious and topped with slices of banana, kiwi, blackberries, blueberries, toasted coconut, and other healthy superfoods. After a few bites I was feeling fit and ready to go swing the club for the rest of the afternoon.
The Ahi Tuna Avocado Toast is a glammed up take on smearing guacamole on bread. Topgolf's version had avocado mixed with miso dressing, ahi tuna, quinoa, and diced oranges piled high on multigrain bread and topped with micro cilantro and sesame seeds. It was fresh, light, and tasty. There was a bit of heat coming from the ginger in the miso dressing, but it was a great balance to the tuna and oranges. 
The Carnitas Benedict was the "stick to your ribs" entry in our brunch spread. Two buttermilk biscuits topped with a pulled pork carnitas, a fried egg, queso fresco cheese, pico de gallo, tomatillo salsa, and micro cilantro. The carnitas had great flavor and was seasoned well. The fried egg had a perfectly runny yolk and made everything taste richer and more unctuous. The pico de gallo and tomatillo salsa added freshness and spiciness. This was one of my personal favorites of the brunch bunch.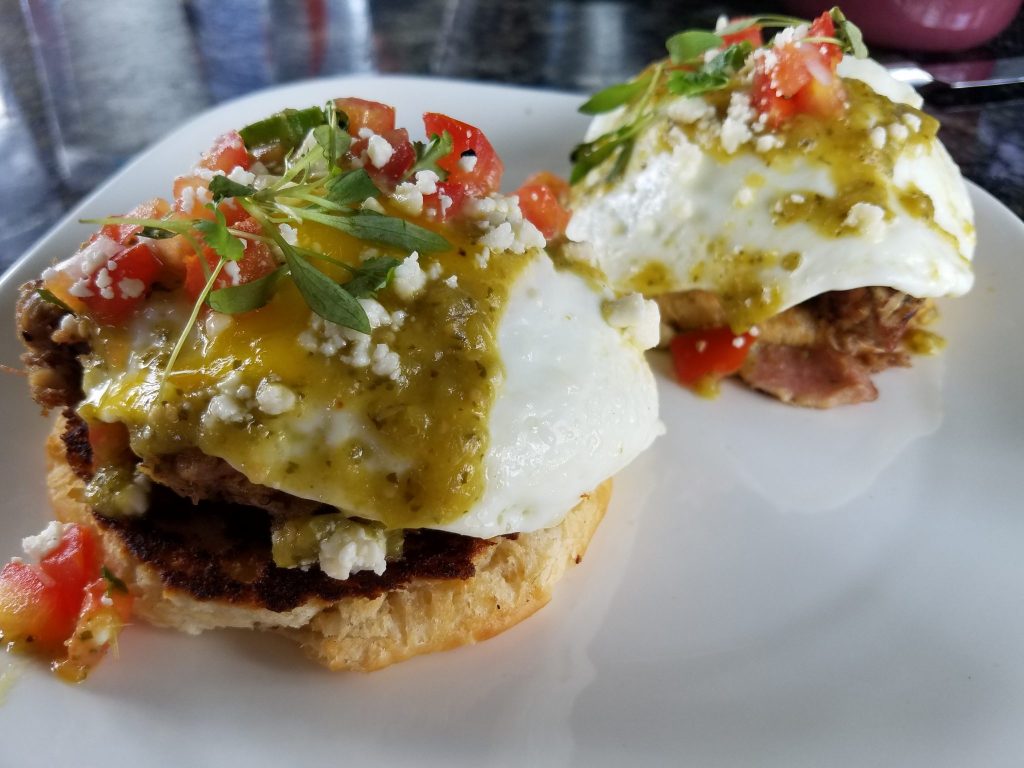 Finally, for dessert, we all shared the Carrot Cake Waffles. They were four mini carrot cake waffles topped with cream cheese icing, caramel sauce, candied pecans, freshly sliced strawberries, and powdered sugar. These little divine discs of decadence will satisfy any sweet tooth. The strawberries were a nice touch. It added a light juicy freshness to what could've been a heavy dessert item.
Overall, I was impressed with the whole operation. The wait staff was attentive. My drink was never empty and they checked on us often. The food was wonderful. At a place like this, the golf is the main draw. I was encouraged that the staff put as much attention to the food as they do the golf. It's easy for a place like Topgolf to go the easy route and serve "bowling alley" food like pre-packaged nachos or horrible roller grilled hot dogs. But they didn't. They understand that if people want to spend time at Topgolf, the food has to be as good as the games. And Topgolf hits a hole-in-one. Come for the games, stick around for the food.
Topgolf Jacksonville
10531 Brightman Blvd
Jacksonville, FL 32246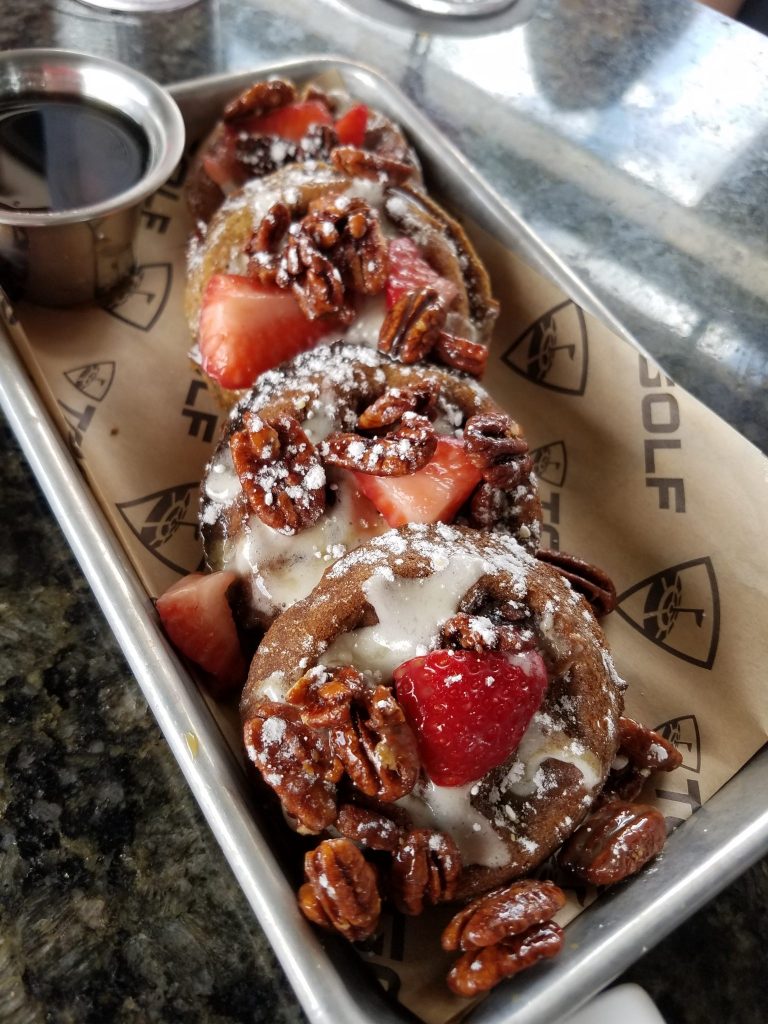 Note: From time to time we're invited out to try a restaurant or to taste new menu items. This meal is usually comped, as this one was. We're under no obligation to write a positive review or any review at all when we're invited out to try a place.  Every review you see on our site will be an honest review of the place whether or not the restaurant provided us with the meal at their cost.