Grumpy's has been an institution in Orange Park for the past 20 years. Grumpy is an actual person, a retired US Navy chef. Ownership of Grumpy's has changed hands over the years, but the quality of food and service has stayed consistent throughout. Current owner Daniel Deleon and his team look to continue the tradition of serving hearty American breakfast for many years to come.
Daniel and his wife both come from restaurateur families, so owning and running a restaurant themselves seemed to be predestined. Daniel has a great team supporting him. I had a chance to sit down with Courtney, the manager and talk about Grumpy's, the food, and what lies ahead.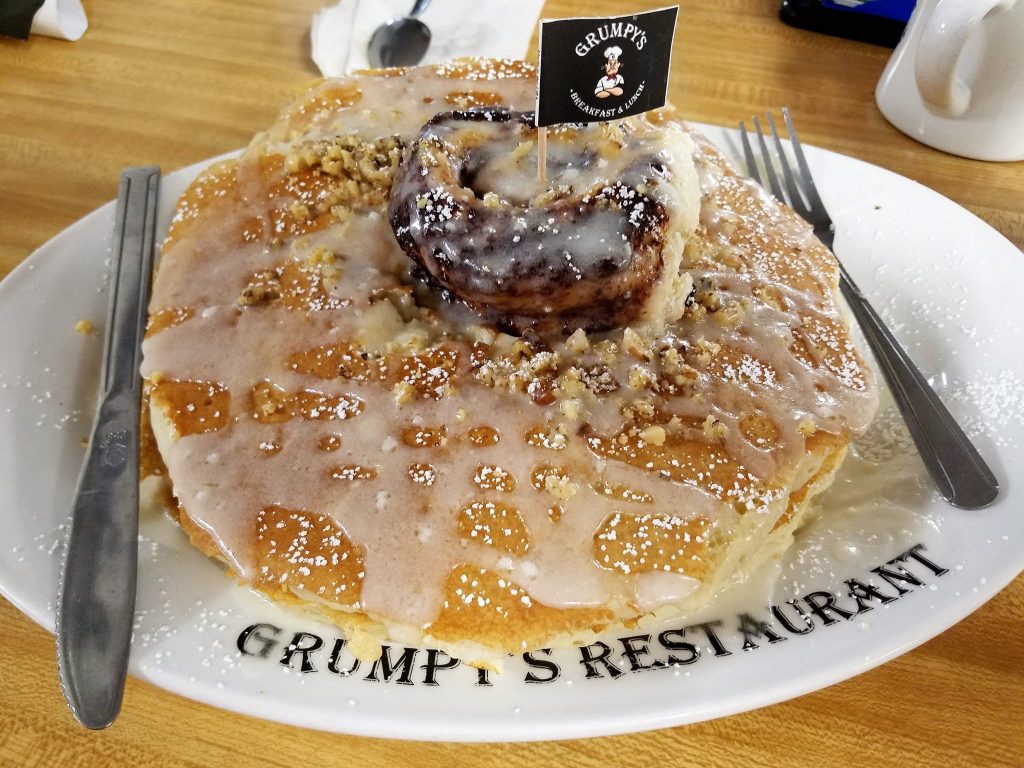 I visited Grumpy's on a Saturday at 12p. Prime time for the weekend brunch crowd. As I pulled in, every parking spot was filled and there was a line out the door. That's always a good sign. Walking in, the place was bustling. Conversation was boisterous. Servers, bussers, and runners were moving around the dining room in a carefully choreographed routine. We were greeted by Courtney and seated. She wanted us to try as much of the menu as possible, so we got ordered a few breakfast dishes and a lunch item. 
We started with one of Grumpy's signature items, the Cinnamon Roll Pancake. The plate of pancakes landed on our table with a discernible thud since these pancakes seemed to be the size and weight of manhole covers. Three came to an order and Courtney mentioned she's never seen anyone eat these in one sitting. They were massive. And if the stack of three large walnut studded pancakes weren't enough, it was topped with an actual cinnamon roll and all of it was dripping with icing and topped with more crushed walnuts and powdered sugar. The pancakes were fluffy and tender. The cinnamon roll on top was simply perfect.
For our breakfasts we tried another popular menu item, the Fried Chicken Benedict. The Fried Chicken Benedict is a griddled biscuit topped with a fried chicken cutlet, a poached egg, spicy hollandaise sauce, and a fried jalapeño slice for garnish. This dish was so southern, my drawl got thicker as I ate it. When it comes to Benedicts, I'm finicky about my eggs. They better be gushing with yolk at the slightest prick of my knife or it's a major fail. These eggs were wonderful. Perfectly cooked with a waterfall of yolk permeating the entire chicken biscuit stack. The chicken remained crunchy beneath the spicy hollandaise and the biscuit was a just the right vehicle to sop up all that beautiful yolk and hollandaise.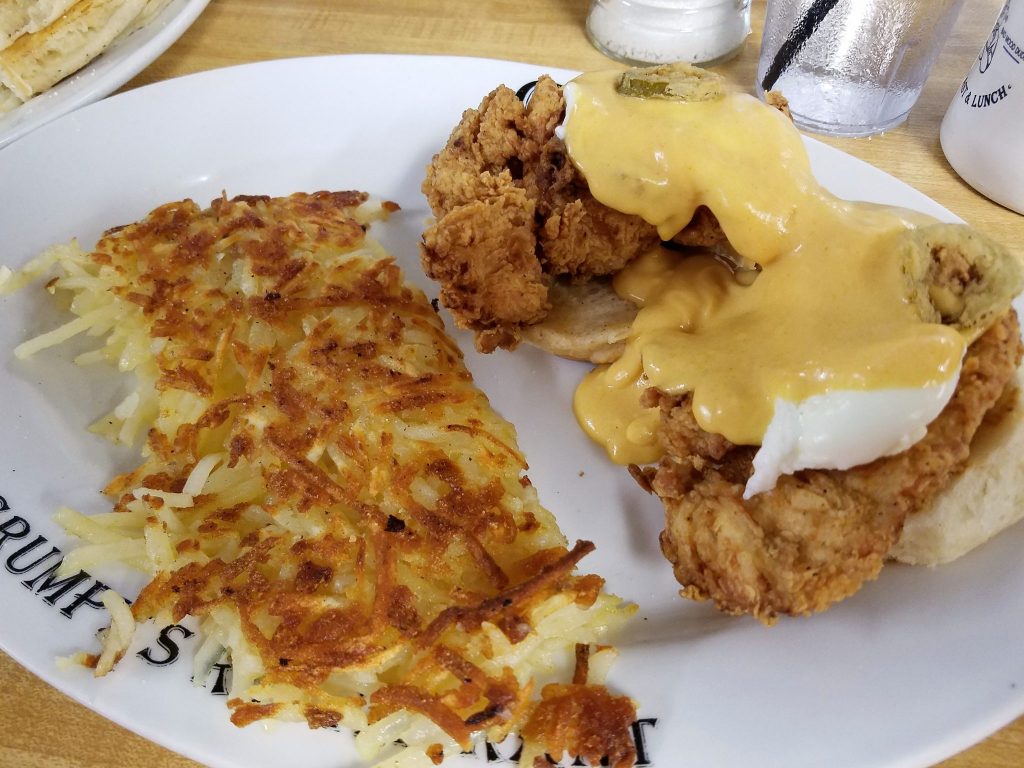 My dining partner ordered the special of the day, the Surf and Turf omelet. It was a large omelet stuffed with grilled steak and topped with a cheese of your choice, two crab cakes, and the same spicy hollandaise sauce. A dish like this offers a lot of places to hide imperfections, but there were none. The crab cakes had a ton of crab and very little filler. The steak was cooked to temp. It was all delicious.
Complementing our breakfast were a couple of glasses of fresh squeezed orange juice. There's a large machine by the bar cranking out fresh OJ at about a two glasses a minute. It's a wonder of modern engineering.
Grumpy's menu is extensive, serving not only breakfast favorites, but many lunch staples as well. Courtney wasn't going to let us leave without trying a lunch item. I love meatloaf, so we tried the popular meatloaf platter with a side of mashed potatoes and green beans. The meatloaf was sliced thick and griddled on the flattop. It had a beautiful crust and a nice texture. It was tender and seasoned well.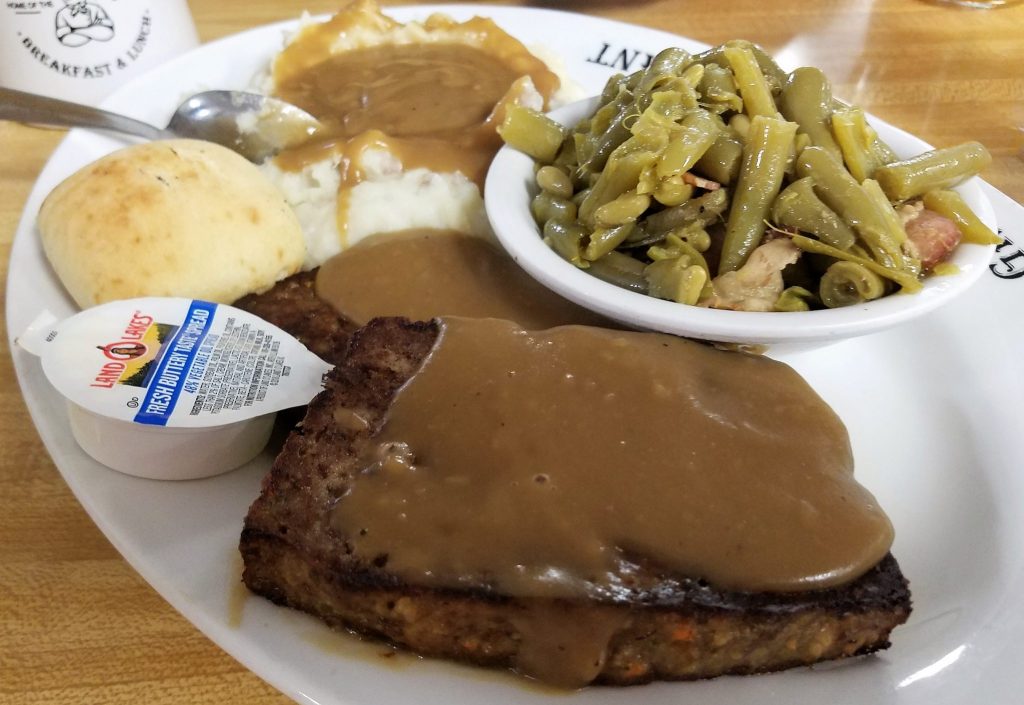 After stuffing ourselves silly and before I fell into a sugar induced coma from the cinnamon roll pancakes, I asked Courtney what the vision of Grumpy's is for the future. In a word: Franchising. Like any good local restaurant looking to grow, franchising is the next step. So far, Daniel is expanding to two potential locations, Middleburg and Nocatee. With a vision to grow, Daniel is committed to being consistent with both food and service. If you're looking to get into the restaurant business, Grumpy's is a great restaurant to be a part of. You can click here if you want more information about franchising a Grumpy's restaurant.
Grumpy's is a quintessential American diner. Wonderful food, huge portions at reasonable prices, knowledgeable staff, committed owners, and a down home feel. This place has a regular rotation of regulars, some coming in for breakfast and some coming in later in the day for lunch. Grumpy's has a saying, "No one leaves Grumpy." You also won't leave hungry.
Grumpy's
834 Kingsley Ave
Orange Park, FL 32073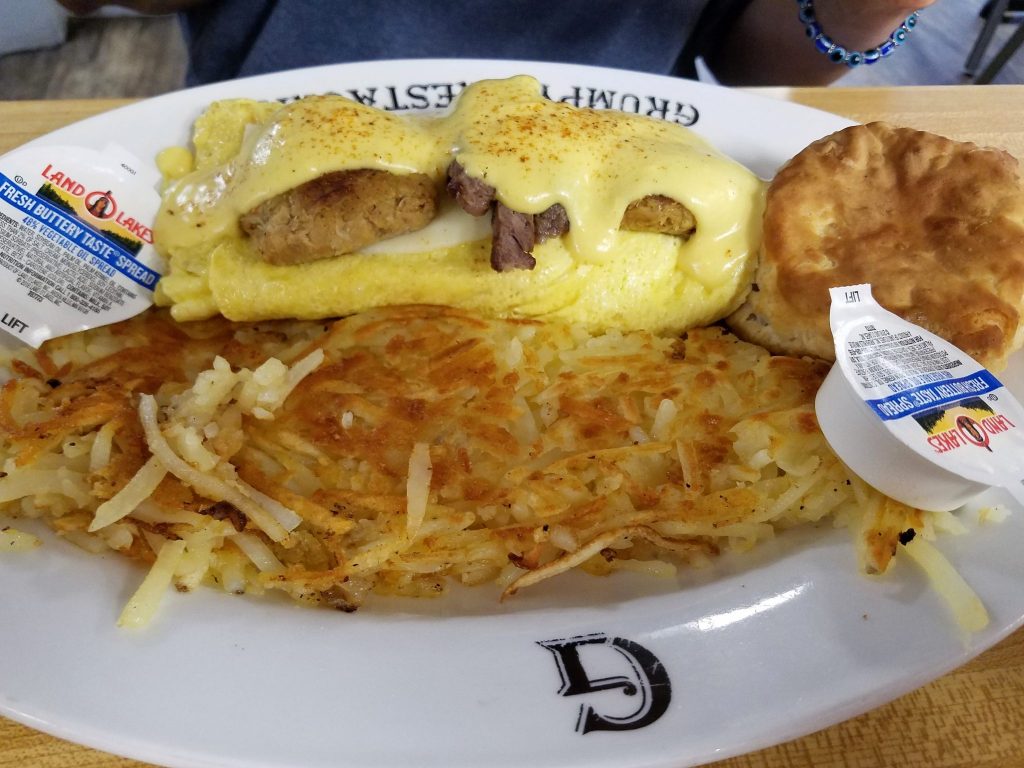 Note: From time to time we're invited out to try a restaurant or to taste new menu items. This meal is usually comped, as this one was. We're under no obligation to write a positive review or any review at all when we're invited out to try a place. Every review you see on our site will be an honest review of the place whether or not the restaurant provided us with the meal at their cost.