Jacksonville is no stranger to sushi places among its 800 or so square miles. There's one on just about every corner of every neighborhood. So what makes one sushi bar better than any other? For some, it's convenience. The corner sushi bar is close to where you live, so if you want your sushi fix, you'd rather drive 5 minutes to the corner than venture into a different neighborhood. For others, it's a type of sushi roll or specialty only available at that sushi place.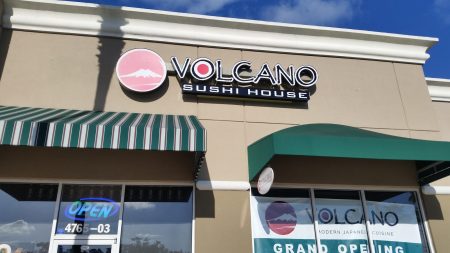 My point is; a sushi place in Jacksonville must do a lot to set itself apart from the other sushi places battling for your dollar. So how does Volcano Modern Japanese Cuisine do in that regard? Well, I would say it was about a 50/50 split. Half of the meal was definitely destination dining, while the other half was, well, less than.
The restaurant itself is nicely decorated. The sushi bar is at the back of the restaurant. The menus themselves were slick; no paper and pencil here. The menus were glossy and made it feel like you were in a more "upscale" sushi place. The way Volcano is situated in the shopping center it gets the full force of the afternoon/evening sun, which made the interior a bit warm. In fact, we requested a booth and the host told us it was probably too hot to sit there. So we settled for a table in the shaded part of the restaurant.
As I looked through the menu, I noticed the usual suspects in the appetizer section; spring rolls, edamame, yakitori, etc. But one appetizer caught my eye: Sushi Tacos ($11.99). It intrigued me, so I ordered it. Four tacos come to an order, which is more than what I thought it would be. It was practically a light lunch. The tacos are made with deep fried egg roll wrappers in the shape of taco shells. Stuffed inside the shells are lobster, crab (important to note: it was Crab, not Krab), mango, and avocado mixed together with the traditional "Yum Yum" sauce, topped with fish egg. These were, by far, the best thing we ate today. The egg roll taco shells were fantastically crunchy and mostly maintained structural integrity with each bite. The lobster/crab/mango filling was delightful, and the avocado cut against what could've been an onslaught of sweet. The fish egg added a light pop of texture. The menu advertised a side of sweet chili sauce, but it didn't arrive with the dish. This would've added another layer of flavor and helped cut some more of the sweetness. However, I like things on the sweet side, so I didn't miss it. Sushi burritos? Soooooo 2016. Sushi tacos are the new hotness. If you go here only for this item it's well worth it.
Sushi was up next. Volcano has your traditional a la carte menu of sushi and sashimi. Classic rolls such as the Spicy Tuna Roll and California Roll are also on the menu. However, tonight I was feeling adventurous. I decided to order Chirashi ($18.99). Chirashi means "Scattered" in Japanese and is basically a chef's choice of sashimi served with sushi rice. I left my fate in the capable hands of the Itamae. I didn't know what I was going to get and it was exciting. The Chirashi comes with a side of Miso soup or salad. I decided on the Miso soup. The soup was good and warm. It had a nice saltiness to it and the bits of kombu were nice and tender. The Chirashi plate came to the table and I simply stopped and stared at it. It was beautifully plated on a black slate plate. I loved the tiered presentation with pieces of sushi displayed at varying heights. It was a treat for the eyes. Here is what the chef decided for me (pictured from top to bottom, left to right): On the penthouse level of the plate, on top of the sushi rice was two pieces of salmon. On the next row were two slices of Tamagoyaki, or a kind of Japanese omelet, followed by two slices of Escolar, which sometimes gets a bad rap in the press because some less than reputable places sell it as "white tuna," but Volcano was upfront about what it was, so I'm OK with that. The escolar had just a pin drop of a spicy chili sauce and a few black and white sesame seeds. The flower designed sashimi front and center is red snapper topped with fish egg. Right behind it is blue fin tuna. Krab sticks are to the right of the red snapper. Next to the Krab is albacore. And rounding out the plate is yellow tail. Overall, the Chirashi had a nice mix of oily, firm, and lean fish. To get the full experience of the Chirashi, I ate one piece of fish, then moved to a different type of fish. Each piece offered a different taste and mouth feel. I chewed each piece slowly and thoughtfully. The yellow tail was probably my favorite piece. An oily fish, it's fatty texture coated my palate. It melted in my mouth like butter. In between fish bites, I got a bite of sushi rice, then a bit of the egg. Overall, the fish tasted fresh and the Itamae did a wonderful job slicing each piece uniformly and with little trauma to the fish. The plating of the blue fin tuna, however, ended up breaking up into pieces as I picked it up with my chopsticks. The spicy chili sauce on the escolar gave it a nice layer of flavor on an otherwise ordinary piece of fish. Until I get to try an Omakase-style sushi experience first hand, Volcano's Chirashi will do just fine.
My dining partner decided to play it safe and went with a traditional Hibachi platter. She chose the shrimp and scallop hibachi with vegetables, fried rice, and lo mein noodles ($18.99). Its obvious Volcano's strength is in its sushi, because the hibachi was horrible. The shrimp and scallop were dreadfully overcooked. They were rubbery, tough to chew, and all identifiable flavors cooked right out of it. I asked Poseidon for forgiveness on behalf of whoever cooked this hot mess and wasted what should have been a beautiful bounty of sweet shrimp and scallop playing against the saltiness of soy and teriyaki sauce. On the other side of the spectrum, the vegetables seemed barely cooked and just tossed around in sauce. The lo mein noodles and fried rice were aggressively bland. Just a failure all around with this dish. Which is a shame because the Sushi Tacos, Miso soup, and Chirashi were so very good.
So is Volcano worth leaving your little slice of Jacksonville to try? Is it worth passing your go-to sushi place in your neighborhood? For the Sushi Tacos and Chirashi, absolutely. For the Shrimp and Scallop Hibachi, skip it and go to Panda Express.