If you're a steakhouse connoisseur one of the brands that you will undoubtedly know is Morton's. Originally opened in Chicago, Morton's is known for their USDA Prime wet aged steaks and classic seafood dishes. Morton's came back to Jax in the summer of 2017 in the Hyatt Riverfront hotel. Being on the water, Morton's experienced the wrath of Hurricane Irma not long after they opened. Having to close for repairs and restoration for several months did not help raise the awareness of their presence in the city. It was a tough beginning, and now with the city expanding the riverwalk the construction has been its own challenge. Through all of the issues that have been outside of their control, Morton's has been steadfast, serving high quality food with high quality service.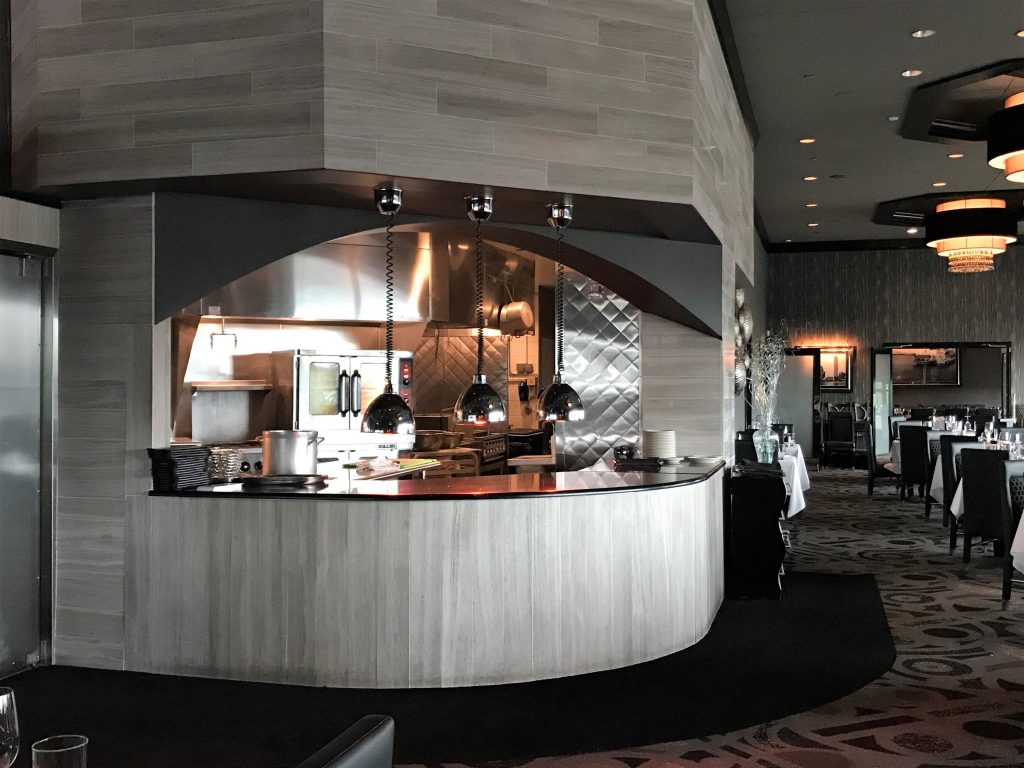 We started our meal with a complimentary loaf of fresh, warm, onion bread. This round loaf was hot from the oven and soft inside. As more restaurants from every level have cut back on complementary items, this delicious bread was even more appreciated. We skipped an appetizer because we wanted to save room for the souffles Morton's makes to order.
For our entrees we went with two unique menu items: a mixed grill and the piece de resistance, a steak flight. Yes, really! A flight of almost anything is an excellent way to experience it, and the flight of steaks is no different. The three steaks are served with bleu cheese fondue for dipping and topping. They are all New York strip: Certified Angus New York Strip, Prime New York Strip, and American Wagyu New York Strip. You really need to eat the steaks in order or you'll ruin yourself for them. If you start with the American Wagyu you won't enjoy the Certified Angus or the Prime nearly as much. If you go in order it will just keep getting better. Morton's has always been known for their steaks and this dish lived up to our experiences at Morton's in Chicago. If you're in the mood for a great steak you can't go wrong at Morton's.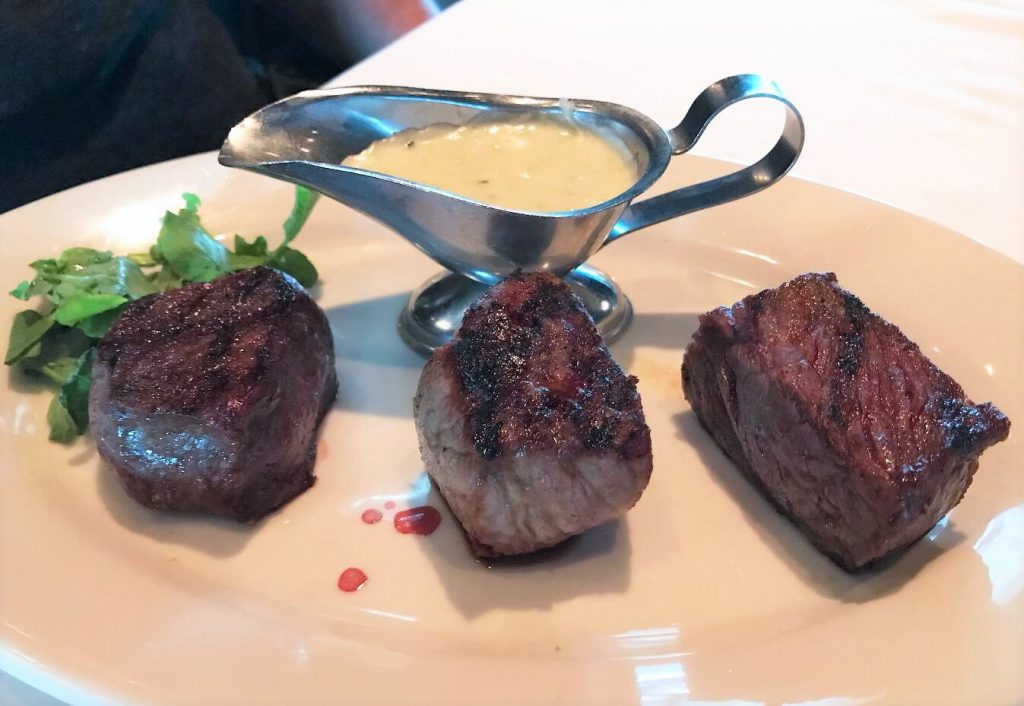 The mixed grill came with a 6oz filet, two jumbo wood grilled shrimp, and two bacon wrapped scallops. This is a perfect dish if you want a little steak and a little seafood. While you're getting three different proteins, it's not so heavy that you can't enjoy the rest of your meal. My steak was perfectly medium as ordered. The shrimp were sitting on top of a butter sauce. It was delectable. The bacon wrapped shrimp were served with a dollop of mango chutney to dip if you are so inclined. Not being a huge steak fan, the mixed grill offered me a variety of beautifully cooked options that were more suited to my tastes. 
As with most high end steakhouses, the side dishes are a la carte and serve 2-3 people. We tried the brussel sprouts and the twice baked au gratin potatoes. The brussels are cooked with bacon and onion. They had great flavor, but alas I prefer my brussels a bit crispy, which these mostly were not. The potatoes come out hot and cheesy like a simmering cauldron. They were melt in your mouth good. Being there were only two of us, we finished neither our entrees nor sides. I did roast the brussel sprouts at home the next day and with the flavor of the bacon and onions and the addition of the crispiness from roasting they were practically perfect.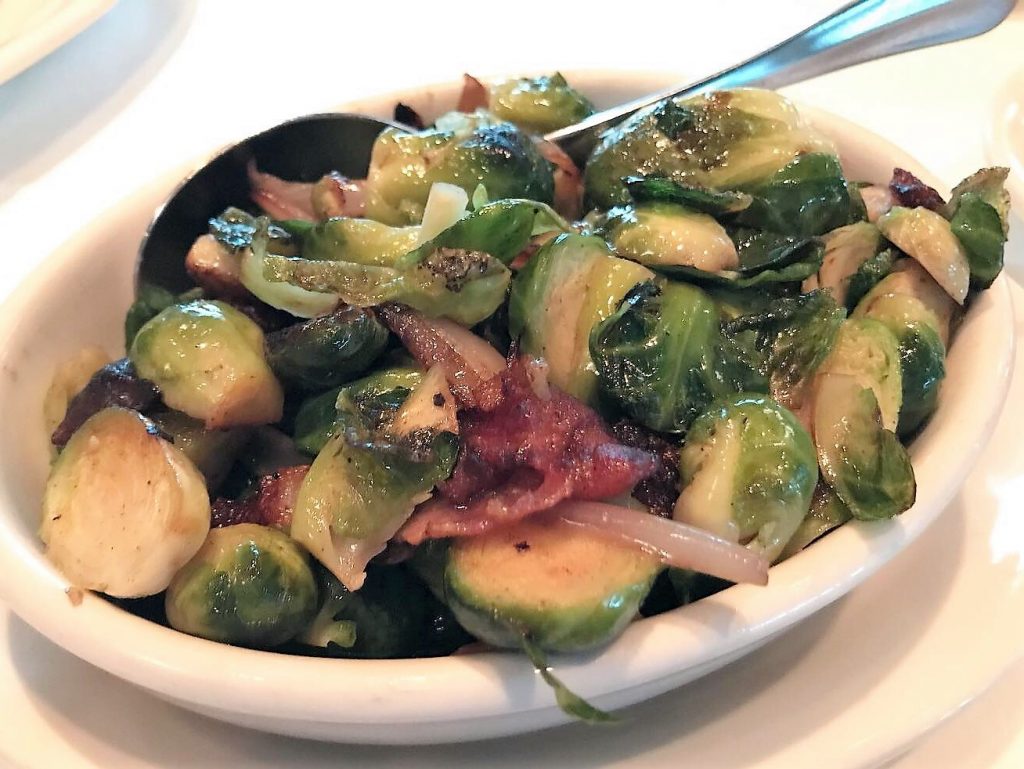 For dessert we tried two completely different desserts. Morton's has a selection of desserts that are made to order and take 30-35 minutes. These consist of several souffles and a lava cake. Your server will let you know about those when you order your meal, so you can order a dessert as well and the kitchen can get it started before your entrees come out. We chose a chocolate soufflé, which I've been craving since I heard Chef Samin Nosrat talk about her first chocolate soufflé on a podcast recently. There are additional desserts which don't take half an hour on a regular dessert menu to choose from. On that menu we tried the white chocolate pecan bread pudding. The souffle came out tall and fluffy, puffing out of its ramekin. It didn't look super chocolatey, but it tasted rich and delicious. So much so, I could only eat about a third of it. That's okay, those were some divine bites. The white chocolate pecan bread pudding was served with ice cream and it was sweet and rich. This would make a good sharing dessert.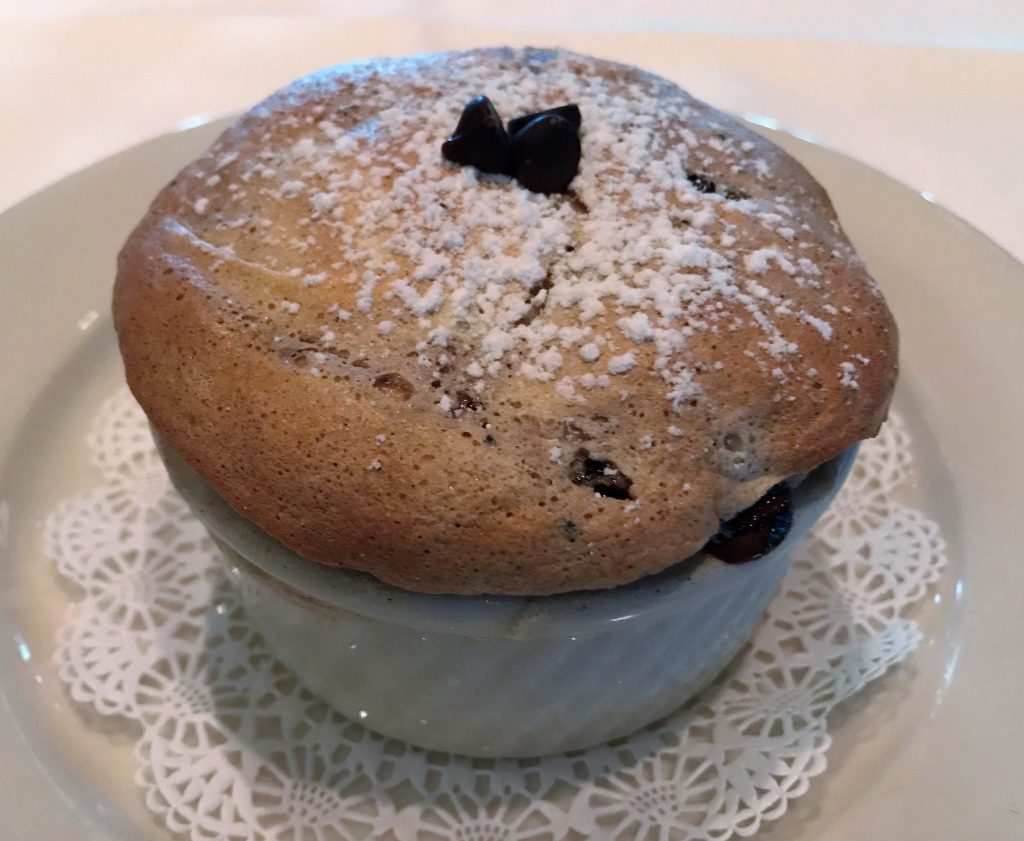 The space inside Morton's is somehow sleek and modern, but also a nod to old fashioned, dark steak houses. Almost everything is black, but it's not actually super dark inside. We had no problem seeing our food and each other. At a restaurant where you're paying upwards of $50 for a steak, you expect the service to be stellar. Morton's lives up to this expectation. We were well taken care of, our questions were expertly answered, our needs were anticipated. Morton's is a place where you can expect to get your money's worth when it comes to both the quality of food and the quality of service. 
If you didn't realize Morton's was here in Jax, or hadn't given it a try since it came back in 2017, we encourage you to consider it for your next special occasion. We were certainly satisfied. 
Morton's, The Steakhouse
Hyatt Riverfront
225 E Coastline Dr
Jacksonville, FL 32202
Note: From time to time we're invited out to try a restaurant or to taste new menu items. This meal is usually comped, as this one was. We're under no obligation to write a positive review or any review at all when we're invited out to try a place. Every review you see on our site will be an honest review of the place whether or not the restaurant provided us with the meal at their cost.