There's a boat load of reasons to visit St. Augustine. The Nights of Lights, the history, it's a short trip that kinda sorta feels like an actual vacation, and now my most important reason; Funkadelic Food Truck has taken up permanent residency at the Marina Munch!!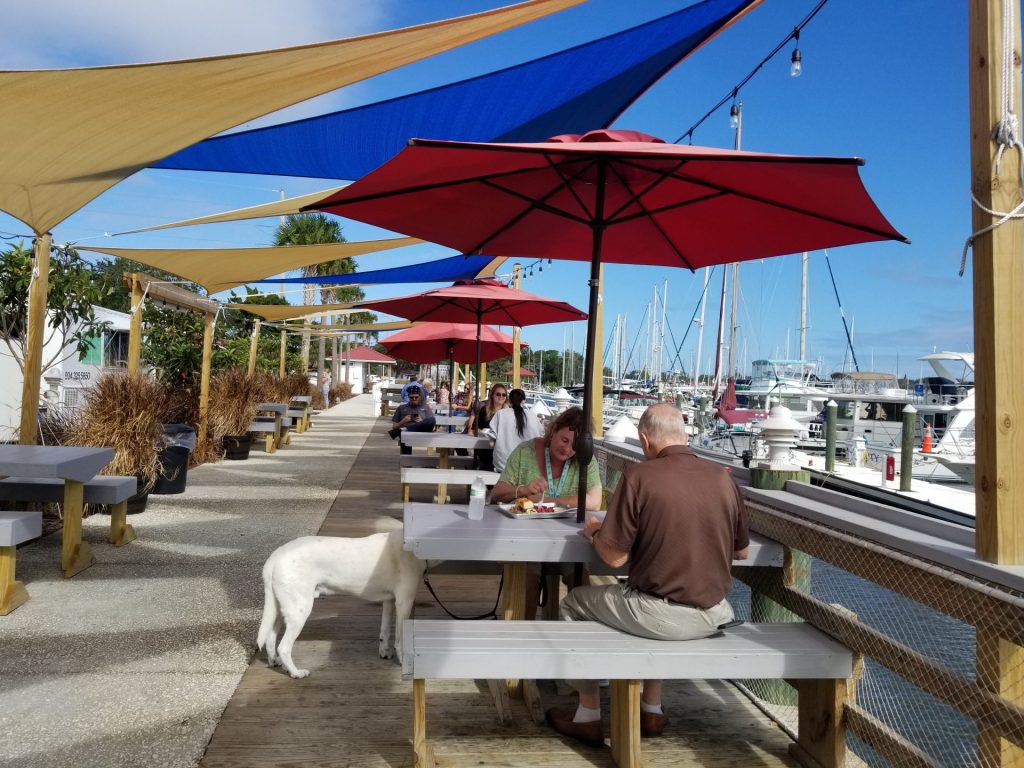 For those of us that need a quick history update: Funkadelic is an O.G. food truck that graced Jacksonville's presence in 2013. After a short absence they have returned and staked their claim in St. Augustine with an updated menu and an exciting future full of upgrades.
Now, don't fret. All of the original dishes that made Funkadelic a fan favorite are readily available. I can still remember my introduction to the food truck. It was their signature dish, the O.G. Shrimp Sliders (3 for $10). HUGE panko breaded shrimp sits perfectly between sweet and fluffy Hawaiian Rolls doused in that amazing Funk Sauce. Geez. Sorry, I'm getting ahead of myself. I'm here to talk about their NEW items.
Ok! For Funkadelic's new new. Their food truck now sits at Marina Munch on South Ponce De Leon Blvd. Nestled next to neighboring food trucks, think of it as the best outdoor seating with options and a view. New to their menu are tacos and a sticky rice bowl, with choice of fresh fish, scallops, or shrimp. Permanent to the menu are their ever craveable beet fries and mac and cheese balls. That might not seem like enough to get you up and moving out of your zoom meeting pajama bottoms, but just wait.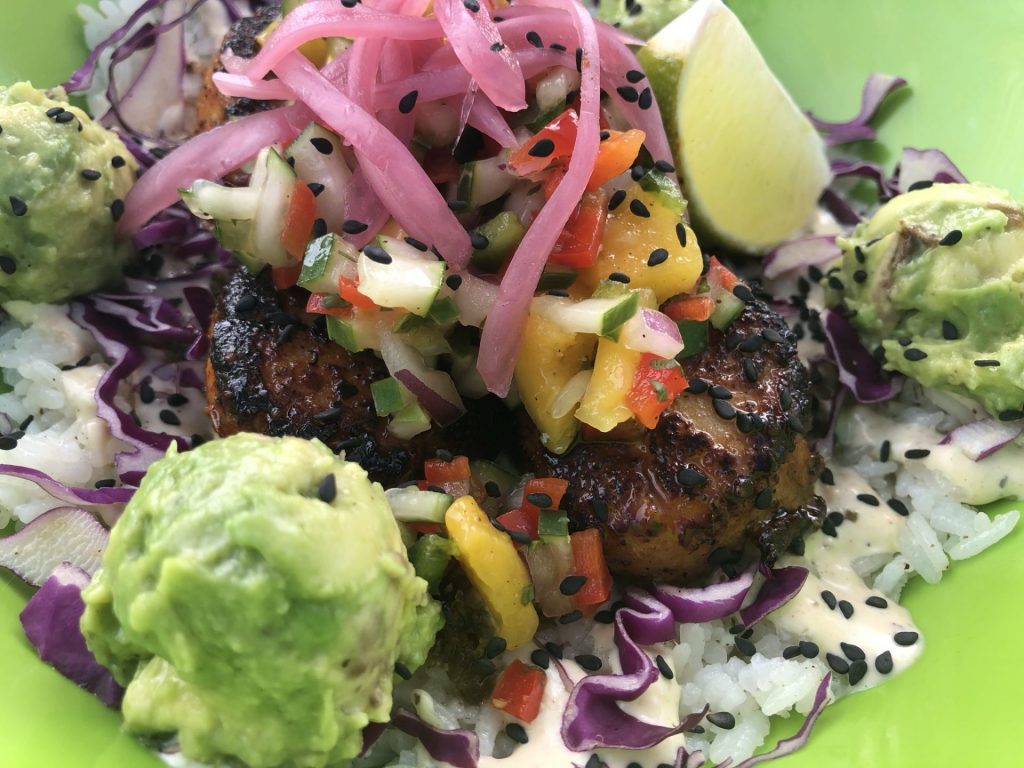 Being a woman that loves options, I ordered the blackened fish tacos ($13), blackened scallop sticky rice bowl (MP, $18), The Freddy ($14) with a side of pasta ($3), and finished with the mac and cheese balls ($7). And no. I obviously did not finish them all.
Y'all. NOTHING disappointed. I started by indulging in the mac and cheese balls. Even though you're eating outside, off a food truck, every dish was expertly plated and executed. The four balls sat on a bed of arugula with beautiful pops of color and flavor from pickled red onions and goat cheese crumbles, served with that punchy Funk Sauce. Crunchy outside, smooth and creamy cheesy inside. It was a perfect way to start my meal.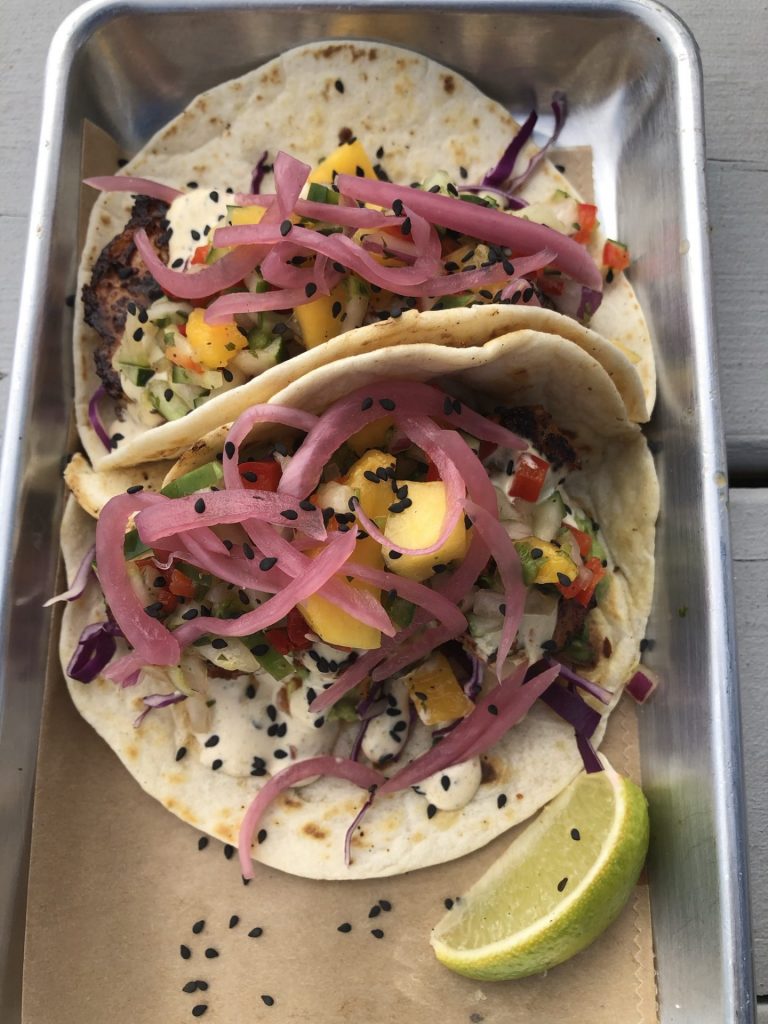 Next up I dove into the blackened scallop sticky rice bowl. I kid you not, these were the largest scallops I've seen, even at the nicest of restaurants. There were four (FOUR!) gigantic scallops, perfectly seared sitting on top of jasmine rice, house made mango cucumber salsa, cabbage, pickled red onion, Funk Sauce, pepper jelly, and 4 mini scoops of avocado, garnished with a lime wedge. I could not stop eating it. The sticky rice bowl was everything I wanted, and more. Packed with flavor, filling, and evenly balanced with all the ingredients. It was close to perfection.
To give myself a reprieve from the new new, I started to devour The Freddy. This sandwich is a regular customer's original order that made its way onto the menu. It is a burger melt elevated to another level. The patty is a brisket, short rib, and chuck blend topped with applewood bacon, avocado, provolone, goat cheese, Funk Sauce, and pepper jelly on asiago cheddar cheese bread. What a mouth full. Literally and figuratively. This was decadent, heavy, cheesy, greasy (in a good way), and damn good. I also ordered it with the side of pasta. Now, maybe it's because I've had their pasta before, but if I had to choose a least favorite, I would have passed on it. It's slightly sweet because of the balsamic drizzle, which was a nice change up to the heaviness from the sandwich. I should have ordered the beet fries though, apparently, they're amazing. Overall, The Freddy is a hit, but maybe try the beet fries. But if you're looking for something other than seafood, this would be it.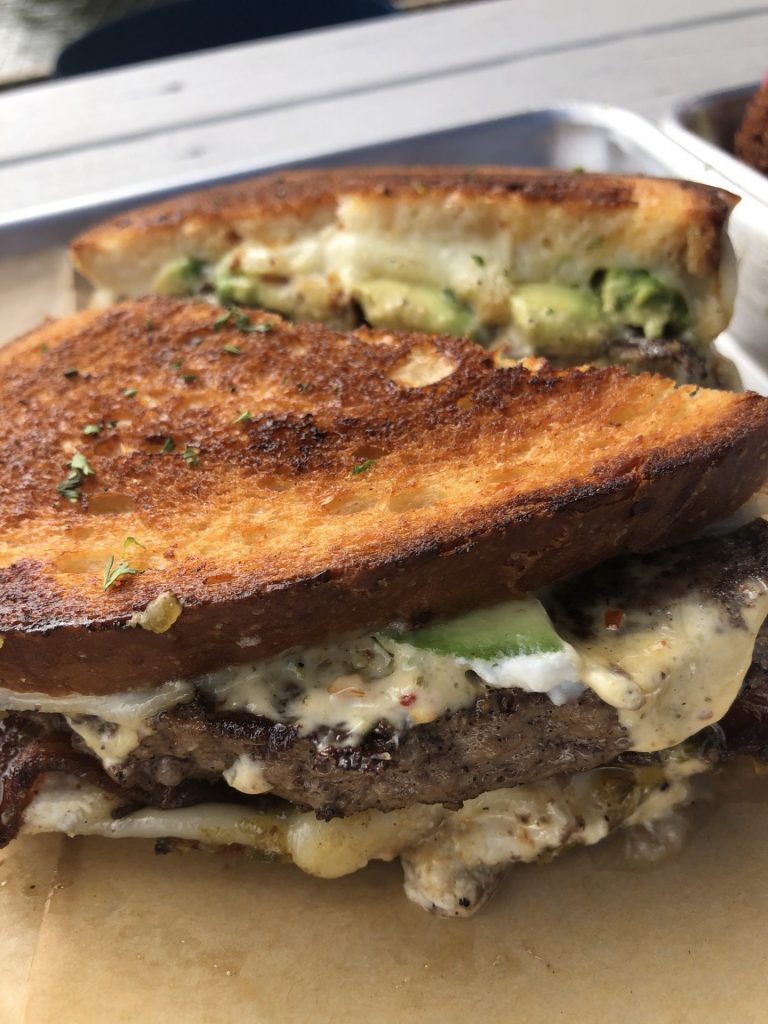 Lastly, I hit up the blackened shrimp tacos. Again, the shrimp were some of the largest I've seen. I appreciate they source their seafood locally from Fisherman's Dock, produce from Blue Buddha, and bread from the French Pantry. The tacos are a simple man's version of the sticky rice bowl. The two tacos come with the mango cucumber salsa, red cabbage, pickled red onions, and Funk Sauce. The ultimate handheld lunch, dinner, or snack. I know this dish would please just about anybody. I licked my fingers clean.
It may be a bit of a longer drive to indulge in Funkadelic Food Truck's favorites and new additions, but let me tell you, it's absolutely worth it. Focusing on the freshest seafood, composed plates, and hopes to add a beer and wine bar to the Marina, this is the perfect day. With picturesque views of the marina boats and bay, coupled with the dog friendly seating that's socially distanced, this was the most satisfying meal I've had in a long time. Do yourself a favor and get out of town for a minute and come by for a visit to Funkadelic Food Truck.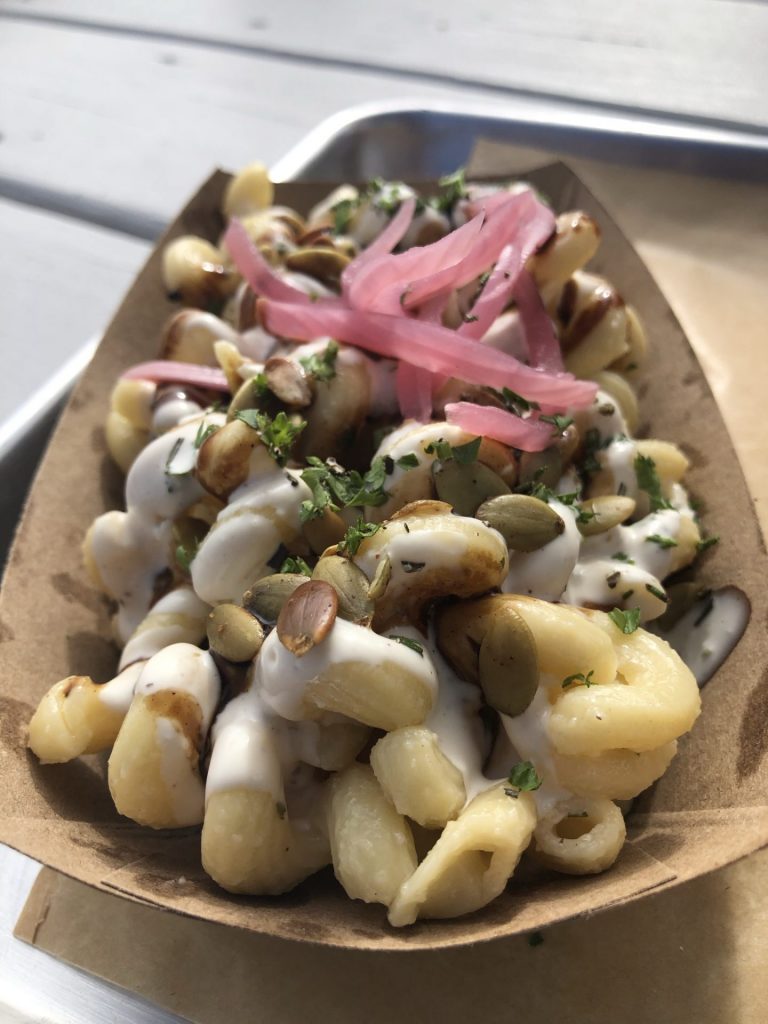 Funkadelic Food Truck
At the Marina Munch
509 S Ponce De Leon Blvd
St. Augustine, FL 32084
Note: From time to time we're invited out to try a restaurant or to taste new menu items. This meal is usually comped, as this one was. We're under no obligation to write a positive review or any review at all when we're invited out to try a place. Every review you see on our site will be an honest review of the place whether or not the restaurant provided us with the meal at their cost.