To establish this from the get-go, entertainment center snack bars are not typically known for an elaborate array of meticulously planned dishes. On the contrary, you'd expect corn dogs, or nachos with that canned cheese fresh from a dispenser. Autobahn has decided to shake things up, and with the help of a high-end restaurant consultant out of Kansas City, has rolled out a concept that is sure to impress. Their new restaurant within the establishment is called Victory Lap Social, and it's taking Jax by storm.
Much of this was unknown to me at the time of my visit, but as I began to learn more, I became exponentially more interested in the business minds behind the concept. That being said, even at a glance, this establishment stood out as an elevated experience. The decor and general vibe were classy which fit well with the menu. 
We ordered the Cornbread Bites and the Crispy Teriyaki Ribs to start with. The cornbread is very rich, especially with the honey butter. With a crispy outer layer and a soft and fluffy inside, it's a pretty unique twist on cornbread. I will say because it is somewhat sweet, I would almost hesitate to order it before a meal, but that is mainly due to personal preference.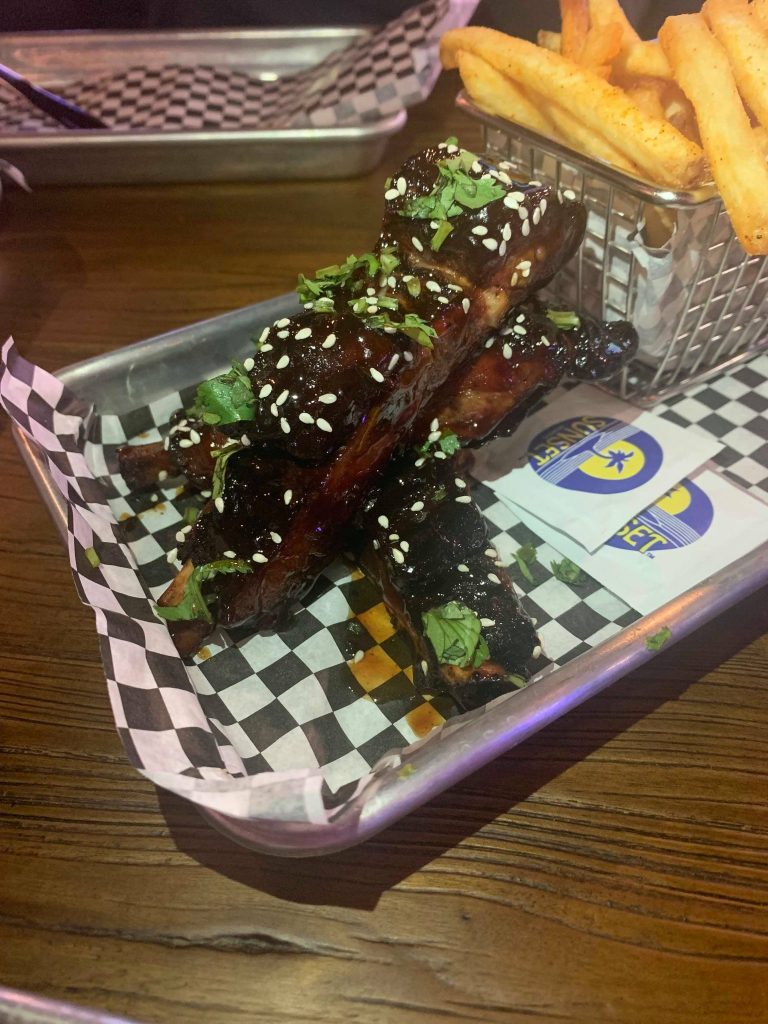 We then tried the teriyaki ribs, which had a very unique texture as far as ribs go. They were quite crispy and crunchy, a completely unexpected profile. These guys fry their ribs to finish them and this leaves the insides tender with a very satisfying crunch on the outside. BBQ purists may take issue with the techniques, but I found that the end results justified whatever pitmaster laws they violated in the process.
By far our favorite dish, and one that I would forcefully steer you towards, is the Burnt Ends Mac and Cheese Bowl. The Mac and Cheese by itself was fantastic (I could use the cheese sauce as mouthwash in the best kind of way), and made a solid base for the rest of the dish. The burnt ends on top were very flavorful, and surprisingly moist, which is kind of the big risk of slow smoked BBQ. Finally, the onion strings, which on many dishes seem to be a mere afterthought, added a really necessary crunch to a dish with a lot of chew. I was surprised at how much of a balance the whole dish had, both in the way of flavor and texture. And the presentation certainly didn't hurt either.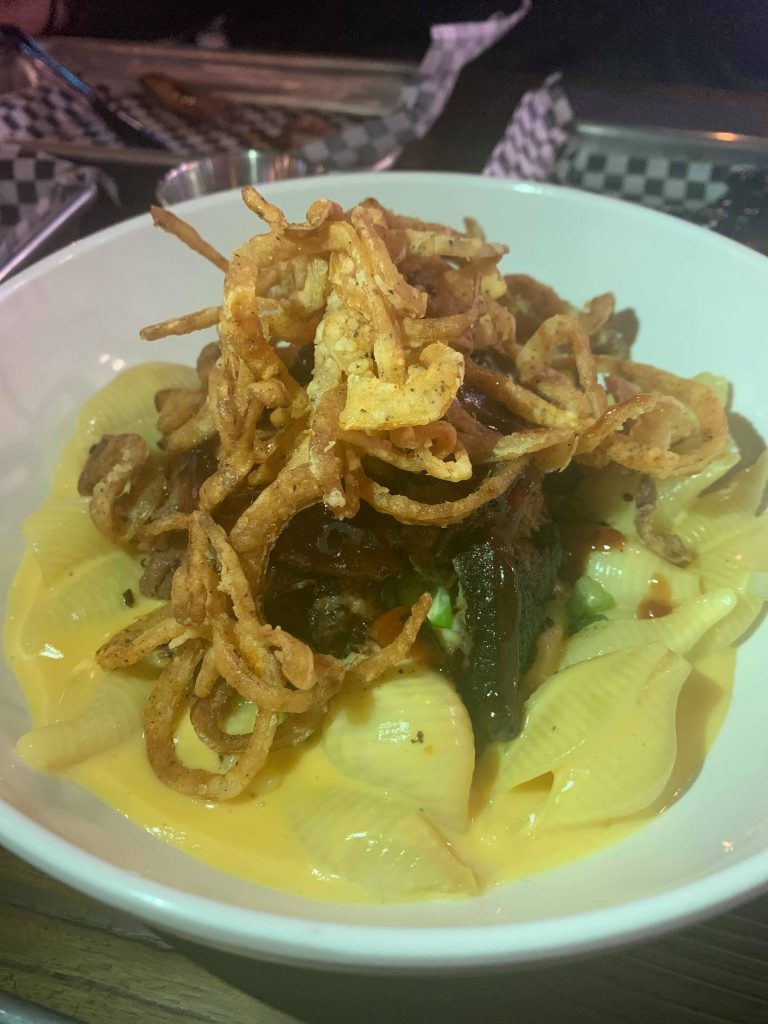 We finished our meal with an order of beignets. Full disclosure: I haven't been to NOLA so this is my very unqualified opinion. But dang, if those little pillows of flavor and joy are wrong, then call me the Weather Channel cuz I'm only right like 20% of the time. The dough itself was extremely light, which I imagine is what you're going for with beignets. I will order these very frequently.
And although they aren't serving liquor right now, we did try some of their mocktails. While it's not really fair to compare a virgin drink to one with liquor, we at least enjoyed the different options that were available. We tried a Strawberry Mule and a Cucumber Smash, both which were delicious and refreshing.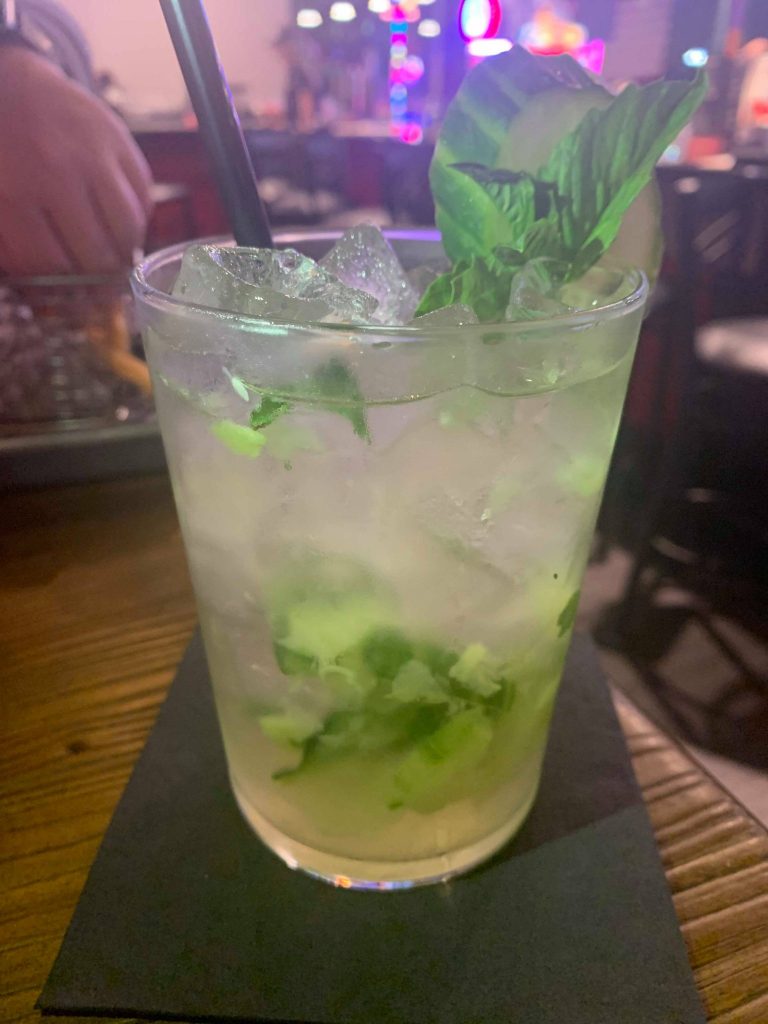 Because of the unexpected surprise of a high-class foodie destination inside an indoor go-kart track, Victory Lap Social caught us off guard. It will put Autobahn in the ranks with Top Golf as a Friday night date destination and hangout spot for an all-in-one experience. As weird as it might be, go check this spot out, if only for the food. Jacksonville can be pretty hit-or-miss with our abundance of BBQ, and in our opinion, this spot is a definite hit. With a unique menu and great execution, Victory Lap Social may just put Autobahn on the map.
Victory Lap Social, inside Autobahn Speedway
6601 Executive Park Ct N
Jacksonville, FL 32216