Happy Carnival to our Louisiana to Florida transplants or lovers of cajun culture!  It's a time to celebrate life and most importantly, eat King Cake!  It took me two years of living in Jacksonville to find local King Cakes, so I'm going to share with you my list of where you can get this delicious seasonal treat.  The great news is, you can save yourself the expensive shipping costs of having one sent to you from Louisiana!  We have them right here in our own backyards.
For those who haven't had a King Cake before and are ready to enrich their lives, a King Cake is an oval shaped cake that is a hybrid of coffee cake and croissant and french bread.  The cake is topped with icing and colored sugars.  The sugars are always in the royal colors of green, gold, and purple (which stand for faith, power, and justice).  A plastic baby is hidden in the cake and legend says the person who finds the baby either receives good luck or they're responsible for buying the next King Cake.  These cakes are traditionally eaten during the Carnival Season which runs from Epiphany through Fat Tuesday (the day before Ash Wednesday).  Okay, now that you're educated on the tradition and hungry, here's where to go get your fill of this Louisiana treat!
Doughsserts – (7643 Gate Pkwy #107, 904-907-6321) Doughsserts is one of the newest sweet shops in town, serving fresh ready to eat cookie dough, locally made ice cream, cookies, brownies, brookie bars, milkshakes, cookie dough pops, and now for Carnival- KING CAKES! Their king cakes are braided with 3 braids then topped with hand painted icing and sugar dusted. Doughsserts King Cakes are special order only, but offered in two sizes: personal size for $9 and a larger typical King Cake size for $35.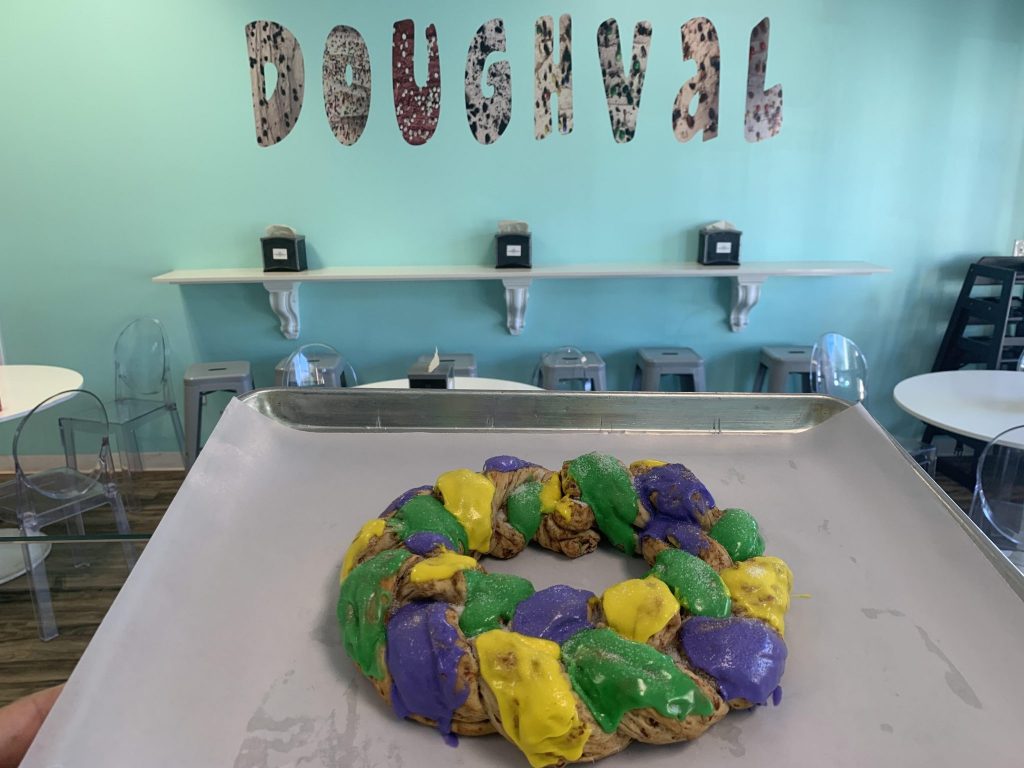 Cinotti's Bakery – (1523 Penman Road, 904-246-1728) Cinotti's is the go-to option for a King Cake if you want to customize your King Cake with a specific filling. They offer virtually any flavor combination. I highly recommend their blueberry cream cheese filling. I've had great experiences with their King Cakes across the board. I've ordered roughly six cakes from them personally and have always been satisfied.
Amaretti Desserts – (14965 Old St Augustine Road, 904-619-8279) Amaretti is one of our most beloved bakeries in Jacksonville. We haven't indulged in one thing there that didn't make our hearts happy. While we haven't had a King Cake from Amaretti, they create nothing less than spectacular desserts so we expect that this would be the same. Amaretti typically makes King Cakes as special order only.
Mackey's Munchies – (868 Blanding Blvd, Orange Park, 904- 458-4246) Mackey's Munchies is a local cajun spot in Orange Park getting a lot of love from locals. Specializing in New Orleans style cooking, it would be a sin for Mackey's Munchies to not have King Cakes. You will have to call to order your King Cake, but while you're there picking it up you can get a po'boy, jambalaya, beignets, or gumbo.
Publix – The good thing about Publix bakeries is that the cakes are available daily and ready for pick up. So if you have an instant craving for a King Cake you can head over to your neighborhood Publix and have a few options to choose from. The quality is a little suspect, I don't LOVE the cakes but they aren't bad for the price. Area Publix stores will have them available for pick up daily starting at the end of January.
Fresh Market – Fresh Market is known for gourmet and indulgent grocery items such as meats, produce, fresh prepared foods, and decadent bakery goods, so it makes sense they offer King Cakes. Luckily there are three Fresh Market locations on the First Coast so a King Cake won't ever be too far away. Call your nearest Fresh Market to make sure you can get your hands on one.
Enjoy celebrating the Carnival Season and let us know if you find King Cakes anywhere else in the Jacksonville area!