One thing I noticed as I continue to eat my way through Jax is the large number of "_____ Crab" places; places that serve seafood Low Country Boil style. It seems like a higher than average number per capita than there should be. There's Juicy Crab, Yummy Crab, Boiling Crawfish, J & C Crab, Seasoned Crabhouse, Rod's Crab Shack, etc. Even some regular seafood restaurants have a Low Country Boil style dish on their menu.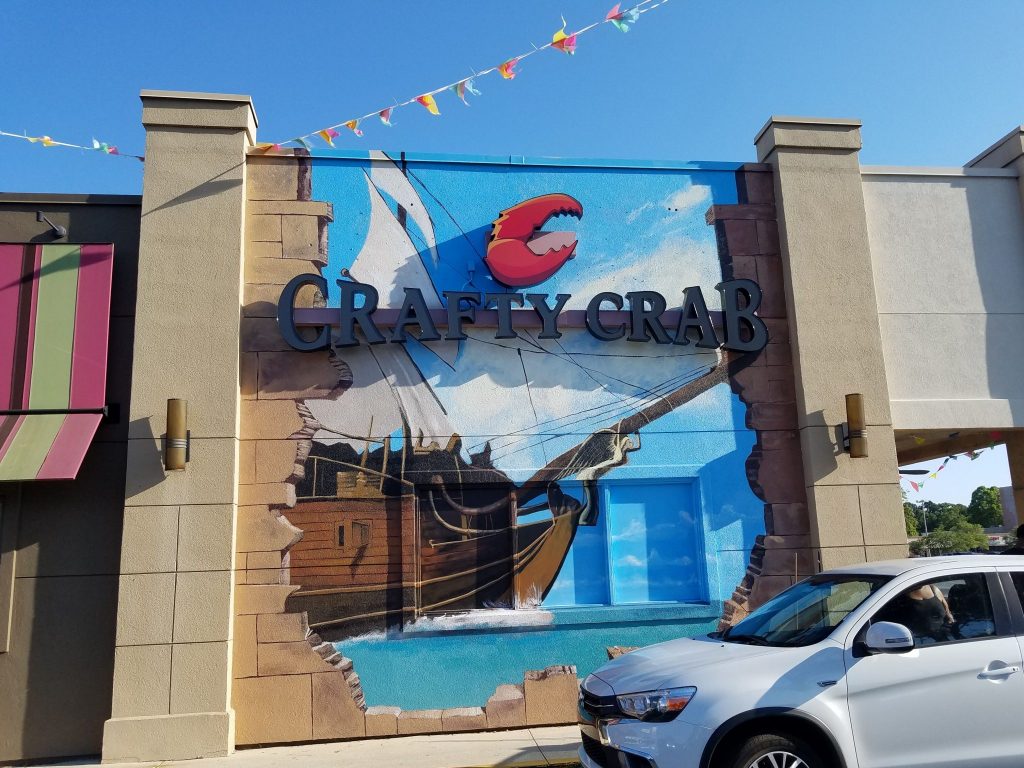 My point is, there are a lot of these places dotting the city landscape and yet, I haven't been to one before now. Maybe it's because Low Country Boils are somewhat easy for the home cook to accomplish. Its a few simple ingredients all boiled in a pot. I've done a few Low Country Boils in my day. They're great for get-togethers and a fun way for everyone to interact with their food and have a good laugh at watching the one person in the group that's never eaten a crawfish before.
I was in the mood for seafood and happened to have a hankering for some crawfish. We decided to hit up one of these crab boil places and came across The Crafty Crab on Atlantic. They also have a location on 103rd and one in Orange Park on Blanding. The Crafty Crab is a Florida chain with additional locations in Melbourne, Lauderhill, and Brandon. Business seems to be good, because they plan to expand outside of Florida to the Carolinas, Maryland, and Pennsylvania.
Walking in, it was clear the restaurant embraced the nautical/beach theme. The waiting area by the door was adorned with surfboards. Part of the ceiling was draped with a large fishing net, and some of the walls had murals that looked like aquariums. It was a little kitschy, but with heart.
If you've never been to a Low Country boil style restaurant before, the ordering process is as follows (and from what I understand, somewhat standard for these types of restaurants):
Pick from a variety of shellfish and bivalves. The Crafty Crab offers whole and headless shrimp, lobster tail, king and snow crab legs, Dungeness crab, blue crab (when in season), crawfish, mussels, and clams.
Pick your seasoning. You can choose between Crafty Cajun, buttery garlic, lemon pepper, and "The Boom (all the seasonings mixed together)."
Pick your heat level from mild to fire.
If you can't decide which seafood you want in your boil, they offer combos like Crawfish and Whole Shrimp or Shrimp and Snow Crab or Mussels and Clams. Pick your combo and whether you want a half pound or a whole pound of each, pick your seasoning, and pick your spice level. Prices vary depending on what you get and how many pounds, but plan to spend at least $20 – $25 per person.
I chose the combo with whole shrimp and crawfish, one pound each. My dining partner decided on a half pound each of snow crab legs and headless shrimp. We both decided on buttery garlic seasoning and mild heat. I'm kind of a wuss when it comes to heat. I like to taste the meat, not the heat. When the food arrived, it's presented on a steel platter, in a bag that's inflated to comical proportions. It was just begging to be picked up and shaken. So I did just that. What I failed to account for was the structural integrity of the bag vs. the sharpness of the crawfish claws. I gave the bag a few good shakes and found myself splashing the buttery garlic sauce about the table. I realized it quickly and stopped, but really wish I put on the bib that was provided to us when we were seated. Lesson learned. I still wanted to make sure I had good sauce distribution so I held the bag up a bit over the platter and gave it a good fondling. Once satisfied, I opened the bag and poured the contents onto the platter, put on the thin plastic gloves that were provided for me and dug in.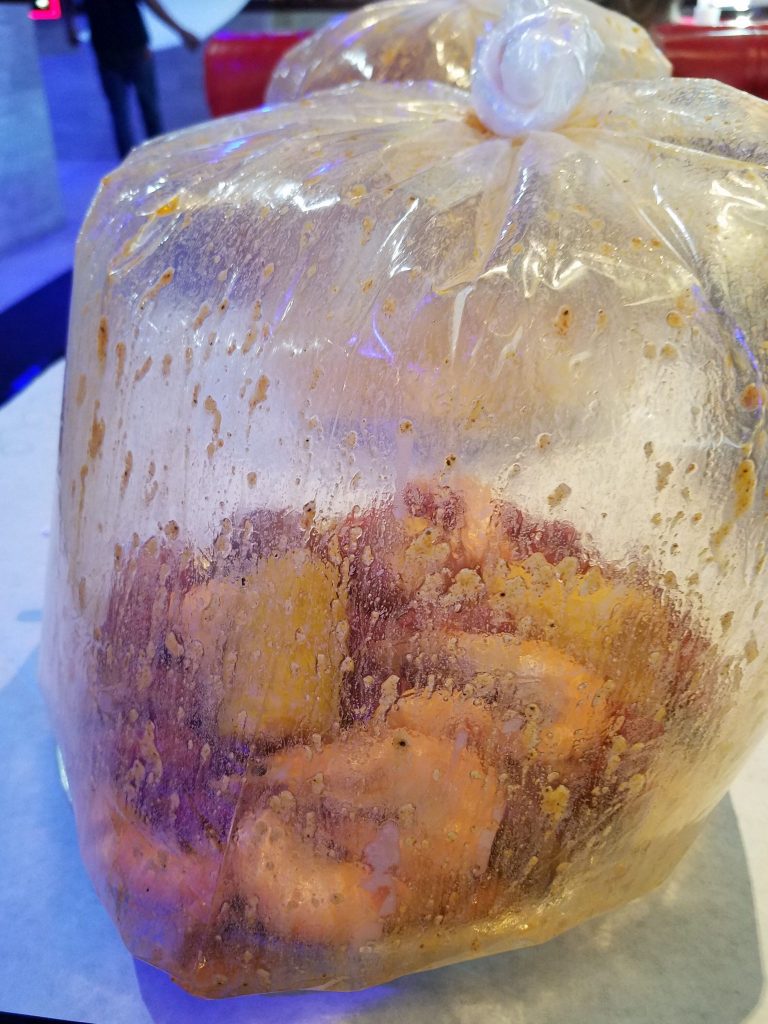 It was a glorious site of crawfish and whole shrimp glistening in the buttery garlic sauce. I like getting head-on shrimp when I can, because it adds so much more flavor as it cooks and its shrimp-y goodness is spread throughout the boil. These shrimp did not let me down. These shrimp were large. They were plump and cooked perfectly. The buttery garlic sauce found its way between the shell and the sweet, succulent flesh and tasted delicious. The crawfish were also on the large size. Normally, I eat the tail, suck out the head, and discard it. These crawfish were big enough I was able to get a bit of claw meat out of them. That's a nice little bonus. In addition to the shrimp and crawfish, each boil bag came with three whole red potatoes and two small ears of corn. The potatoes were delicious especially dipped in that buttery garlic sauce. The corn was tender and sweet and also paired well with the sauce.
My dining partner got the snow crab leg and shrimp combo. The snow crab legs were crackingly delicious. These crab legs were cooked fresh and not sitting in a hotel pan getting water logged. They cracked nicely and the meat was sweet, tender, and delicious. She got the headless shrimp. She doesn't like to look her food in the eye before eating it. Her shrimp were cooked just as well as mine. It might have been a placebo, but I feel like my head-on shrimp tasted a little better than the headless ones, though both were great.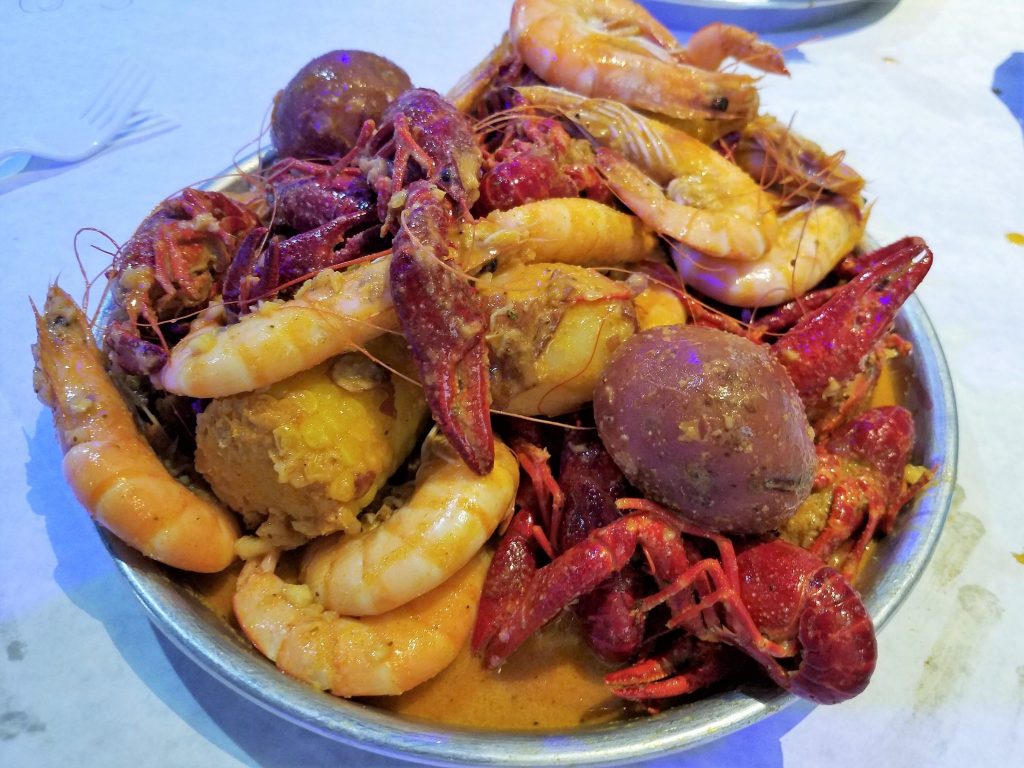 If you're a dainty eater, these crab boils are not the meal for you. By the time we both got done eating, cracking snow crab legs, peeling shrimp, and dismembering crawfish, our table looked like a crime scene. It's as if Dexter was doing a blood splatter analysis and decided to use buttery garlic sauce as a blood stand-in. Messy as it was, it was a great time. The thin plastic gloves did their best, but ultimately failed at keeping my hands clean. We'd laugh as we cracked a crab leg and piece of crab meat flew across the table.
If you'd like to avoid making a mess of dinner, The Crafty Crab also offers fried platters featuring fried shrimp, catfish, tilapia, etc. They also offer raw or steamed oysters as well as scallops.
I haven't been to the other crab boil places around town yet, so I can't make a fair comparison, but I have to say I was impressed with Crafty Crab. The restaurant was clean, the service attentive, but most importantly the food was tasty. If you've never had a low country boil, or haven't found your favorite place yet, give The Crafty Crab a try.
The Crafty Crab
9840 Atlantic Blvd
Jacksonville, FL 32225