The weather is changing and the rooftop bars are heating up all around the city with locals who know the best place to enjoy cocktails is in the beautiful sunshine. Arguably the most beautiful rooftop in the city is Cowford Chophouse, and we have a big announcement for you! Formerly just serving bar bites and cocktails rooftop, the full menu is now available for ordering while watching the sunset, enjoying a casual afternoon with friends, or for that romantic dinner date late into the evening. Who wouldn't want to see the Main Street bridge lit up at night while eating a Wagyu steak?
In addition to launching full menu service, Cowford has recently expanded their menu offerings with a few new items and revamped their seasonal cocktail menu into colorful and light tasting offerings that will keep you sipping in the sunshine every weekend. They were gracious enough to romance us rooftop this week with a tasting of these new libations as well as a sampling of some stellar steaks and appetizers. If you haven't been to Cowford in awhile, they have truly found their own and are masterfully preparing some of the most prime steak cuts available under the talented eye of Chef Ian Lynch.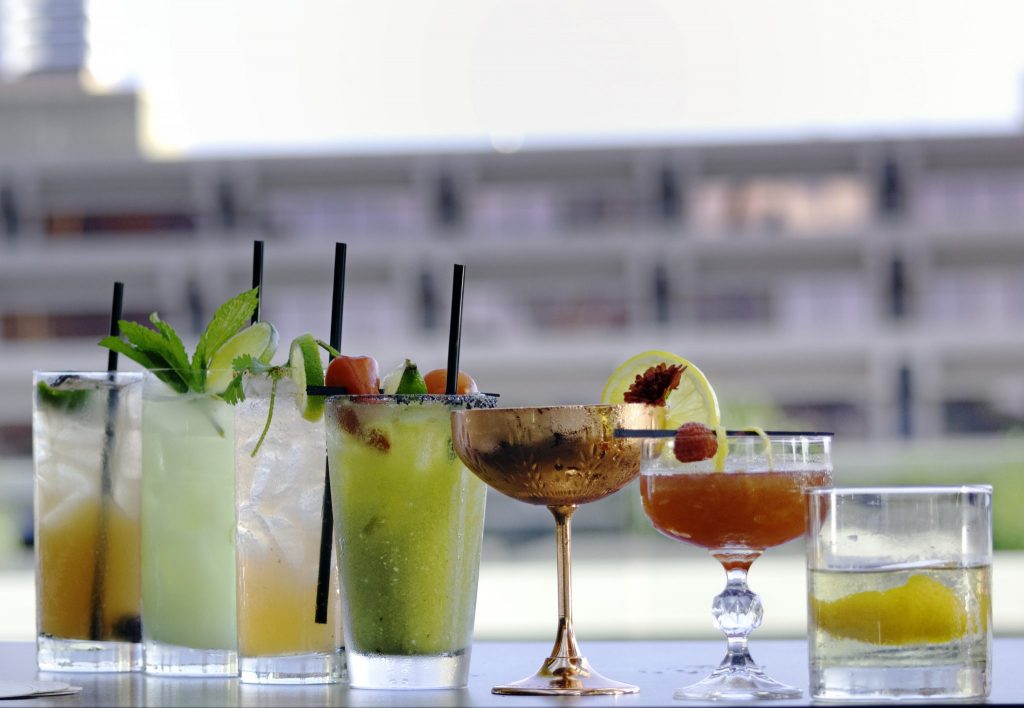 An array of cocktails were brought out for us to try in bright spring and summer colors with matching flavors. There's a little something for everyone in the new lineup. My personal favorite was the Southern Sling because first off, it's served in a beautiful little goblet ala Game of Thrones. It's composed of St Augustine Gin, Heering cherry liqueur, Combier, Green Chartreuse, lime juice, pineapple juice, Spanish bitters, and soda. It's dangerously fruity tasting and is light enough to pair with just about any seafood that piques your interest on the Cowford menu. Coming in as a strong second favorite for me was the Pale Rider with Manifest barrel-aged gin, Cocchi Americano, St. Germain, Carpano dry vermouth, and orange bitters. For anyone who hasn't enjoyed the utter glasslike smoothness of Manifest Gin, you're in for a treat. This lightly flavored orange beverage is like drinking alcoholic flavored water and is delightful on a warm day.
For fans of the Sazerac, meet the Cowford Razzerac, it's sassier cousin. Whistle Pig Piggyback rye, honey syrup, raspberries, black walnut bitters, and Laphroaig rinse creates a sweeter twist on the Sazerac with a fruity raspberry undernote. To keep brunch flashy, enjoy a new Green Eyed Mary made from Wheatly vodka, house made green bloody mary mix, and celery horseradish bitters with black lava salt rim that will leave you feeling hot and spicy and ready to tackle a savory steak. The Island Mojito was a fan favorite and is comprised of all the summertime flavors of Rumhaven coconut rum, Keke key lime liquor, lime juice, simple syrup, mint, and soda. Want to take yourself on the staycation of a lifetime? Order a few of those! Rounding off the menu is a savory and flavorful Mezcal-oma with Del Maguey Vida mezcal, Aperol, lime juice, agave nectar, cilantro, habanero shrub bitters and Q grapefruit soda with a chili lime salt rim.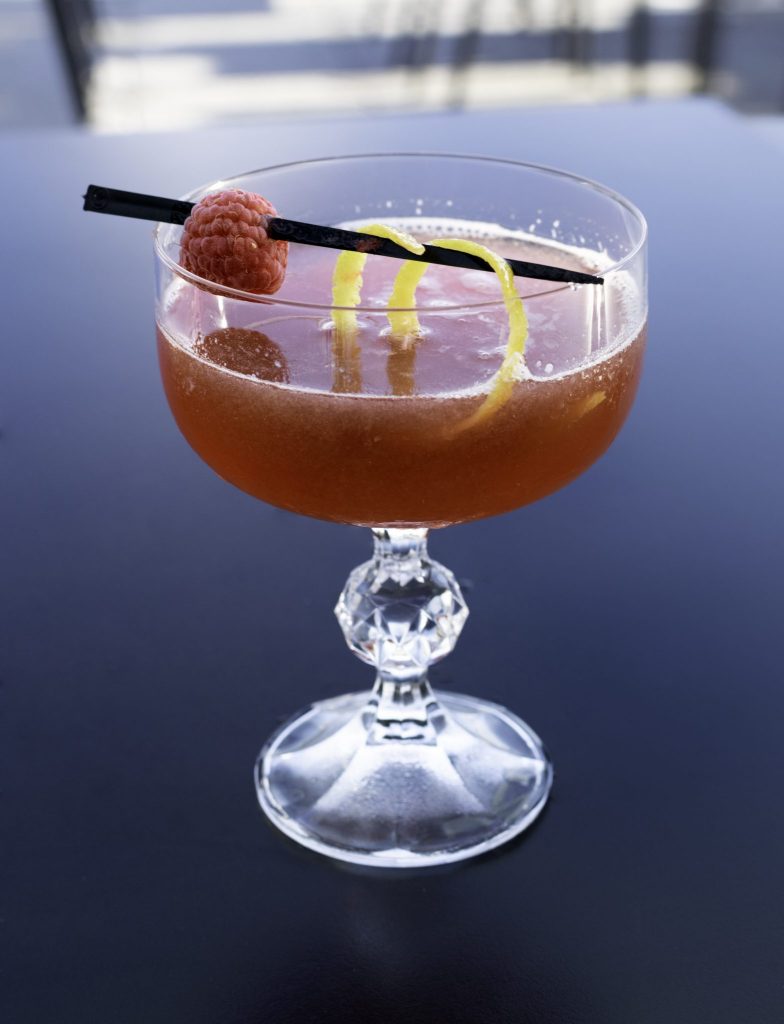 Throughout the cocktail tasting we were treated to several courses of Cowford specialities (again, now available on the rooftop!). First off was the new menu item the "Cowford Rocks" which are fresh oysters stuffed to the brim with creamy spicy housemade pimento cheese, locally sourced Nueske's bacon, and green onions. This is Cowford's must have twist on the omnipresent Oysters Rockefeller and is impossibly cheesy. If you have someone who's hesitant to try oysters, this will convert them to a fan for sure. Next up was a special treat with a plate of Wagyu Spinalis topped with fried oysters and au jus. The Wagyu Spinalis at Cowford is likely the best steak in the city. The caramelized salty fat makes this steak just melt in your mouth. The fried oysters weren't the least bit chewy, showing the talents of the kitchen staff in understanding texture and flavor profiles. I was remarkably impressed by this steak. While pricey, you'll understand why. It's a true luxury steakhouse experience. We finished up with a few slices of roasted garlic topped New York Strip, the classic comfort dish for many of us during the summer grilling season. Like all of Cowford's steaks, this was prepared perfectly and was juicy, tender, and richly flavorful. A steakhouse should know how to bring out the best in every cut of steak, and Cowford does just that.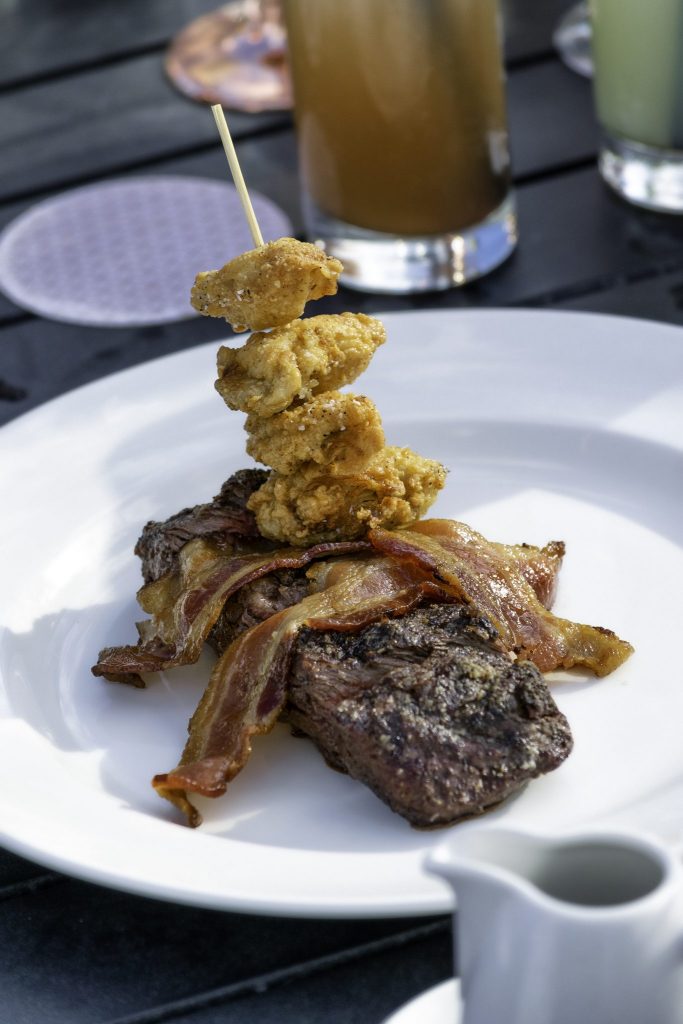 Offering three stories of dining with three completely different experiences, Cowford is open 7 days a week with lunch provided Monday-Friday, and dinner service provided on the weekends. Happy Hour is 3-6 pm Monday through Friday and with the full menu available now upstairs, now is the time to enjoy one of the most beautiful riverfront views in Jacksonville. See you there!
Cowford Chophouse
101 E Bay St
Jacksonville, FL 32202
Note: From time to time we're invited out to try a restaurant or to taste new menu items. This meal is usually comped, as this one was. We're under no obligation to write a positive review or any review at all when we're invited out to try a place. Every review you see on our site will be an honest review of the place whether or not the restaurant provided us with the meal at their cost.