Crane Ramen is known for having fun with their food, and their Street Fighter Ramen Competition is no exception! Every Wednesday and Thursday for the next seven weeks two Street Fighters (in ramen form) will face off for the final round. Guests will keep track of their choices on a punch card for a Crane Ramen Street Fighter T-shirt. 
Each Wednesday or Thursday, head to Crane Ramen. For $20 you will get two kid size bowls of the two ramen facing off, plus a draft Sapporo or soda. You get to vote on which you like more. Get a punch card and go six out of eight weeks and you'll score a custom made Street Fighter T-shirt.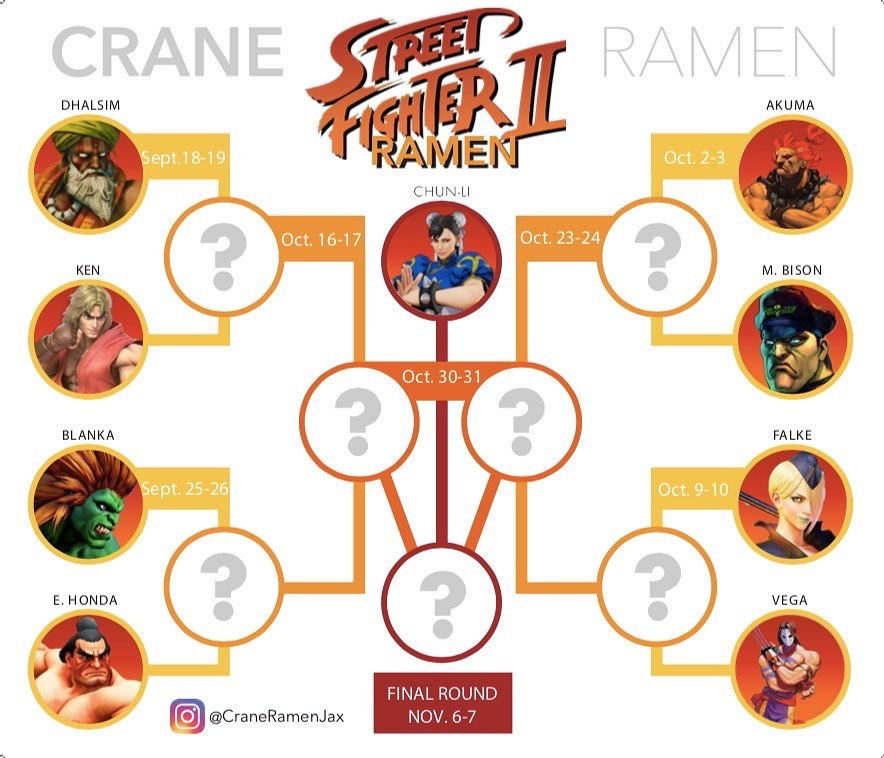 Check out these fighters and get ready to see some battle!
Sept 18-19: Dhalsim Vindaloo Curry Tsukemen vs Ken Salmon Shoyu with Miso Broiled Salmon
Sept 25-26: Blanka Moqueca, Brazilian Gyokai Shio vs E. Honda Chankonabe 
Oct 2-3: Akuma Devil Beef TanTanMen vs M. Bison Foie Gras Mazeman 
Oct 9-10: Falke Brats and Sauerkraut Mazeman vs Vega Paella Mayport Paitan 
Oct 16-17, Oct 23-24: Quarter Finals
Oct 30-31: Semi-Finals 
Nov 6-7: Final vs Chun Li
Which ramen are you most excited to check out?