Jaxx Sports Bar, Hyatt Regency
Discard all the preconceived notions you have about hotel food, because we are about to throw some truth at you. We were invited out to the Hyatt Regency Downtown to try out the new bar menu for Jaxx Sports Bar. We expected elevated bar food, what we got was a gourmet dinner and a parting gift of increased passion for our city and all the beautiful things Jacksonville has to offer. We know that's a lot to discuss at once, so read on dear readers as I try to capture how a national hotel is the embodiment of local.
The Hyatt Regency boasts the honor of being the closest hotel to the stadium (and Daily's place, and the up and coming Shipyards) as well as being riverfront. It's home to three restaurants –Jaxx, Trellis, and Currents Lounge as well as being home to the separate but noteable Morton's Steakhouse. Recently, Jaxx, Trellises, and Currents Lounge split their menus off and are now forming their own identities, thus the reason for our invitation. Jaxx Sports Bar is a tiny intimate room nestled off the side entrance of the Hyatt directly across from the parking garage. It's decorated with sports memorabilia from our local teams and stars as you would expect any sports bar to be. The similarities to typical hotel sports bars stop there however. Enter the Hyatt's way of doing things. The drinks at Jaxx are designed by the bartenders themselves, not passed down from a corporate office. On draft are local Jacksonville beers with partner breweries located within a few miles of the hotel. They believe in Jacksonville and it's beautifully woven throughout the entire experience of the bar.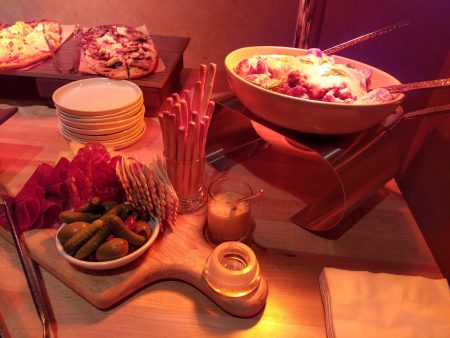 Chef Jim Draper, the executive Chef of Jaxx, has been with the Hyatt for 22 years and this is his sixth property with them that has included tours all over the country. He spoke to us prior to our meal and explained the Hyatt mission statement of "Thoughtfully sourced, carefully served." In addition to their local sourcing of ingredients, they have changed how their larger ingredients are sourced. The egg provider for Hyatt has now begun providing cage free eggs at the Hyatt's request, they use only sustainable shrimp and salmon, they use natural meats from Niman Ranch, and also source from Strauss Farms which produces antibiotic and hormone free meat and dairy products. The elevated quality of product can be tasted in every bite. Their new menu embodies fresh, whimsical sports food including Intuition Ale braised chili, tuna poke served with fried wontons, and vegan options that are sinfully rich. They're also known for their food specials that are event specific, including Cheese Curds when the Jags hosted the Packers, Bay Fries and Crab Spinach dip when the Jags hosted the Ravens, and Philly Cheesesteaks. Chef Jim's goal is for Jaxx to be a "sampling of the city" and affirm that the Hyatt is part of Jacksonville, not an island.
Chef Jim prepared quite a buffet for us to sample and I know y'all want to know about how tasty the food was–so here's a light sampling of what I packed onto my plate(s).
Smoked Sausage and Shrimp Quesadilla ($12) with jack cheese, pico de gallo, and sour cream. This tasted like a Louisiana crawfish boil married the best quesadilla you've ever had. I ate two. I am not ashamed. The sausage and shrimp are sliced perfectly thin so the quesadilla stays nicely melted together. I'd seek this out as an entree, as simple as it is. Fruity seasonal beers would be delicious with this option.
Spicy Tuna Nachos ($12) saku tuna, seaweed salad, scallion, ginger wasabi, crispy wontons. Spicy tuna is one of my favorite things to snack on because it's so light and fresh when done correctly, and the Hyatt is doing it correctly. I enjoyed the crispy wontons because instead of it just being a vessel for the tuna, it stood out in texture and flavor. It was mildly spicy and completely delicious. Paired with a signature martini, this is a great gourmet option.
Truffle Shoestring Fries ($7) truffle oil, parmesan cheese, parsley. I had these as an appetizer plate and a dessert plate, because I honestly couldn't get enough. The truffle oil was in the ideal quantity to not overwhelm anything else you're eating, but provide a perfect upscale version of everyone's favorite snack. The fries are crispy and thin and dusted with nutty parmesan to complement the earthy flavors of the truffle. Order these with a glass of wine and you'll be in heaven!
Fried Green Tomato Caprese sliced tomatoes, burrata, basil. Burrata is the sinful creamy cheese of your dream if you haven't had it. Consider it the sexier sister to mozzarella. This take on Caprese serves up lightly battered fried green tomato wedges with healthy dollops of burrata and thinly sliced fresh basil. This dish is surprisingly light for being fried, and offered a unique twist on Caprese I certainly haven't seen elsewhere.
Beer Battered Chicken Tenders ($9) I am a chicken strip / nugget expert. It is my comfort food to a fault. I normally don't care for beer battering because it holds oil if not done correctly, but I didn't need to worry here. The beer batter provides a light and crispy outer coating to delicious tender chicken. I also went back for a second helping of these. In fact I want some now so I may swing by the Hyatt for dinner.
Vegan Chocolate Cake Good luck distinguishing that this cake is vegan, because it absolutely melts in your mouth even without butter and eggs. The texture is dense and reminiscent of a brownie with it's fudgey flavor. Paired with fresh fruit to counterbalance the cake, it's quite a treat. 10/10 recommend ordering this dessert!
Aside from the above dishes, you can look for a small flatbread menu including Portabella mushroom flatbreads, shrimp flatbreads, and brisket flatbreads ($11-$14), and sandwiches and entrees ranging from $12-$26 that feature hickory smoked ribs, crab cake sandwiches (a favorite among our table), Wagyu burgers, and tacos. A few fresh salads offer lighter options for those who prefer extra veggies.
As far as drinking options, Jaxx has some incredible cocktails and a great selection of local and national beers. The bartenders create and name their cocktails, which provides some friendly competition to see whose is the most popular. Kathryn's Pink Passion is the current bestseller with a fusion of Malibu rum, triple sec, lemon, pineapple juice, and grenadine. ($9). I enjoyed a summer time infused martini called Amie's Cucumber Martini which had Hendrick's gin, lime, cucumber and mint and was the definition of refreshing in this lovely Jacksonville heat ($12). Local drafts include Intution Jon Boat and I-10, Engine 15's J-ville Lager, Bold City's Duke's Cold Nose, and Aardwolf's Nonchalant ($6.50/pint). There's a great selection of domestic and international wines for those with that preference, and an abundance of bottled beers as well.
Beyond the experience of great food and great drinks, take the time to speak with the employees of the Hyatt and Jaxx. Cory, the Director of Marketing, gave us a powerful speech on how they strive to serve geographically relevant food to show people how great Jacksonville is. He also told us that the Hyatt believes the most important connection that can be made is a local resident and a tourist in their hotels. That moment of connection and camaraderie that can be built in Jaxx Sports Bar leads to someone from Baltimore deciding to move their business to Jacksonville and creating new jobs or someone from Minneapolis coming down for vacation instead of just business. That's what builds our city. That's what makes Jacksonville great. The Hyatt extends their purpose beyond hospitality. The employees believe in their jobs, they believe in their purpose, they believe in Jacksonville. That makes the Hyatt Regency a force to be reckoned with, and a notable ambassador for Downtown. Next time you're leaving work and needing some Happy Hour, head over to Jaxx. You will not be disappointed.
Note: From time to time we're invited out to try a restaurant or to taste new menu items.  This meal is usually comped, as this one was.  We're under no obligation to write a positive review or any review at all when we're invited out to try a place.  Every review you see on our site will be an honest review of the place whether or not the restaurant provided us with the meal at their cost.