We asked members of our "The Scoop with Jax Restaurant Reviews" Facebook group to help us decide which cuisine to rank next. Pizza rose to the top so off we went to rank one of everyone's favorite foods. Pizza may have originated in Naples, Italy but it's become nearly as American as apple pie. Everyone has a favorite pizza shop and we all at one time or another have found ourselves on the hunt for a great slice or pie. There's not much that compares to the first bite from a slice of the cheesy, buttery, salty goodness that is pizza!

Process
When we set out to rank the best of a category of food in Jacksonville the first thing we do is build a list of the places that have stood out to us. Then we call other foodies, food writers, and chefs we trust for recommendations. Then we go to our social media pages to ask for recommendations from the public in hopes that they'll help to surface a place or two that may have flown under the radar. Based on all that research we compile a list of the most relevant places to try and throw in a couple really obscure spots for good measure. Then we block out 2 to 3 days to drive the entire city with members of our writing team to taste and try every relevant restaurant in the category.

Things to note:
1. The restaurant MUST be in Duval county to qualify.
2. We will only consider chains if they are locally owned and based in Jacksonville. On the pizza trek we took to compile this list we tried 21 different places that stretched to every corner of the city and even out to Baldwin which is part of Duval county.
3. The ranking is based primarily on the pizza served to us on the day we visit the restaurant to judge for the list. Sometimes that results in places that we expect to rank missing the list based on serving a poor pizza on the day of judging. We want to make sure that when someone uses our list to pick a pizza place they'll consistently get a pie we can stand behind; consistency matters.

This list changed considerably from last time we compiled it 2.5 years ago. We think you'll be surprised at a couple of fan favorites that didn't make the list. Hopefully you'll be thrilled with a couple places you may never have heard of that the list inspires you to try.

Honorable Mentions:

Moon River
Last Ranked:Honorable Mention
What we recommend: If you're a meat lover, don't miss the T-Rex. If you're not, check out The Pizza.
Neighborhood: Murray Hill
Address: 1176 Edgewood Ave S, Jacksonville, FL 32205
If we held a poll on which restaurant has the best pizza in Jax I'm pretty sure Moon River would finish in the top 3. It's the ultimate fan favorite spot. The people who run and work in the place are awesome. It's a great spot to hang out and has a fun vibe. They serve up a solid, consistent pie that would be hard not to enjoy.

Tony Pepperoni
Last Ranked: Unranked
What we recommend: Try The Duval or the Tony Pepperoni
Neighborhood: Mayport
Address: 2158 Mayport Rd #7, Atlantic Beach, FL 32233
There are relatively few pizza-by-the-slice spots in Jax. There are even fewer pizza by the slice spots that offer lots of creative options. We love Tony Pepperoni's specialty pizza. We love even more that nearly every one of them can be tried by the slice. Tony Pepperoni is fun, fast, and friendly. What more can you ask of a pizzeria?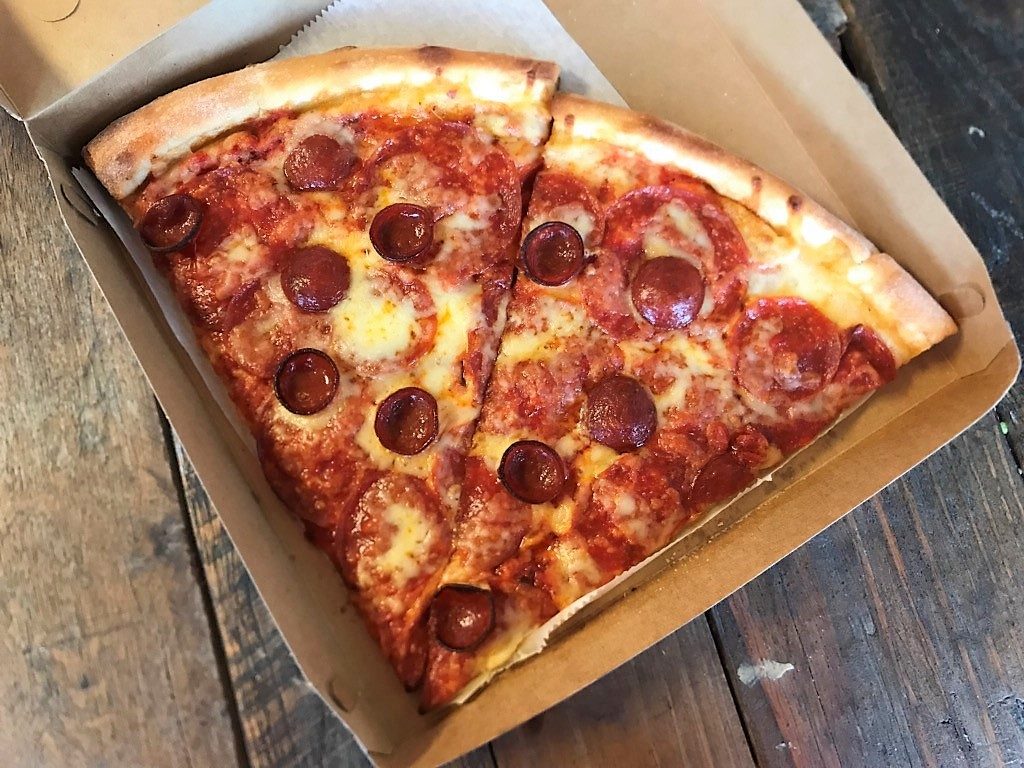 #6 Biggie's Pizza
Last Ranked: #1
What we recommend: The Grandma or anything by the slice
Neighborhood: Jax Beach
Address: 1333 3rd St N b, Jacksonville Beach, FL 32250
We've been Biggie's biggest fan since we first tried the place. If you want a great giant slice of New York style pizza at the beach this is the spot to go. Their slices are huge and there are lots of options. They stay very busy so their pizza by the slice is the freshest in town. If you like deep dish pizza make sure to try the grandma slice.

#5 Carmine's Pie House
Last Ranked: #3
What we recommend: Chicago Style Deep Dish
Neighborhood: Riverside
Address: 2677 Forbes St, Jacksonville, FL 32204
Want the best Chicago style pizza in Jax? Carmine's is the spot. Weighing what seems like 10 pounds and packed with cheesy goodness, Carmine's offers up something truly delicious.

#4 Da Vinci's Pizza
Last Ranked: Not Ranked
What we recommend: Any of the perfectly named specialty pizzas that strike your fancy. The Jordan Ann is quite popular.
Neighborhood: Atlantic Beach
Address: 469 Atlantic Blvd # 2, Atlantic Beach, FL 32233
When we ordered at Da Vinci's we were told there would be a 40 minute wait before our pizza was ready. This was by far the longest wait time of any of the places we visited. It was without a doubt worth the wait. This pizza was perfectly cooked. The pepperoni were slightly crispy. The sauce had good flavor. The dough and crust were tasty and added significantly to the enjoyment of the pizza. This was a truly solid pie.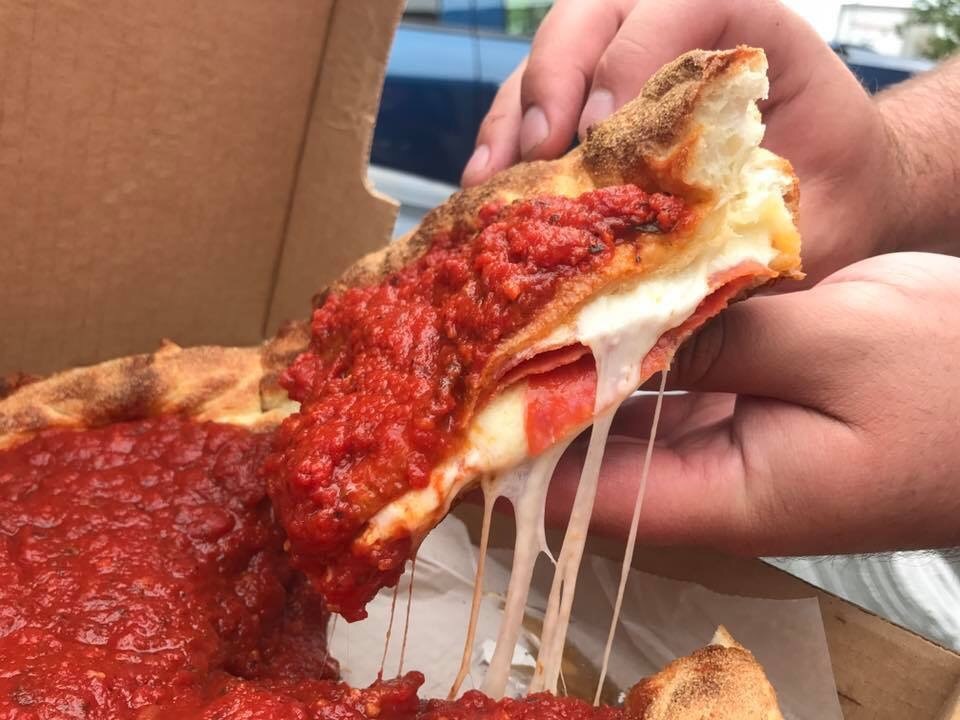 #3 Joseph's Pizza
Last Ranked: Not Ranked
What we recommend: Keep is classic with a simple pepperoni or just a couple toppings so you can focus on the quality of the dough and the crust.
Neighborhood: Springfield/Atlantic Beach
Address: 7316 Main St N, Jacksonville, FL 32208 / 30 Ocean Blvd, Atlantic Beach, FL 32233
There's a certain joy and nostalgia that a visit to Joseph's on Main street evokes in long time Jacksonville residents. Likely Jax's oldest pizza place Joseph's has stood the test of time with a pizza you can't help but love. This is the pizza you turn around and eat backward. If you don't normally eat the crust you will eat this one! This crust is stellar; our favorite crust by a mile. The sauce is excellent. It's an all around wonderful place that serves up a fantastic pie. Joseph is no doubt smiling down from heaven at the beautiful pizzas his kids still serve up in his name.
#2 Picasso's
Last Ranked: #4
What we recommend: Make sure to go St. Louis Style. Our favorite is The Gourmet.
Neighborhood: Mandarin
Address: 10503 San Jose Blvd, Jacksonville, FL 32257Owned by a chef and business partner who both hail originally from St. Louis, Picasso's has become famous for its St. Louis style pizza. If you love thin crust and creamy cheese you will fall in love with the pizza at Picasso's. The standard Picasso's sets for itself with every single dish on the menu is "If we don't believe its the best in town we won't put it on the menu." They really are darn close to the best in town at just about everything they serve.

#1 Pie95 Pizza (Food Truck)
Last Ranked: Not Ranked
What we recommend: Margherita or Bianca
Neighborhood: Everywhere
Address: All over, but most frequently at the Riverside Arts Market every Saturday from 10am-4pm
We spent two days driving the city to try every relevant pizza joint. Our visit to Pie 95 was at the start of our second day and with one bite we knew that this pizza was in a league of its own. At the end of day 2 we had no doubt it was the best of the bunch by a country mile. Pie 95 cooks up a pie that is reminiscent of a Neapolitan style but more firm in the middle. When asked what style of pizza he serves, owner Evan Eriksen says, "We serve Pie 95 style." That works for us. The pizza we were served was cooked to perfection in Pie 95's wood fired oven. The ingredients were top notch, the sauce had great flavor, the dough was stellar. If you've never had a Pie 95 pizza it's time to roll on up to Riverside Arts Market and dive into a bite of the best pie in town.