Growing up, I was enamored with an old fashioned tea room in my hometown. Putting on a dress and going to the tea room with my mom and my grandma for a ladies lunch was the height of sophistication as far I was concerned. I thought the tea room was such a posh place that I had my ninth birthday party there. All my little friends were not nearly as excited about tea sandwiches and tea as I was, but I quite enjoyed myself.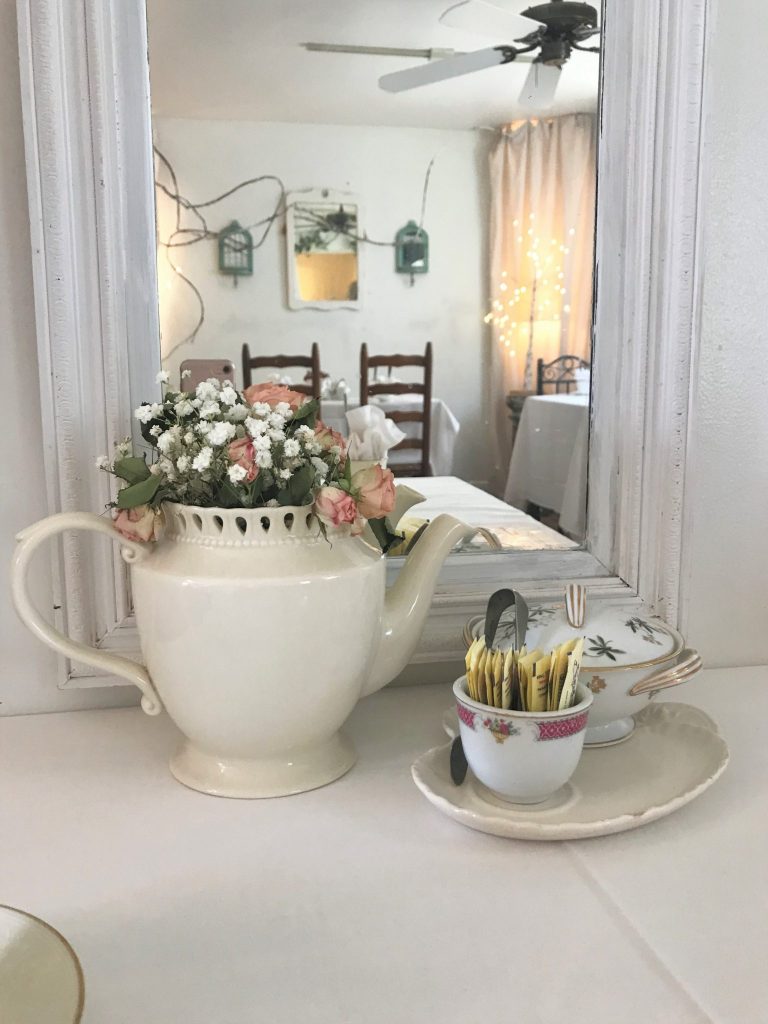 Despite living in Jax for the last 18 years, I have not had afternoon tea anywhere in town. I tried once a few years ago, but the establishment I went to asked my entire group to pay after waiting for over an hour at our table with no tea and no food. So we left without any sustenance. They are no longer in Jacksonville. You could say it's been a bit of a dry spell. So when I was looking for somewhere to take my mom for lunch for her birthday, the obvious choice was Ashes Boutique & Tea Garden in Jax Beach.
This quaint little house is a more modern take on the tea room experience. In the front you enter into a boutique full of breezy, gauzy fabrics and gifts. If you are dining you are led through a short hallway to two dining rooms. The space is ethereal, painted white with shabby chic white framed mirrors, twinkle lights, pale flowers, white tablecloths, and delicate china. No Laura Ashley or floral victorian vibes to be found.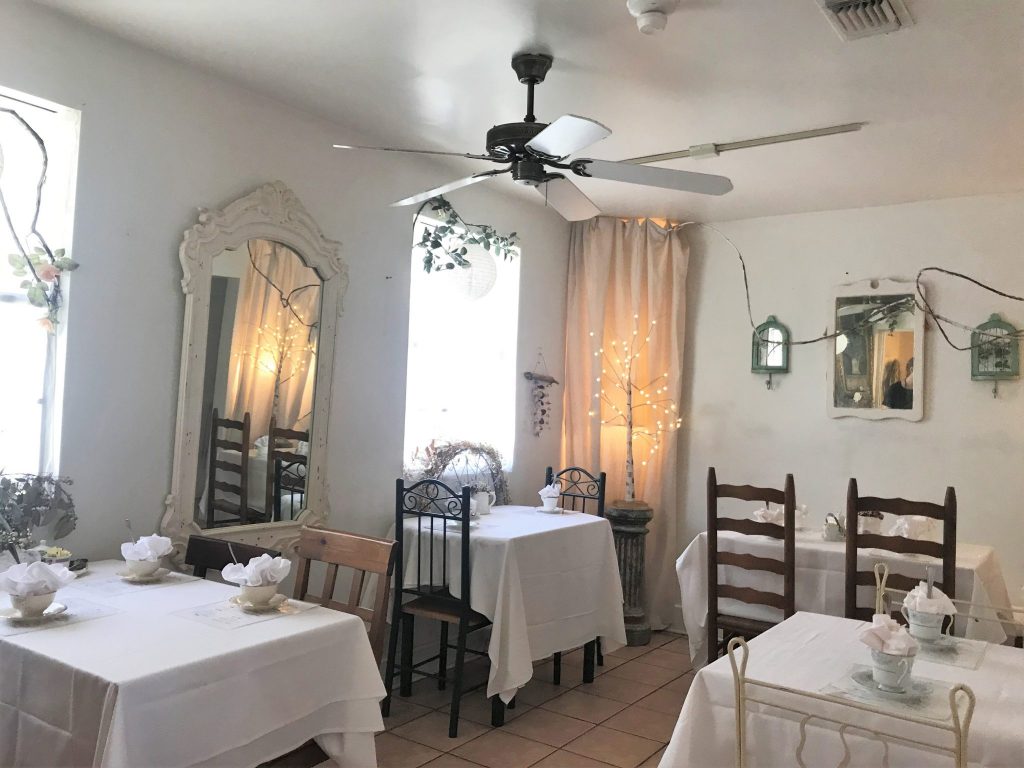 You can choose Afternoon Tea ($18.95/person) with a pot of tea, tea sandwiches, dessert, and fruit, or you can order salads, sandwiches, soups, or sweets a la carte. Ashes Boutique & Tea Garden also offers a Mommy & Me Tea Tray for $34.00 total. I was at Ashes with my mom after all, but we decided on the Afternoon Tea for Two.
I was most impressed with the tea selection. Ashes' menu has 13 hot teas and three iced teas, plus they had a few hot and iced tea specials the day we went. Caffeine was a concern, but there were several hot and iced herbal teas that were excellent options. We went with an almond vanilla black tea, which was a special that day, and a hot peach herbal tea. There were sugar cubes and also sugar free sweeteners on the table. We both went with sugar cubes for authenticity's sake.
Before our tray of tea sandwiches and fruit arrived, our waitress brought a small plate of crackers and fruit and nut spread. This was a housemade spread of cream cheese, dried fruit, and walnuts. It was very chunky, so it didn't spread particularly well, but it was yummy and a perfect portion to begin a meal.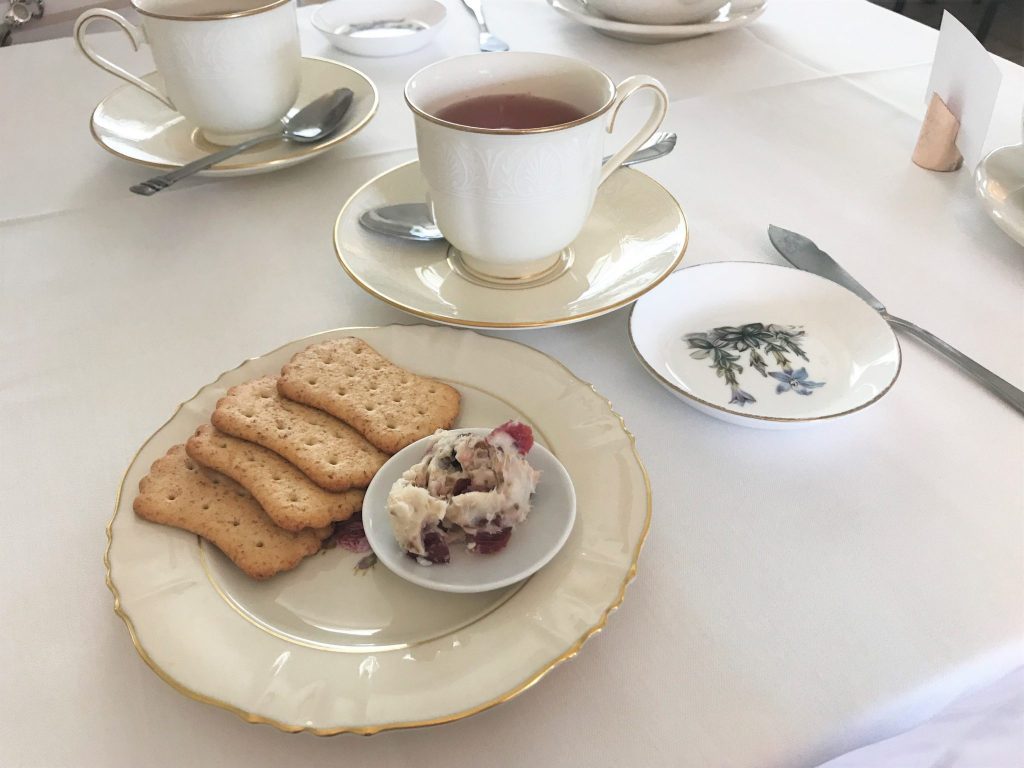 Our tray of tea sandwiches arrived with a few pieces of sliced fruit and a deviled egg for each of us along with two small half croissants with chicken salad, two quarter cucumber sandwiches, and two quarters of pimento on raisin bread. That's not quite a full sandwich per person, plus a few bites of fruit and a deviled egg. I am a hearty eater and was skeptical that the food on the tray would be enough, but we were there for the experience so I figured I would eat at home if I needed to.
I had seen the pimento on raisin bread while perusing the menu online before going to Ashes Tea Garden, so I had already experienced any surprise at that option. My mom on the other hand seemed slightly confused at that choice. As far as I can tell, it's a southern thing. I have been in Jax for 18 years, but I'm no proper southern lady. The sandwich itself was quite good, I ate every bite. So I guess someone knows something about something. It was just a new experience for us.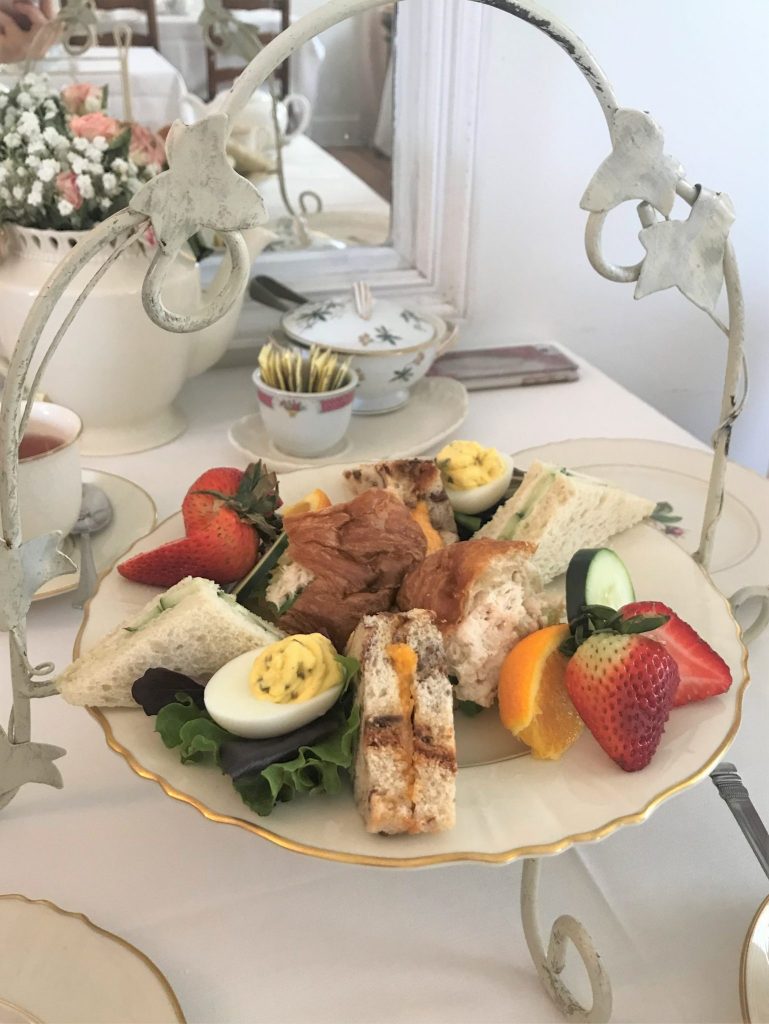 After our tray of sandwiches was cleared, two plates of desserts came out. Each had a slice of coconut cake, a scone with clotted cream, and a cherry tart. These desserts were delicate and scrumptious, each with a different texture and flavor.
After all that was I full? Well, I wasn't hungry. At a tea room you're paying for an experience, not just a meal. Ashes Tea Garden definitely met the mark. I might add a soup next time I go just to round things out a bit. But overall my mom and I had a lovely time together in a beautiful, cozy space, with warm, flavorful teas and yummy finger sandwiches.
Ashes Boutique & Tea Garden
332 2nd St S
Jacksonville Beach, FL 32250