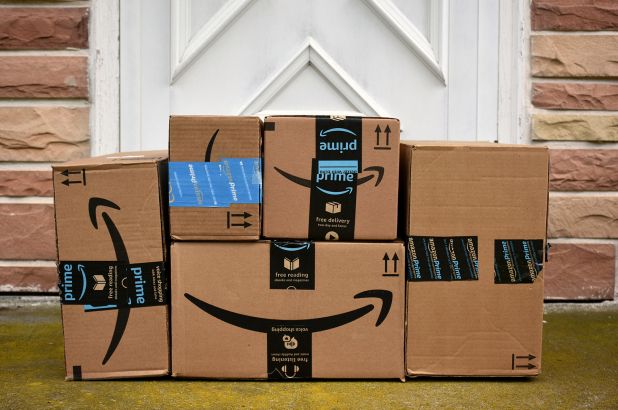 Be right back, my Amazon order just got delivered.
If you're anything like me and most of the "I shop too much" population, you order from Amazon often or some may be embarrassed to tell you just how many packages they get per month. I'm not here to judge though. If anything, I may be convincing you to add a couple things to your cart. But, don't fret, these are actually items that would be great to add to your cart — perfect for any Jacksonville native especially if they're a food lover.
Below you'll find a list of local Jacksonville gifts (perfect for any foodie) that you can order on Amazon! How amazing is that? These would make a perfect gift for pretty much any occasion and the best part is that it supports a local Chef, Jaxon, restaurant and our amazing food community. AND, you never have to leave your home to get it.
Happy Shopping!
Toques in Black – A celebration of black chefs – features Erica Dupree Cline and Roderick Smith
Toques In Black is A Celebration Of Black Chefs all over America. It features 101 of America's most talented black chefs including Jacksonville's Erica Dupree of Bleu Chocolat and Chef Roderick Smith share their personal experiences and recipes in this book including stories that provide candid insights on overcoming long odds to become leaders in their profession. This book is an inspiring read and suited for everyone.
Hip Asian Comfort Food, A cookbook by Chef Dennis Chan of Blue Bamboo
All those crave-able dishes from Blue Bamboo that you wish you could make at home — well you can with this cookbook! Chef Dennis Chan shares his beloved recipe favorites like Flax Seed Crackers with Edamame Spread, or Fried Dragon Whiskers. More amazing are the dessert recipes included such as his award-winning Mandarin Orange Cake, Chewy Caramel Brownie, and other delicious treats for any occasion. Fabulous photos of each dish make this cookbook gorgeous to look at and it also has practical recipes that actually turn out well when you try them yourself.
Fresh Jax, A Jacksonville-based spice company offers Spice Gift Sets and more on Amazon.
Spices made right here in Jacksonville — how cool? Jax Fresh spices are gluten-free, certified organic, and certified Kosher. Theycurrently offer more than 30 organic spice blends and over 40 organic single ingredient spices. In 2010, The McDonald family committed to love themselves enough to live healthier and happier for 30 days. Those 30 days turned into weeks, months, and years of healthy living. Inspired to share the health and happiness they had found with others, Jason took a leap of faith and left his job to start FreshJax® in 2011.
Southern Goodness, A cookbook by Celestia Mobley of Jazzy's and Celestia's Seafood
Chef Celestia Mobley knows Southern food! If you haven't experienced her food, give a visit to Jazzy's or Celestia's Seafood ASAP! In her debut cookbook, Southern Goodness, Chef Mobley shares amazing dishes sure to remind you of family and home. Every meal is special which is why her her motto is, "Cook with love, live with passion, and laugh often!" That's exactly how you'll feel making recipes from this cookbook.
The Chef's Canvas: Recipes Inspired by the Collection of the Cummer Museum of Art & Gardens
The Chef's Canvas is published from the Cummer Museum of Art & Gardens. This artful book celebrates the Art from the Museum's Permanent Collection and the Art of Food. Fifty Chef's created a dish inspired by a work from the Museum's Collection.
Good Eats Jax: A Local's Guide To The Best Independently-Owned Restaurants Along Florida's First Coast
This restaurant guide book features Over 250 Local Eateries in the greater Jacksonville Florida area, including Fernandina Beach, Amelia, Island, and St. Augustine.
My Life in Gluttony: A Culinary Adventure written by Jeffrey Spear
Jeffrey Spear is a First Coast Author and Food Consultant. The book starts with indelible culinary encounters from his childhood home of Baltimore Maryland followed by some of the more interesting and exotic locations he has visited including Lebanon, Malawi, Buenos Aires, Los Angeles, Serbia, Russia and Paris to name a few. Spear's culinary storytelling is accompanied by recipes from each of these locations, allowing the reader to prepare and sample exciting dishes from around the world.
A Chef's Journal, A novel of the journey of Chef Kenny Gilbert
Read the chronicles of Chef Kenny Gilbert's career, from the days of his childhood to the present; presented as journal entries. Chef Kenny is best known for his Southern BBQ and fusion flavors and restaurants Gilbert's Social and Gilbert's Underground Kitchen In Jacksonville and Fernandina.
Jacksonville Food Trucks: Stories & Recipes from the Road (American Palate) by Nancy White
Author and "Nourish the Beast" blogger Nancy White includes fascinating stories and mouth-watering recipes as she chronicles the rise of food trucks in Jacksonville. The book features trucks like Corner Taco and On the Fly. Innovators such as Mike Field and Jax Truckies supplied the vision and passionately advocated for the cause. From Beer Cheese Soup to Chicken Madras, the astounding variety of menus, themes and trucks means there's something for all locals to enjoy.
The First Coast Heritage Cookbook by Jeffrey Spear
Jeffrey Spear is a First Coast Author and Food Consultant. The First Coast Heritage Cookbook is a collection of recipes influenced by the ingredients and foodways of the Indigenous Indians as well as the Spanish, French, British and African settlers who inhabited the First Coast from 14,000 BC (the time archeologists tell us evidence of human habitation first appears) to 1821 (when Florida becomes a U.S. Territory).
The Daily Cook & Cocktail Maker: Includes Techniques, Advice, Even Adult Beverage Pairings! By Jack Barrett, a Artisan Pimento cheese-maker in Jacksonville.
This is a compilation of over 110 food and cocktail recipes. Backed by more than 15 years of professional cooking experience in a variety of respectable restaurants, plus over 10 years of professional bartending experience (everything from pouring draft beer pitchers to making the classiest craft cocktails), The Daily Cook and Cocktail Maker is a resource you can count on to improve your cooking and cocktail repertoire!
Civilized Coffee, Roaster based in Downtown Jacksonville
Amazing roasters in our very own Downtown Jax. Civilized Coffee has built trusted and respectful relationships with the individual producers and coffee co-ops throughout the East African region. They practice sustainable farming to bring delicious roasts from small farms in East Africa. How amazing?
If you know of a Jax item on Amazon we missed, please let us know. We'd love to include it!
Thanks for helping to support a local Jaxon. Happy Shopping, guilt-free!
AMAZON AFFILIATE DISCLOSURE
---
We are a participant in the Amazon Services LLC Associates Program, an affiliate advertising program designed to provide a means for us to earn fees by linking to Amazon.com and affiliated sites.