If, like me, you always thought it was WILD that in the 14th century folks could have just washed their hands and reduced tons of deaths due to the bubonic plague, 2020 may have given you a fresh perspective. Government leaders at every level are urging people to practice social distancing. While the economic impact of social distancing is not comparable to death, we are concerned at how many of our beloved local restaurants will fare through this…intense time.
Above all, we want you to stay safe, and to keep your neighbors and all of our loved ones safe. If you are able to patronize restaurants, we urge you to choose locally owned establishments, and choose take out or delivery. Generally, ordering directly from the restaurant (not utilizing a third party delivery service) is the best option for the restaurant as they typically lose some percentage of transactions when a third party gets involved. However, do what you are able to do. It all helps right now.
As of Monday at 5pm, restaurants and bars in Duval are limited to allowing 50 patrons in their space. Many restaurant owners and managers saw this coming, and restaurants all over town have been making swift changes to their service in order to keep people as separate as possible. Below you will find a list of restaurants and what they are doing to serve you in these times. We did not include chain restaurants at this time.
We will try to keep this list updated, but it's always a good idea to check social media pages for a restaurant if things have changed and you aren't sure if they are open or what their operating procedures currently are.
Beach Road Fish House & Chicken Dinners: 60 cent oysters all the time, $2 beer including craft beer for dine in (50% capacity in effect, plenty of outdoor seating in the sunshine), separate take out entrance, offering delivery.
1748 Bakehouse: now offering curbside pick up and family meals: pot pie, farm salad, cookies. $20 for 2 people, $40 for 4 people. Most of their menu is available for pick up orders. They are taking credit cards only at this time. Call for immediate orders: 374-2541
1928 Cuban Bistro: Now offering curbside pick up. Order on the website and put a description of your car in the special instructions, and call when you arrive.
Anthony's Gourmet Catering: As we are aiming to curb the spread of the coronavirus, locally owned Anthony's Catering will be offering Grab and Go Weekly Specials beginning Wednesday.
This week's menu offers 3 options at a price designed to ease the cost of feeding your loved ones or employees. Please contact us at (904) 264-1338 to schedule your pick up time or to answer questions regarding this offer or your future catering needs. Thank you for supporting local!
Pick up will be in front of our offices at 670 Kingsley Avenue in Orange Park.
Please phone in orders between 10:00AM and 4:00PM.
Pick up is between 11:00AM and 6:00PM.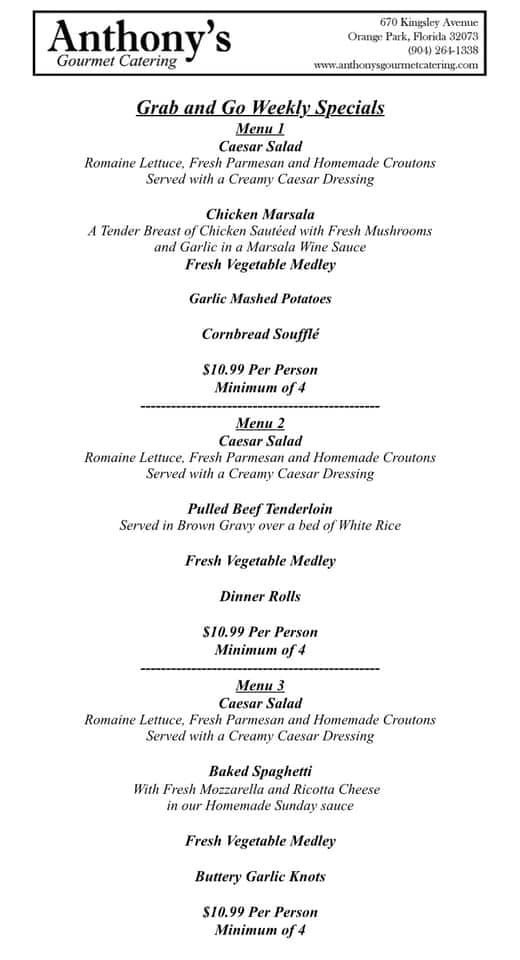 b.b.'s restaurant and bar: We've added curbside pick-up to help you get a tasty meal while practicing social distancing. Give us call when you're close to the restaurant, and we'll run your order to your vehicle.We also have a pick-up table outside for payment if you're out for a walk or bike ride.
While we monitor the situation, our restaurants are open for business. That includes delivery if you need box lunches for your office.
View our menu online at https://bbsrestaurant.com/menu/
Give us a call to place your order at 904-306-0100
Bento Asian Kitchen: Offering 15% off all pickup orders now through May 1st. Call your preferred Bento location to place your order and mention CALLAHEAD15.
Bodrum Mediterranean Kitchen: 10% off all take out and curbside to go orders. Call 379-9107 to order.
Community Loaves: In the interest of keeping our community safe and well-fed, we will be moving to take-out orders ONLY as of Tuesday, March 17th! We will no longer be serving meals at the shop, but will be taking orders by phone to be delivered to your car (we will have a reserved parking spot). Just call us at 904-381-0097 and we will take your order and payment over the phone. When you arrive park in our new to-go parking spot.
Coming later this week: Baked goods and quarts of nourishing local veg soup will be available for delivery to the urban core (~3 mile radius of us)
AND we offer gift cards for purchase online!
Crazy Sushi: We have decided to add delivery services during the current ongoing events starting March 18th, 2020 between 11:30am-2:00pm, 5:30pm-9:00pm. For our delivery service we only accept credit/debit cards over the phone (our drivers will not carry cash). When they arrive at your home you will be contacted so they can just drop your order at your door, to better suit safety concerns during the current set of events happening globally. The safety and well being of our customers and staff is our first priority and most important to us.
We will be delivering within 6 mile radius from the restaurant, with a $20.00 minimum order as well as a $3.00 delivery fee. The $3.00 charge is a courtesy charge for the restaurant and the tip goes 100% to your driver . We would really appreciate that.
Doughsserts – 15% off all gift cards using THESCOOP through March 31st (minimum $10 load/max $100)
$1 mini scoops all month long
Free delivery of orders $20 or more before noon or after 9pm weekdays
Text (904)907-6321 for curbside orders
El Jefe: We recognize the importance of self distancing, and even though we are open for dining in, we are offering 10% off for all pickup takeout moving forward. We are glad to offer curbside pickup as well, just let us know! Your well-being is our highest priority.
Empanada's Factory Latin Fusion: Open regular hours. Call for take out at 904-374-2620…we also deliver with Grubhub, DoorDash or Ubereats.
Enza's Italian Restaurant: Offering full and half trays of about a dozen of their most popular dishes. Half trays serve 8 to 10 people, full trays serve 16 to 20 people. Call 268-4458 to order. The dining room is currently open, but limited to 50 people per the current guidelines from the mayor.
Epik Burger: Order and pay online at epikburger.com for quick and easy pick up, curbside pickup is available
– Curbside Pick Up- Please call to let us know you are here (904-374-7326) or pick up from one of our marked spaces (marked spaces available starting Tuesday 3/17).
– Help us by placing online orders rather than call in orders to keep the phones free for curbside arrival.
– Delivery via Door Dash, Grubhub and UberEats. Our preferred delivery partners are Doordash and Grubhub however we welcome your business however we can get it.
Please rest assured that we are taking all of our health and safety very seriously and we hope to be able to keep serving you and keep our employees working with your support!
904-374-7326
Full Circle Eatery: Starting Tuesday, March 17th, 11am-3pm, we will be offering call-ahead, curbside service. View our menu online, and then call in your order. We will be happy to bring your meal straight to your car. 904-503-3829
As long as permitted, we will also have pick-up inside at our front counter.
Funkadelic Food Truck: call ahead as well as delivery available through doordash and Grubhub – refer to FB page for locations
GuanaBana Ice Pops & More: is offering to deliver our gourmet ice pops (minimum order 10 pop) with no charge added for the delivery, so you can stock up your freezers with ice pops packed with fresh fruit and antioxidants for the coming weeks.
The box of 10 ice pops is $30. Just send us your order, including the flavors, address, phone number, and the best time to deliver through our email or text. We will be delivering ice pops all week.
info@guanabanaicepops.com
904.891.5236
Flavors: Strawberry / Watermelon / Raspberry-Lemonade / Mango-Raspberry / Tropical Green (pineapple+spinach) / Guanabana / Passion Fruit / Mango / Froots (3 Layers strawberry mango kiwi) / Pineapple-Ginger-Lemonade / Chunky-Blueberry-Basi
Hala's Mideast Eatery and Market: Curbside pick up and delivery now available. Call your order in 733-1855, call when you arrive, your food will be brought to your car. Delivery is $5 and available for all orders over $25.
The Happy Grilled Cheese: In an effort to limit shared surfaces, all food will be packaged to-go, no trays/baskets, no shared menus, paper to-go menus only, & our self-service station for condiments, napkins, lids and plasticware will be temporarily removed as a way to ensure the safest dining environment possible. Please take advantage of our partnership with @UberEats and also our new curbside takeout policy. Just call-in your order as usual then call us back when you arrive and we will bring it out to your car.
Hawkers 5 Points Hawkers Neptune: —– Updates from press release—- Effective March 17, 2020:
New Hours, Stop By! Hawkers will be open from 12 p.m. – 9 p.m.
Delivery Fees Be Gone: Hawkers is waiving all delivery fees when guests order from www.eathawkers.com
We'll Meet You Outside: All locations are offering offering curbside pickup. Guests can simply call the restaurant (numbers are below) when they arrive to pick up their takeout order
All about the Paper: Hawkers has switched to disposable paper menus
50% off for Service Industry Workers: We understand that this is a challenging time for everyone in the service industry, so Hawkers is offering a 50% discount for takeout and dine-in only. This excludes delivery, and the discount is not valid on alcohol or retail.
J. William Culinary: Order online www.jwilliamculinary.com. 20% off with the promo code "THANKYOU". Delivered to your door or grab and go at the Avondale location.
Jax Beach Brunch Haus: will be open 8am-2:30pm. Serving as many guests as new occupancy allows at a time. Delivery with GrubHub and Curbside pickup also available. 904-945-4287 (HAUS).
Khloe's Kitchen Food Truck: will be set up for TOGO/CARRYOUT lunch & dinner services at 3939 Roosevelt starting March 17th.
You can Text or Call in Orders at (904)508-2068
For more information on menu items please call us at (904)508-2068 or email us at khloes.kitchen@gmail.com
You can also order through us via UBER EATs if you are in the 8 mile delivery radius.
Also Khloe's Kitchen will provide meal prep service for anyone looking for fresh family meals that can eaten now or frozen for a later time. We will need 48 hours to complete orders.
Lucy's Sweet Shop: Dining room is closed, curbside pick up or delivery (through Postmates) only. Tuesday-Saturdays 10am-6pm, you can order on the website www.lucyssweetshop.com/shop-now. Choose from cookies, cookie decorating kits, cupcakes, brownies, and more.
The Mini Bar: The Mini Bar is asking people to order online and select shop or drive thru pick up. https://minibardonuts.com/order-online Every order, including coffee, is being made Togo, we have eliminated the self serve water station, have gone to individually wrapped straws, have eliminated utensils, and are taking credit cards only (machine faces customers for them to insert) We have increased sanitary measures, and how often surfaces are disinfected. We appreciate all of the local love and support!
Murray Hillbilly: OPEN EVERYDAY. Today will be 1p-8p, tomorrow we'll likely be open earlier. Please keep an eye on this page or sign-up for our email newsletter for more updates.
CURBSIDE pickup only at the restaurant. Call in to order and pay by phone. If the phone lines are busy you can reach us via Instagram or Facebook as well. Ordering from our website will be implemented soon.
DELIVERY is available, and we'll be lowering our prices on UberEATS since they're waving all delivery fees for independent restaurants.
PRICES to purchase our food will be reduced over the coming days. We understand that this pandemic will place a significant financial burden on families and people across the country, but that doesn't mean you should lose access to nutritious plant-based food. Eating healthy now is more important than ever.
MENU CHANGES will be implemented to lower our prices. We're going to be add several basic meals that are nutrient dense and help to support your immune system.
Nacho Taco: Open daily except for Sunday. 10:30am till 9 pm. Call in to place an order for pick up, you may give us the credit card payment over the phone and when you arrive we will bring the order to you, no need to wait inside. Delivery also available either directly through us with our driver or Grubhub. Doordash offers further distance delivery.
Nudo Restaurant: Curbside pick up, just call with the color of your car when you arrive to pick up your order and it will be brought to you.
Pizza Cave: Sun-Ray Cinema's Pizza Cave! will operate in the short term with limited hours, 4PM – 9PM for carryout service only of our full menu INCLUDING the timely/not so timely fruits of our labors in the PIZZA BOOT CAMP we've been in for the last two weeks: some of the finest damn full size (18″) pies in our fair city. We are working on delivery options and will keep you informed as that conversation develops. Any carry-out orders placed (by phone for now) will include a free screening pass for use at Sun-Ray Cinema after these dark times. If you wish to place your order over the phone please dial 904 359 0049 and press 3
Prati Italia: To make things a little easier for you and your family, we are now offering a family-style dinner for pick up at Prati Italia. Enjoy a local greens salad, Margherita Pizza, Pepperoni & Sausage Pizza, Fresh Pasta with Marinara or Alfredo and Tiramisu for the discounted price of $55. (Feeds a family of four.) Call us at 904.998.9744 to order our family-style meal or any a la carte items off our menus. Just pull up outside the restaurant and we will bring it out to you – no need to get out of your car!
We now offer delivery on Grubhub! Get your Prati fix at home in your PJs.
Shut Em Down Authentic Southern Restaurant: dining room is closed starting March 17th. Curbside pick up is available, or delivery through Bite Squad and DoorDash, as well as Shut Em Down doing their own delivery within a 5 mile radius: Within 1 mile, FREE delivery. Within 2-3 miles, $3 delivery. Within 4-5 miles, $5 delivery. All delivery orders must be paid upon ordering.
Simply Sara's: Simply Sara's will start Thursday (3/19) with delivery and take-out only, including family meals. See their facebook page during the week for menus.
Sippers Coffeehouse: Open normal hours, 6:30am-7pm, the rest of the week. Drive-thru is preferred. Call in always available. Cafe will be open but with restricted seating and to go products only. Several patio seating options also.
Subcultured Subs: Regular hours, pick up or take out only. Call ahead or go online to order and prepay to minimize cash transactions. Subculturedsubs.com
Taqueria Cinco: In an effort to support what's best for our familia, we are offering curbside service…just call us, place your order and we'll bring it out to you. 904.312.9113. Make your own taco kits coming soon.
Whit's Frozen Custard: regular business hours, to go orders only, no seating inside the stores.