As professional eaters (what can we say?) we've had some exquisitely delectable bites from all over Jax. Some have been from places you would expect, but our favorites are always the ones that take you by surprise. Like Disney's Pocahontas said, "You learn things you never knew you never knew." Sure, she wasn't talking about about the Jacksonville food scene, but sometimes a really good bite will open your mind. Here are some of our best bites from around town. If you never checked off our previous list, you might want to give it a go, too.

Dish: Banana Curry
Restaurant: Fusion Food Truck
Neighborhood: Everywhere! (Food Truck)
Chef Ashley Amin's banana curry has equal parts chunks of chicken and chunks of fresh banana in a subtly sweet and spicy curry sauce over fresh steamed rice. This not does not offer that fake candy banana flavor, it's the actual fruit that lends itself to a delicate banana flavor.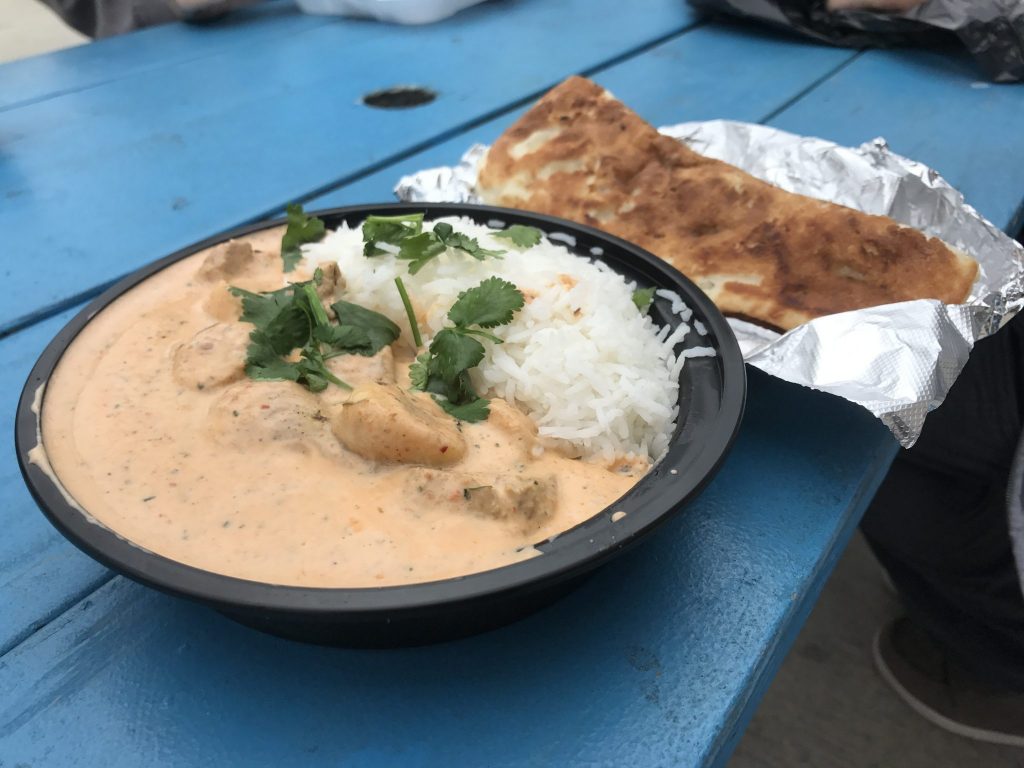 Dish: Brussel Sprouts Taco
Restaurant: Murray's Taco Bodega
Neighborhood: Murray Hill
Murray's Taco Bodega came on the scene toward the end of 2018 and their food created an immediate cult following in those early days. Murray's may be known for their Brisket Taco with a fried egg on top, but the most impressive bite we've had there is the brussel sprouts taco. The brussels are perfectly crisp and barely charred, the black beans are creamy, and the lime crema brings the whole thing together. This is simultaneously the simplest taco with the most complex flavors we've had.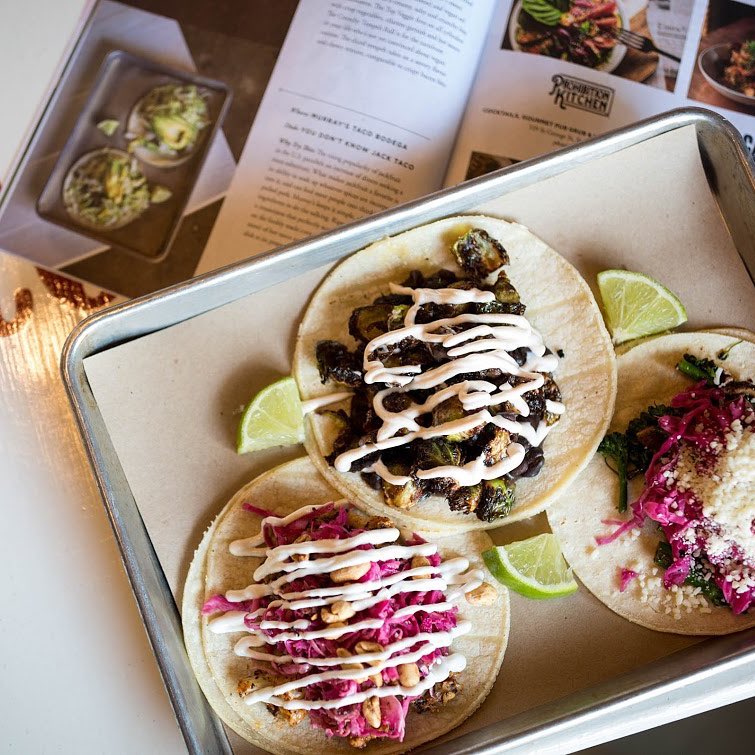 Dish: Pretzel with Beer Cheese Dip
Restaurant: German Schnitzel Haus
Neighborhood: Intracoastal West
Chef Steve Thurston has made a name for GSH in Jax between the burgers, vegan burgers, vegan brunch, and schnitzels, but they don't call him the Pretzel King of Jax for nothing. Everything at German Schnitzel Haus is made in haus, including the pretzels and the beer cheese soup and dip. There is nothing like ripping into a fresh, hot, soft pretzel, and Chef Steve has ruined us for all concession stand pretzels forever. If you love mustards, the pretzel comes with a few to try, but our favorite is the beer cheese dip.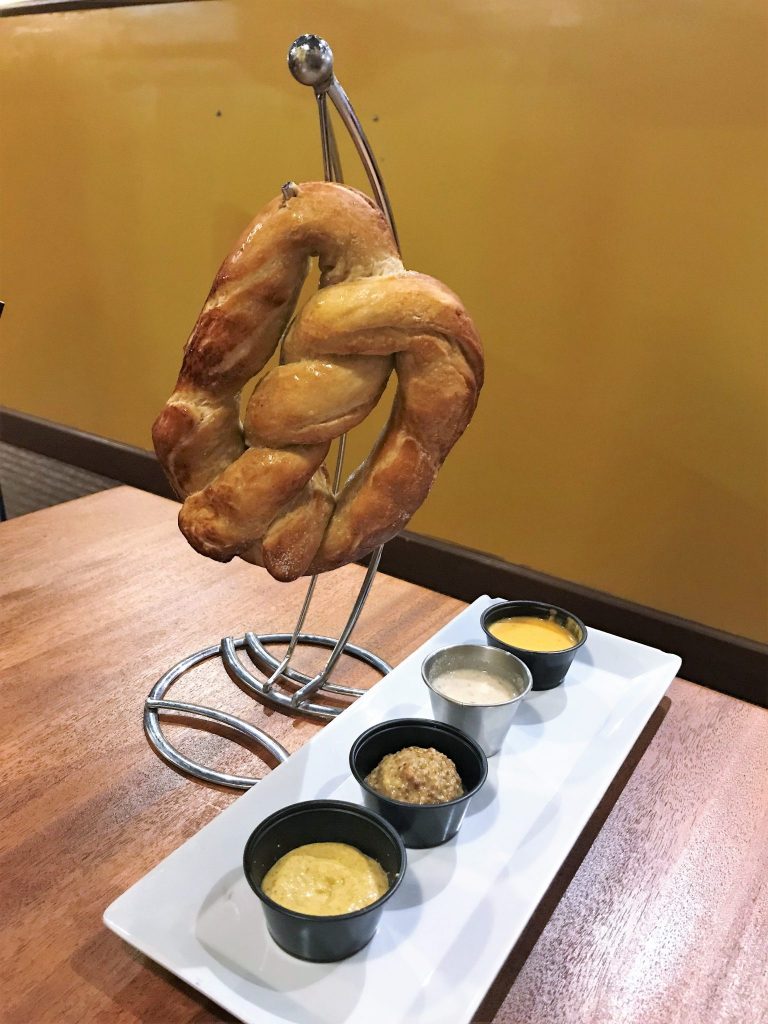 Dish: Red Curry Shrimp and Grits
Restaurant: Blue Bamboo
Neighborhood: Southside
If there was one dish to summarize Chef Dennis Chan's style of "Hip, Asian Comfort Food", the red curry shrimp and grits would be it. Chan's family has owned restaurants in Jacksonville for 80 years, and the melding of a southern comfort dish like shrimp and grits with an Asian comfort dish like red curry, not only speaks to local diners, but speaks about the kind chef Dennis Chan is. It's familiar but new, fun but elevated. And it's darn delicious.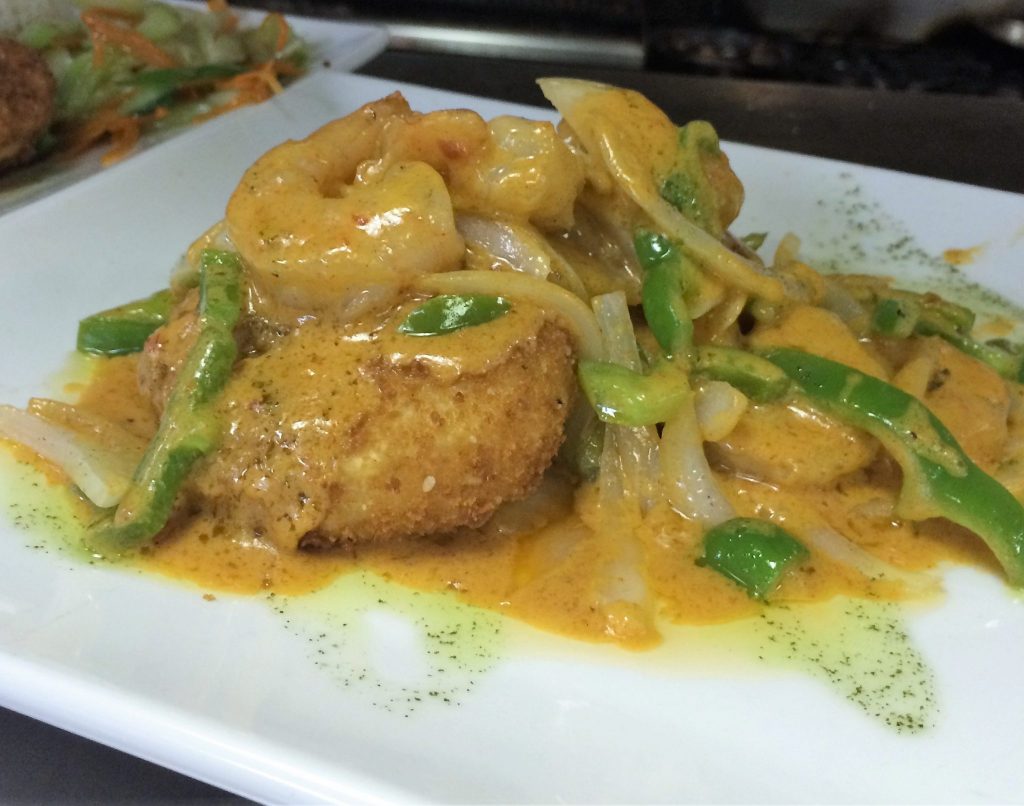 Dish: Beast Burger
Restaurant: Soto's Kitchen
Neighborhood: Southside
One of our favorite things to see on a menu is a well executed novelty dish. Food is meant to be enjoyed, and even high end restaurants can offer whimsy and fun if they try. It's hard to execute a novelty dish, though. A lot of times the fun aspect outshines the flavor, and novelty dishes get a bad rep. Soto's Kitchen has accomplished the elusive with their Beast Burger. This monster has two giant burger patties, shredded beef, ham, bacon, tostones, potato sticks, shredded cheese, lettuce, and house sauce, stacked high between two buns. It's not just a giant burger, the tostones and shredded beef give an entirely different texture and flavor, and the house sauce (cilantro garlic) is the stuff dreams are made of. The Beast Burger is a ridiculous amount of food, and every order is documented with a customer picture on Soto's Kitchens' social media. The average person wouldn't be able to finish it, but it calls to those who can't turn down a challenge.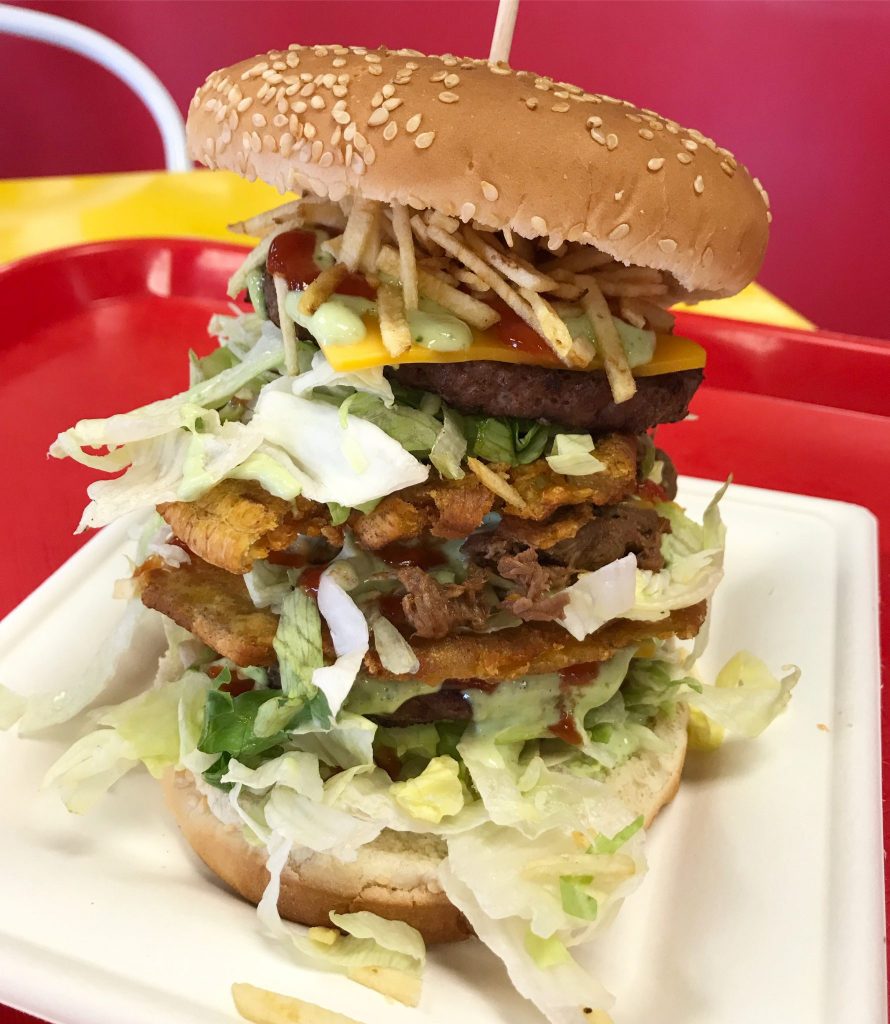 Dish: Shake from Shakedown Saturday
Restaurant: Lucy's Sweet Shop
Neighborhood: Jax Beach
Every Saturday Lucy's Sweet Shop offers an ultimate shake you have to see to believe. These babies come in a handled mason jar filled with frozen creamy goodness and topped with multiple sweet treats, finished with a sugar or crumb rim. They are over the top desserts that will probably put you in a sugar coma, but the trip there will be quite enjoyable. Lucy's opens their doors at noon on Saturdays and sells their shakes until they're gone, so take your sweetie for a sweet Saturday afternoon treat if you want to get your hands on one.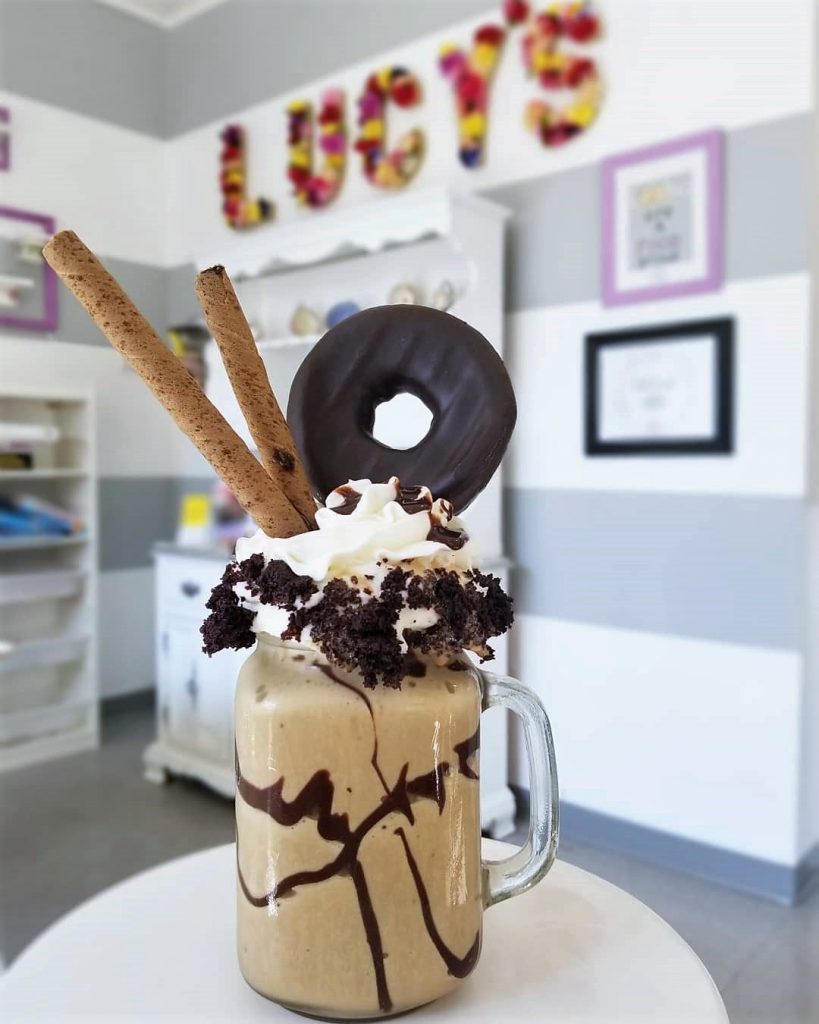 Dish: Quiche
Restaurant: Magnificat Cafe
Neighborhood: Downtown
The Mag Cafe as it is lovingly referred to is a humble downtown lunch spot with counter service and fresh soups, salads, and sandwiches. Chef Benoit brings his passion and French background to create remarkably tasty yet simple fare. His quiche will blow your mind. So light and fluffy and delicate, it is like eating clouds. There are four types of quiche offered everyday: Lorraine, Spinach & Mushroom, Asparagus & Goat Cheese, and the quiche of the day. If you're lucky the quiche of the day will be blue crab. All of the quiches have Chef Benoit's signature touch: the lightest, silkiest texture you will ever find.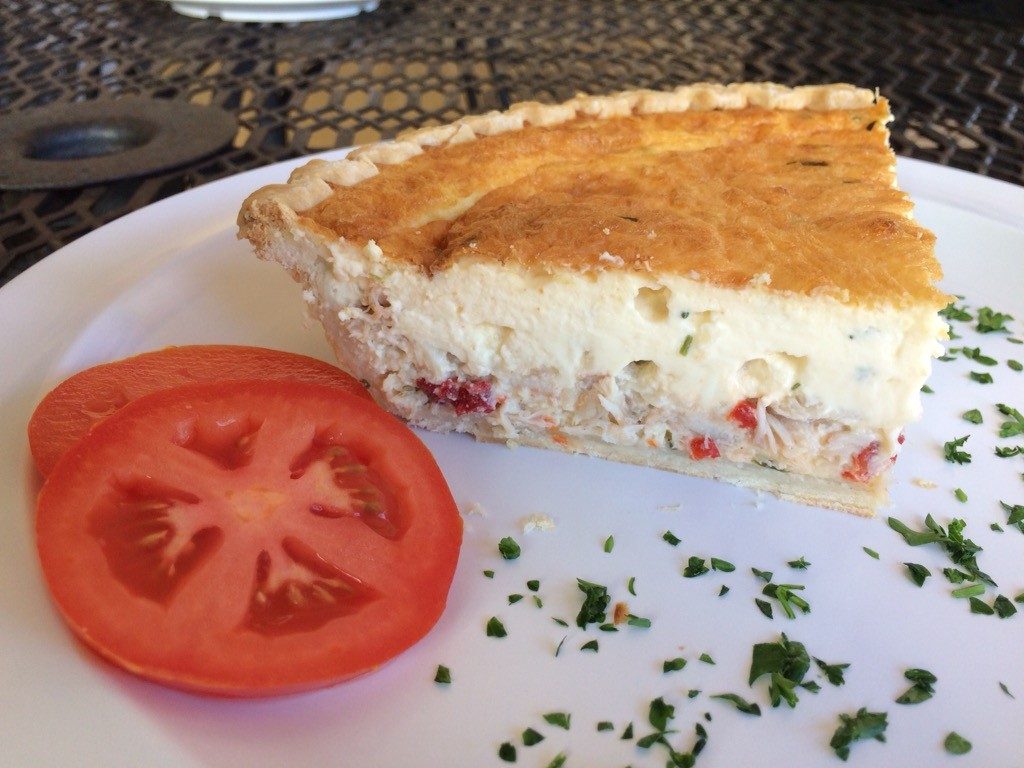 Dish: Macaron Ice Cream Sandwich
Restaurant: GuanaBana
Neighborhood: Everywhere! (Food Truck)
Named for the soursop fruit found in the Caribbean, GuanaBana has been killing it in the frozen desserts space for quite some time. This food truck makes delightful fruit bowls, pops, and the piece de resistance, their macaron ice cream sandwich. Everything GuanaBana makes is created lovingly from scratch, even their ice cream. Much of it is healthy-ish being it is fruit focused. But those French macaron ice cream sandwiches are something so unique and visually perfect, it can be hard to want to bite into one and ruin the beautiful dome ends and perfectly smooth sides. You'll do it though. And you'll be delighted at how tasty they are. GuanaBana also sells their ice pops in some local grocery stores, if you need a fix in between when you can get to the truck.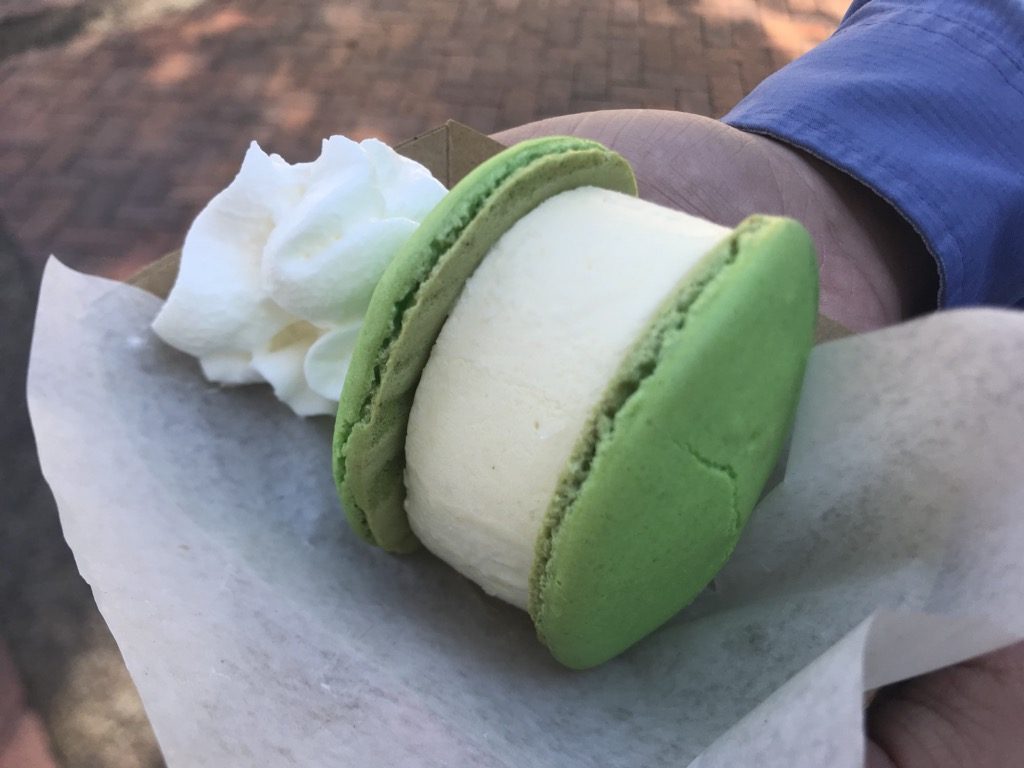 Dish: Cauliflower Bisque
Restaurant: Coop 303
Neighborhood: Atlantic Beach
I know, you'd think we would tell you to have the fried chicken at a place called Coop 303. And you should do that, too. But don't miss out on the cauliflower bisque. It is blissfully creamy with a crunch from the brioche toast, and a savory, salty, earthy flavor from the Cheshire bacon and onion jam. This soup has so much more flavor than just cauliflower. It all comes together in a celebration on your taste buds. This is about as perfect as flavor profiles get. Hats off to the chef.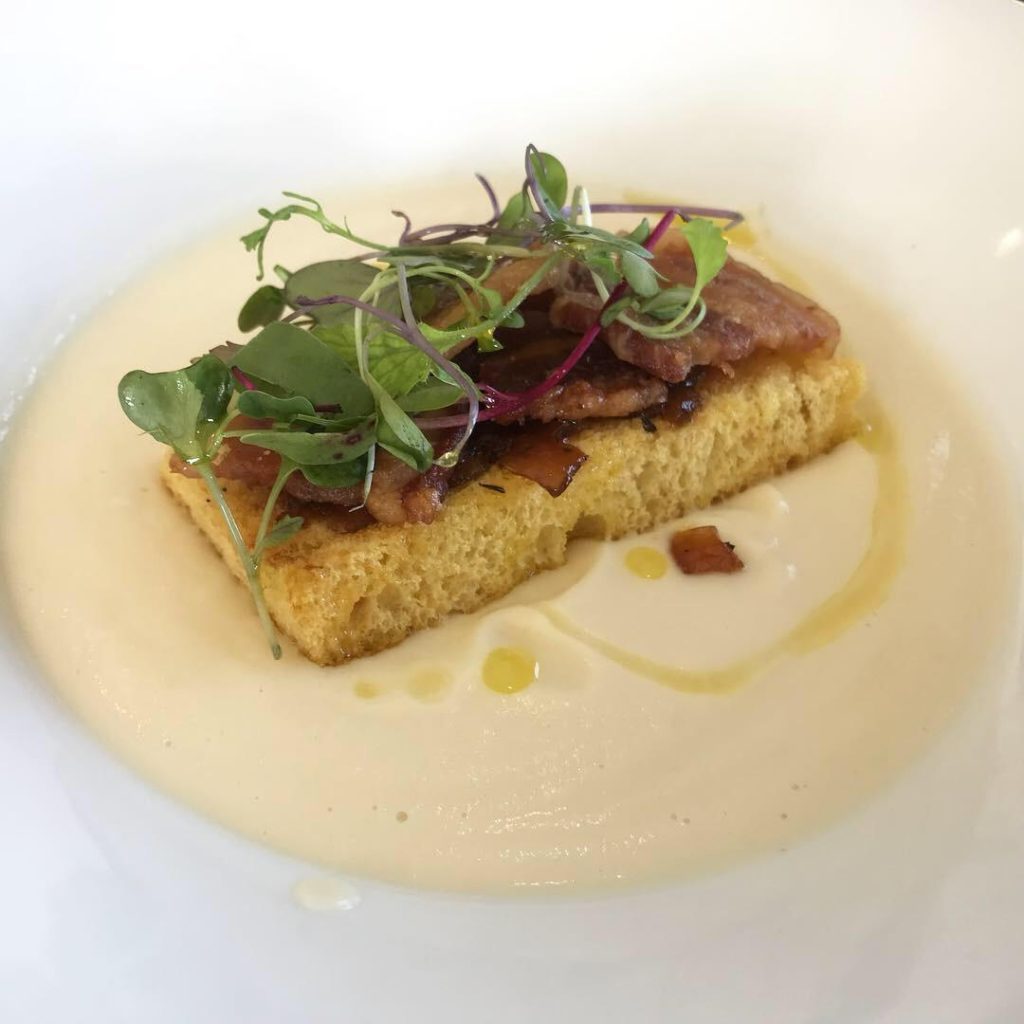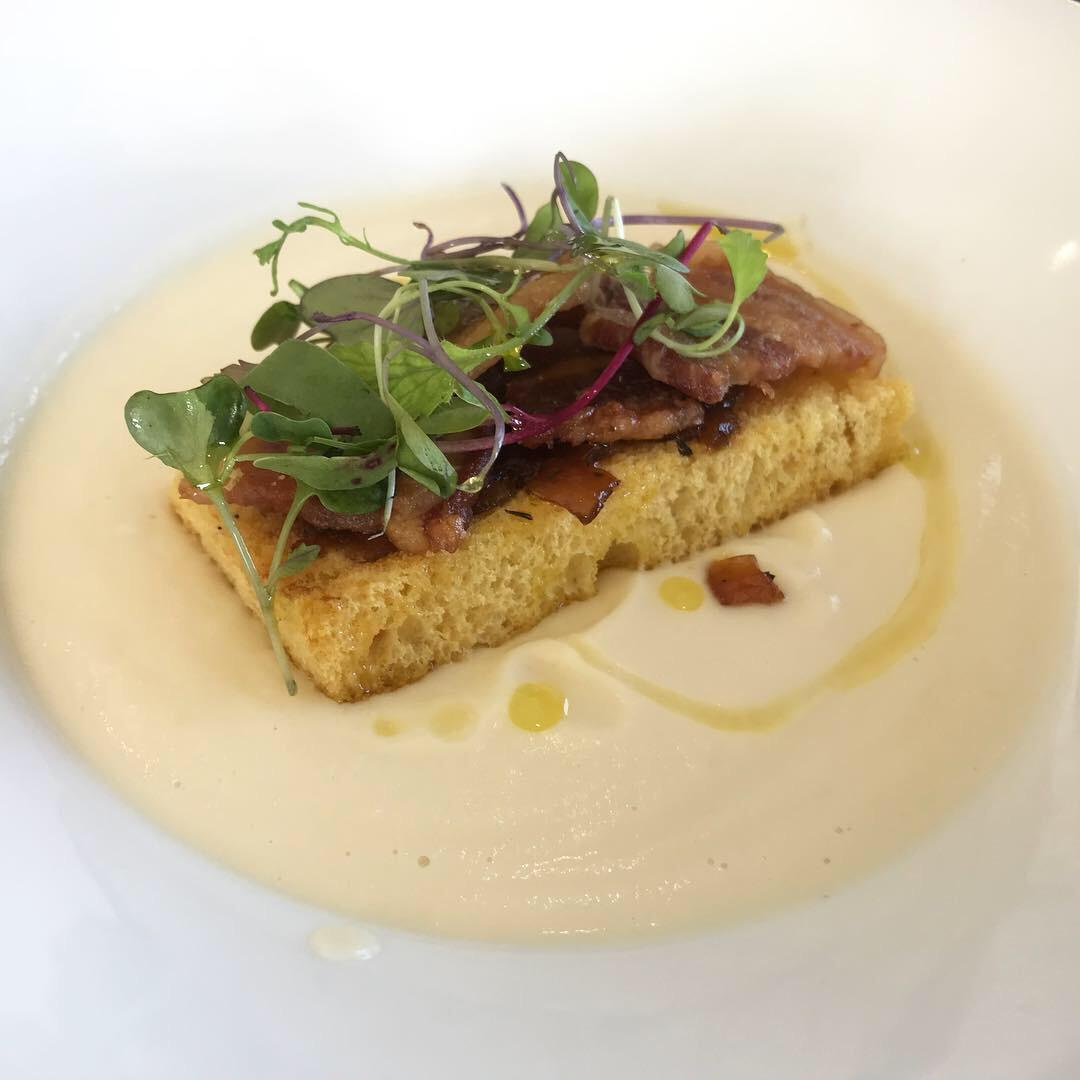 Dish: Chicken in a Pot
Restaurant: Bleu Chocolat Cafe
Neighborhood: Springfield
Bleu Chocolat is a chocolate shop, bakery, and small bites cafe in historic Springfield that opened in early fall 2018. The "sister chefs", as they call themselves, create doughnuts and biscuits and all manner of pastries from scratch every day, along with hand made Jamaican beef patties, and a selection of small plates perfect for sharing over a glass of wine. The Chicken in a Pot seems simple enough, and not as enticing as something like Southern Green Spring Rolls. But this is not your average chicken. Simmered in white wine sauce with rooted vegetables and  served with peas and rice, this dish for two will leave you wondering you have eaten so much dry, flavorless chicken in your life.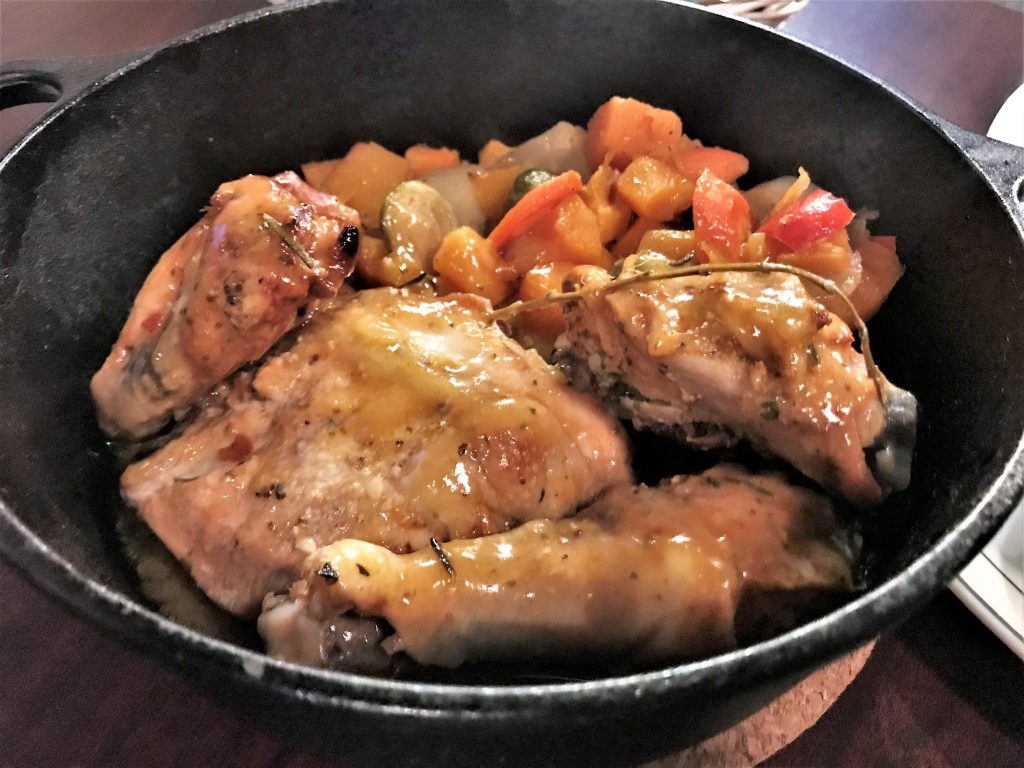 There you go, ten bites you simply have to try in Jax. What are some of the more memorable bites you have had around town? Let us know! We're already working on our next list of bites.