In 2016, the tourist hub of Pigeon Forge and Gatlinburg, TN experienced a series of wildfires that injured 134 and killed 14. In total, these wildfires burned a total of about 10,000 acres of the Great Smoky Mountains. There's never been a natural disaster quite like this in the state of Tennessee. In the aftermath of these fires, Gatlinburg Mayor Mike Warner implored, "If you really want to do something for Gatlinburg, come back and visit us." And in the three years since the wildfires, Pigeon Forge and Gatlinburg not only survived, but are thriving. The weekend we arrived, the streets were full, the crowds were bustling, but more importantly, cash registers were ringing.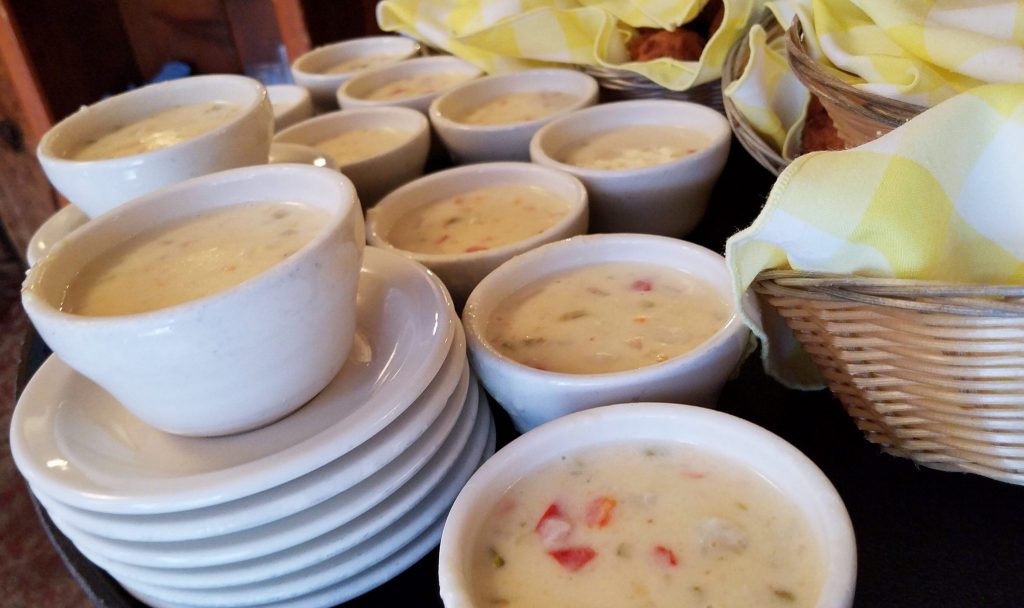 This is my fourth installment of my "Road Trip Restaurant Reviews" in which I write about the restaurants I visit when I head out of town to satisfy my wanderlust. You can read about my previous jaunts here, here, and here. We were in Pigeon Forge for the annual Great Smoky Mountain Jeep Invasion, a gathering of Jeep enthusiasts (Jeepers) to celebrate all things Jeep. Jeeps are more my wife's thing as I drive the more fuel efficient 30-miles-per-gallon Honda Civic in an effort to offset her carbon footprint, seeing that her Jeep Wrangler Unlimited gets about 15-miles-per-gallon on a good day. But I will say there's a definite cool factor to Jeeps and that I can appreciate.
We get to Pigeon Forge on 08/22, the day before the festivities start. We did the touristy things and headed to "The Island in Pigeon Forge," home of the The Great Smoky Mountain Wheel, a large Ferris wheel, and various shops, hotels, and entertainment. It's a fun way to spend an afternoon. We walked, we shopped, and I drank Butter Soda. A fun time was had by all.
After an afternoon of frolicking fun, we decided to head to The Old Mill Restaurant for dinner. I knew as soon as we pulled up that The Old Mill is one of those restaurant tourist traps; a place where unsuspecting tourists go because it came up first as a Yelp ad-supported search result. And I fell right into that trap. The restaurant is huge. The space is multi-level, can easily seat well over 150 people, and there was still a line out the door. The Yelp and Google star ratings were 4.5 and 4.7, respectively.
The lie detector test determined that was a lie.
The Old Mill menu is Southern to its core, with a whole section devoted to various Southern Fried Meats. We kept it simple. I ordered Chicken and Dumplings and my wife ordered Pot Roast. Each order came with their "signature" corn chowder and corn fritters, a side salad, family sized sides of green beans and mashed potatoes, and a pastry dessert. The corn chowder and corn fritters both had the word "corn" in it, but I'm not sure why. I couldn't taste corn in either offering. The corn chowder was really an under seasoned potato soup and the fritters were hushpuppies cosplaying as corn fritters. I cracked one fritter open and there was literally one kernel of corn in it. Thinking this was some kind of fluke, I opened the others and they were all the same. Neither the chowder nor the fritter had any recognizable flavor of corn or its inherent sweetness. The green beans tasted like the can from which they came. I barely ate a forkful. The mashed potatoes were fine, if a bit pasty. The Chicken and Dumplings were actually not bad, they were seasoned well, but it was more dumpling than chicken. On the plus side, you can get a second helping of chicken and dumplings gratis. I took advantage of that since I didn't eat much of anything else. The pot roast was average. It was basically a hunk of chuck roast slathered in brown gravy. I didn't really get a taste of anything else, just meat and brown gravy. No acidity, no heat, no depth. Just salt and fat.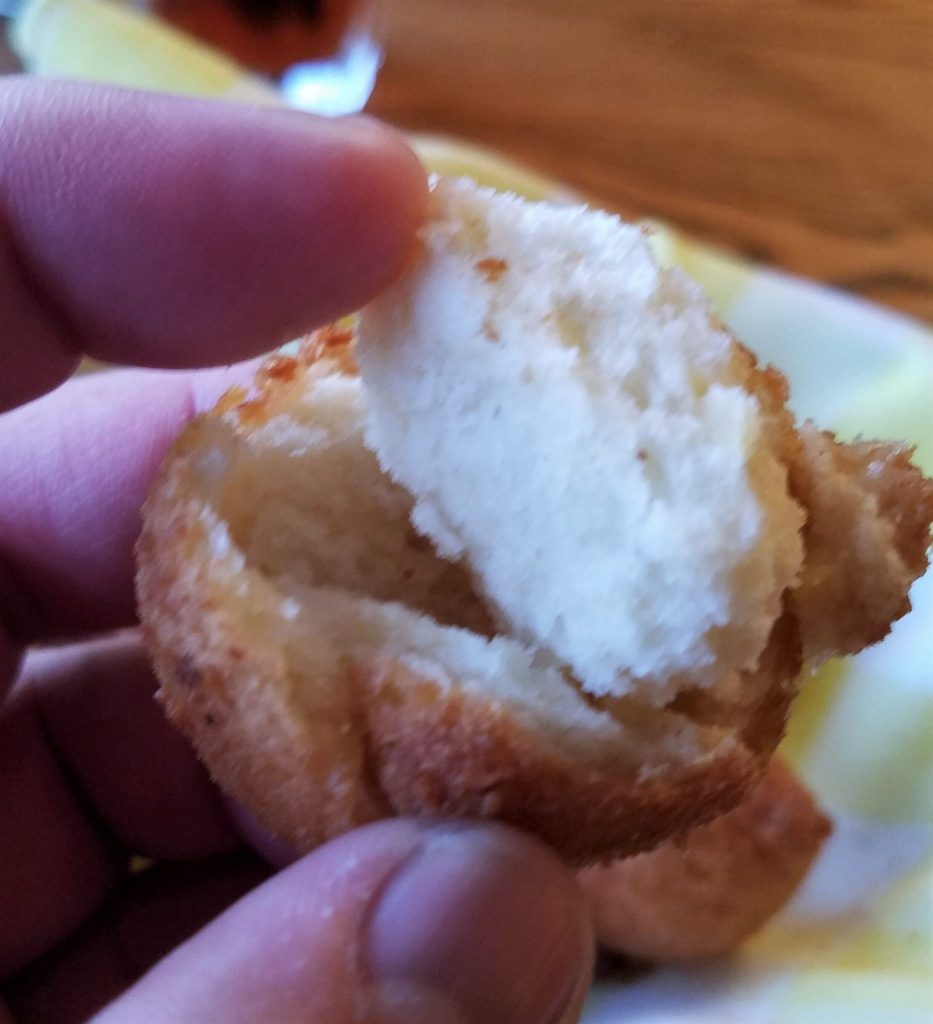 What the Old Mill does have down cold is their conveyer belt system of service. Efficiency is the name of the game. Sections are seated at a time. Salads, sides, and fritters all come to the section at once, followed by entrees. Desserts are the same way. A member of the wait staff will come to the section with a huge tray of desserts and sling them out like it's the final table of the World Poker Tour. Even the kitchen runs the same way. All of the sides (and other foods not requiring a flat top to warm up or cook) are in warming trays, all served with the love and care of a hair-netted middle school lunch lady. The Old Mill's main goal is to turnover as many tables as possible; get you in, get you fed, get you out. They're banking on the fact that you've spent the day on your feet; you're tired, hungry and willing to settle for the bare minimum of flavor for dinner.
The next day after a full morning and afternoon of walking around looking at various Jeeps and Jeep related stuff, we decided on The Local Goat for dinner. This place is fantastic. The Local Goat doesn't use the word "local" in their name lightly. They use locally sourced ingredients as much as possible and, according to the menu, 99% of their menu is made from scratch, in-house. This was a breath of fresh air compared to the cafeteria lunch room style of The Old Mill the day prior. We started our meal with some deep fried deviled eggs. The egg whites were deep fried and the yolk was piped in post fry. Topping the yolk were bits of candied bacon and green onions. They come drizzled with Sriracha, but I'm a wuss and ordered it on the side. They were a delicious little bite. It was a perfect texture combination with the smooth yolk puree and the crunchy egg white. The candied bacon added a perfect level of sweetness/saltiness to the whole thing.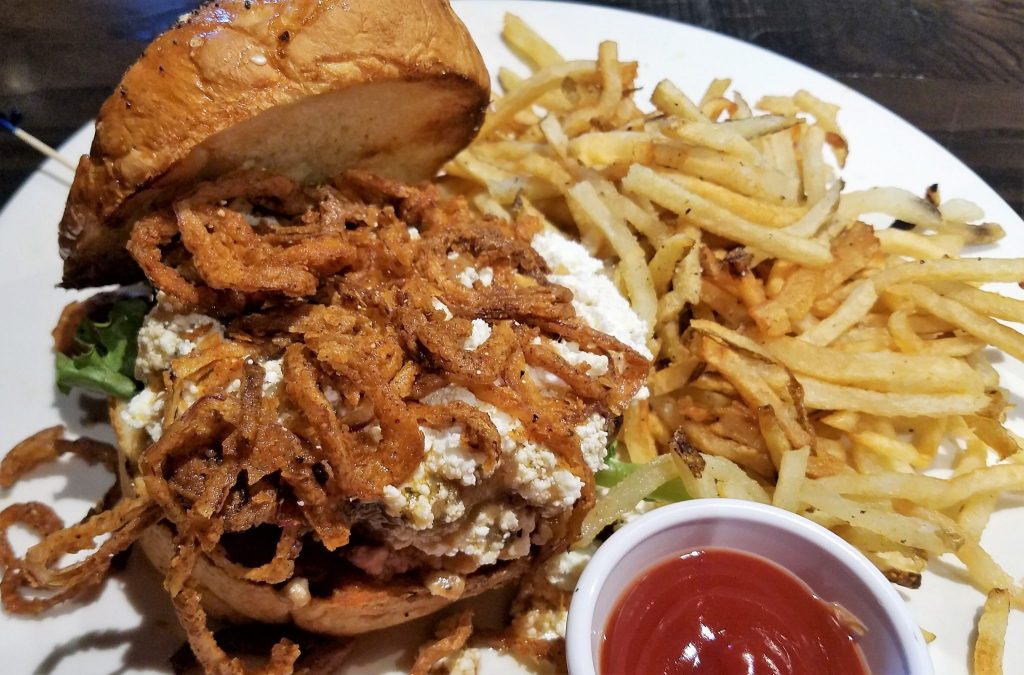 We were both in the mood for burgers; me in the meat variety and her in the vegetarian variety. I ordered the BGT Burger and she ordered the Portobello Burger. The BGT is topped with goat cheese, crispy onion strings, and bacon jam. It came out perfectly cooked. I love a good, messy burger and this did not disappoint. I took a bite and the juices were flowing. This burger was savory with a goat cheese punching through, but not overpowering. My wife's Portobello burger was a thick Portobello cap topped with piquillo peppers, grilled red onions, fresh greens, and a roasted tomato aioli. I ate a bit of hers after devouring half of my burger and the brightness and freshness of her veggie alternative was a nice balance to my super savory selection. Both burgers were fantastic.
The next morning, before we headed to our next stop on our Smoky Mountain tour of Tennessee, we stopped for breakfast at a teeny tiny little café called The Lil' Black Bear Café. When I say teeny tiny, I mean it's really tiny. There were only five 4-top tables inside and a couple of picnic tables outside. It's off the main drag and you'll miss it if you're not looking for it. The service was textbook Southern Hospitality. The Lil' Black Bear Café is owned and operated by Lenny. He was a chef for many years at various corporate hospitality groups. He retired for awhile, but the call of the kitchen drew him back and he opened this place. He welcomes each guest with a hearty hello and literally whistles (or sings) while he works. That's a man that loves his job. His signature item is his pancakes. They're each about an inch and half or so thick and they come two to an order. They have a perfect crispy exterior with a soft, cakey interior. You can have them topped in a number of diabetic coma inducing ways, but for the sake of my blood sugar, I kept it simple with butter and maple syrup. They were delicious and a full meal unto themselves, but then our waitress had to go and describe the fried bologna special and I couldn't resist it.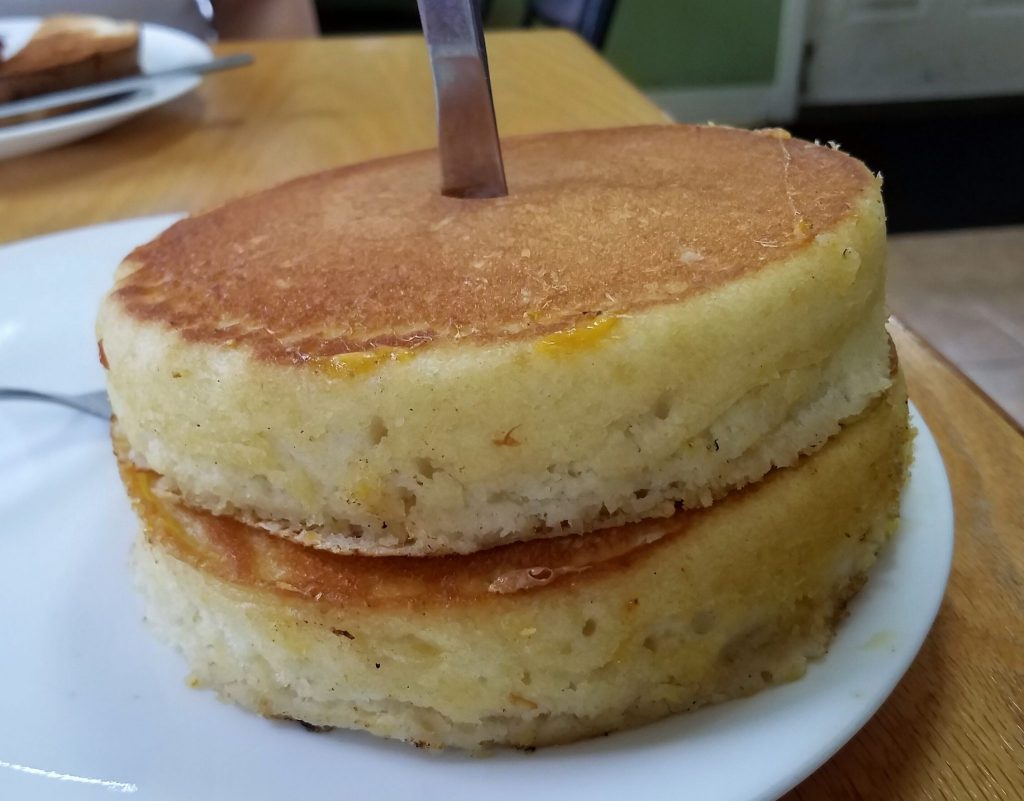 Fried bologna is a southern staple and a guilty pleasure of mine. Lenny smokes his bologna in-house, then slices it, fries it up, and serves it in a variety of ways; in omelets, in sandwiches, or as part of a platter. I ordered mine in sandwich form topped with an over-easy egg, sliced cheddar cheese, and lightly toasted white bread. The bologna was delicious with a light smoke flavor with satisfyingly crispy edges. The runny egg yolks added unctuousness to it. I should've ordered an extra sandwich to go.
After we left Pigeon Forge, we headed up to Johnson City, TN about 2 hours northeast. We used to live in Johnson City in the early 2000's and it's been a long time since we've been back. I mainly wanted to go back to Johnson City because of a little place called Pal's Sudden Service. Pal's is a popular regional burger chain in northeast TN and southwest VA. Think In-and-Out, but in TN. Pal's is drive-through only. Driving up to a Pal's and seeing its vibrant robin egg colored blue exterior paint and the comically large sculptures of a burger, hot dog, drink, and fries, this place looks like it belongs in the Simpson's city of Springfield and just begs to be Instagrammed. Not only is the food fantastic, but the service is also stellar. There's no speaking into a screen or speaker. You drive up to an actual human being to take your order, and then you pull around to get your food. And Pal's is quick. Say what you want about Chick-fil-a's drive through prowess, but Pal's can do the same and dare I say, better and faster. Their quickness is due to their limited menu of burgers, hot dogs, and a few non-burger sandwiches (The Big Chicken, Chipped Ham, and Toasted Cheese). It's a simple menu and easy to execute quickly and easily.
When I used to live in Johnson City, I would go to Pal's at least once a week and get my regular order: A Double Big Pal with Cheese, Frenchie Fries, and a large Peachy Tea. The Double Big Pal is two burger patties (1/3 lb each), topped with mayo, cheese, lettuce, tomato, and onions. Burgers are made fresh, never from frozen. It's a beast of a burger and delicious in every way. The bun is pillowy and soft, giving way to a perfectly cooked burger patty. The mayo, tomato, lettuce, and onion offer a cool contrast to the hot burger. The burgers may not be beauty pageant winners, but they are hearty, filling, and fantastic. The Frenchie Fries are your standard fries with seasoning salt instead of regular salt. They're always cooked perfectly crispy. My wife ordered her usual: The Big Chicken. This isn't a fried chicken sandwich like most other fast food places. This is thin sliced chicken topped with a spicy mustard, lettuce, tomato, and cheese. It's a wonderful deli-style sandwich, but still hefty, weighing in at just under a pound or so.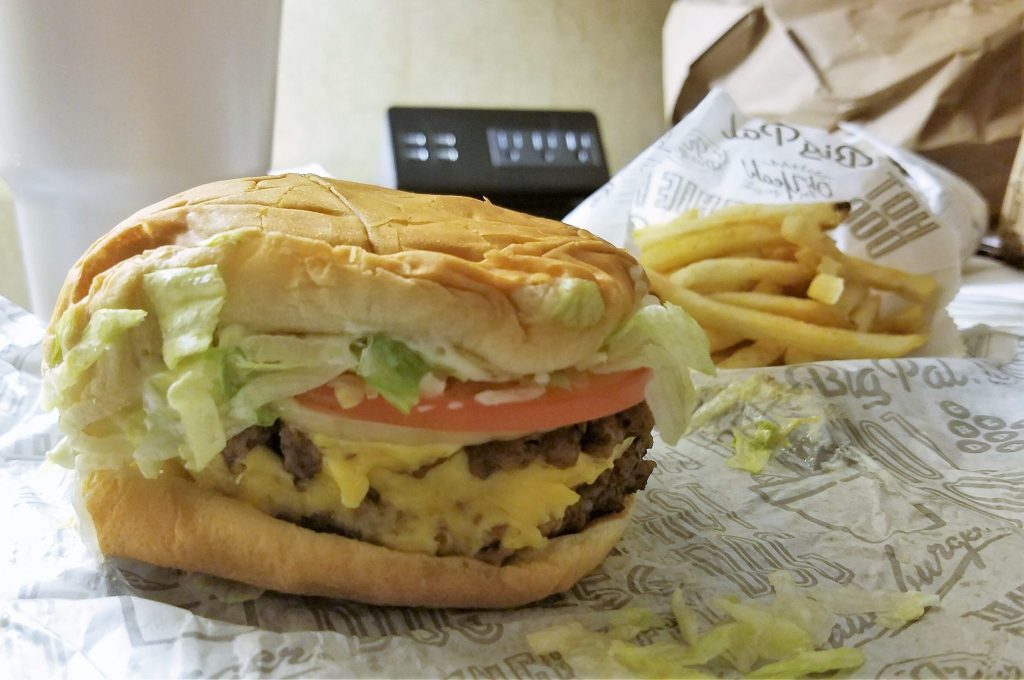 A road trip through the Smoky Mountains should be on everyone's travel bucket list. The twisty winding roads, the tunnels through the mountains, and the various look out spots along the highway is a great way to take in the beauty of nature. It's the type of road trip where it's a good thing to take the scenic route and go a little slower and enjoy the view.