Guest Post by Alanna Salussolia from 904Custom.com
When my boss sent an email requesting ideas for a team building event, I was ready with a suggestion: Sweet Pete's. A friend had invited me there for a boozy birthday candy making class. I couldn't make it, and the mysterious draw of this sugar kingdom had only grown. Yes, the tone would be different than a birthday party, but it was an opportunity for an educational group event. My boss signed up the 904Custom.com content team, and one sunny Thursday afternoon we stepped out of the office to discover something new.
Right in the heart of downtown Jacksonville, there is a building run by Pete Behringer, a man that can only be described as Willy Wonka's real life rival. The building is a large historical, plantation style home that sits on the edge of Hemming Park. The three-story house is a mix of stately architectural details offset by whimsical oversized flowers, butterflies, and lollipops. And that's just the porch!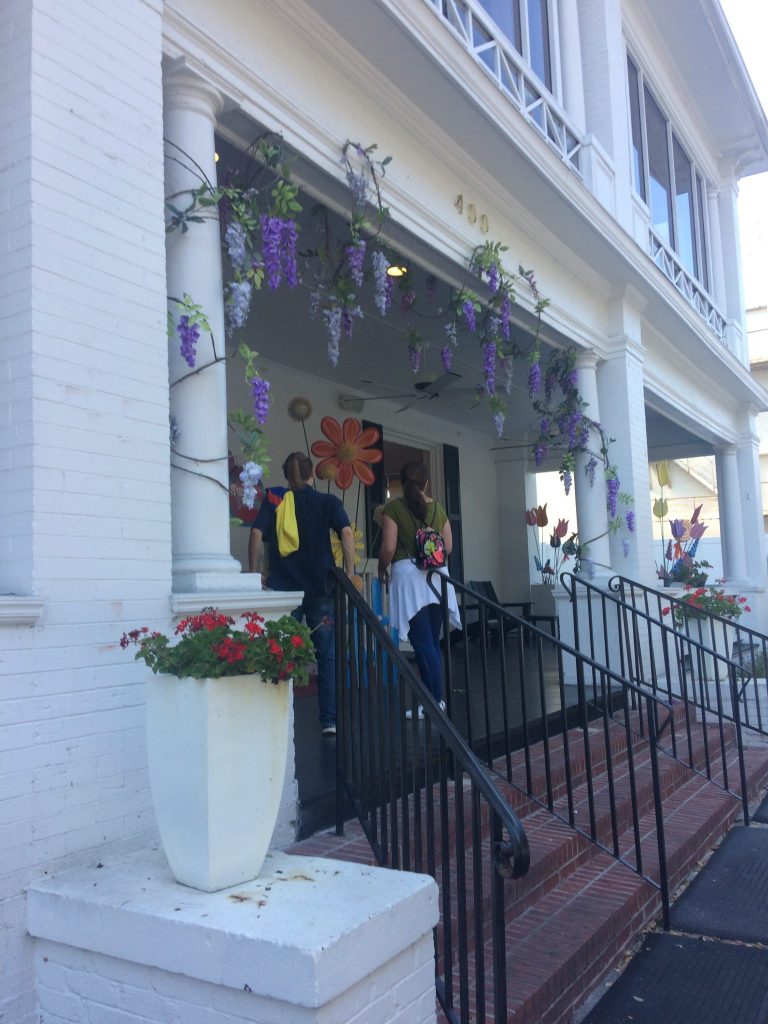 Once we walked inside, we were met with an extravagant display of treats and a greeter. She sent us up a winding wooden staircase to the second floor where our gummy making class would take place. Now I am obsessed with all shapes, flavors, and sourness levels of gummies. My boss knows that a bag of Sour Patch kids is a foolproof way to make my day. Taking a class on how a local confectioner creates their unique delights let me take my passion for sweets to the next level. "Sweet Pete" himself, Pete Behringer, taught our class. He was decked in a candy lab coat and eager to get the sugary ingredients heated to just the right whisking point.
The one hour class was an educational journey that made me feel like I was in the middle of a classic Mr. Roger's how-it's-made segment. Except for this setting had a lot more color and even a giant 10-pound gummy snake eyeing us in the corner of the room. The class was very informative, from gelatinous temperature tricks to company secrets for getting just the right texture.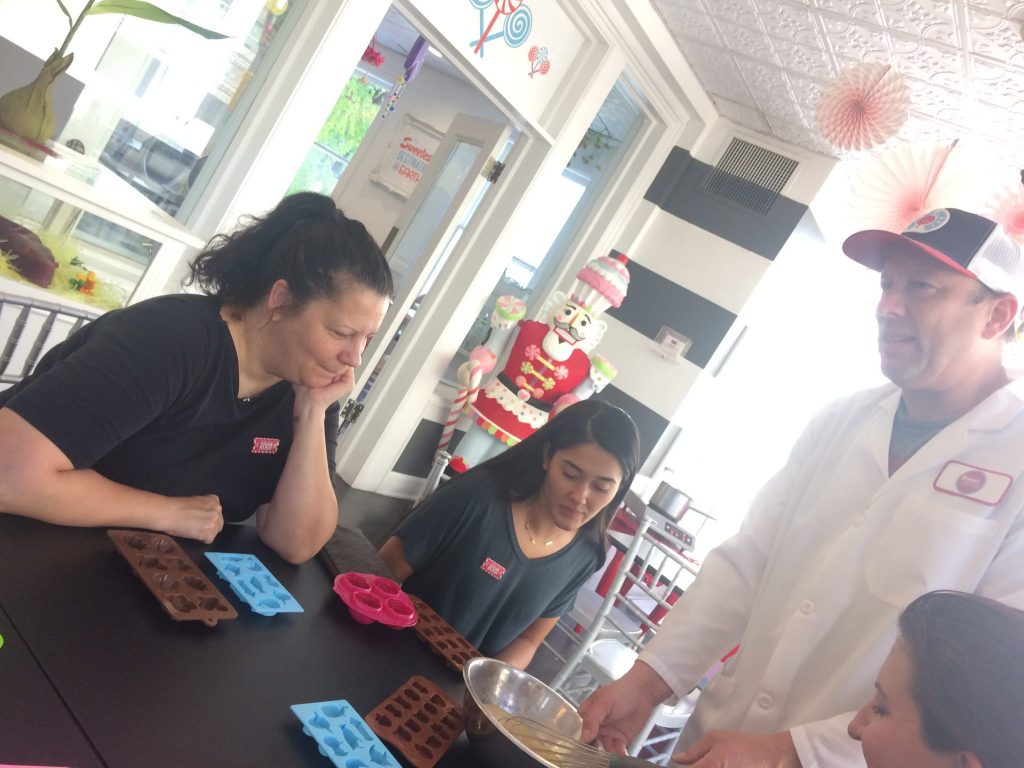 We got to pick out special molds for our candy. There were sharks, Darth Vadors and farm animals. Pete even brought out a bowl of sour coating to cover our gummies! After Pete filled the molds and put them to set in the fridge, he gave us a tasting tour of 7 of their various gummy recipes. Did you know they used peach fibers for candy? I immediately asked if that made the candy healthier. He said no, but I assure you, this won't stop me from eating too many. We moved on to sample a Pete favorite, chocolate dipped gummy fish.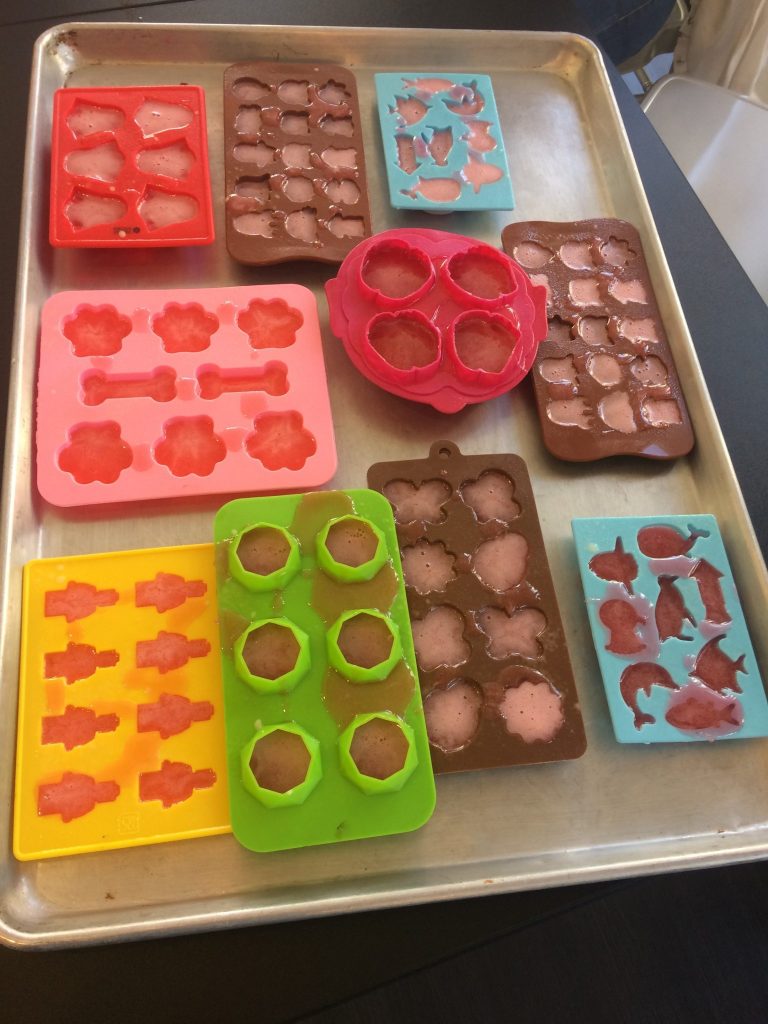 We completed our class by filling red and white striped gift bags with gummy candy to take home. We were stocked up on extra big bites of strawberry flavored sharkies! Before hitting the adjoining ice cream parlor, we explored the rest of the candy mansion. We peaked into the factory rooms where the candy is made, play sections for kids, toy sections, and rows and rows of candy.
I don't want to give away all of the surprises that go with the class (like ice cream cones at the end!), but it was an 100% successful team event. How better to prepare for the busy crunch of the holiday season at work, than bonding over seeing nostalgic candy brands from childhood? So many memories went with Jujubes, Red Ropes, Candy Buttons, and Chick-O-Sticks.
Sweet Pete's Candy
400 N Hogan St.
Jacksonville, FL 32202
Alanna Salussolia graduated from Rollins College with a Bachelor's in English and is a content creator for a Jacksonville personalized gifts company. She has written on topics ranging from personal finance and medical trends to personalized products and bullet journals. When she's not at work, she's devouring chic lit, loving her puppies and trying to make the best spaghetti sauce ever.
Cover photo courtesy of Sweet Pete's Candy.