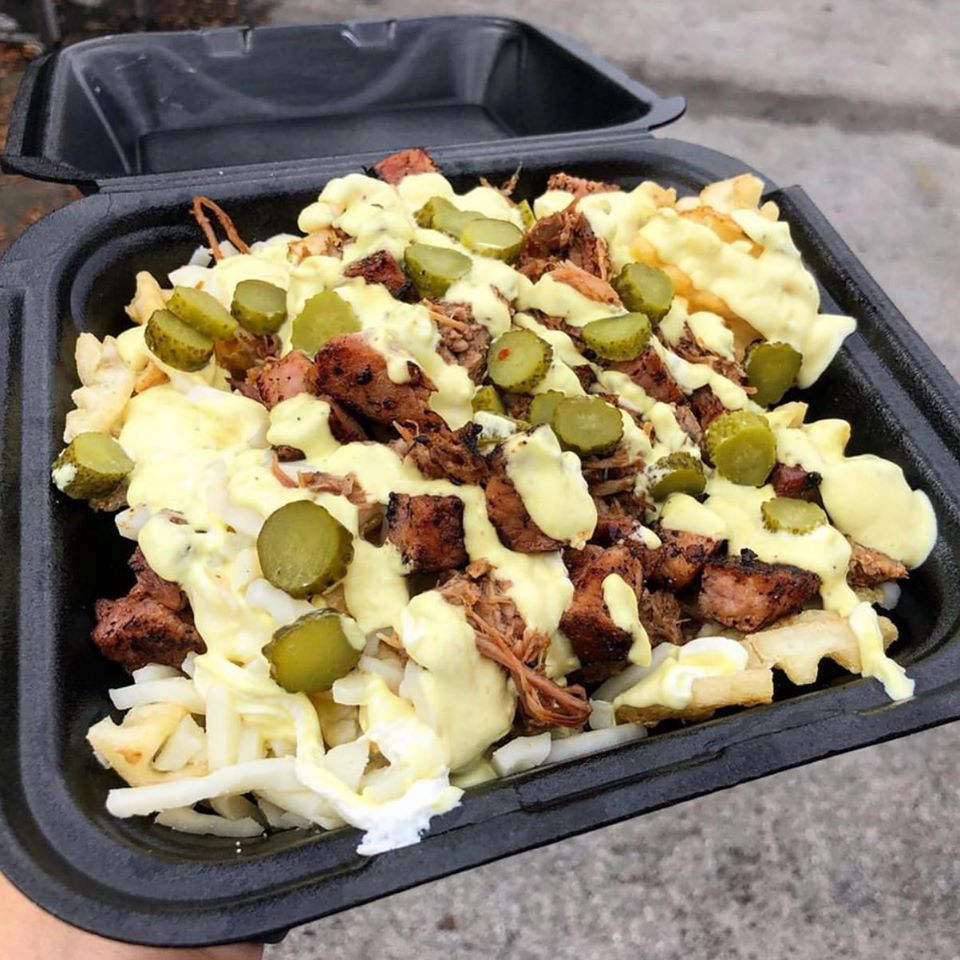 Writing about those in the food industry, particularly those working as cooks and chefs, their origin story tends to follow the same curve: they loved cooking from an early age, tugging at their mother's apron, learning recipes handed down from generation to generation, sometimes culinary school is involved, or maybe they started at the lowest position in a restaurant and toiled long hours to learn the craft. The dream would be to open a restaurant and show the world their version of traditional family favorites. Hearing these stories can sometimes feel like I'm writing the background story for a profile on Chopped.
This is not that story.
San Marco Chz Fry Co started as the hungover brainchild of two best friends and Jacksonville natives, Ty Banks and Brandon Richardson. Ty and Brandon are born and bred Jaxons, complete with large matching Jacksonville Jaguar tattoos.
After a robust round of bar crawling with some friends, Ty and Brandon craved some fries to help soak up all that alcohol. But the options around them were some kind of variation of fries and sauce. Chili cheese fries are so passe. And chicken bacon ranch fries, so basic. They wanted more. They wanted a meal to help ease them from their current state of pleasantly drunk to the inevitable hangover to come.
In August of 2018, after topping fries with just about anything, the concept of San Marco Chz Fry was born. Ty cooked up some of his fry experiments for friends in his San Marco apartment and they seemed to enjoy it. He thought that this could be a viable business opportunity, but wanted to see what the general public thought. Armed with a flat top and a fryer, Ty and Brandon set up shop at various tailgates around Jaguar games, giving food away for free to inebriated but passionate Jags fans. It was a huge hit.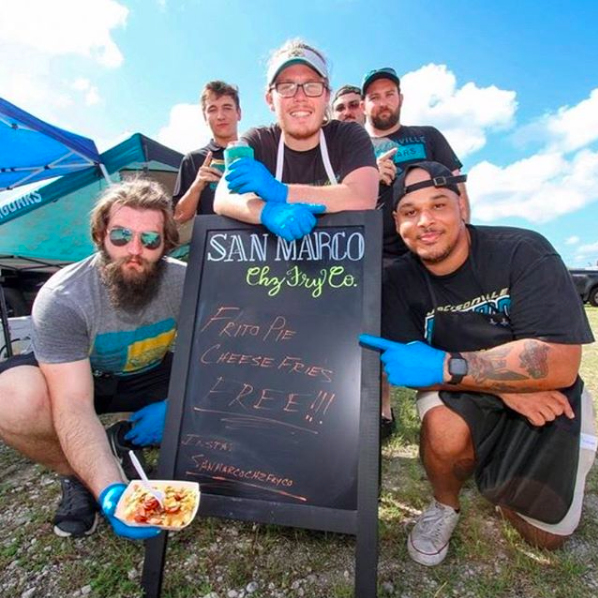 Ty quickly began developing a menu. Many of the items on the menu today came from that first night of brainstorming, such as The Cuban with seared ham, pulled pork, mozzarella cheese, and house made mustard sauce. As well as The BBQ, made with cheddar cheese, mac and cheese, pulled pork, and house-made BBQ sauce. For a side, Vietnemese Egg Rolls made with ground pork and a secret blend of spices. He also had a Breakfast Fry with eggs, cheese, and bacon. He looked at his menu proudly and was ready to go.
Leave it to mom to humble a son. One look at the menu and mom sent a text to Ty: "You know you have pork on every menu item, right? You know not everyone eats pork, right?"
D'oh!
So after some tweaking to the menu, The Cajun and The Buffalo were added. The Cajun features blackened shrimp, sauteed peppers and onions, house-made ranch drizzle, and "fiesta blend cheese sauce." The Buffalo is fried chicken bites topped with mac and cheese, cheddar cheese, and a buffalo and ranch sauce drizzle. It also comes as a vegetarian option.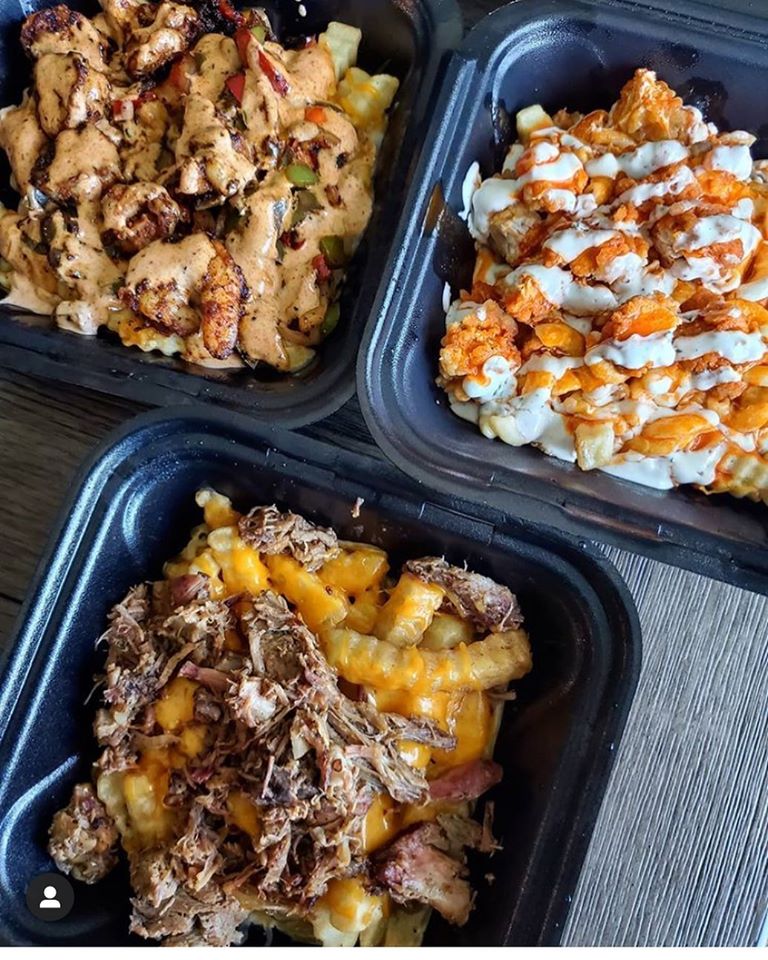 So with a more rounded out menu, word got around and a flat top and single fryer weren't going to cut it. Ty quit his job after many years at the Publix Distribution Center, cashed out his 401k and stock options, bought a custom-made trailer in cash, hooked it up to his truck and hit the road. Their love of Jacksonville and obsession with 90's pop culture is evident in their trailer design. The company logo was inspired by "Saved by the Bell" colors and iconography. One look at their Facebook page and you'll see homages to Kid N' Play, Bell Biv Devoe, the movie "Clueless" and other legends of the 90's. The back of the trailer has a truly awful hand-drawn Jags logo. True to form, one of Ty and Brandon's friends drunkenly tried to draw the logo from a coaster. It was so endearing they decided to make it part of their brand. If you look closely, you can see the drawing get progressively worse from left to right.
In two short years, San Marco Chz Fry Co has built a strong following. He had some doubters at first. Co-workers picked on him for quitting a stable job to sling fries. Now those doubters are his most loyal customers.Ty created a strong menu of familiar flavors presented in new and hearty ways. It's also a family affair. His mom makes the mac and cheese that goes on The BBQ. His dad makes the pulled pork featured on the fantastic Cuban fries. His girlfriend hand-makes the ever-popular Vietnamese Egg Rolls. He makes all his sauces from scratch. A close circle of friends pitch in to help staff.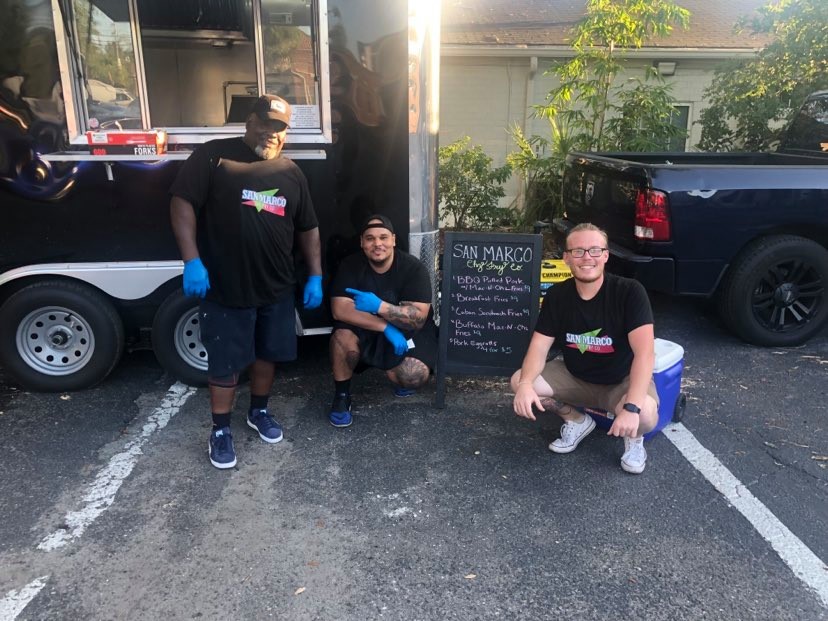 What could've been Jacksonville's version of "Harold and Kumar go to White Castle" but with beer and fries, has become a successful business serving everyone on the spectrum of the imbibed. Future plans include a stand-alone brewery serving top-shelf beer with their fries. Once that happens, the circle will indeed be complete.
If you'd like to book San Marco Chz Fry Co for an event, give them a call at 904-518-1779. Follow them on social @sanmarcochzfryco to see their weekly schedule and be sure to let them know that Jax Restaurant Reviews sent you.