The Jax Food Truck Food Court is Taking Over for a cause! Saturday October 7th, from 11-4pm, they will be Taking Over Academy Sports at 11901 Atlantic Blvd and will also be a drop off location for essential needed supplies for Puerto Rico! They will be accepting monetary donations as well, 100% of which will be used to purchase additional needed supplies. The food truck lineup is below of Jacksonville's premiere food trucks, and check out their event page for a list of donations they will be accepting! There will also be a cash bar, a kids play zone, local vendors, and more family friendly fun! RSVP now and invite your friends and family to a day filled with fun and food for a great cause!
Joining the Takeover on the savory side:
The Happy Grilled Cheese – People's choice for best food truck in all four major Jacksonville publications, The Happy Grilled Cheese is one of Jacksonville's heavy hitters! Take it cheesy with their Daddy of the Mac and loaded cheese fries. Plus, Pro Tip: you can add mac and cheese to any sandwich if you're feeling decadent! Our favorite is to add it to the California melt! You're also not going to want to miss their sweet, decadent, chocolate laden S'mores melt!
Cuban Fire Grill – Authentic, slow cooked, homemade cuban cuisine featuring Cuban sandwiches, lechon asado, ropa vieja, and flan for dessert. Their steak sandwich is ridiculously good for all the meat lovers out there! We're also very appreciative that they serve their Cuban sandwiches with potato sticks, it's such a nice touch! They were recently named by our readers as Best Cuban Food in Jacksonville, so check them out!
Mr Potato Spread – Not a single person on this planet can turn down a massive loaded potato. Mr Potato Spread is fulfilling this great need in Jax with over the top potatoes and loaded fries that will carb load you right into heaven. Want it topped with broccoli and cheese? Go for it. Want it loaded down with meat? They've got you covered. Want it covered in CRAB BOIL?! Your dreams have come true.
Cackylacky's – Gourmet burgers and hot dogs await you at this new truck that has bold unique flavors all over the menu! Craving a gyro? How about a Greek Knight burger with gyro meat and tzatziki? Like it spicy? Poblano mayo will kick it up a notch on any burger! They're hand pattying and hand cutting all their burgers and fries for freshness and authenticity you can't find many other places. Cackylacky's goes the extra mile for you, so definitely swing by this new truck and show them some love!
What's Smokin – How does slow smoked BBQ pulled pork in a gyro sound? This BBQ fusion truck brings the unexpected to your notions of traditional BBQ and gyros are just the beginning! Their BBQ egg rolls have quickly become a favorite of our food truck community. Oh, did we happen to mention they have cheesy hash brown casserole as a side item? #heaven!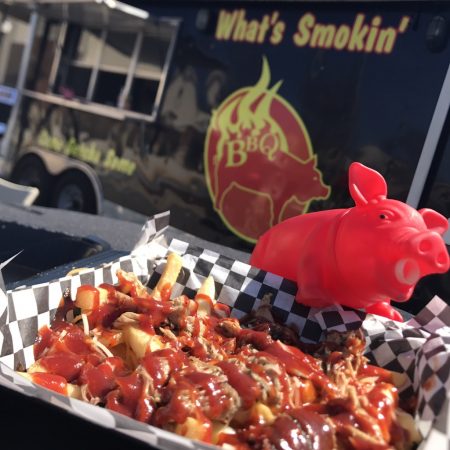 Fusion Food Truck – Chef Ashley Amin (winner of top Indian chef in San Diego and best chef in Jacksonville) brings us the best Indian cuisine in the city from her truck, proven by being recently named one of the top 50 food trucks in the United States! We highly recommend their award winning banana curry and tikka masala paired with a decadent Thai tea. If samosas are on the dessert menu, you'll definitely want to have one or ten! Really, we love everything on Fusion's menu, so order liberally.
My Cousin Vinny's – New to Jacksonville events, but not new to the road, this St Augustine food truck will have you falling in love with their authentic Italian roast beef. These heavily stacked sandwiches come in a variety of sizes, including sliders for an easy bite, and are served with fresh horseradish and au jus. They also have a killer caprese salad for lighter fare! Enjoy a taste of Italy and welcome them to our Jax food truck family!
Chubby Burrito – One of the most popular Mexican trucks in Jacksonville, Chubby Burrito specializes in authentic Mexican style street food. All food is freshly prepared daily and focuses on simple, authentic flavors. The carne asada street tacos and chicken tinga burritos are can't miss orders. Oh, and did we mention there are churros?!
Treemendous Sea and Soul – Food Longtime BBQ favorite Treemendous has branched out into the soul food category with their new truck, and we are in love! Fresh fried massive grouper filets, Mayport shrimp baskets, oxtail, no filler crab cakes, fried pork tenderloin sandwiches, and homemade southern sides. Can you ask for anything better? You know if it's coming from the Treemendous brand then it's quality food and quality service, so show them some love at their Takeover debut!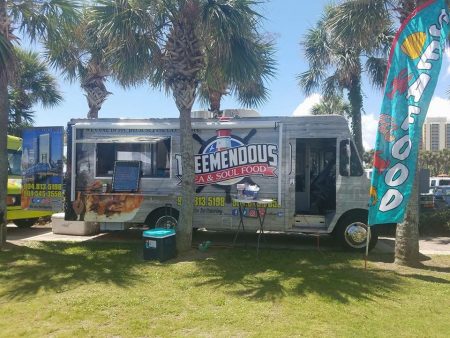 Big Island Bowls – This truck offers energizing, healthy, detoxifying acai bowls with freshly prepared fruits and homemade granola toppings all inspired by the owners residency in Hawaii. A St Augustine native, we always love when they come to visit us in Jax! Your body will love you for this Takeover choice!
Blazin Azn – Bacon fried rice is all we really need to say, but there is SO much more to love at Blazin Azn. Spring rolls, egg rolls, and incredibly tender teriyaki shrimp and chicken are all worth ordering. Plus, they are now featuring sushiritos and a sushi menu on the truck! They love to surprise us with over the top rally specials too! There's a fusion of flavors at Blazin Azn so we have faith there is something that everyone will enjoy! They were recently named best Japanese by our readers, so stop by and check out why they voted him #1!
Joining the Takeover for sweet treats:
Nitrogen Creamery – Do you think ice cream is the best dessert in the world? You'll love it even more made with nitrogen! All flavors are homemade daily using -320 degree nitrogen! The use of the nitrogen brings out the true flavors of each ice cream and make it quite a decadent treat. We're big fans of the nutella (who isnt?) and we'd give up all other ice creams for an unlimited supply of their honey cinnamon.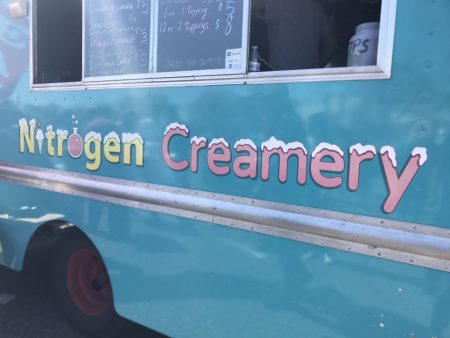 Front Porch Kettle Corn – Start your food truck rally adventure here for an appetizer! Fresh made sweet and savory popcorn, mouth watering spicy pork rinds, and southern sweet tea. Take home a few containers to snack on later – you will thank us!
Funnel Cake Queen – These aren't your average funnel cakes people, so buckle up and get ready for the best one of your life! Get your daily serving of fruit with these sweet as pie caramel apple funnel cakes, or try one loaded with chocolate for a richer treat. If you're a traditionalist, there are sugar coated originals that stand alone as the best in Jax even without toppings!
Van D's Dutch Delights – In a sea of cakes, be a waffle. That's the old saying right? This truck brings Dutch stroopwafels to the streets which is basically a waffle cookie hybrid. They're crisp and lightly sweet alone, or try them with a drizzle of caramel, Nutella stuffing, or ice cream to amp it up! They make milkshakes, ice cream, and serve delicious coffee for all your traditional dessert needs. If you want to try something you've truly never tried before, Van D's needs to be your first stop!
Le Petite Cheri Cupcakery- Who doesn't love cupcakes? Le Petite Cheri raises the bar with seasonal flavor combinations and fresh toppings. Their desserts are rich and decadent, just how we like them! Also don't miss their fresh made raspberry lemonade which is the perfect food truck rally treat! They've been experimenting with some new treats lately, so make sure to check out their specials menu and add that to your cupcake order!
Not Your Mama's Treats – Our newest dessert truck, Not Your Mama's Treats is hitting the streets and changing the game! Fresh cake slices including speciality carrot cake, red velvet, customer favorite cheesecakes, peanut butter pops, and more! They're making everything from scratch with love and family recipes. Take a few things home, because you will not want to try just one thing from this decadent truck!
Want to stay apprised of your favorite food truck locations, schedules, events, new trucks, and more food truck related news? Follow our sister brand on Instagram @findjaxfoodtrucks!