If you grew up in Jacksonville there's one place that you no doubt ate as a child, The Derby House. Located at Five Points in Riverside, The Derby House was a Jacksonville institution. The Derby closed in the 2000s, then reopened and operated as a more upscale concept, Derby on Park, for a number of years before closing again. After a couple of stop and start moments where it appeared it would reopen, the Derby space has stayed closed for many months. This space has always held a special place in my heart. As a child going to The Derby House and eating a grilled cheese or a patty melt meant a wonderful afternoon spent with mom or dad and maybe a family friend or two. The food was affordable, no frills diner fare and for this child the experience was greasy magic. This week that magic comes back to life as Derby House Diner. Operated by the duo behind The Bearded Pig, The Derby is headed back to its roots with true diner fare but this time with an elevated twist.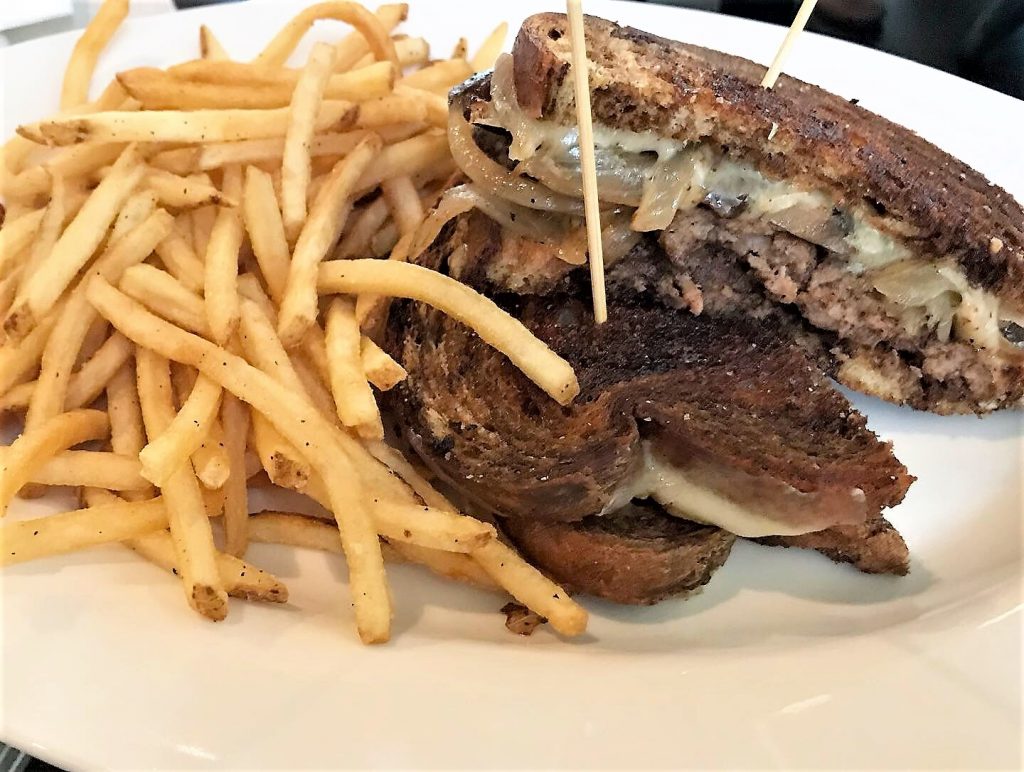 The look of the new Derby House Diner is sleek and updated with an old school diner feel. This space is landlocked by diverging roads and a neighboring business, so expanding was out of the question. All renovations had to take place within the existing footprint. The front door has been moved back to the original location where you'll enter the interior of the restaurant as opposed to the patio entrance of the Derby on Park days. The original interior is banked by custom teal and gray vinyl padded bench seating below the windows that almost completely surround the restaurant. The focal point is the north end, with a large black and white photo of Five Points from yesteryear and a black granite bar with bar stool seating, nearly echoing the shape of the room. The backdrop for the coffee and tea station, stocked with local Martin's coffee and tea, is a fantastic black and white photo on the wall of Martin's Coffee Company delivering coffee to the old courthouse. On the far side of the kitchen is a hallway leading to the expansive covered patio. With heaters, fans, and a/c units, this is one outdoor space that can be enjoyed year round. Two thirds of the seating at Derby House Diner is on the patio, but regardless of where you sit it should be comfortable.
We started with the "Deviled Eggs" (fried potato croquette, parmesan tuile, pickled onion, avocado mayo, $9) and the Buffalo Fried Green Tomatoes (buffalo-pimiento cheese, bacon, green onions, blue cheese crumbles, $10). These are far from typical deviled eggs, which both the quotes around "deviled egg" and the description should tip you off to. Instead of a hard boiled egg white, the vehicle for that rich, delicious yolk is a potato croquette. The deviled part is still there, but the base is a completely different texture and taste. If you are a deviled egg connoisseur, get your mind right before you dig in to these because it's a whole new experience. The deviled yolk and pickled onions play beautifully with the crispy exterior of the croquette and the savory goodness of the potato inside. If you are familiar with the Bearded Pig, you will recognize the liberty taken with these deviled eggs. Purists will probably post awful things on yelp about them, but if you take them for what they are, not what you want them to be, they are quite enjoyable.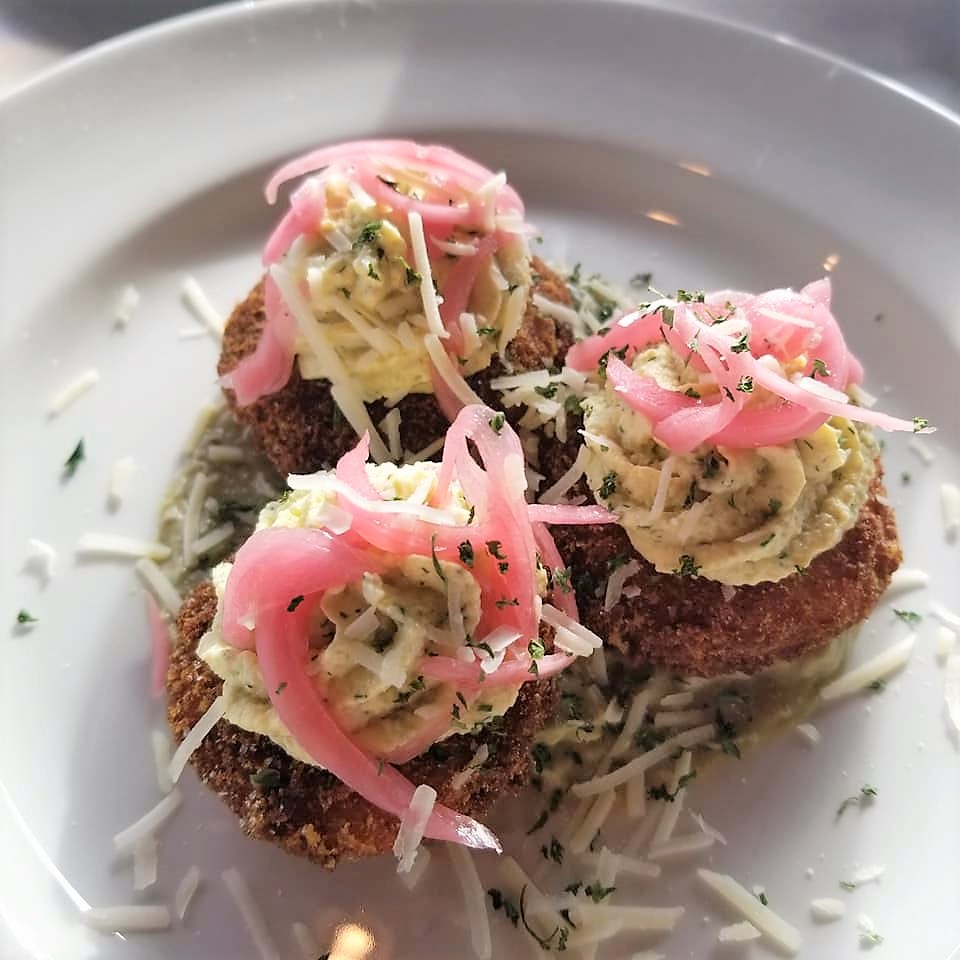 The fried green tomatoes enjoy the same crisp breading as the potato croquettes. The flour used in both the appetizers we tried was a combination of rice flour and corn flour, which allows the dishes to stay crispy, even after your entrees come and you taste your way through a table full of food. The fried green tomatoes come 3 to a serving over a bed of buffalo pimento, topped with crumbled bacon and green onions. These also have a lot of flavor when you get a little bit of everything in each bite. One of my biggest complaints about typical fried green tomatoes is they tend to be soggy, but the unique breading keeps them from that sad fate. These are not FGT like your grandmama used to make, but they also aren't soggy. They are definitely worth a try.
The Tomato Bisque (fire roasted tomatoes, goat cheese, $3/cup, $6/bowl) is a generous portion of a killer soup. It is absolutely full of flavor but still nice and creamy. Often when you add cream to a dish it will mute the flavor. When that happens, one common solution in restaurants is to add a bunch of salt. This tomato bisque achieves that elusive flavor punch in a creamy soup without being the least bit salty. I eat tomato soup and tomato bisque pretty much everywhere it's offered and this is easily one of the best in town. If you love tomato soup as much as I do, definitely order a cup. Maybe a bowl.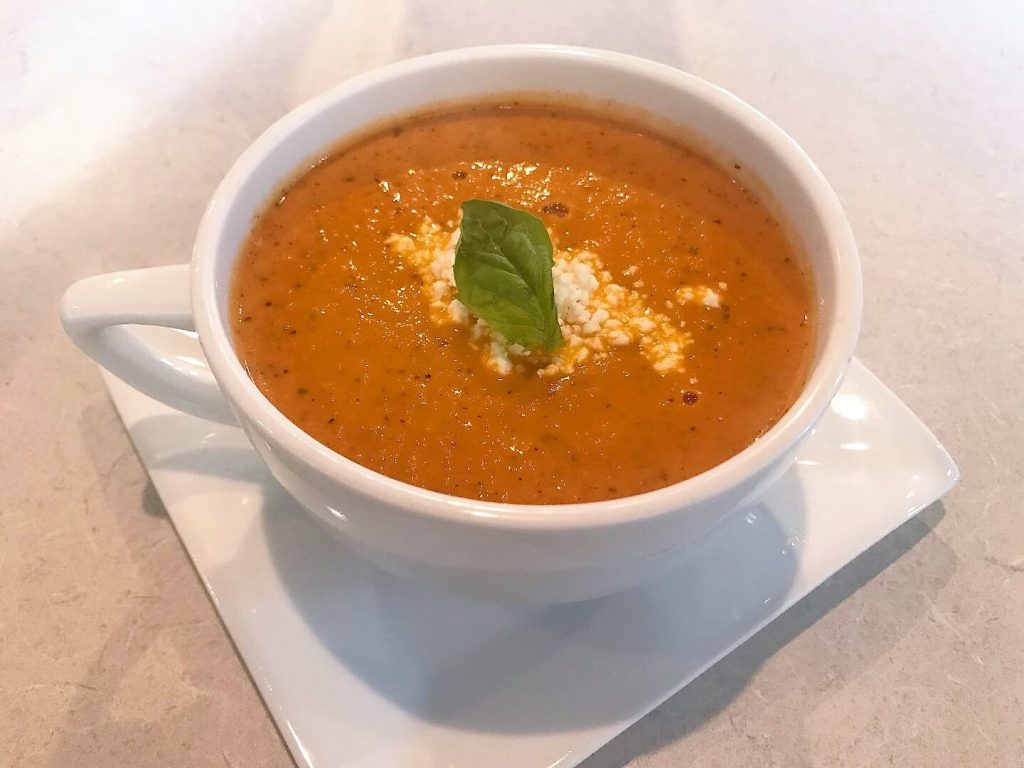 For our entrees we chose two sandwiches: the Patty Melt (flat top burger, grilled onions & mushrooms, Swiss cheese, A-1 mayo, rye bread, $12) and the BLT (crispy bacon, shredded lettuce, tomato, avocado mayo, white bread, $10). All sandwiches are served with your choice of side. The patty melt was the real deal, a little greasy, a bit cheesy, pretty meaty. The A-1 mayo was a nice addition without overpowering all the goodness already going on in the sandwich. The BLT was toasted with precision. It looked like it was going to be buttery like a grilled sandwich, but it wasn't. It was toasted dry. The bacon lived up to expectation by being perfectly crisp, and there was plenty of it on the sandwich. The avocado mayo made an appearance on this sandwich, and it served to fancy it up.
For small restaurants it doesn't make economic sense to employ an in house pastry chef. So small restaurants often throw a dessert or two together quickly or buy pre-made cake or pie from Sysco or some other massive food purveyor because a restaurant has to offer dessert. One of the hottest trends in desserts is for restaurants to partner with outside pastry chefs who create and provide their desserts. In our experience this allows a small restaurant to offer a level of dessert that rivals restaurants large enough to afford a pastry chef in house. Derby on Park has teamed up with "Biscuits and Buttercream" who creates their fabulous desserts which can be viewed in a traditional dessert case right when you walk into the restaurant. We asked our waitress what our dessert options were and she read us the list, but one of the owners happened to walk by at that moment and mentioned with a wink that the best way to choose is to go look at the dessert case. So we did. He was right. Choosing your dessert with your eyes is 100% the right way to go. We had a slice of chocolate salted caramel cake and a nutter butter cookie sandwich. Both were exquisite. The cake was perfectly moist with just a hint of salt in the rich caramel flavored buttercream frosting. We took half the slice home since we didn't finish it and I enjoyed it for breakfast the next day. I might go back just for the cake. But I'd have a hard time passing up a meal as well.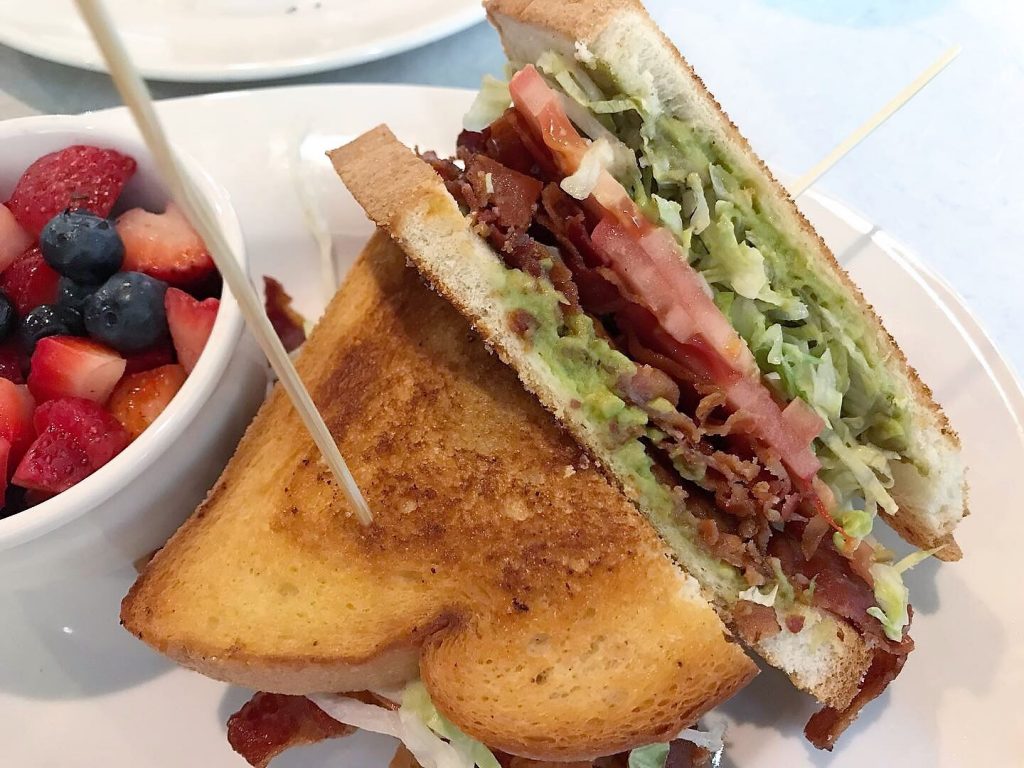 The service at the Derby House Diner was attentive and earnest. Even though we were there for a soft open, it was packed. Opening a restaurant is a wildly difficult task only a small fraction of people are crazy enough to attempt. Doing it well is an even greater challenge. You have a brand new staff who is trying to learn the menu, the procedures, and each other. Usually with a new staff member you have veterans to help get any new hires up to speed. If everyone is new, then everyone is learning together. It's not going to be perfect right off the bat, not in the kitchen, and not the front of house staff. That said, the staff at Derby House Diner was attentive and on their toes. There was also a substantial management and ownership presence making their way around the restaurant, checking on guests and lending a hand. I would expect that would continue through the opening.
The Derby House is such a fond memory for so many Jaxsons, it can be hard to "measure up" with a new concept. But the team at the Derby has done a beautiful job. It's not the old Derby House from 30 years ago. There are a number of nods to the old Derby between design aesthetics and menu, but it's a fresh, updated diner with deep First Coast roots. What a beautiful tribute to an old legend. We're so glad the Derby is back.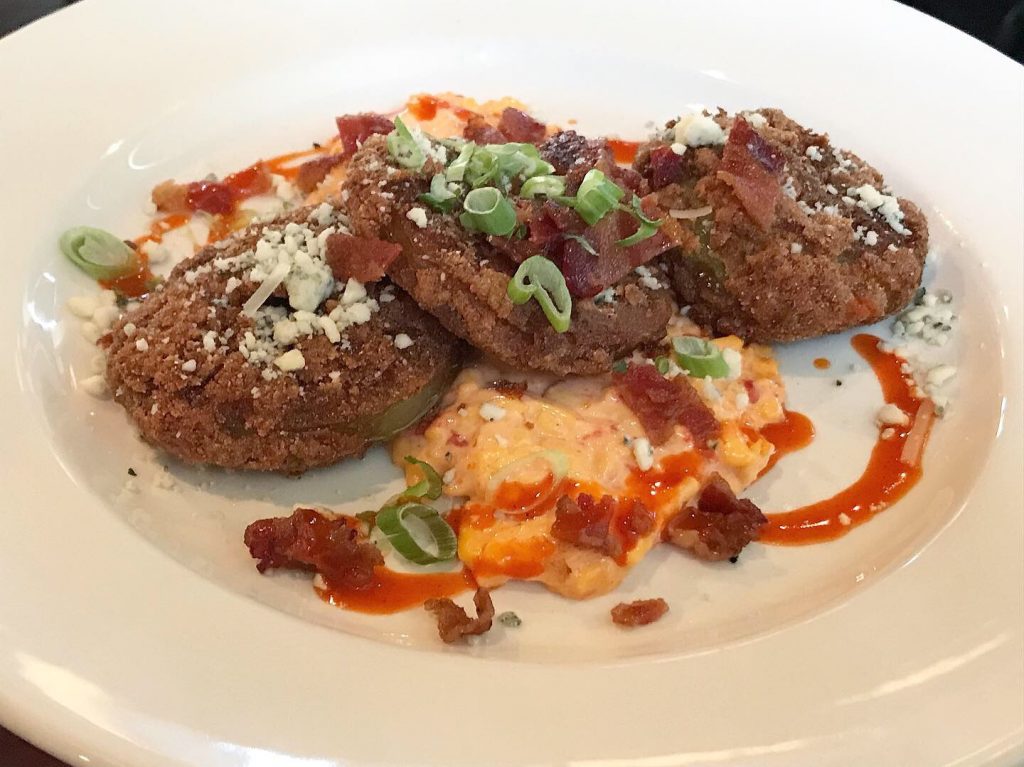 Derby House Diner
1068 Park St.
Jacksonville, FL 32204