Congaree and Penn is a testament to the power of perspective. The now 330 acre farm on the northwest side of Jax currently has a number of orchards, plus their rice and grits. The farm currently produces jupiter rice, muscadine grapes, ouachita blackberries, mayhaws, arbequina olives, mulberries, and figs. The farm has belonged to Scott Meyer's family for generations, and has been through ups and downs over the decades. When Scott and Lindsay took the helm, they stepped back and asked, "What could this farm be? What could this farm do? What is this land and climate suited for?" The answer is, well, a lot more than meets the eye.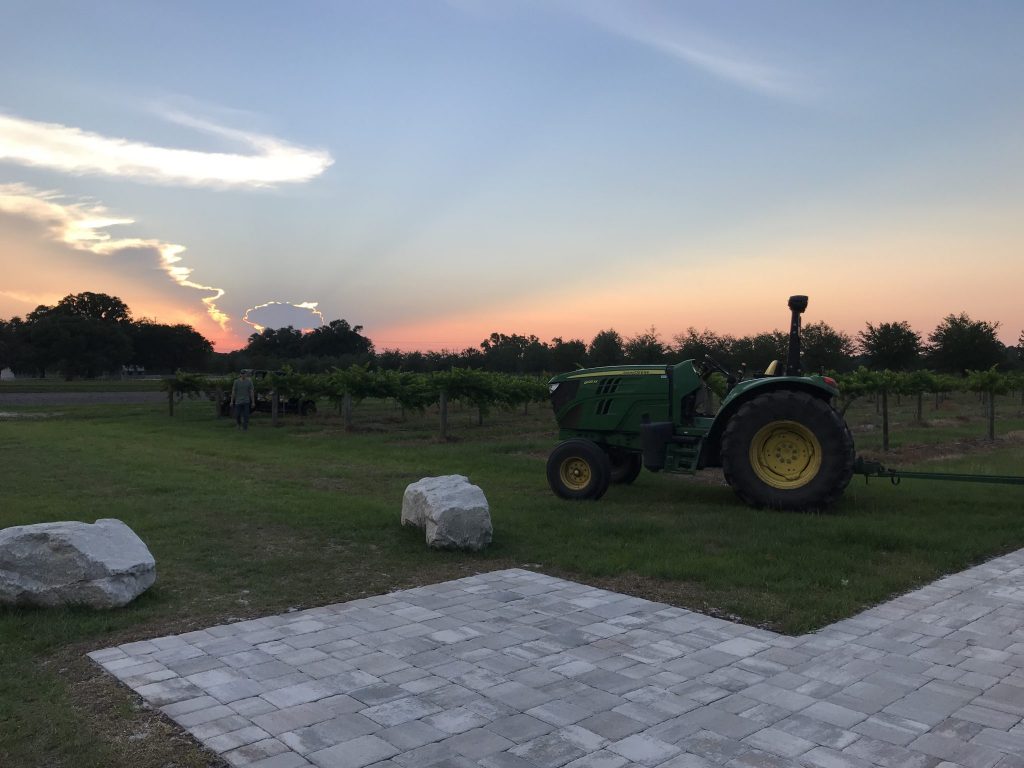 Beyond orchards and crops, Congaree and Penn is known for being a gorgeous event space. It feels rustic, but has all the comforts of the city- clean restrooms, cider on tap, a small air conditioned space. Not only is Congaree and Penn a great place to host an event, they put on their own events in order to welcome people to the farm and experience what they do. With two full time chefs, Congaree and Penn is positioned to pull off just about any culinary request.
One of the most unique things about Congaree and Penn is that anyone has the opportunity to come experience it. It is actually open to the public five days a week, where folks can come hang out with friends and family, order some delicious yet casual food, enjoy some drinks, and soak up all the calm and beauty of the farm. The chefs at Congaree and Penn have created a fuss-free farm fresh menu filled with salads, pressed sandwiches, wings, and snacks, all featuring many ingredients either from Congaree and Penn or other local farms. The farm is open for guests and serves farm fare to order from Wednesday-Sunday 10am-2pm and 5pm-9pm. To make the most of your visit, you can book a tractor pulled wagon farm tour, or join in the scheduled wagon tours on Fridays and Sundays at 10:30am. Fees differ for private versus public scheduled tours, but it is absolutely free to visit the farm.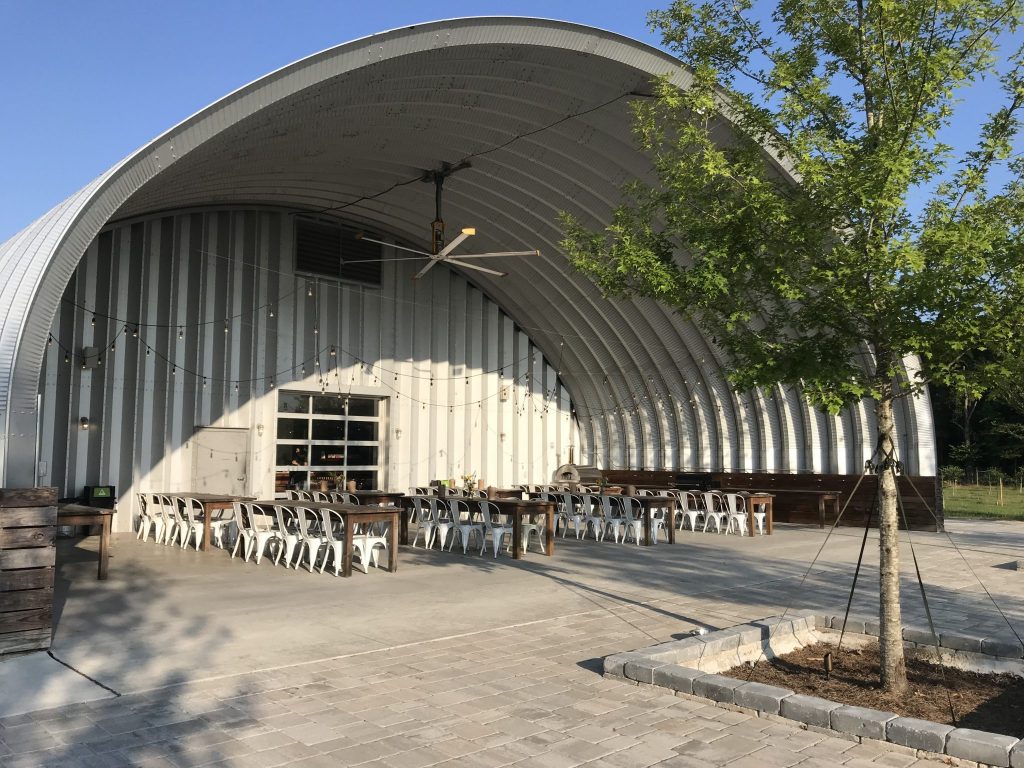 We got to try some of the summer offerings at Congaree and Penn, and were impressed with the quality of food. This is not your great aunt's three day old potato salad. The following are just some of the things we enjoyed. You'll notice our photos are of family style served food. When you visit and order from the Farm Fare Menu you will enjoy a meal made to order and plated just for you.
Warm Pretzel. This pretzel was strikingly reminiscent of the soft pretzels at German Schnitzel Haus. Soft, salty, buttery, you won't want to stop sinking your teeth into this bad boy. The dijon and grain mustards were perfect accompaniments, but so was the dill ranch, so feel free to dip freely.
Farmhouse Salad. Bacon Farm baby lettuces, berries, stonefruit, honey granola, & muscadine mustard vinaigrette come together to make not your average salad. This is as beautiful as it is tasty.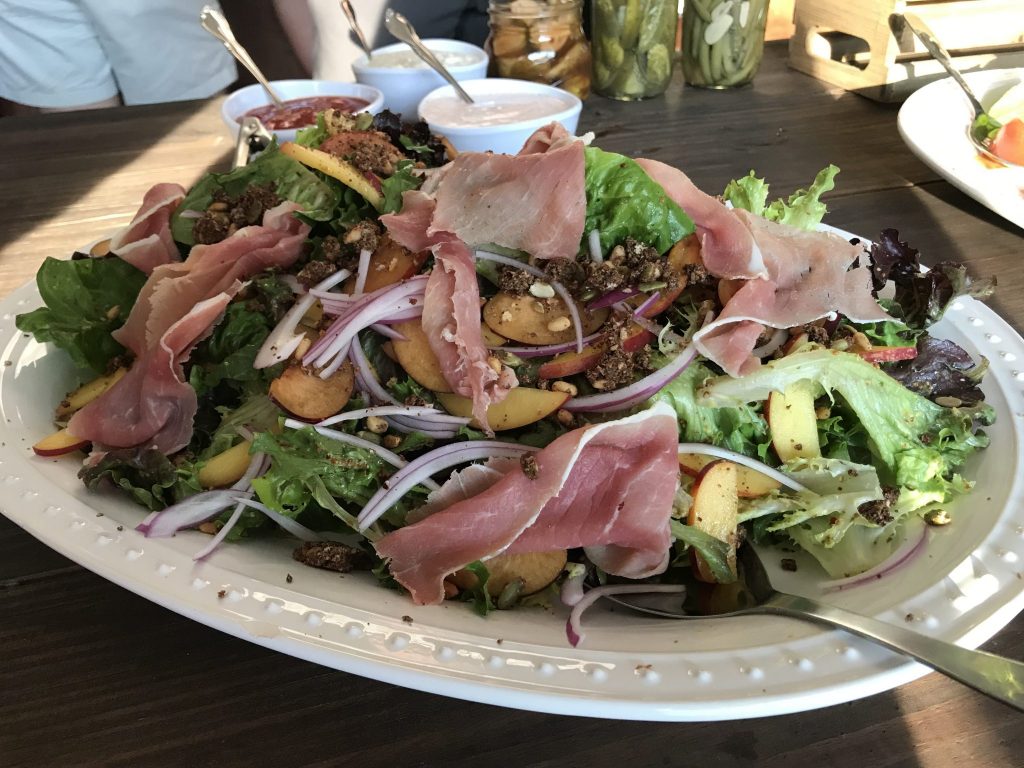 Heirloom Tomato Salad. This was so much more than a tomato salad. It had cucumber, red onion, fresh basil, and a sweet and tangy peach lemon vinaigrette. So summery!
Joyce Farms Wings. These come in buffalo or smoked blackberry barbecue, but believe me you want the blackberry barbecue. You can smell them before you see them. These wings are flavorful and despite the mess, picnic perfect.
Roasted Vegetable Panini, Pressed Cuban, and Brisket Philly. These sandwiches were all on French Pantry bread (oh yes) and had such a lovely combination of creamy cheese, flavorful aiolis, perfectly paired veggies, and superb meats. Whatever your preference is, one (or all) of these sandwiches will hit the spot.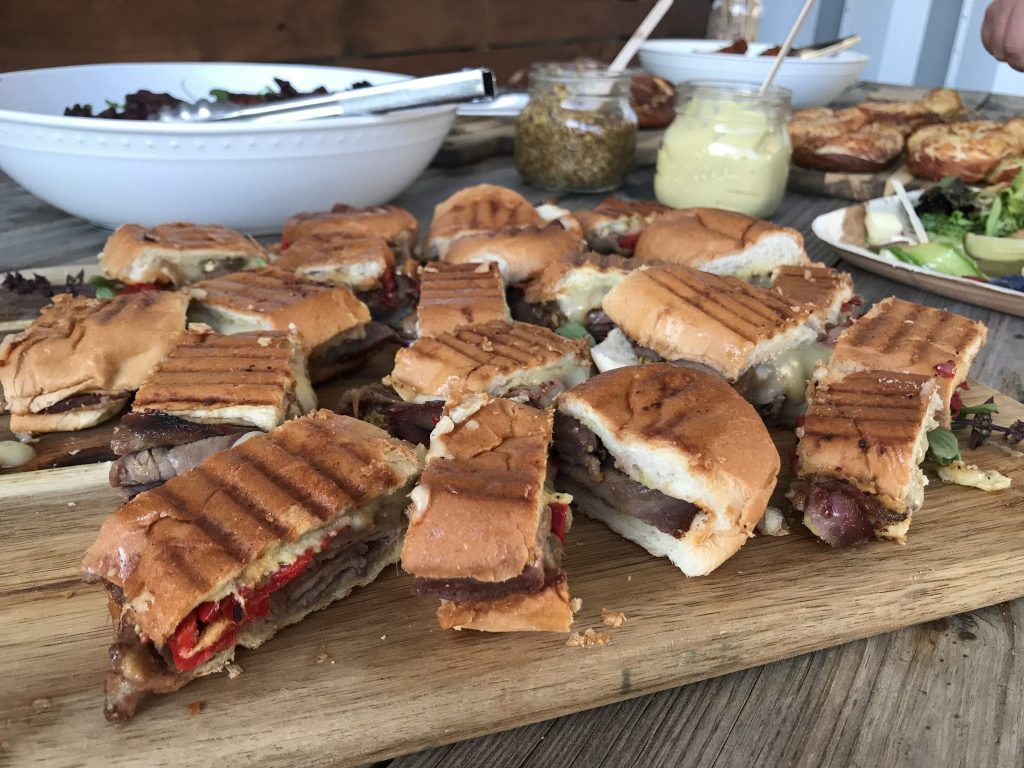 Hand Cut Fries. These come as a side with the sandwiches, but they deserve their own acclaim. There's a difference between a french fry that has recently been a potato one that hasn't been a potato for a while. These are potato-y, but crisp and salty. Congaree and Penn makes their own ketchup, but they also make their own ranch, so go big when you try the fries.
Scott and Lindsay saw a lot of potential in their farm. They've worked to create a place that cultivates both the land and the relationships between people who come to visit. It's hard not to let the beauty of the land affect you when you're there. Congaree and Penn is part event space, part restaurant, part attraction, and all farm.
Congaree and Penn
11830 Old Kings Rd
Jacksonville, FL 32219
Note: From time to time we're invited out to try a restaurant or to taste new menu items. This meal is usually comped, as this one was. We're under no obligation to write a positive review or any review at all when we're invited out to try a place. Every review you see on our site will be an honest review of the place whether or not the restaurant provided us with the meal at their cost.