Picture it: one of the most popular forms of entertainment from the 20th century, updated, restored, and brought to modern standards of technology and food trends, right here in the Bold City. Yes, we're talking the quintessential dinner theatre! We are thrilled to have partnered with the Alhambra for a one night only VIP Experience for Jax Restaurant Reviews guests. 
Join us Thursday, November 21 at 6pm for a special engagement of Jekyll & Hyde! Tickets are extremely limited for this event.
Your VIP Experience includes a curated three-course dinner menu, the critically acclaimed production of the renowned Broadway musical followed by and a private Q&A and photos with cast members – and exclusively for Jax Restaurant Reviews VIP guests! 
If you haven't been to the Alhambra in the last several years, trust us when we say you are missing out. From incredible casts to updated interior, decor, and sound system, to menus created by a nationally recognized chef, Alhambra is the modern iteration of the dinner theater of the past. Executive Chef DuJuan Roy has been featured on several Food Network shows over the years. At the Alhambra, he retired the old model of the dinner buffet in 2011 and has been creating unique menus for every show since. With nine shows per year, Chef Roy not only has plenty of opportunity for creative outlet, but continues to flex his fine dining creativity and passion. Every show menu is inspired by the setting, time period, and unique aspects of the show. The menus also offer several choices for guests at each course. You'll never eat the same thing twice at the Alhambra. We usually go to a few shows each year at the Alhambra, and have been impressed each time with the quality and imagination behind the food, the excellent service, and the stellar sets, casts, and production.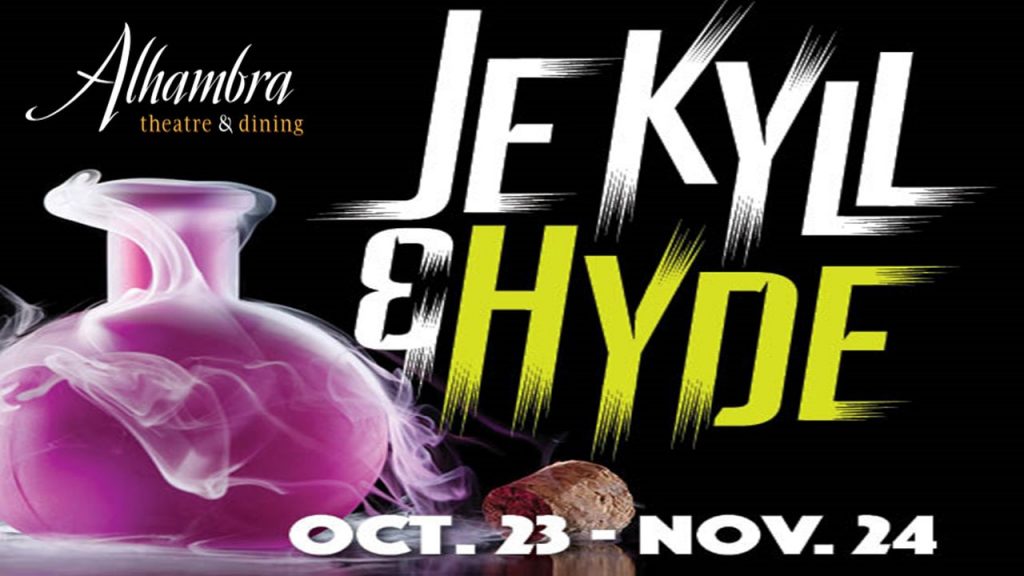 Each ticket includes:
Live performance of Jekyll & Hyde the Musical
A Chef-curated 3-course meal before the show
VIP Q&A after the show with cast members
Private mix & mingle in the Alhambra Library before the show
Our menu for the evening:
First Course
Choice of One
Pumpkin Bisque with crème fraîche and toasted pumpkin seeds, or
Kale Salad with roasted fall vegetables, candied pecans, Asiago cheese, lemon vinaigrette *GF*
Second Course
Choice of One
Braised Pork Shank with herb and cheese polenta, pole beans
*GF* without gravy, or
Chicken & Sausage Jambalaya with rice, or
Sweet Tea Poached Salmon & Shrimp with hollandaise and vegetable rice pilaf *GF*, or
Vegetarian – Italian "Sausage" & White Bean Chili Farro with cornbread
Third Course
Choice of One
Toffee Chocolate Cream Pie
*contains walnuts*, or
Pumpkin Crumble Cake
*Menu subject to change.
*Gluten-free & sugar-free desserts available upon request.
*Adult beverages and soft drinks available for purchase. 
About Jekyll & Hyde:
A tale of two men – one, a doctor, passionate and romantic; the other, a terrifying madman – and two women – one, beautiful and trusting; the other, beautiful and trusting only herself. Both women are in love with the same man, and both are unaware of his dark secret. While trying to find a cure for his father's mental illness, Dr. Jekyll makes himself the subject of his experimental treatments and accidentally unleashes his dark side. Based on the classic story by Robert Louis Stevenson, this musical brings to life the epic struggle about the nature of man.
Get your tickets here!
We can't wait to see you November 21 at the Alhambra and enjoy a true gem in our city. Tickets are extremely limited for this event.