In the long ago days of January 2020, I would go out to eat at least two to four times a week. But now that we can't leave the house without wearing a full-body hazmat suit, I've been doing a lot more cooking at home. The folks at FreshJax were nice enough to send me a sampler case of spices and salts. I was happy to put them to the test in the kitchen and see if it would up my cooking game.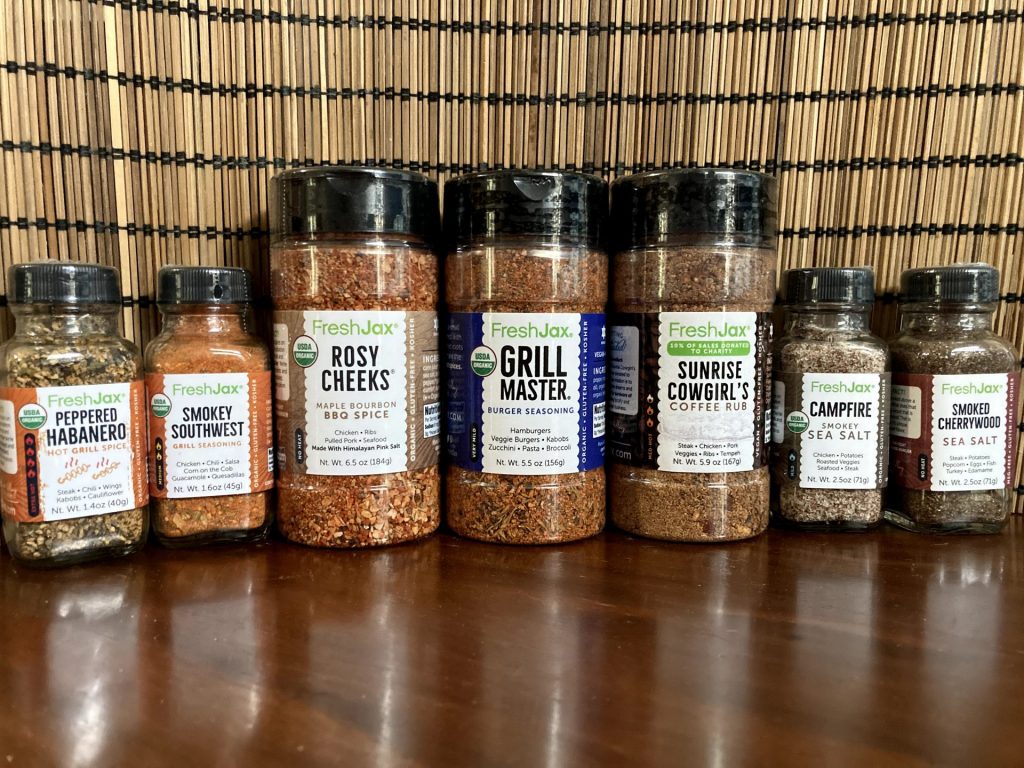 FreshJax Organic Spices started in 2011 by husband and wife team Jason and Hillary McDonald. They committed themselves to live a healthier lifestyle. In that pursuit, they began making organic spices and sauces. They built a loyal following by selling through various farmer's markets on the weekends. By 2012, both Jason and Hillary were doing FreshJax full time. In the time since, the team has grown to about nine people. They offer a huge line of spices and salts made from non-GMO, 100% organic ingredients with no artificial flavors, colors, or sweeteners and with no anti-caking agents, preservatives, or MSG. 
FreshJax sent us a sampler pack and I got to work with the following salts and spices:
Smokey Southwest Grill Seasoning
Rosy Cheeks Maple Bourbon BBQ Spice
Grill Master Burger Seasoning
Sunrise Cowgir's Coffee Rub
Campfire Smokey Sea Salt
Smoked Cherrywood Sea Salt
Here's how I integrated the spices in what I cooked for lunch or dinner.
Egg Salad on an Open-Faced Toasted Bagel – Campfire Smokey Sea Salt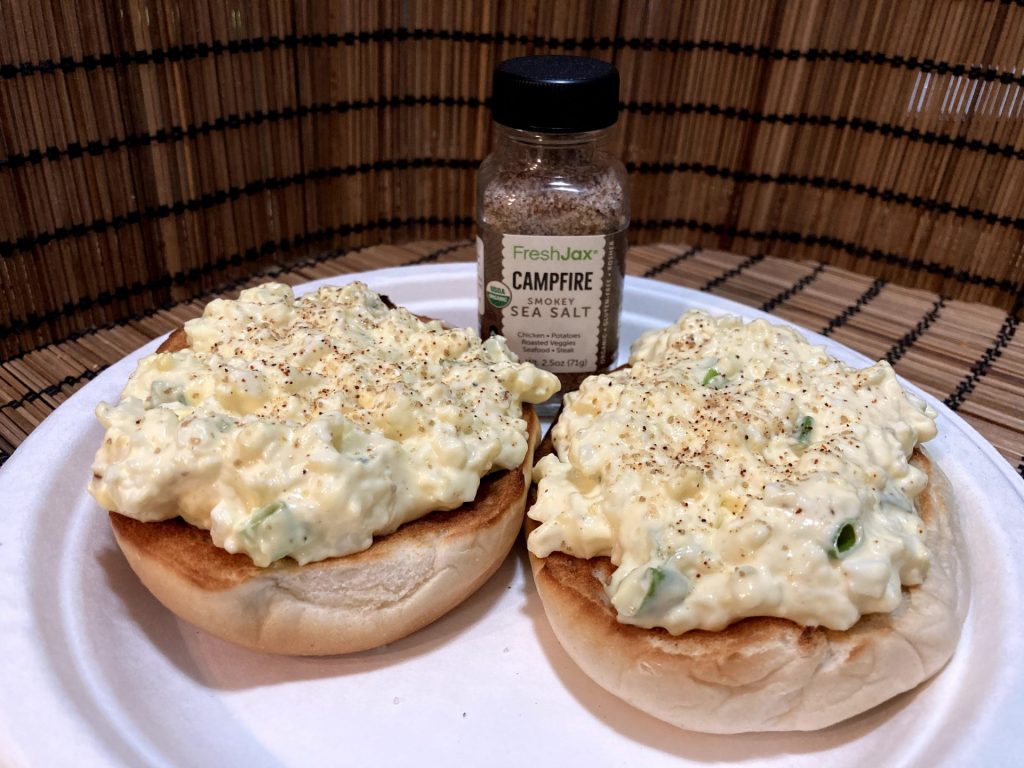 On the first day, I started simple. For lunch I made an egg salad served on an open-faced toasted plain bagel. I mixed two roughly chopped boiled eggs with Duke's mayo, kosher salt, and freshly ground black pepper. Normally when I make this, I mix in smoked paprika, but instead I used the Campfire Smokey Sea Salt as a finishing salt and sprinkled a good pinch right on top. It was delicious. The smokiness I normally get with the smoked paprika I got with the Campfire Smokey Sea Salt, but turned up to 11. It had a little bite to it and a bit of crunch since I used it right on top as a finishing salt. It added a nice contrast to the soft egg salad. 
Rump Roast – Rosy Cheeks Maple Bourbon BBQ Spice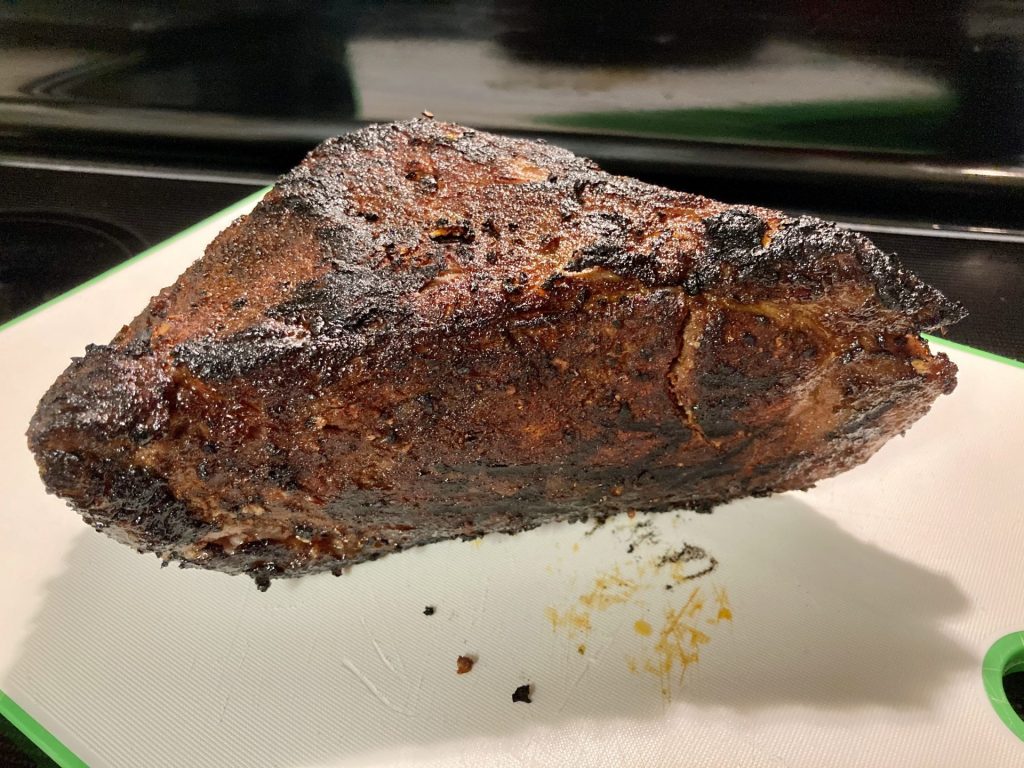 Before I got these spices, I did some grocery shopping. Because of COVID, some meats that would normally be easy to find were either hard to find now or if I did find it, prices were jacked up. I usually like to get a good chuck roast, but I couldn't find any so I went with its less flavorful, less expensive brother, the Rump Roast. Rump Roasts, on their best day, can be dry, bland, and if you overcook it, becomes mealy and has an unpleasant feel in your mouth when you chew it. To alleviate some of those issues, I decided to cook it sous vide instead of roasting it. Sous vide is a foolproof way to cook something to a desired doneness with no risk of overcooking. It does involve some special equipment and I'd love to explain it all, but that's a whole other article.
I seasoned the rump roast with the Rosy Cheeks Maple Bourbon BBQ Spice. And I used a lot of seasoning. I hate a bland rump roast. One of the ingredients in the Rosy Cheeks BBQ Spice is Himalayan sea salt so no extra salt needed. I put the rump roast in a vacuum sealed bag and placed it in the sous vide water bath set at a temp of 135 degrees and let it hang out for about 30 hours.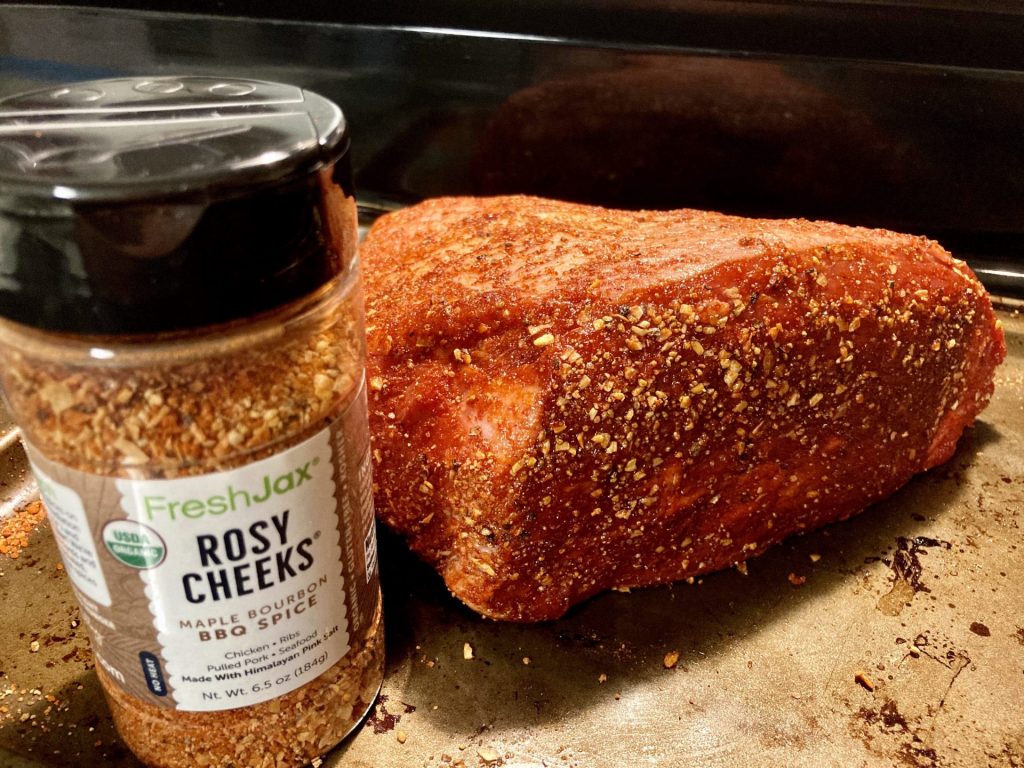 After 30 hours, I pulled the roast out of the water bath and out of the vacuum sealed bag. While technically cooked to a perfect medium temp of 135 degrees, it's not really done until you sear it over high heat for about a minute or so on each side to develop a nice crust and that desirable Maillard Reaction that makes food taste so good.
I patted the rump roast dry so a good sear will develop. I filled a charcoal chimney starter with hardwood lump charcoal, lit it and waited for the coals to heat up. I put a grill grate over the chimney starter to let it pre-heat. Using a chimney starter is great for quick sears because it channels the heat straight up through the chimney and by the time the top coals are ready, it feels like you're standing over a jet engine.
I put the rump roast on the grill grate and let it sear for about 30 – 45 seconds per side until it was nice and crusty. I pulled it off the heat and let it rest for about 10 minutes and sliced into it. It was a perfect medium temp from end to end and cut like a prime rib.
And the Rosy Cheeks Maple Bourbon BBQ Spice was great for this application. The sugars in the spice rub helped to create a beautiful caramelized crust on every inch of that rump roast. The resulting flavor was a bit sweet with a bit of heat. I'm glad I didn't add any extra salt because the level of salt in the rub was just right. A perfect example of how cooking method and the right spice rub can elevate even the humblest cut of beef to Prime status
Roast Chicken Leg Quarters – Smokey Southwestern Grill Seasoning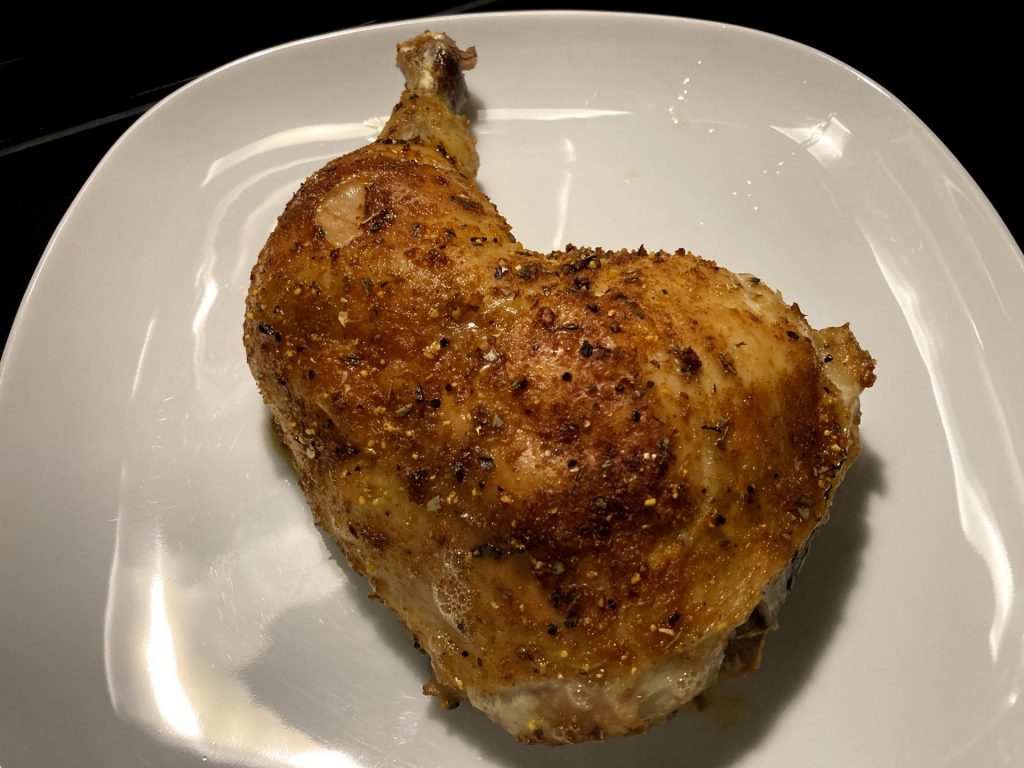 Ah, chicken. The blankest of slates when it comes to cooking. It carries spices well and really can be a vehicle for some great sauces or spices. For this application, I chose the Smokey Southwestern Grill Seasoning. I seasoned the chicken leg quarters liberally with the seasoning and baked them in a covered dish in a 400 degree oven for 45 minutes, skin side up. After that, I removed the cover and let them bake for an additional 15 – 20 minutes so the skin would crisp up. The result was a beautiful chicken leg quarter with the fat from the chicken skin rendered and basting the chicken meat beneath it, carrying the seasoning throughout. The chicken was tender, juicy and the seasoning was delicious. As I was eating I realized that this seasoning would be perfect for tacos. We had some leftover chicken so the next night for dinner, I deboned it, sprinkled some more Smokey Southwestern Grill Seasoning on it and warmed it up on a skillet with a little olive oil. I sliced the chicken skin into thin strips and fried them until crisp. Served on a warm flour tortilla with all the taco fixings and it was the best leftover chicken ever.
Ribeye Steaks – Sunrise Cowgirl's Coffee Rub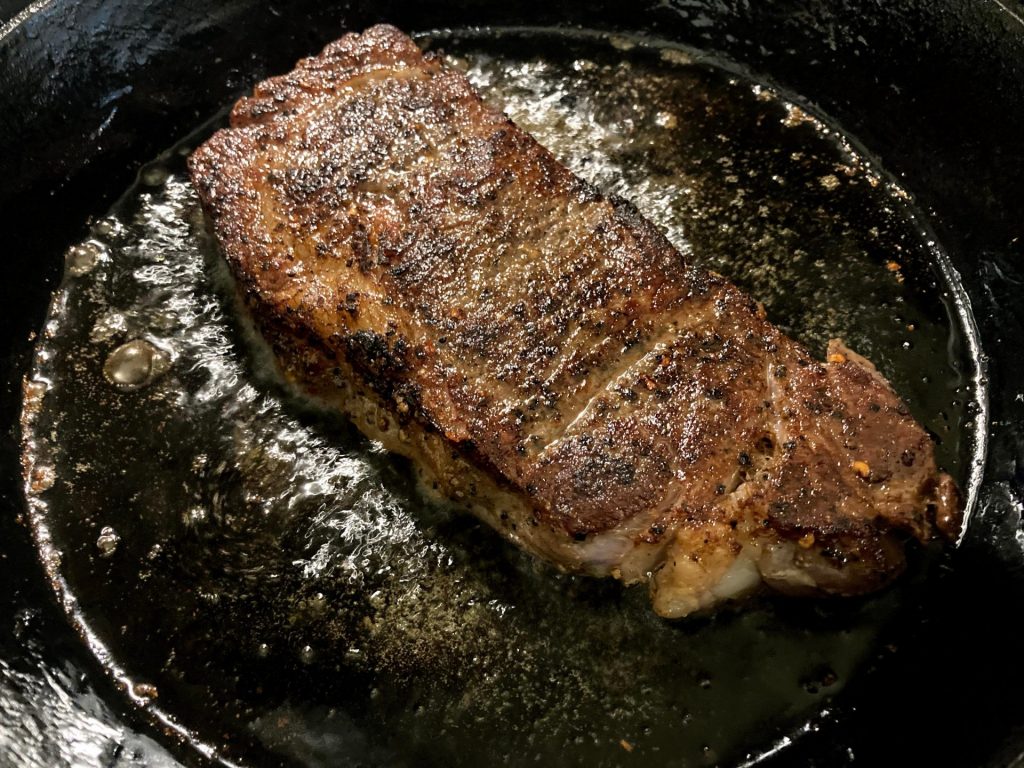 For dinner on this night, I was presented with a unique opportunity to try an experiment. So far, all of the spices have been delicious, not a bad one in the bunch. But I wanted to see how it would compare to how I normally season things. I had two ribeyes, about an inch thick each. I seasoned one as my "control" steak with kosher salt, freshly ground black pepper, and garlic powder. The other one steak I seasoned with the Sunrise Cowgirl's Coffee Rub.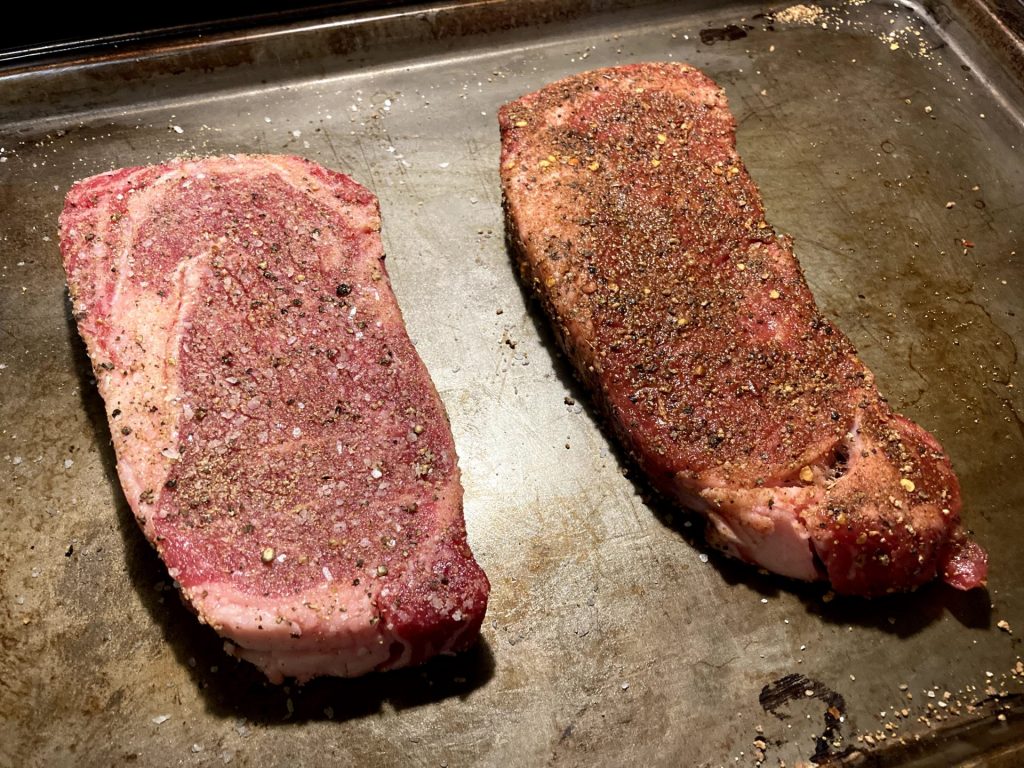 I cooked the ribeyes the same way I cooked the rump roast, sous vide. This time, I set the temp at 130 degrees for 2 hours for a perfect mid-rare steak all the way through. After the water bath, I pulled both steaks out, patted them dry, and seared them in grapeseed oil on a ripping hot iron skillet for about 45 seconds per side.
The results were astounding. The "control" steak seasoned with salt, pepper, and garlic powder was delicious, but the steak with the Sunrise Cowgirl's Coffee Rub had that extra depth of flavor from the coffee and spices that made that ribeye sing. It was a little spicy, but in a good way that made me dig in for more. The coffee flavor definitely didn't hide behind the other spices. It was like chasing a great bite of steak with a robust sip of espresso.
Meatloaf – Grill Master Burger Seasoning
I could've made some burgers as a vehicle for the Grill Master Burger Seasoning, but I had a hankering for some meatloaf. In a bowl I mixed 80/20 ground beef, sweated onions, an egg, bread crumbs, dried thyme, dried parsley, and a good amount of the Grill Master Burger Seasoning. After mixing it together, I put it in a loaf pan and cooked it in a 350 degree oven for about 30 minutes. While it was cooking, I made a glaze with just some ketchup and more of the Grill Master Seasoning. After 30 minutes, I put the glaze on the meatloaf and cooked it for about 15-20 more minutes.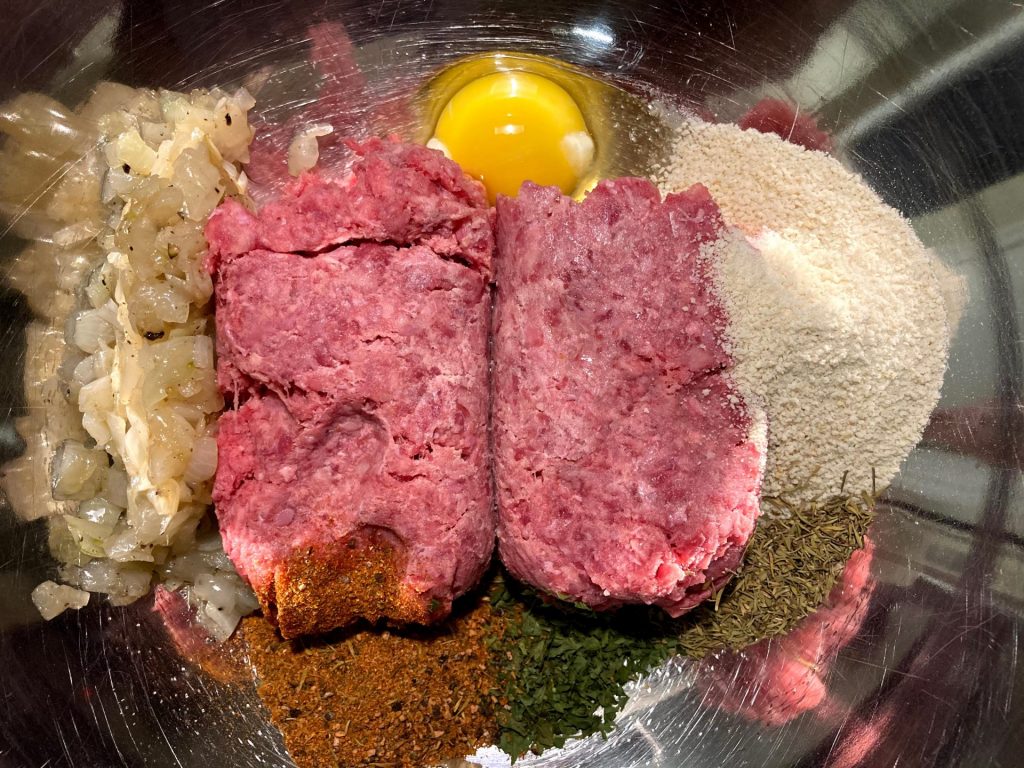 The end result was not the prettiest meatloaf, but one of the tastiest I've ever made. The Grill Master Seasoning had this overall warmth to it. Not spicy, but a warm sensation I could feel from my palate through my sinuses and throughout my whole head. It was literally a warm, tingly sensation. And I liked it.
FreshJax Organic Spices did improve my home cooking and will absolutely be added to my regular rotation of spices I use on a regular basis. Chopped, here I come. 
If you'd like to try some of these spices for yourself, check out their website, freshjax.com, or grab some for yourself from trusty Amazon. Their spice variety packs make for a great addition in the kitchen or a perfect gift for the cooks and grillers in your life. 
Thanks FreshJax for sending us these amazing spices. We love supporting local! Get you some spices and let them know Jax Restaurant Reviews sent you!