Growing up in Jacksonville the older I get, the more I appreciate its diversity. Not only in culture, religion, and art; but in FOOD! On Saturday you can have Indian, Sunday Ramen, Monday Ethiopian, and on this fateful Tuesday my family and I were craving Irish food. For me there is only one place to go for Irish delights, and that is Culhane's Irish Pub & Restaurant. Luckily for us, and a good portion of Jacksonville residents, Culhane's just opened a second location, closer to me in the Tinseltown area; so on our way we went.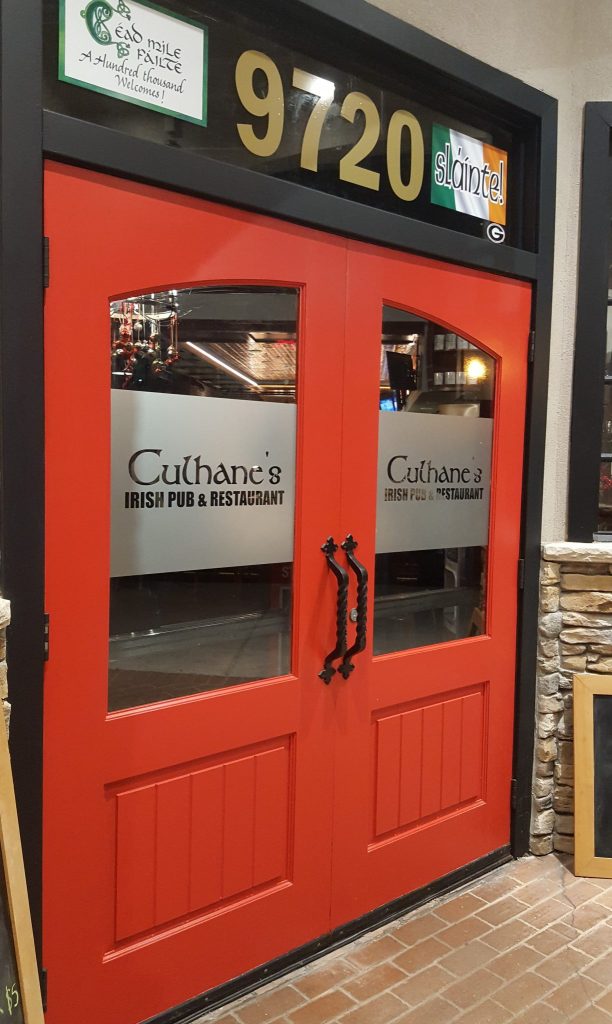 The original Culhane's is found near the beaches on Atlantic Boulevard, opened by four sisters straight from Ireland in 2005. The new restaurant resides in the old Tilted Kilt location and opened in October of last year. Being familiar with the first location, I was expecting much of the same food, aesthetic and atmosphere but I was pleasantly surprised walking through the heavy red painted wooden doors.
Culhane's is now a stand-alone building that packs a beautiful and unexpected surprise. The owners spared no expense when creating the new restaurant and you can feel it when you walk in. We stepped into a large open space and were greeted by the host. Right past the host stand is an ornate bar that could rival any establishment. There is plenty of seating and TVs are positioned above and throughout the restaurant to catch any sports game, be it futbol or football. Bottles upon bottles of alcohol line the walls behind the bar, backlit with a soft orange glow. I don't know if it was the anticipation of my future drink, or the actual beauty of the space, but it almost took my breath away.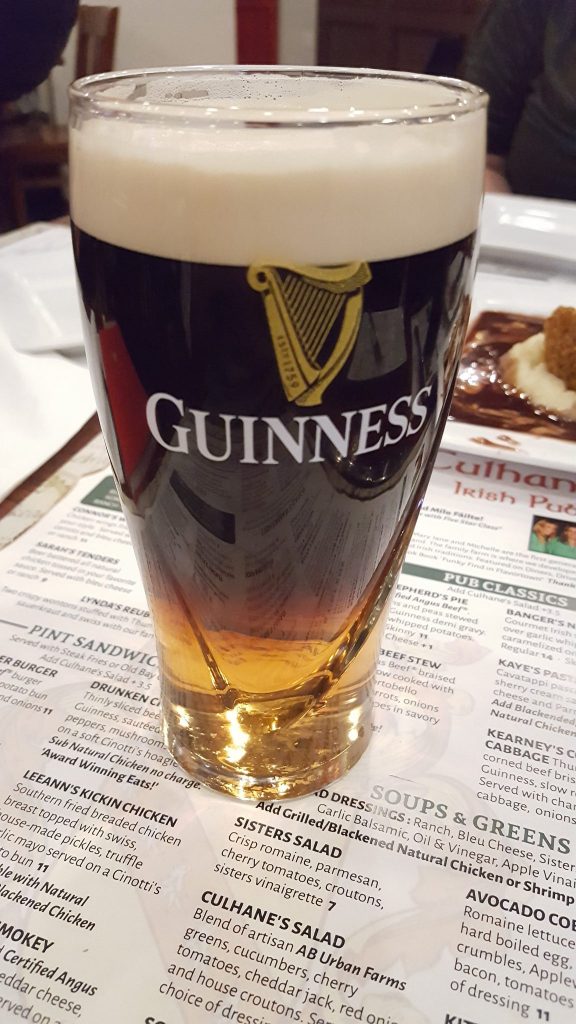 The restaurant somehow manages to maintain an upscale sports bar feel and be hospitable enough for a family as well. Brick walls wrap around most of the building and a large emblem can be found on one wall, consisting of oak barrels and the restaurant's name. They smartly section off the tables between high top tables that are fashioned from old barrels into regular seating. They do have an odd sectioned off area at the back of the restaurant I can only assume are for large parties or watching FIFA or the like. There is also patio seating behind the bar ideal for brunch outside. The laid back atmosphere did result in a slightly loud environment, especially if there is a game going on, so be warned if you're not there to cheer on your favorite team.
We chose to sit at the regular tables in the middle of the packed restaurant. There were multiple games on and a TV in every corner. Our waiter was there in no time with a smile on his face and eager to welcome us. We started with a round of drinks, as always I got the Half & Half, which is Guinness and Harp. It took a few extra minutes to get our beverages, but I could tell how busy they were and understood. It just gave us spare time to decide what we wanted to order. The drinks arrived and mine had a beautiful separation of the dark rich stout on top and golden lager on the bottom. With a little more Guinness than Harp, it wasn't a perfect Half & Half, but I didn't mind.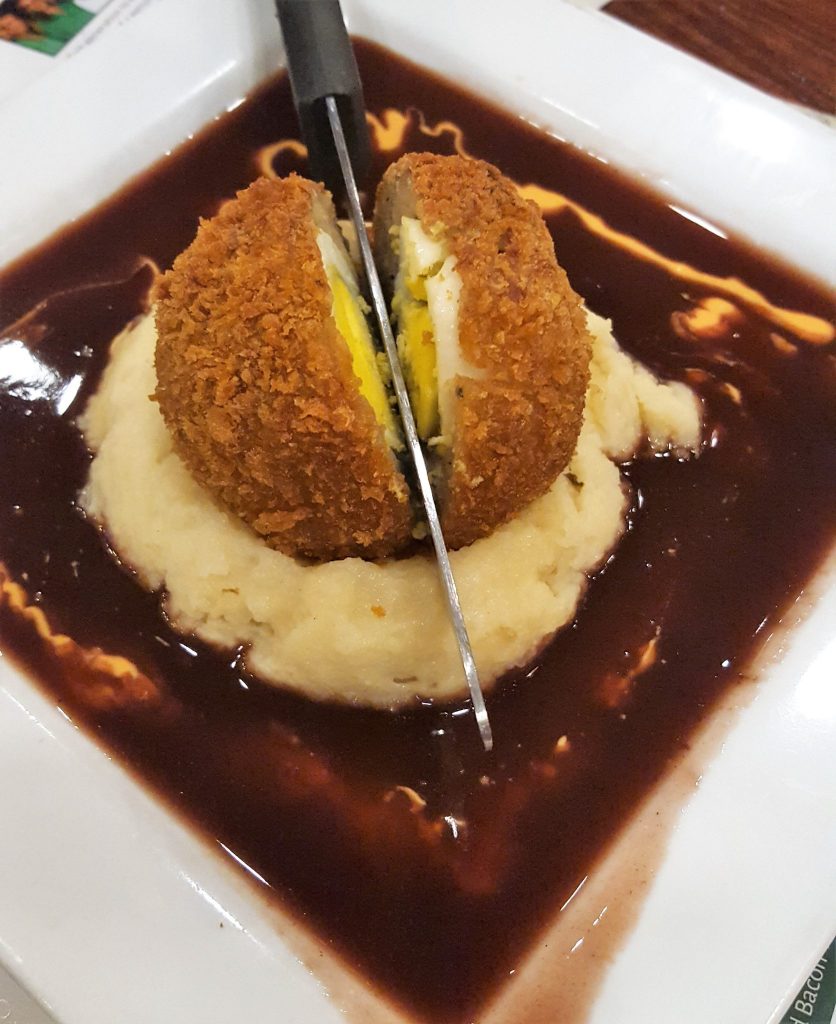 Next we placed our order. With two appetizers to start, we got Karen's Scotch Egg ($9) and Lynda's Reuben Rolls ($10). Luckily the kitchen was on their A-Game and there was little wait for our first course. To tease my senses, I could smell the Scotch Egg well before it hit the table. Served on a square plate, the Scotch Egg perched atop a heaping mound of mashed potatoes swimming in a demi gravy. I could tell the demi was homemade, with no corners cut. No box gravy or bullion was used to make the sauce; you could taste the love put into it. It also had a nice kick from the hot mustard drizzle. Traditionally a Scotch Egg is a hard-boiled egg wrapped in sausage, breaded and deep fried. Unfortunately the hard-boiled egg in our appetizer was overcooked and slightly dry. The sausage was still moist and full of flavor and bread crumbs were perfectly crunchy. Overall, I would order it again, as it is rare to find a Scotch Egg in Jacksonville, but only after I tried the other appetizers.
The Reuben Rolls were an interesting and delicious twist on a classic. Think of it as if an Asian eggroll and a Reuben sandwich had a baby. Gourmet corned beef, sauerkraut and Swiss cheese are expertly mixed and rolled into eggrolls. Served with Culhane's famous hot mustard, these eggrolls were perfectly fried. Two eggrolls were cut in half, long ways served on the same square plate. Crispy, salty, spicy and full of corned beef deliciousness, this appetizer definitely outshined the Scotch Egg and I would order it again, no questions asked.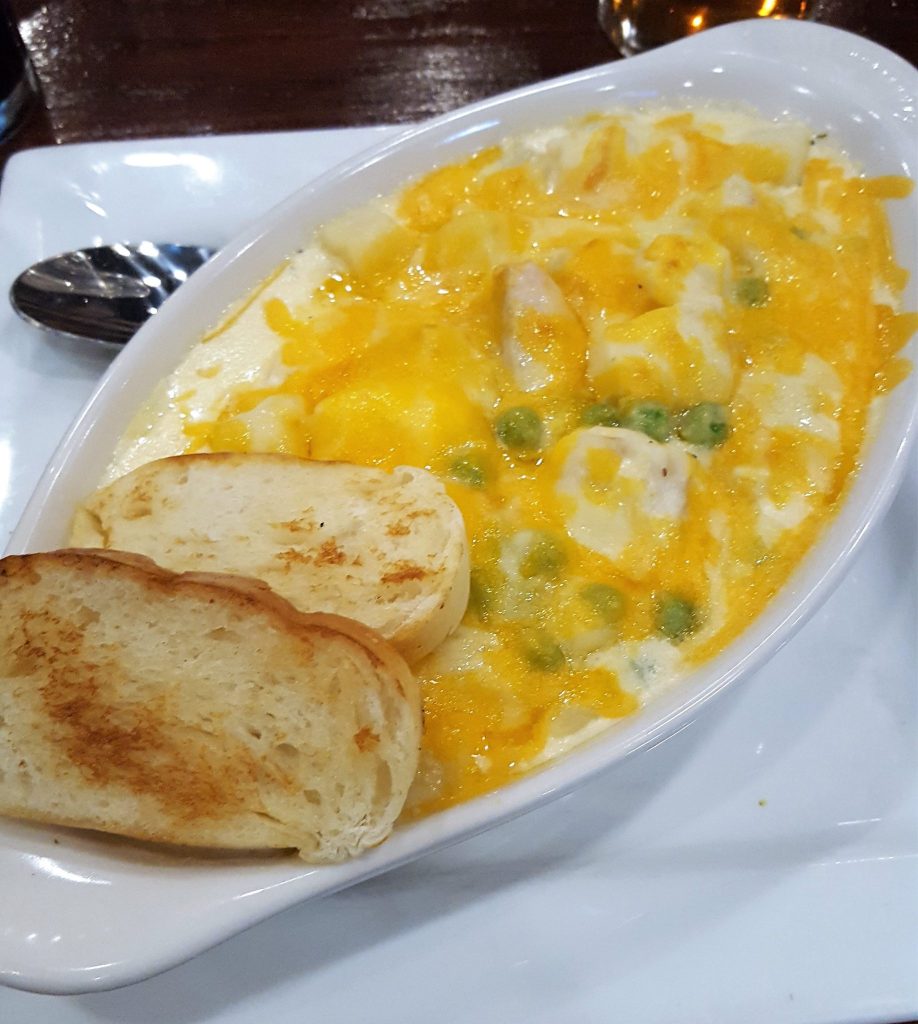 We were excited and ready for our main course. Our waiter was prompt and helpful, out with our dinner shortly after we were finished with our appetizers. We ordered the Banger's N' Mash ($14), Drunken Cheesesteak ($12) and Dingle Fish Pie (15). I've enjoyed the Dingle Fish Pie before and find myself ordering it again and again. This "pie" consists of large flaky chunks of cod, salmon and shrimp bathing in a sea of parmesan cream sauce, peas and potatoes. A hearty layer of cheese is melted on top and served with toast points. This time I did find the sauce thinner than I remember it being, but still creamy and packed with seafood and veggies. The dish overall lacked salt for me, but I am known to prefer heavier salted foods. It was an easy fix to salt my own dish at the table. Although this time my Dingle Fish Pie was a little under seasoned and sauce thin, I would absolutely order it again, but only knowing this was probably due to the kitchen being busy on this particular night. For me, it has always been a completely satisfying dish: creamy, cheesy, and filling.
My sister ordered Culhane's take on a Philly Cheesesteak, the Drunken Cheesesteak. Guinness marinated beef, sautéed mushrooms, peppers and onions are covered in cheese, nestled into a Cinotti's hoagie. Served with steak fries, this sandwich didn't impress me much. The cheesesteak needed more aioli or some other element to elevate this plate. Otherwise, it was just the same ole meat and veggies in some bread. The thick cut fries were the best part (I also may enjoy ketchup too much). I understand they are trying to reach a broader audience and throw in some "familiar" dishes like a cheesesteak or burger, but Jacksonville isn't Philly and a Philly Cheesesteak isn't Irish. I completely respect what they are trying to do, but I didn't come to an Irish restaurant to eat anything but Irish bites.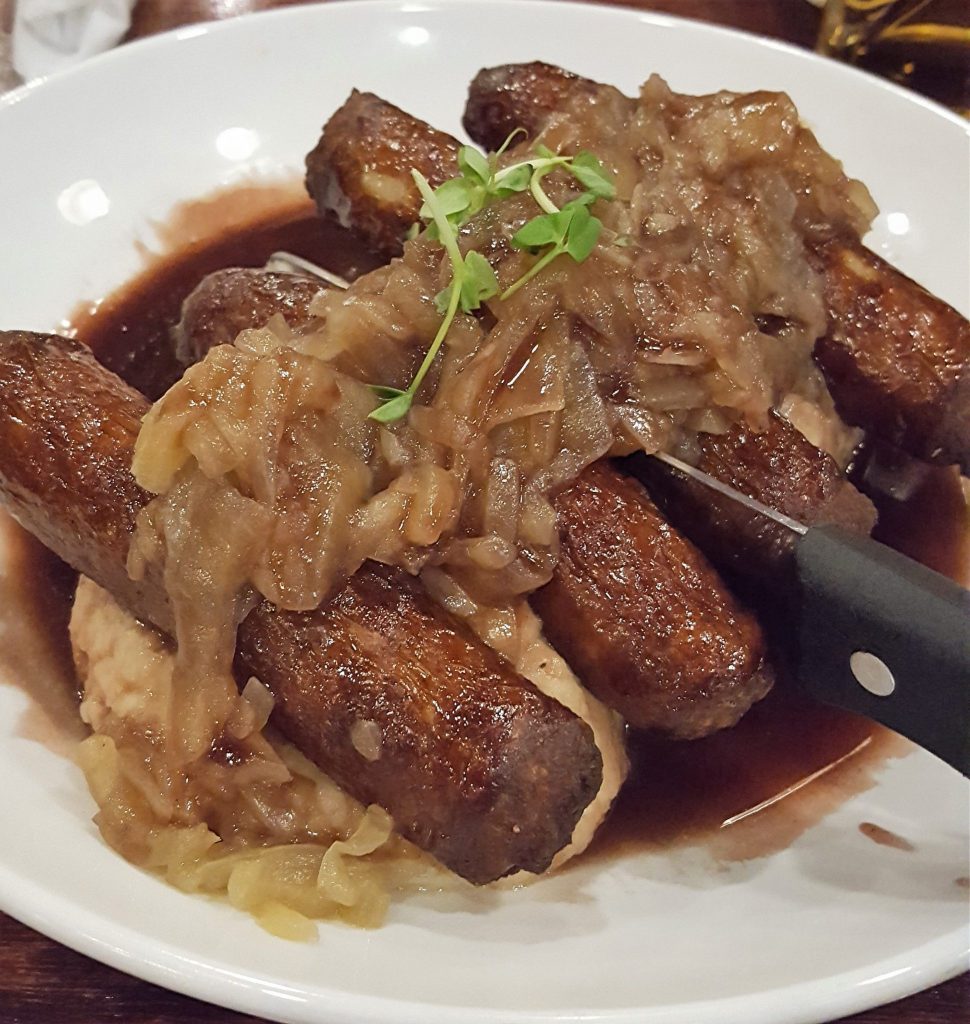 My Dad shared a similar respect as I did and ordered possibly the most Irish item on the menu: Banger's N' Mash. Four impeccably seared sausages were smothered in caramelized onions, balanced high over garlic whipped potatoes, surrounded in that same robust demi gravy from earlier. Now, I'm fairly picky when it comes to sausage [insert ill-humored joke here], but these were mild, yet full of spices and I wanted to devour them all. Easy to cut with your fork, the sausage was complimented by the sweetness of the onions, smoothness of the potatoes, all finished by the gusto of that irresistible demi. Dare I say the Banger's N' Mash was better than my reliable Dingle Fish Pie, but yes, yes it was.
With few restaurants offering Irish fare in Jacksonville, my family has been going to Culhane's Irish Pub & Restaurant for years. The second location is a welcomed addition to the Tinseltown area and when you have four sisters from Ireland running their team, it is sure to be a win. And although I appreciate offering approachable plates that will make even the fussiest of diners happy; the authentic Irish dishes are the way to go here. If a trip to Ireland isn't in the budget, the next best thing is their Banger's N' Mash, Shepard's Pie or Corned Beef N' Cabbage. Remember that St. Patrick's Day is right around the corner, so come for the pint of Guinness but stay for the food!
Culhane's Irish Pub & Restaurant
9720 Deer Lake Ct
Jacksonville, FL 32246
_______________________________________________________________
Melissa Nolan was born and raised in Jacksonville, FL and graduated from Florida State University where she earned her Bachelor of Arts in Business Hospitality. From there she attended Johnson & Wales of Charlotte, NC and following an internship at Thomas Keller's prestigious Per Se, graduated with her Culinary Degree. After New York she moved back home and currently works in the San Marco area.