Unfortunately Sunday's is now closed.
A few weeks ago we started hearing some buzz in the foodie community and from local chefs about a little soul food place near Argyle Forest in Orange Park. So, when I scheduled a day to grab dinner with Nate from Nate Does Food and he suggested Sunday's I jumped at the chance to check it out. I'd been told even with a GPS Sunday's is hard to find. I thought to myself "How can a little restaurant in a strip mall be hard to find with GPS?" They were right it's definitely tough to find even with GPS. I pulled into the strip mall and drove back and forth past it twice. Then I drove out of the strip mall thinking I was in the wrong place and then back into the strip mall when I realized it had to be here since no other shopping centers were all that nearby. I parked, got out of my car, and then started walking down the sidewalk in front of the businesses til I found it. Sunday's doesn't have a sign over the door. The only discernable signage is a relatively small Sunday's logo on the doors themselves. Normally I'd be irritated with all this but I knew on this trip I was taking a food adventure and I should probably be a bit more patient than usual. With one bite of the food any irritation I may have had was gone anyway. When I got inside I shared with the cashier (who I later found out was the chef/owner) that it had been quite a challenge to find them. I suggested maybe they should put up a sign so people could find them. He told me, "I almost didn't put the name on the door. I figure let's just let the food speak for itself. If you have great food people will find you." While this might not be the best short term business logic, he is right that their food is good enough that eventually people will start to hunt them down. The Chef did follow up his previous statement with,"We've been open about a year or so now. I'm thinking I'll probably put up a sign one of these days." Part of me thinks this adds to the overall experience at Sunday's. The restaurant is a fairly small space and when we went there didn't seem to be a lot of people there. The walls are adorned with old vinyl r&b album covers and 70's r&b played nonstop while we were there. They make everything from scratch when you order it. No premade food or heat lamps here. You order it and the cook/cashier/owner walks on back to the kitchen and whips up something awesome for you. They use almost all organic ingredients which is incredibly rare at a soul food restaurant. They also try to buy local when possible.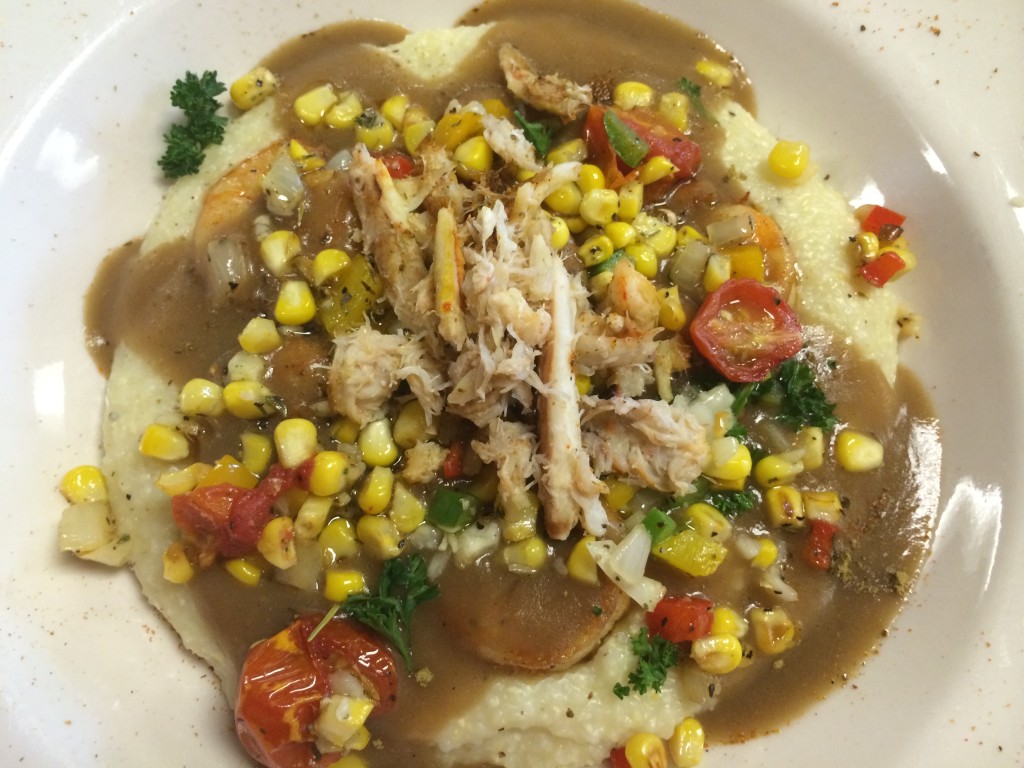 Food: Normally when you start off a meal with a drink, if you aren't ordering alcohol that part of your ordering is uneventful. When we ordered drinks we got really excited. They actually have Kool-aid. Yes, that wonderful sugar bomb from your childhood is available in a sit down restaurant! We drank the Kool-aid on this visit and they even delivered it in a mason jar. A nice touch! Sunday's really takes soul food to the next level. They take classic soul food dishes that you love and create new dishes that embody the best of the old while adding a new twist or two. There are no printed menus. There's a big poster over the window where you place your order and they've scratched out the items that are not available on the current day. The left side of the poster has their "soul roll" appetizers and the right side lists the entrees. We started off with a couple of the soul rolls. They are HUGE. When you think egg roll you think of this little thing you can easily hold and eat with one hand. I had a hard time holding a half of one in my hand without some of the filling spilling out. You definitely get your money's worth. If you have a lighter appetite this thing could easily be your whole meal. These are like giant egg rolls but with far more delicious filling than a typical egg roll. We started off with The Mayport($6)- fresh Mayport shrimp, crab, Andouille sausage, roasted corn, rice. The shrimp and sausage really stood and out the rice and corn balanced out the stronger flavors. If you like shrimp and sausage you'll be a fan. Next up was the House Original ($4)-roasted chicken, collard greens, black eyed peas and rice. This one was good as well. If you're from the south you've got to love the collard greens and black eyed peas. You could taste every item in the roll distinctly. It was simple and delicious. The first main course we tried was the Edisto- Shrimp and grits inspired by grandma, fried Mayport shrimp, stone ground grits, roasted corn, tomato, crab meat, Gullah gravy (The menu lists it with quail eggs also but I didn't see or notice them in the dish). These grits were awesome! The shrimp were lightly breaded and fried. They were tasty and local. The grits were stone ground Anson Mills grits (high quality). The texture was perfect! I'm super, super picky about texture and probably 90% of the shrimp and grits textures in Jax don't meet my standard. These do. There was a generous amount of well-seasoned lump crab on top which was a nice touch I haven't yet seen anywhere else in town. These are great! The other entrée we tried was The Dirty Bird- Chicken and Waffles dirty south style, Chicken breast stuffed with rice, greens, and black-eyed peas served on a cornbread waffle with house gravy. This dish is Sunday's version of chicken and waffles. The chicken was good. The vegetables and rice in the middle of the chicken were an interesting twist on this classic dish. My only minor complaint is the veggies and gravy seem to moisten the chicken causing it to lose some of the crunch I enjoy in traditional fried chicken. The cornbread waffle was amazing! I love cornbread and I love waffles. When you put them together they are doubly delicious. The waffle was moist in the middle and crisp around the edges. Next time I go to Sunday's I'm ordering the Edisto and then begging them to make me a cornbread waffle on the side. That would be a perfect Sunday meal. The only real negative if any with Sunday's is the limited selection. They have 13 menu items listed but only offer about half of them at a given time. Since they all seem to be ridiculously delicious I'm confident you can find something awesome to try anyway.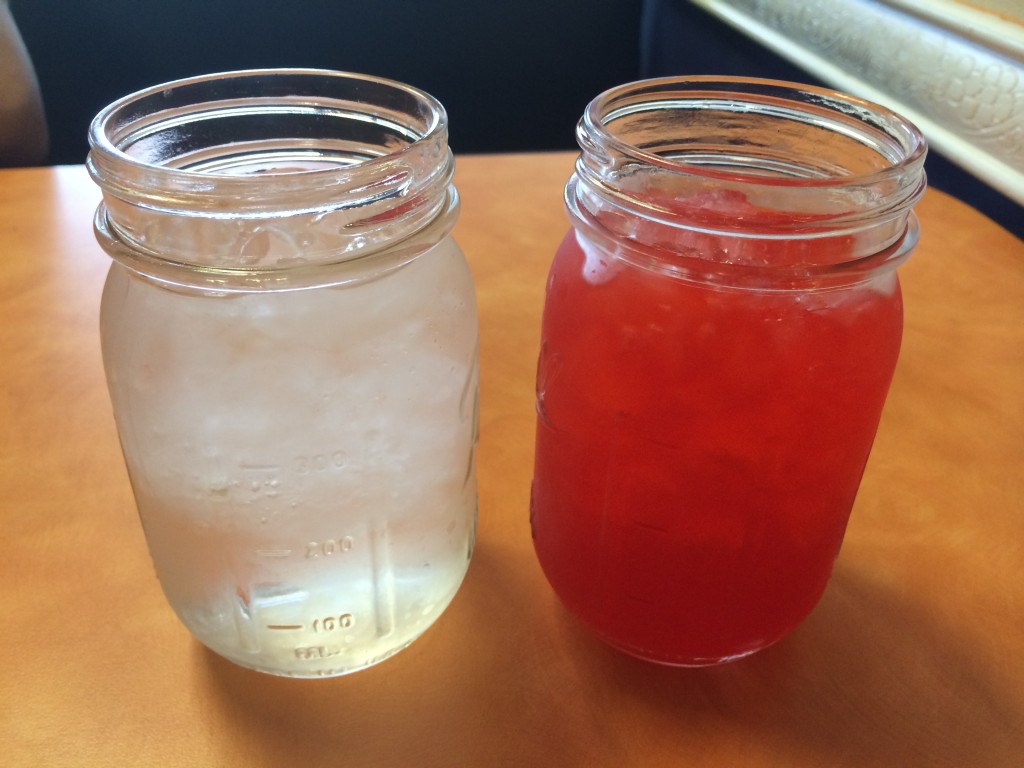 Service: It's a one man show most of the time at Sunday's. The chef/owner will take your order, bring your drinks, and cook you up something awesome. This seems to cause a longer way than most restaurants. He is making everything fresh on the spot though so everything is going to take a bit longer than usual regardless. Go to Sunday's on a day when you're not in a hurry and enjoy the experience. If you're looking for soul food quick hit up The Potter's House Soul Food Bistro.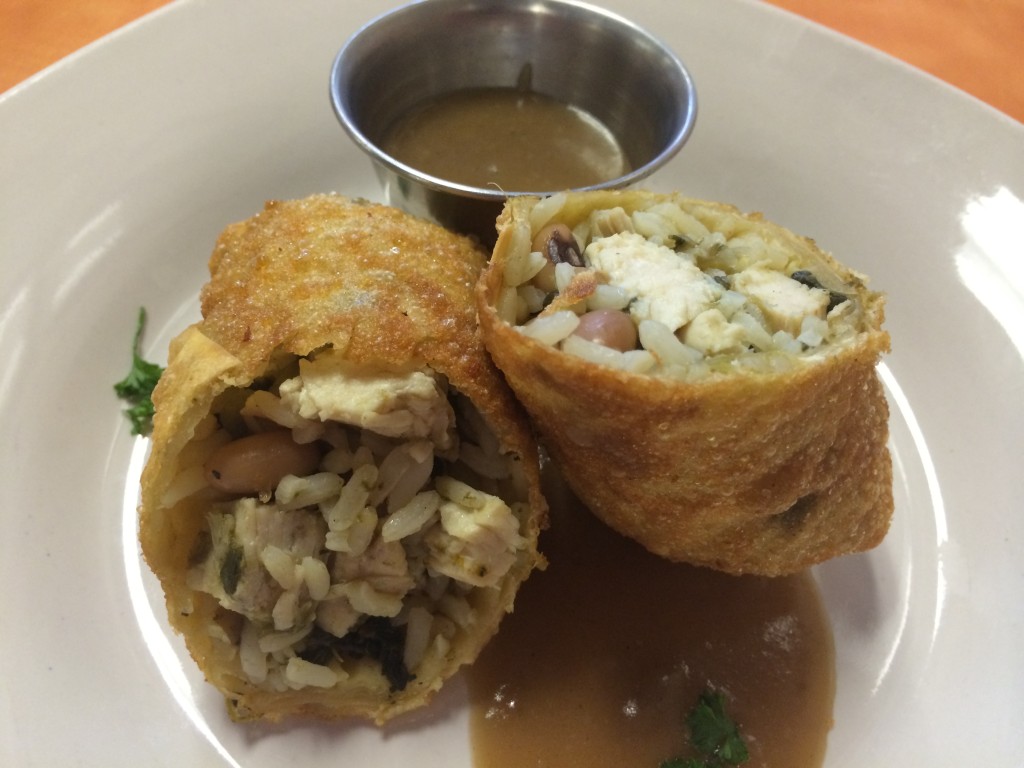 Our overall experience at Sunday's eating their "modern soul food" was awesome. The food's good and the atmosphere is laid back like 70's R&B music. If you're in Orange Park definitely give them a try. Heck even if you're not in Orange Park it's worth the drive from Jacksonville.
Positives:
Awesome food!
Large portion size
You can tell the food was made with love
Negatives:
Longer than usual wait for the food