Texas de Brazil is not just the newest churrascaria in Jax, but the largest Brazilian-American steakhouse brand in the world with 57 locations including one of the newest right here in town. The timing of Texas de Brazil opening in Jacksonville this summer couldn't be better since they are celebrating 20 years of rodizio dining this month!
Texas de Brazil first opened in Addison, Texas in 1998. To celebrate two decades of Brazilian-American cuisine, each Texas de Brazil is offering 1998 flashback pricing of $28.50 for the entire rodizio dining experience on October 8 and 9 from 4pm-10pm. Kids under 12 are just $14.25, three to five year olds are $5. Our Jacksonville Texas de Brazil will be participating in a toast to the 20th anniversary with a coast to coast champagne toast at 9pm on October 13.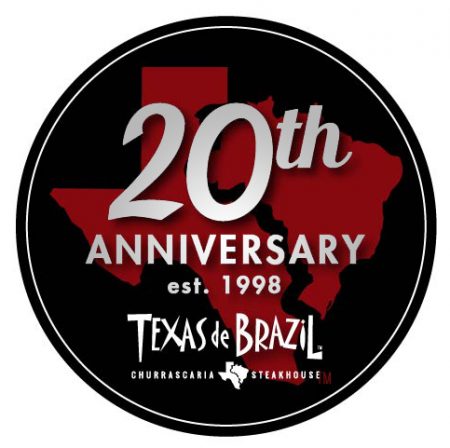 If you haven't had the chance to enjoy Texas de Brazil yet, you are in for a treat. The dining room is gorgeous with marble floors and big windows letting natural light stream in, along with pops of jewel tones, creating a bright and luxurious space that feels removed from the hubbub of the town center. The salad and side area features over 50 items including such delicacies as cinnamon roasted pineapple, sushi, a variety of cheeses, fresh produce and salads, divine lobster bisque, and more. As you dine, gauchos come by your table with their fresh from the fire meats on large sword-looking skewers that they cut individual portions off from. Texas de Brazil offers 15 different cuts of meat. Picanha is the most traditional of rodizio meats, half moon shaped top sirloin with a salt crust. We especially love Texas de Brazil's Garlic Picanha. But you'll find your favorite between leg of lamb, parmesan-crusted pork loin, beef ribs, pork ribs, flank steak, filet mignon, Brazlian sausage, and the rest.
Don't be an amatuer and positively stuff yourself on meat. You will certainly want dessert after your eyes glaze over on the dessert tray. One of the most popular desserts at Texas de Brazil is the Brazilian Cheesecake, made with a layer of fudge on the bottom and topped with caramel. We can vouch for this one! Or maybe the carrot cake is more your speed. If you're a flan fan, Texas de Brazil has you covered there as well.
Cachaca (ka/sha/sa) is the national spirit of Brazil, and Texas de Brazil has embraced this spirit distilled from sugar cane juice. Capirihnas are the national cocktail and are so refreshing, made of muddled limes, sugar, and cachaca. Texas de Brazil offers capirinhas in several flavors, but has also developed additional cocktails with cachaca. I tried the Brazilian Rose which consisted of passion fruit juice, Grand Marnier, and cachaca. It was an enjoyable diversion, but nothing hits quite like a capirinha. If you haven't had one definitely start there on your alcohol fueled journey into meat heaven.
Catch the Toast from Coast to Coast on Facebook Live and Instagram Stories.
If you're able to partake in the festivities this month, be sure to book your table now!
Visit texasdebrazil.com to find the location nearest you. Share your experience @TexasdeBrazil and use hashtag #TdBToasts20.
Follow Texas de Brazil on Facebook, Twitter, and Instagram.
#TexasdeBrazil #TdBToasts20 #TdbToasts20Jax
This sponsored post is brought to you by Texas de Brazil and coordinated by Wendy's Bloggers.